The All-Underated NBA Lineup
I was talking with a buddy of mine about underrated players in the NBA. Who are the diamonds in the rough? My buddy and I talked and talked, but we could only agree on one name. Mike Conley, starting PG for the Grizzlies. Conley is thought of by most NBA fans and analysts as the most underrated player in the NBA. I'll go more into Conley, but that conversation sparked an idea in me. If I had to construct a lineup of underrated players in the NBA, what would that look like?
Starting Point Guard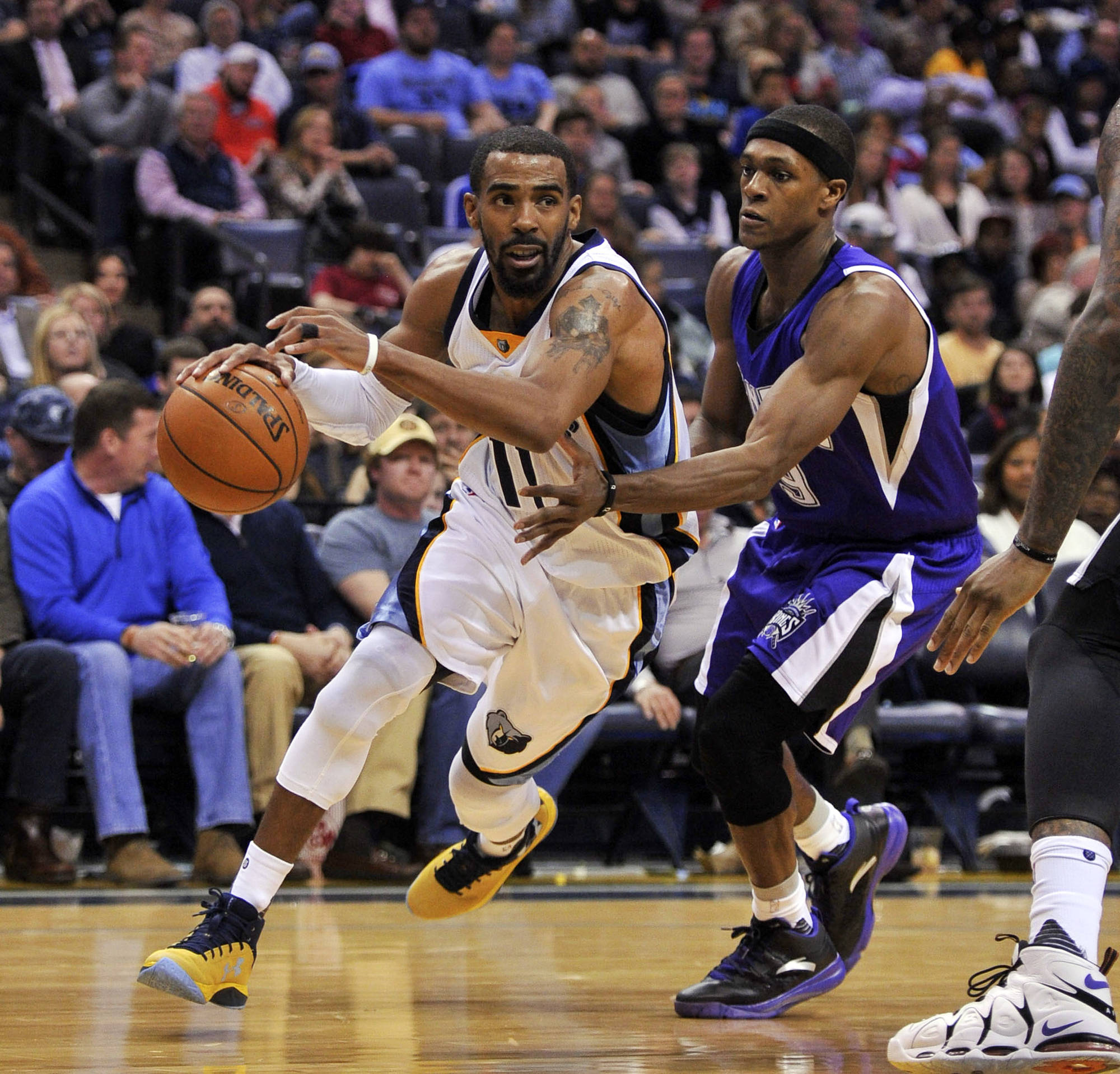 Justin Ford-USA TODAY Sports
56 GP, 56 GS, 31.4 MPG, .422 FG%, .363 3P%, .834 FT%, 2.9 RPG, 6.1 APG, 1.2 SPG, .3 BPG, 15.3 PPG 2015-16 Stats
Mike Conley is the definition of consistency, having averaged double figures in PPG in all but one of his 9 seasons in the NBA and at least 5 APG in all but 2 of his 9 seasons in the NBA (he averaged 9.4 PPG 4.2 APG in his rookie year followed by 4.3 APG in his sophomore year). He is also criminally underpaid (Ricky Rubio, Robin Lopez, Roy Hibbert, Danny Green, and Jrue Holiday all make more money than he does per year), though that will change this year as he is a free agent this year. We will see if he ends up bolting Memphis for another team.
Starting Shooting Guard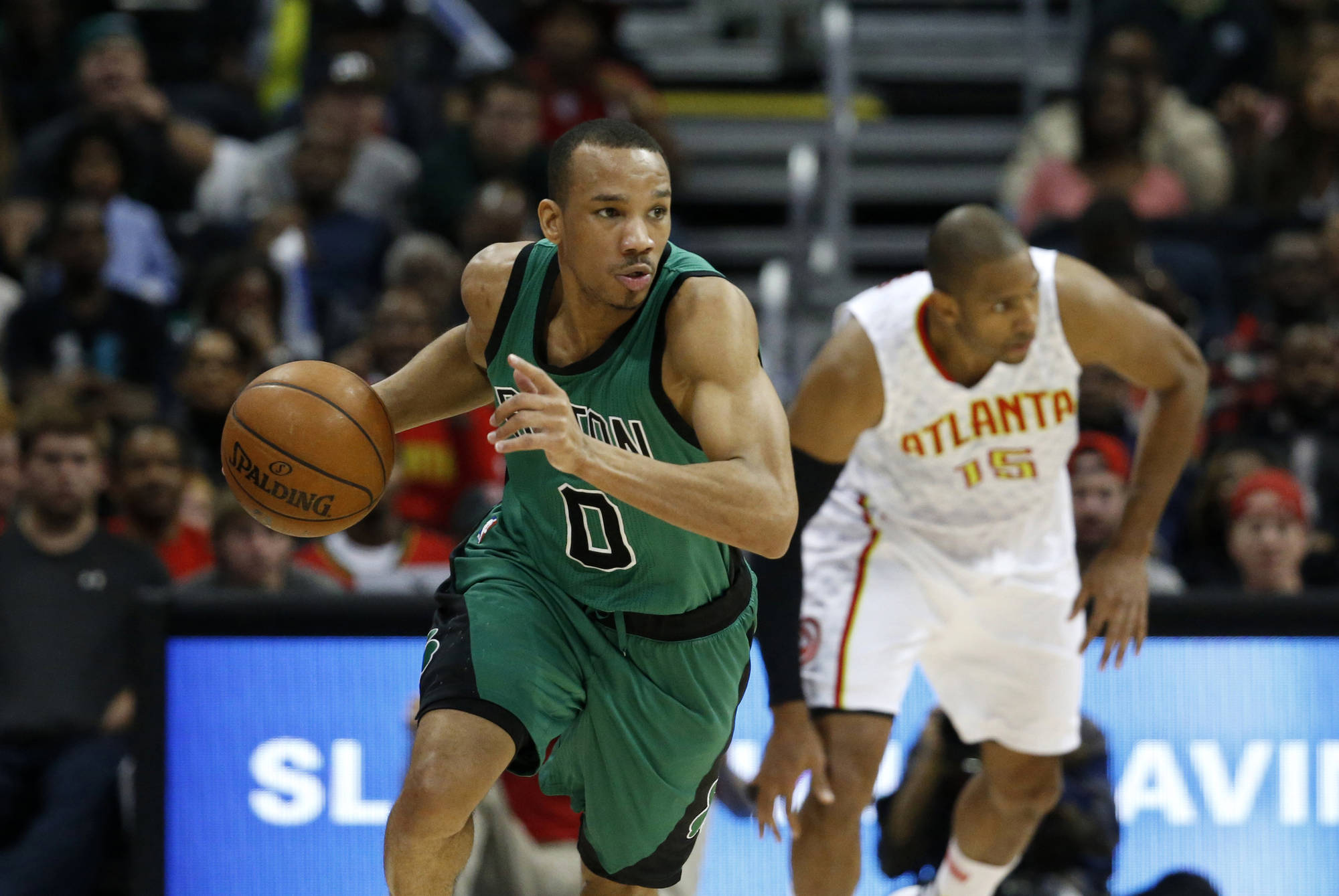 Jason Getz-USA TODAY Sports
76 GP, 72 GS, 33.4 MPG, .447 FG%, .361 3P%, .780 FT%, 2.9 RPG, 2.1 APG, 1.5 SPG, .3 BPG, 15.2 PPG 2015-16 Stats
Avery Bradley does his job well. His job being defend and knock down shots when needed. Avery Bradley does that very well to a point where I am shocked that he doesn't receive a lot of credit from NBA analysts. He is arguably one of the best defenders in the NBA (It seems that the NBA is starting to agree with me since Bradley made the All-Defensive 1st team this year), and he consistently knocks down shots when he is needed to. Bradley isn't the best 3 point shooter in the world, and he won't wow you with offense but Bradley is a reliable NBA shooting guard, and a pretty good player too.
Starting Small Forward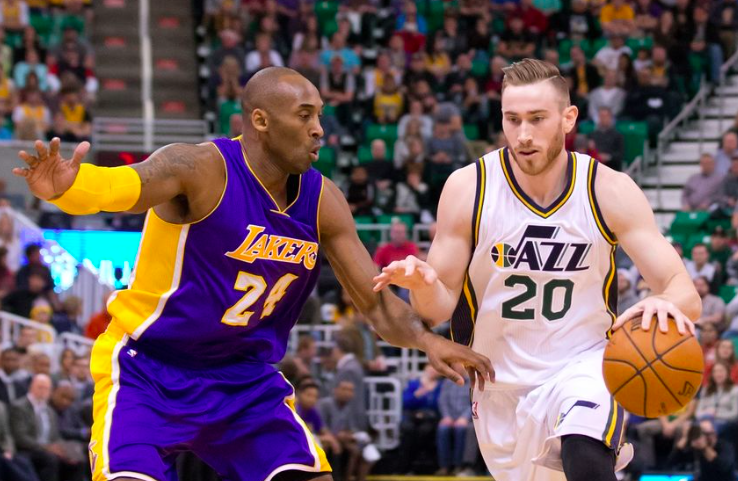 80 GP, 80 GS, 36.2 MPG, .433 FG%, .349 3P%, .824 FT%, 5.0 RPG, 3.7 APG, 1.2 SPG, .3 BPG, 19.7 PPG 2015-16 Stats
Gordon Hayward might be leaving this team the coming year, but for now, I would say he is underrated. Though he had a career year last year, he did not make the All Star team (nor did Damian Lillard...). This could be due to the fact that there was a logjam at the F spot (KD, Kawhi, Anthony Davis, etc). Yet the fact remains that Hayward has been quietly putting up All-Star numbers for this young Jazz team with little to no attention given to him at all. I expect that to change next year.
Starting Power Forward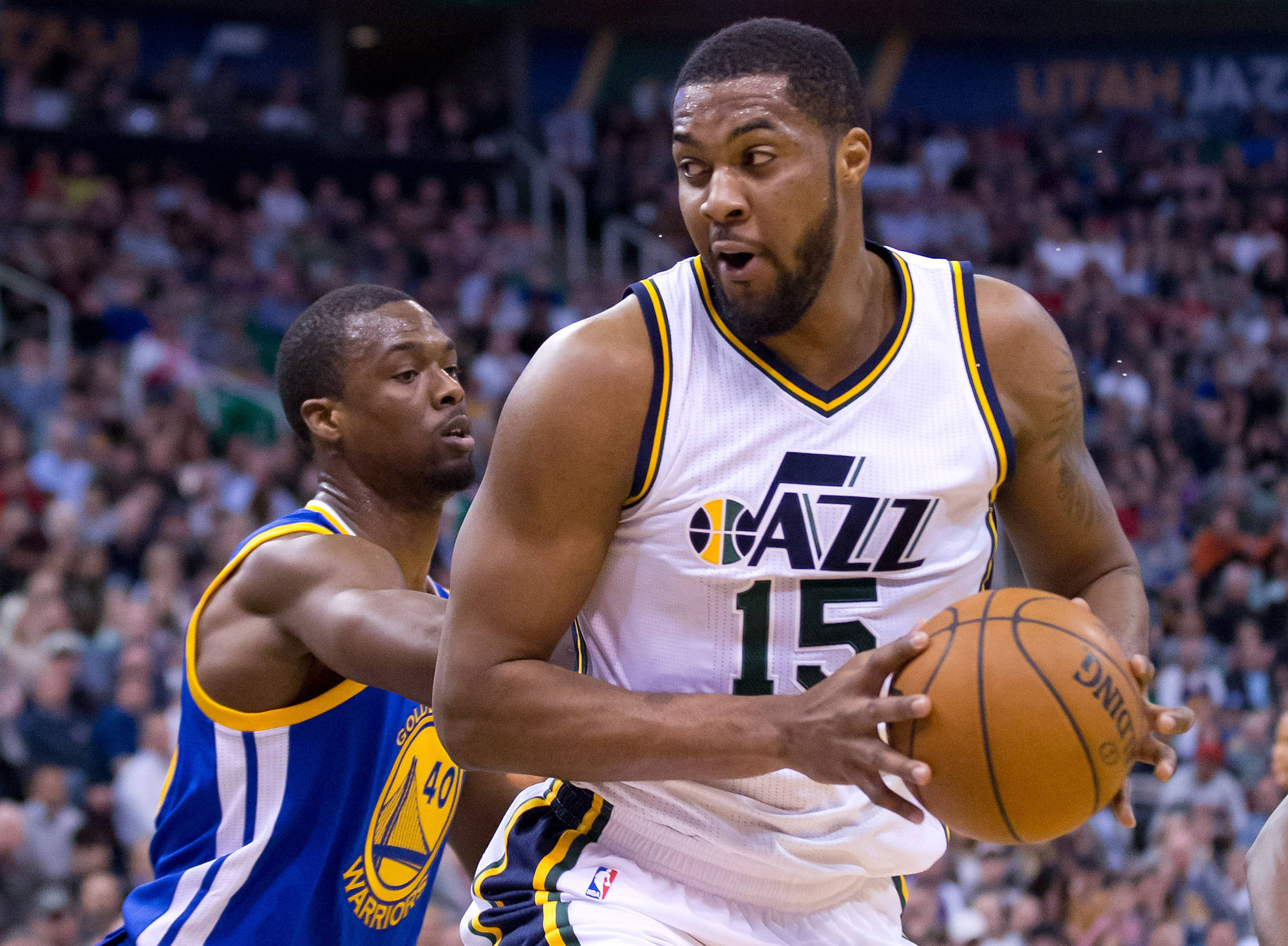 Russ Isabella-USA TODAY Sports
62 GP, 59 GS, 32.0 MPG, .515 FG%, .000 3P%, .709 FT%, 8.1 RPG, 1.5 APG, 1.2 SPG, 1.5 BPG, 16.4 PPG 2015-16 Stats
Another Utah Jazz player makes the cut largely to no fault of his own. It's not Favors fault that there are a bunch (and I mean a bunch) of forwards that are better than him in the West than in the East. I mean let's face it folks. Favors has to play in the same conference as Anthony Davis, Draymond Green, Kevin Durant, Kawhi Leonard, Demarcus Cousins, and (wait for it) LaMarcus Aldridge. See, all of these talented players have to share three frontcourt starting positions in the Game and then, you can only have so many backups. Such is the gift (and the pain) of having an All-Star Game. There will be snubs. In Favors's case, he has been snubbed quietly along with his partner in crime Gordon Hayward. Is it fair? No, it isn't but what can be done? I know, I'll put him in an All-Underrated Team and then maybe, he will start to garner more attention. Now if only I could get people to read this. Hmmmmmm....
Starting Center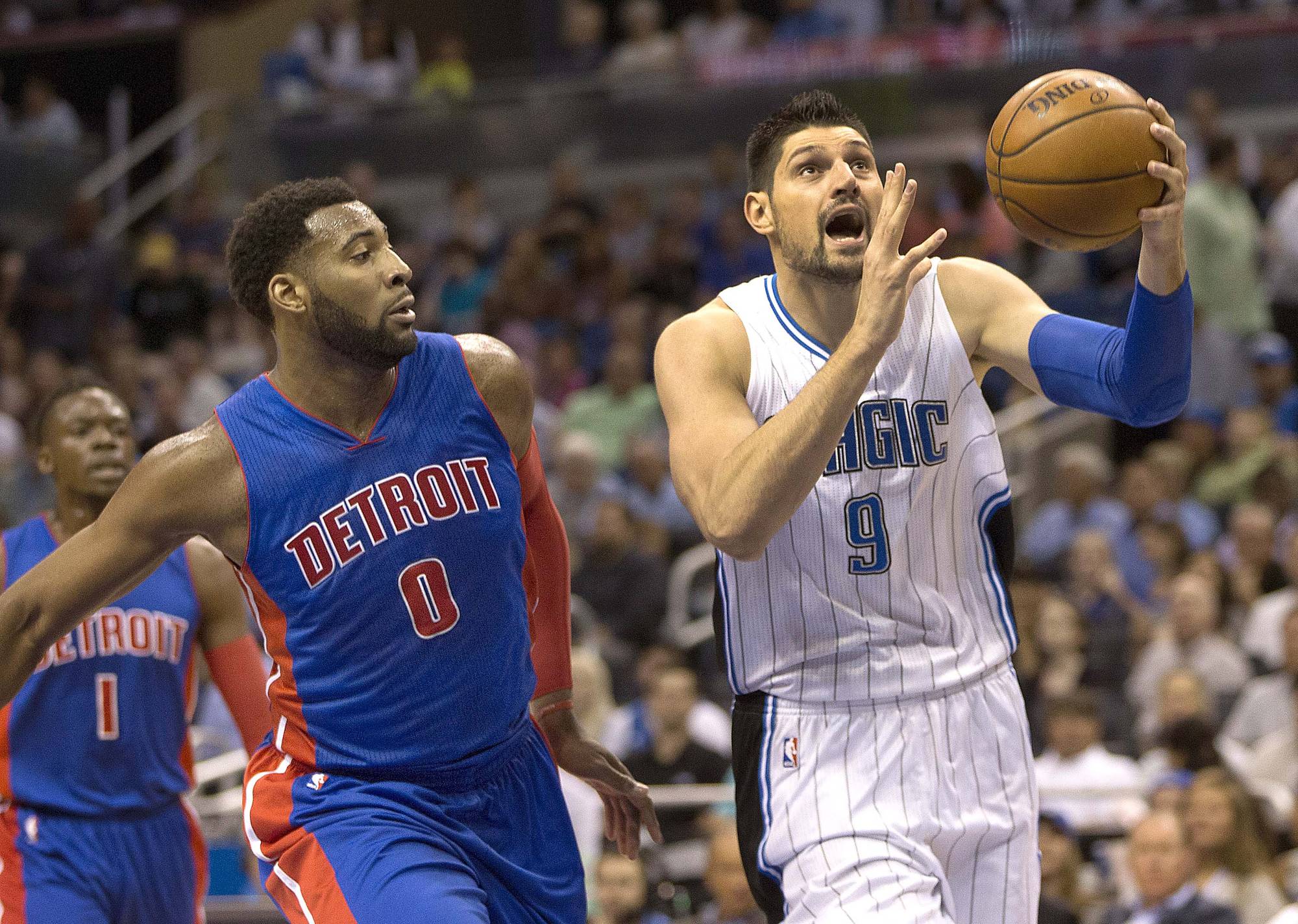 Reinhold Matay-USA TODAY Sports
65 GP, 60 GS, 31.3 MPG, .510 FG%, .222 3P%, .753 FT%, 8.8 RPG, 2.8 APG, .8 SPG, 1.1 BPG, 18.2 PPG 2015-16 Stats
Nikola Vucevic, or as I like to call him, The Montenegrin Monster should not be on this team. He shouldn't. I mean I am actually surprised he is here, but he is. "Why is that?" I hear my readers asking. I will tell you all gladly. Vucevic, as has been a trend of a lot of the players on this list, plays in a small market and as such receives little to no attention at all from the national media. It is a shame really. I think he is one of the top ten best centers in the game. My list of centers is (in no particular order) is Cousins, Drummond, Whiteside, Jordan, Lopez, Gasol, Vucevic, Horford, Valanciunas, and Howard. "Will Vucevic ever make the All-Star Game?" I hear you ask. Yes, I truly think he will if he keep up this excellent statline. It's a travesty at this point that the Orlando star has not made at least one yet. Look for that to change next year.
Backup Point Guard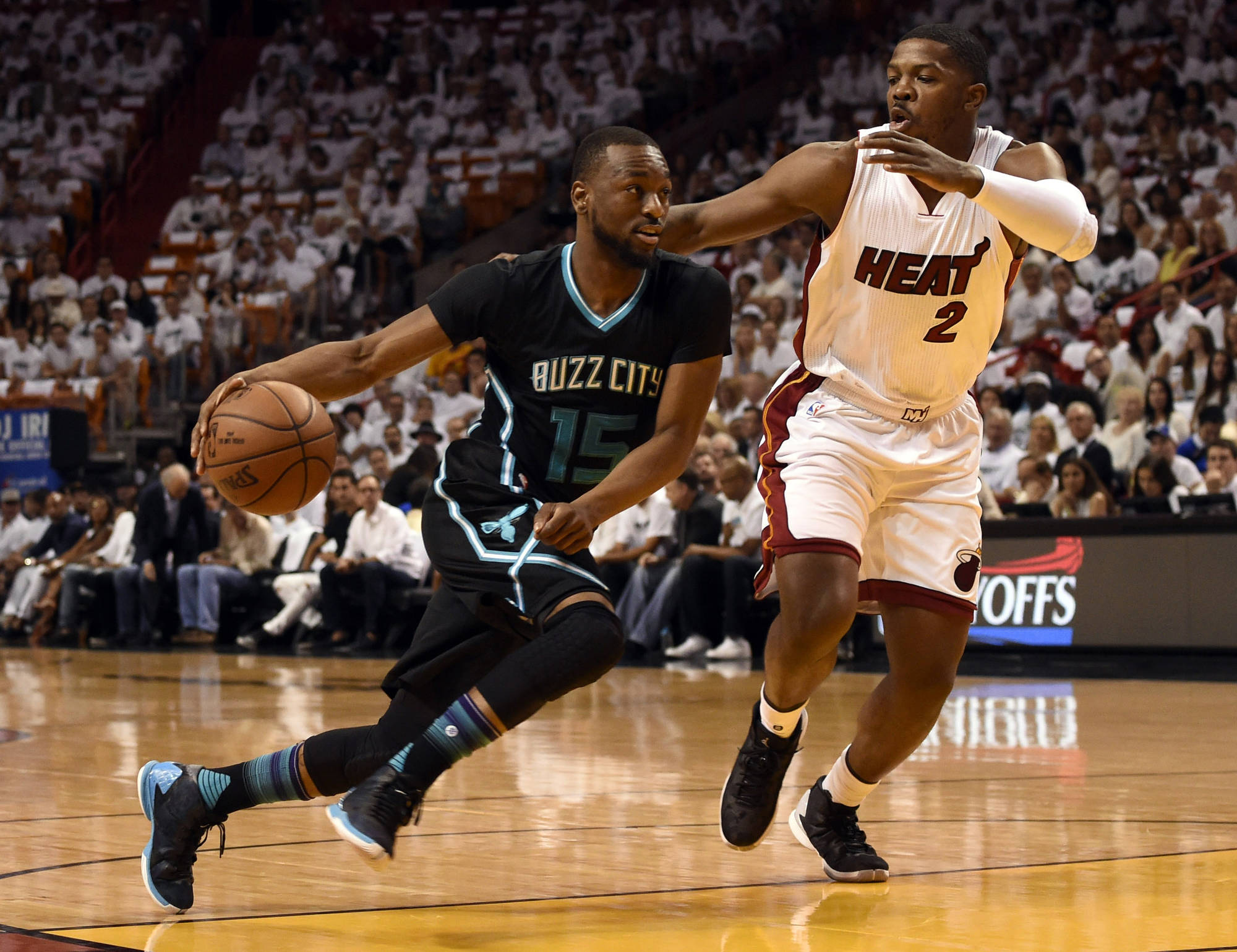 Steve Mitchell-USA TODAY Sports
81 GP, 81 GS, 35.6 MPG, .427 FG%, .371 3P%, .847 FT%, 4.4 RPG, 5.2 APG, 1.6 SPG, .5 BPG, 20.9 PPG 2015-16 Stats
A year ago, Kemba Walker would have a strong case to start in place of Mike Conley on this team. However, things change, and as such, Kemba Walker had a strong season this year (yet didn't make the All Star Game...COME ON!) and finished second in MIP voting to C. J. McCollum. Kemba Walker is slowly on his way out of the team and I could honestly see him cement his place as perhaps a Top 10 PG in the NBA by next year (if not this year).
Backup Shooting Guard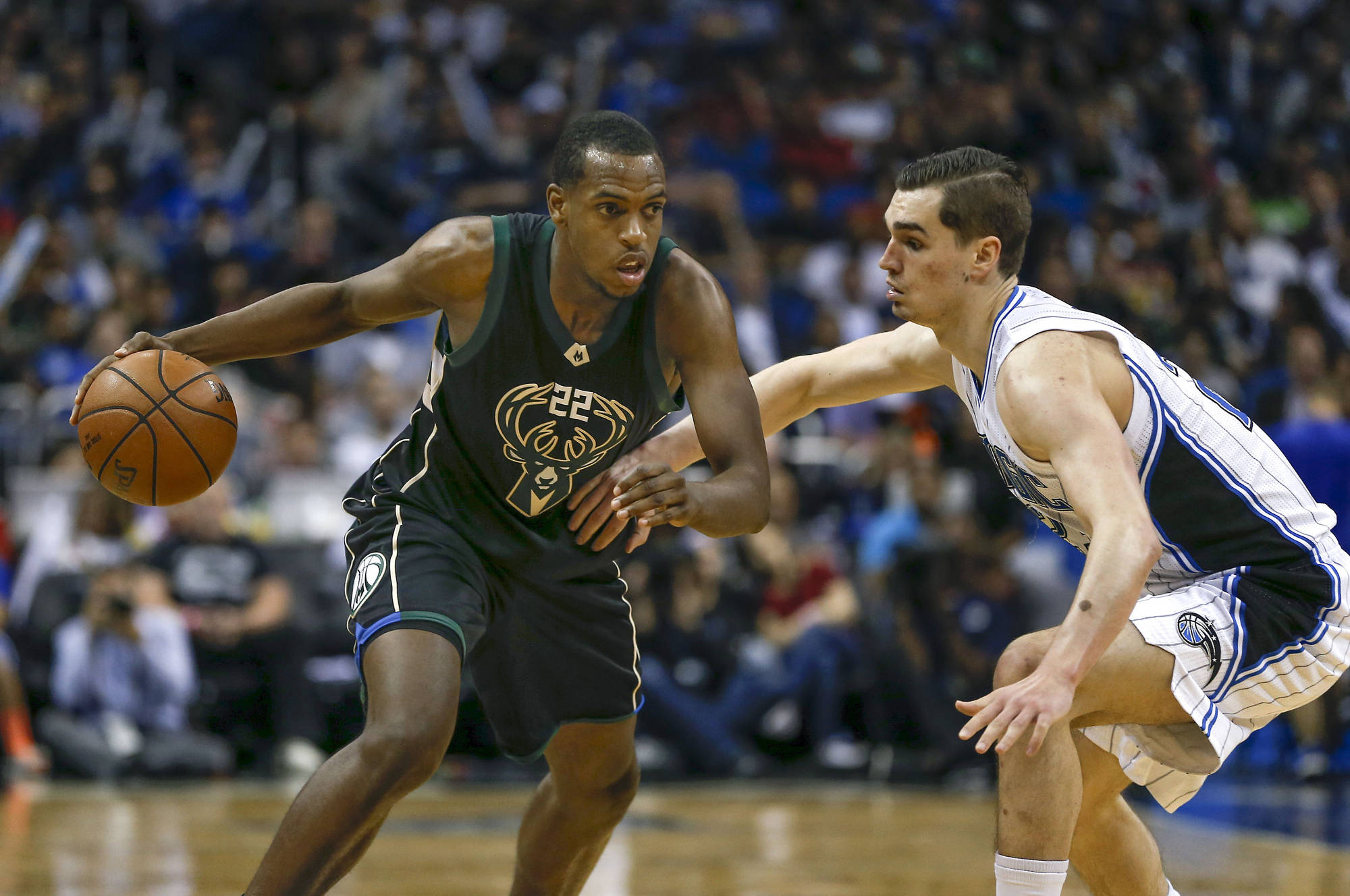 Reinhold Matay-USA TODAY Sports
79 GP, 79 GS, 36.1 MPG, .444 FG%, .396 3P%, .888 FT%, 4.2 RPG, 3.8 APG, 1.7 SPG, .2 BPG, 18.2 PPG 2015-16 Stats
On a team full of young, budding stars such as Giannis Antetokounmpo (think it's hard to pronounce, try spelling it) and Jabari Parker, it's easy for others to not be noticed. In come Khris Middleton. While those two received the majority of the attention from the Milwaukee Bucks this year, they didn't even lead the team in scoring. No, no, that honor belonged to Middleton. Middleton is quietly emerging as a solid 3 and D player and looks to be one of the best players next year for these Bucks.
Backup Small Forward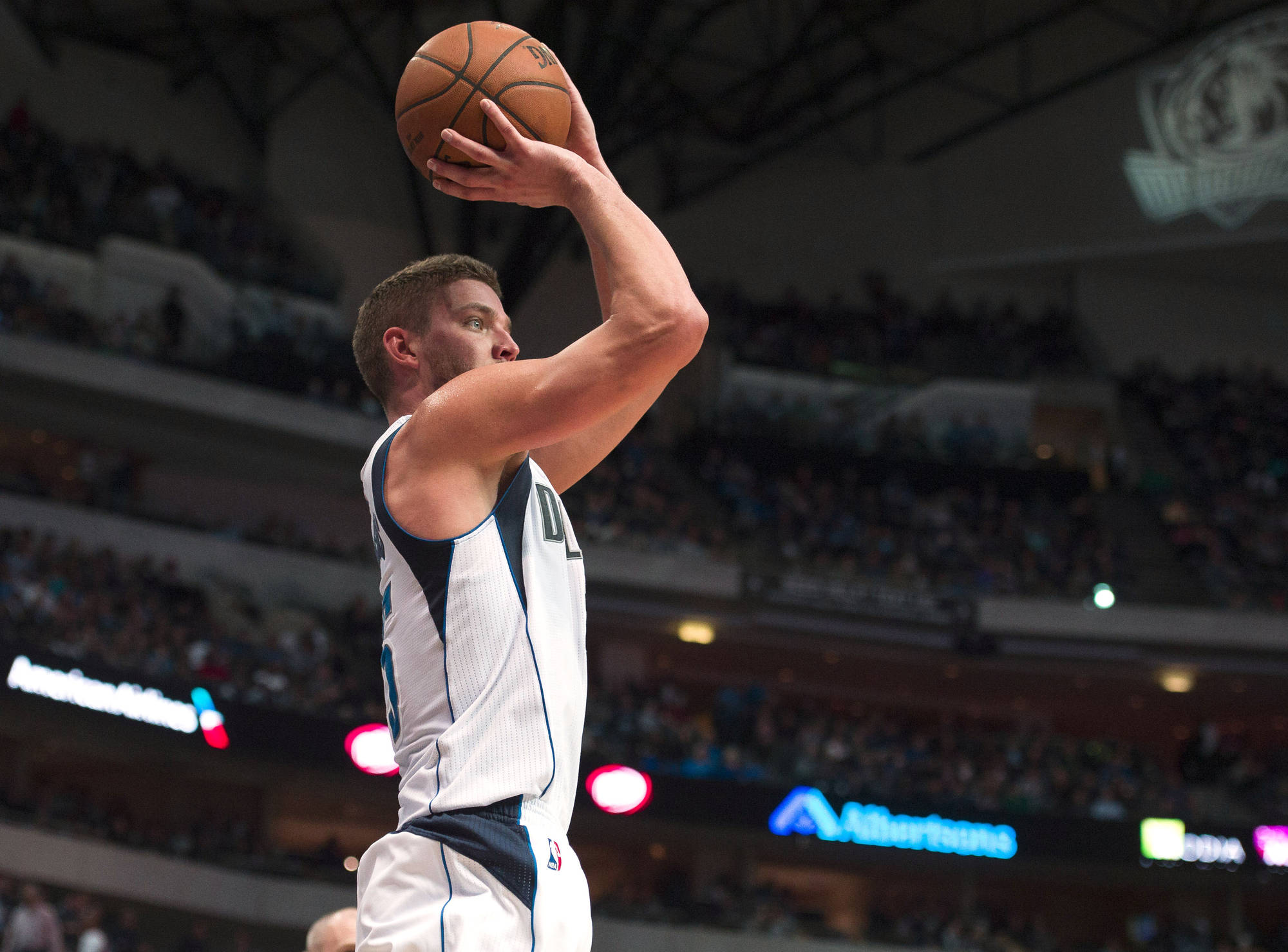 Jerome Miron-USA TODAY Sports
61 GP, 51 GS, 29.5 MPG, .492 FG%, .416 3P%, .684 FT%, 4.7 RPG, 2.8 APG, .8 SPG, .3 BPG, 13.7 PPG 2015-16 Stats
Parsons is in the exact same boat as Kemba Walker, the SS I'm About to Leave This Team. Rumors have it that Parsons is seeking out a max contract. Whether that will be from Dallas or from some other team remains to be seen. Until otherwise, however, Parsons is staying on this squad whether he wants to or not. Personally, I like Parsons as a basketball player. I think he is going to be a solid player for years to come. Let's see if I am right.
Backup Power Forward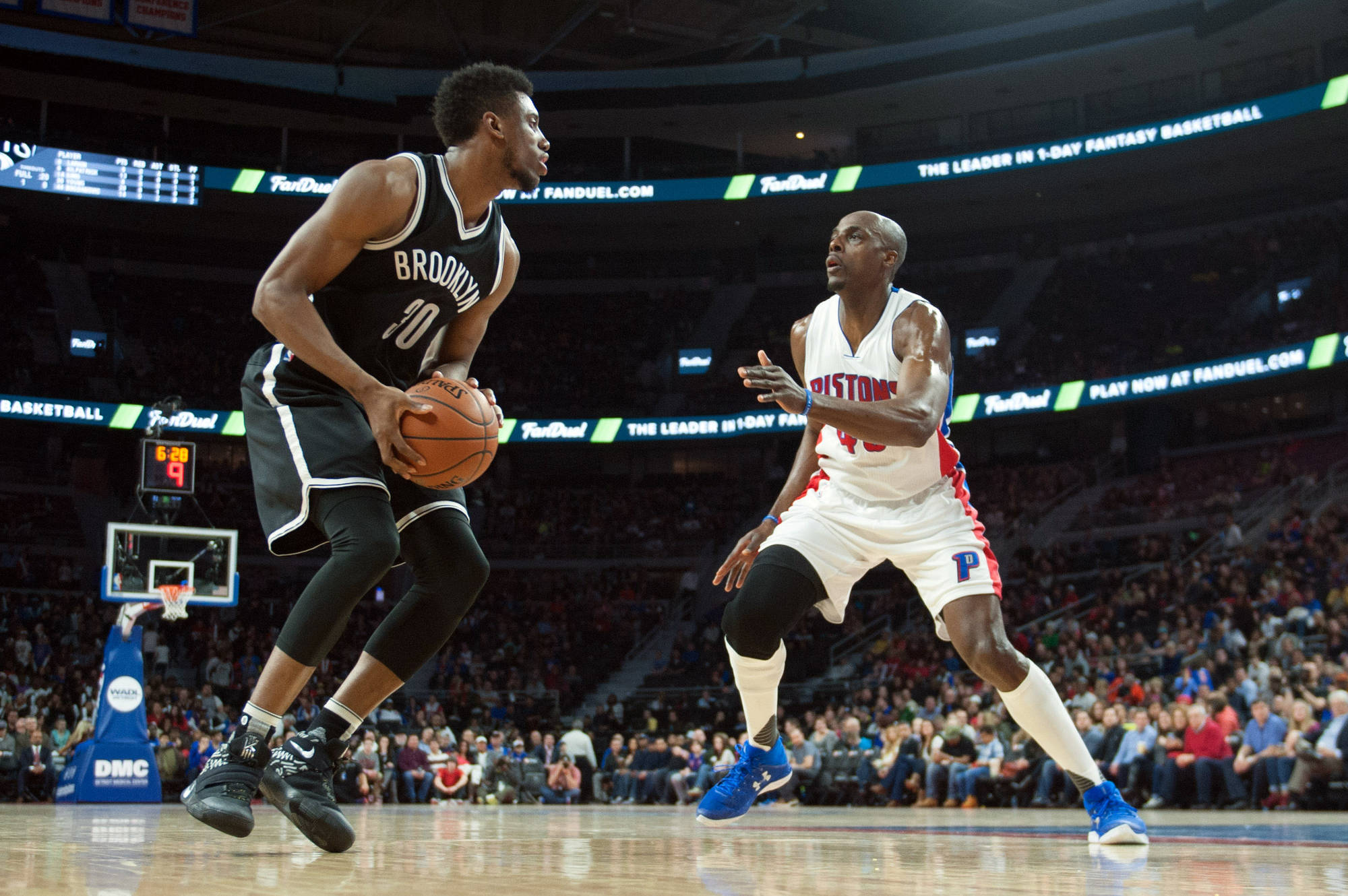 Tim Fuller-USA TODAY Sports
73 GP, 73 GS, 33.0 MPG, .514 FG%, .233 3P%, .644 FT%, 9.0 RPG, 1.8 APG, 1.5 SPG, .5 BPG, 15.1 PPG 2015-16 Stats
Thaddeus Young, set to debut with the Indiana Pacers next season, is an intriguing player. He, unlike a lot of players on this team, played in a big market (Brooklyn) yet was routinely ignored and shadowed by his running mate, Brook Lopez. Even though Young has averaged double figures in points for all but one of his nine seasons in the NBA and was the leader of the 76ers back when they started to tank, he is still consistently underrated. I don't expect for him to leave this team any soon, and I honestly believe we will be crowning him the most underrated player in the NBA by next year.
Backup Center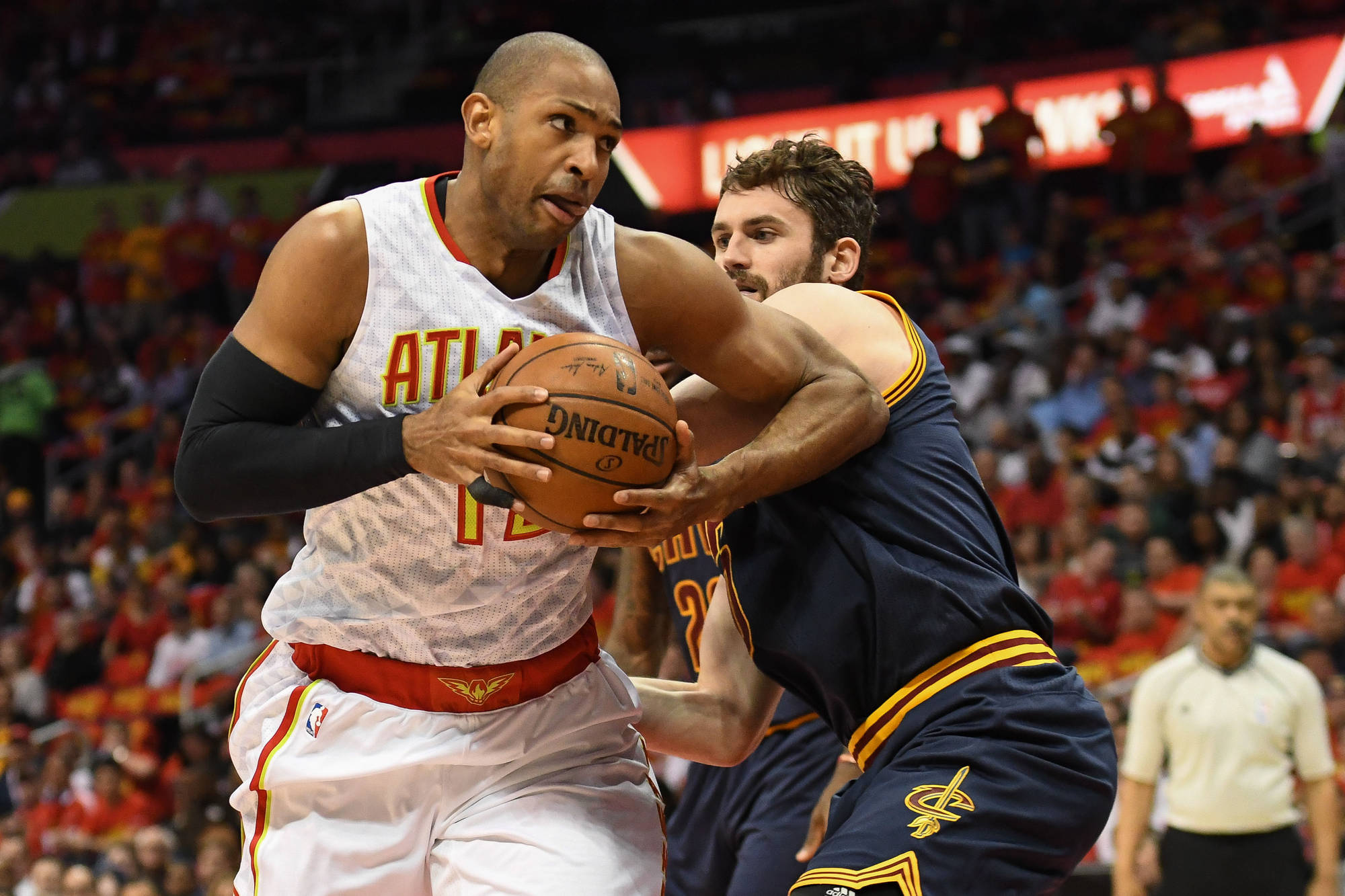 Dale Zanine-USA TODAY Sports
82 GP, 82 GS, 32.1 MPG, .505 FT%, .344 3P%, .798 FT%, 7.3 RPG, 3.2 APG, .8 SPG, 1.5 BPG, 15.2 PPG 2015-16 Stats
Al Horford is the only member of this 10 man rotation that is an All Star. That is the main reason why I have Vucevic starting over him. Still, that does not mean that Horford is not underrated. In fact, an argument could be made that he is overshadowed by his front court mate, Paul Millsap. Horford, in my opinion is a top ten center (see Vucevic for list), and look for him to be rewarded for his play this offseason.
Reserves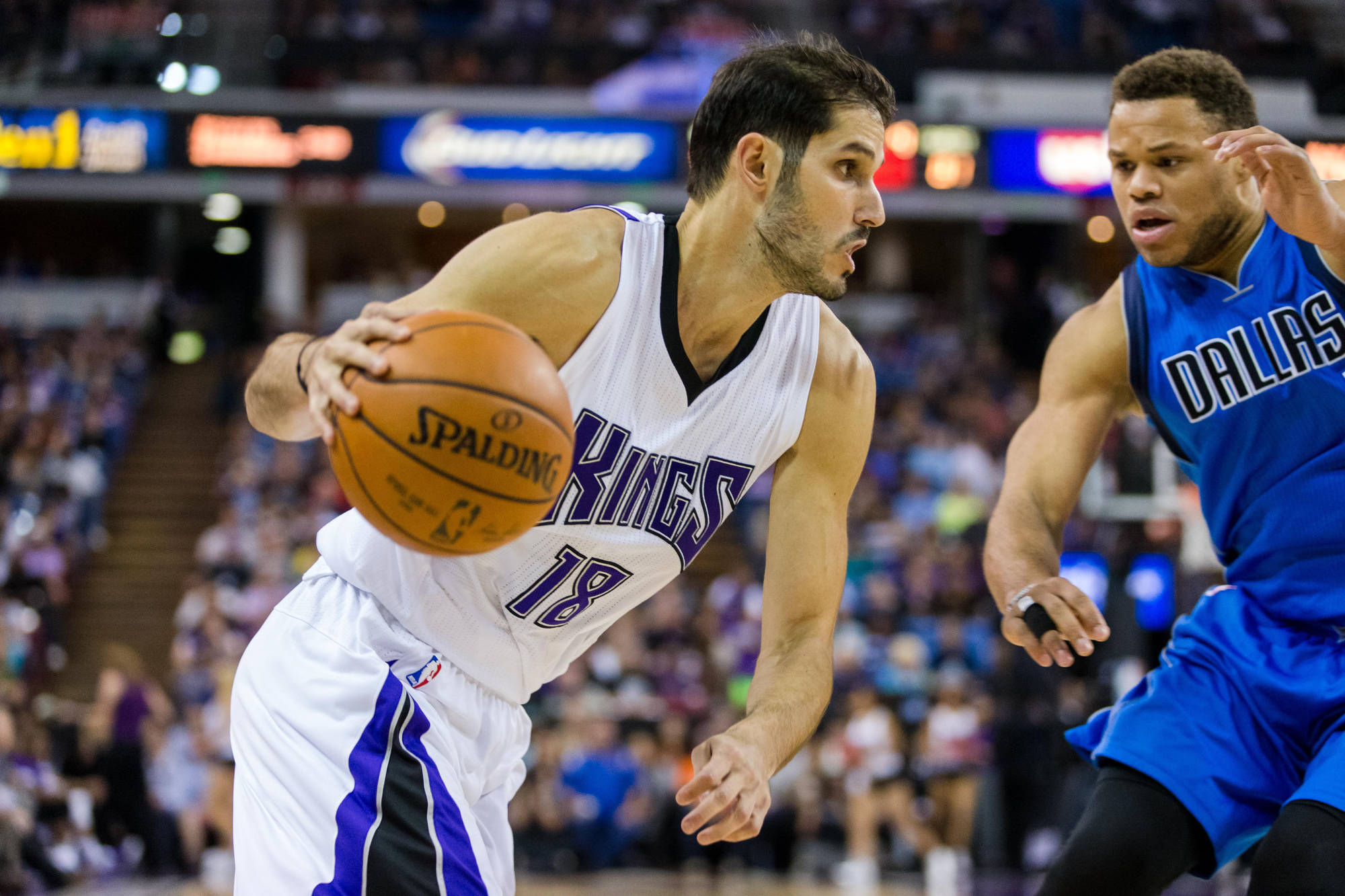 John Hefti-USA TODAY Sports
Since a typical NBA team has between 13-15 players on a roster, I figured that this hypothetical team of mine should have some reserves. My reserves are as follows:
Isaiah Thomas - PG - Boston Celtics - Diminutive (5'9") player that lights up the stat sheet. I'd argue that he is a top ten point guard and the best player on the Boston Celtics.
Omri Casspi - SF / PF - Sacramento Kings - Yeah, I'm looking at the Kings for an underrated player (Who'd have thought that). But Casspi is a very good 3 and D player and had a breakout year this year with the Kings and was one of their bright spots on an otherwise abysmal (aka normal) year for the Kings.
Jae Crowder - SF / PF - Boston Celtics - You will see so many lists regarding underrated players in the NBA with Jae Crowder's name leading the charge that it seems at this point he's become overrated. That's right. He's so underrated that he is overrated...Mind blown!
T J Warren - SF - Phoenix Suns - Even though the Suns had a bad year this season, they still have some solid young talent to build around such as Bledsoe, Booker, Knight, and even Warren. A second year player out of NC State, T J Warren looks to continue his breakout year and establish himself as a leader on either this Suns team or somewhere else next year.
Clint Capela - C - Houston Rockets- "Who is that?" I hear you ask. Capela is the backup center for Houston (likely starter next year with Dwight potentially leaving). Talk to Rockets fans, and they are delighted with that. And just to think that 5 years ago, if someone said that they'd rather have Capela start over Dwight Howard, they'd be laughed out of the room. How things change....
Our Head Coach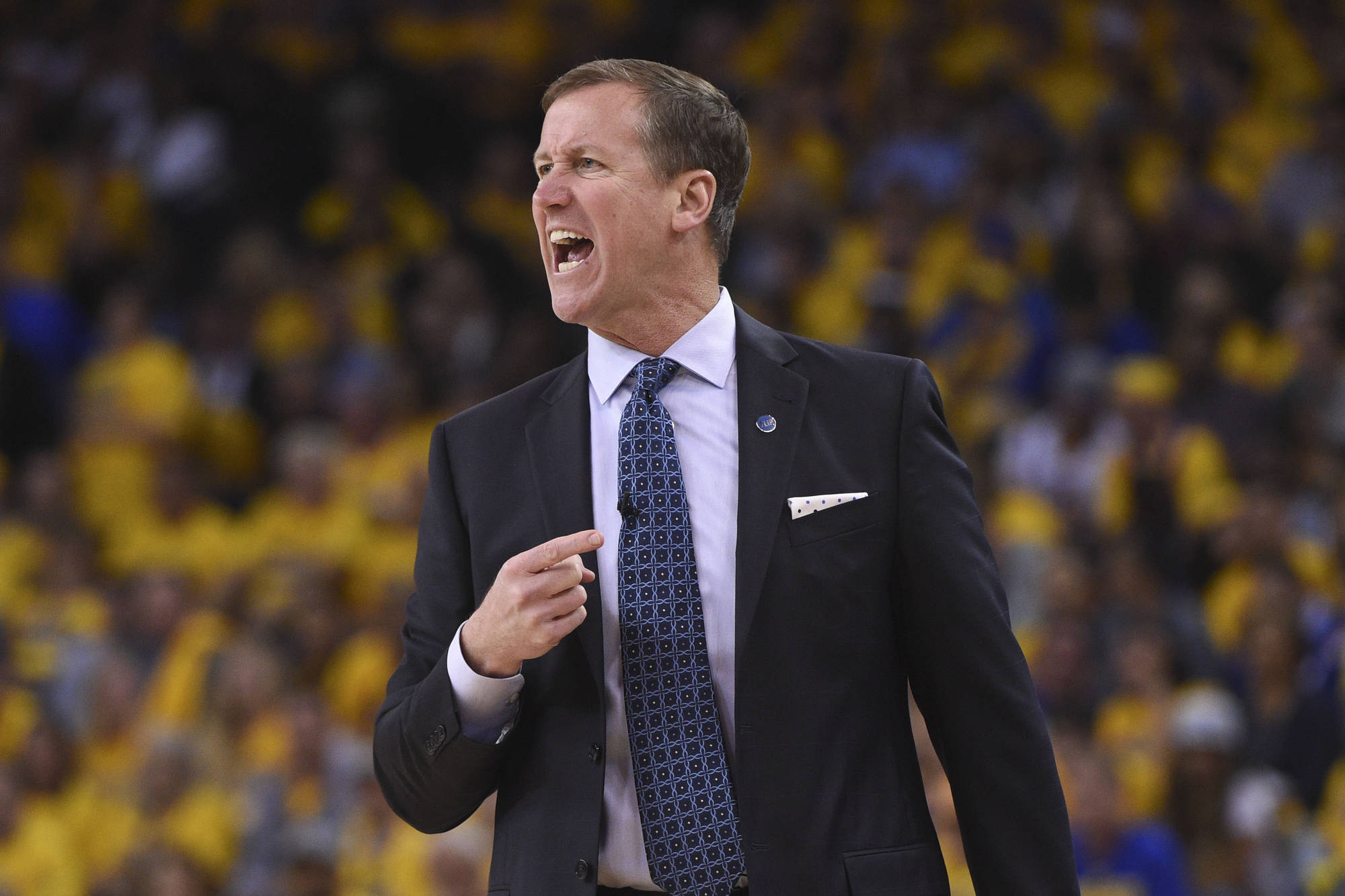 Kyle Terada-USA TODAY Sports
Terry Stotts - (182-146 record in 4 seasons with Portland, 297-314 record overall) - 44-38 - 2015/16 Season
This was a tossup between Brad Stevens (Celtics) , Steve Clifford (Hornets), and Stotts. Ultimately, I went with Terry Stotts of the Portland Trail Blazers. Before this season, many (including yours truly) thought that the only thing the Trail Blazers were going to contend for would be a lottery pick. Fast forward a season, and all those doubters (including me) are stunned. What Stotts managed to with this roster was incredible. He took them to the playoffs, led them to an upset over the 4 seed Clippers before bowing out against the Warriors in 5. This was a roster that was led by All-Star (not this year unfortunately but last year he was) Damian Lillard and a bunch of role players headlined by eventual MIP winner, C. J. McCollum. I am excited to see what this young team can accomplish next year
Thanks for reading this article. Have any tips on how I should improve? Kindly leave a comment down below. If you liked this article, please do not hesitate to click that follow button so that you can stay updated whenever another article of mine drops.
---