Hitting the Reset Button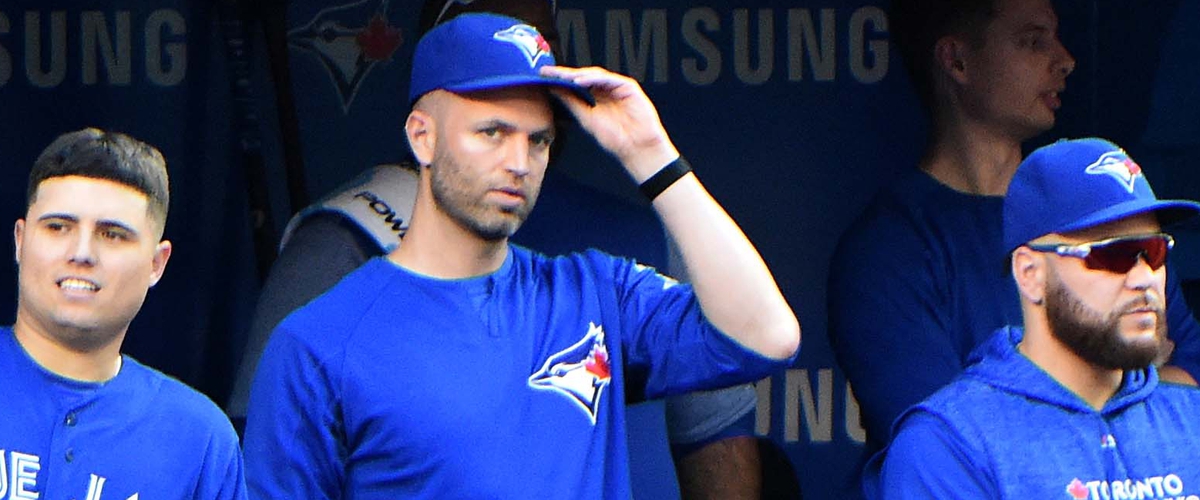 Wow...so my last blog was far too long ago. The team was trending around .500; starting to get healthy and showing signs that maybe just maybe they might be coming out of it. And then June happened. And July. Holy hell; did this season go off the rails quickly.
So when your star player has had less than 150 at bats this year, you're $20 million dollar man hasn't seen the field (and shows no sign of seeing it any time soon) and when the bright spot of your team; which was the pitching rotation has 3 of 5 starts miss significant time and your closer is suspended 75 games because of domestic assault chargers....you can't exactly have high hopes for your team. You really can't. The good news for the die hard Jays fans: ownership knows the season is lost and is finally realizing now what they should have known back in October. It is time to hit the reset button and start the rebuild.
The Jays started earlier this week making their first big move by dealing reliever Seunghwan Oh to the Colorado Rockies for two prospects. Sure; Oh has been arguably their best and most consistent reliever all year and has another year on his contract but when you're trying to build for the future; you need to take what you can get when you're so far out of it a reliever isn't going to help you.
The first player they received in the deal was Forrest Wall. He's an outfielder who literally had to walk across the diamond in AA to start the next game for New Hampshire as they were playing against Hartford; his former team. I'm really intrigued to find out if he grounded out and started to jog back to the wrong dugout. So things to like about him: he's fast; like really, really fast. That's something the Jays haven't really had on this team in a long time. What's going to keep him from getting to the majors; well...let's just say it's hard to steal bases when you don't get on base all that much or are hurt a lot. Both are risks with Mr. Wall. I'm pulling for him; if only for the fact that I can use more of these gifs...
Next player that was obtained was Chad Spanberger. The boy has power. I mean big power. He's hit .315 with 22 homeruns and slugging a very nice .579. The major issue for him is he's a first baseman for now; and defence isn't his calling card and in 380 plate appearances he's striking out about 21 percent of the time. That's not good. His scounting report also mentions "below average feel for hitting." How can you hit the ball that hard so often and still be labelled at below average at hitting. So yeah; that is a bit concerning.
Where I have faith with these two players is that they Jays player development has done a really solid job since the new regime took over of developing guys that people didn't think were great. Cavan Biggio, Bo Bichette, Danny Jansen and Logan Warmouth have all taken some significant steps in the right direction since the Jays have drafted them. Yes; the feeling was some of these guys were good but the staff has actually helped raise their stocks quite significantly.
The next trade that came across the wire yesterday was the trade of JA Happ. This comes as no surprise as he was a free agent at the end of the year and the Jays had to get something for him or risk losing him for nothing. The biggest problem is that in the last month he's been underwhelming to say the least. His ERA climbed to almost 4.20. Now all you have to do is combine it with upcoming free agency and he's almost 36...the return isn't going to be as good as everyone was hoping. There were reports that the Jays were going to get one; if not two top prospects out of someones farm system. That was never going to happen.
That one basically illustrates every conversation I've had since this trade went down. Yes; rumours were out there but there's no way they were getting that haul. No chance. I'm not trying to disrespect JA Happ. I think he's been a great pitcher for the Jays and a great member of the community since returning to the city. He's low maintenance and you can count on him to go out and do his job day in and day out. That does not make him an ace. That does not mean the return should have been anywhere close to what teams have given up for two months of rental for the likes of Cole Hamels and Aroldis Chapman. Those guys were in their primes and considered the top players in the game. The one argument I heard was "But he went to the All Star game." Yes he did. Only because every team has to be represented and Josh Donaldson was out for half the year and our closer was suspended. If either of those guys are playing full time; Happ ain't there.
Enough about him; let's look at who we're getting in return. Brandon Drury is a guy that can play almost every where on the diamond. The Yankees thought enough of him to trade two of their top 15 prospects in order to acquire him this offseason. Unfortunately for Drury, a trip to the DL meant losing his starting gig and the guy who took over didn't stop hitting. So that means Drury was the odd man out. Yes; he's a bit older at 25 but that doesn't mean he can't be an effective player for the Jays. If you're sitting there reading this and saying "Name me one player that's blossomed after 25?"
Two words. Josh Donaldson. I'm not going to say he's the second coming of JD but the Yankees usually don't miss when they evaluate talent and so far the Jays brain trust hasn't either when it comes to younger players. So I like this trade. The biggest issue this trade creates is a log jam of guys that play multiple positions. Seriously? That's an issue? No. What it does signal though is that there are probably one or two moves to trade away guys like Solarte or Diaz. Not saying it's going to happen but it's pointing in that direction.
The second piece of the deal is outfielder Billy McKinney. He's been traded numerous times at the deadlines because of his abilities as a minor leaguer. This seems to be like groundhog day for him. He's a guy that grades out with all his abilities being a little bit above average. That's a nice guy to have on your team. If he puts it all together and there's a very good chance he will get a good look on this team; he's got the opportunity to be a nice piece for this team while the rebuild happens.
So that was the good news. The bad news is that if you think the season was bad before trading our best starter and our best reliever; well there are more guys heading out the door before August so I guess you could say that by the end of September we could be looking at this season like:
Just keep in mind; rebuilds don't happen overnight and we as fans need to acknowledge that and be reasonable. I almost typed that with a straight face. Now that I know how much worse this going to get; excuse me while I go sit on the couch with a tub of ice cream and curl up in a blanket and prepare for the worst.
---