What's Wrong with the Detroit Pistons and How They Can Fix It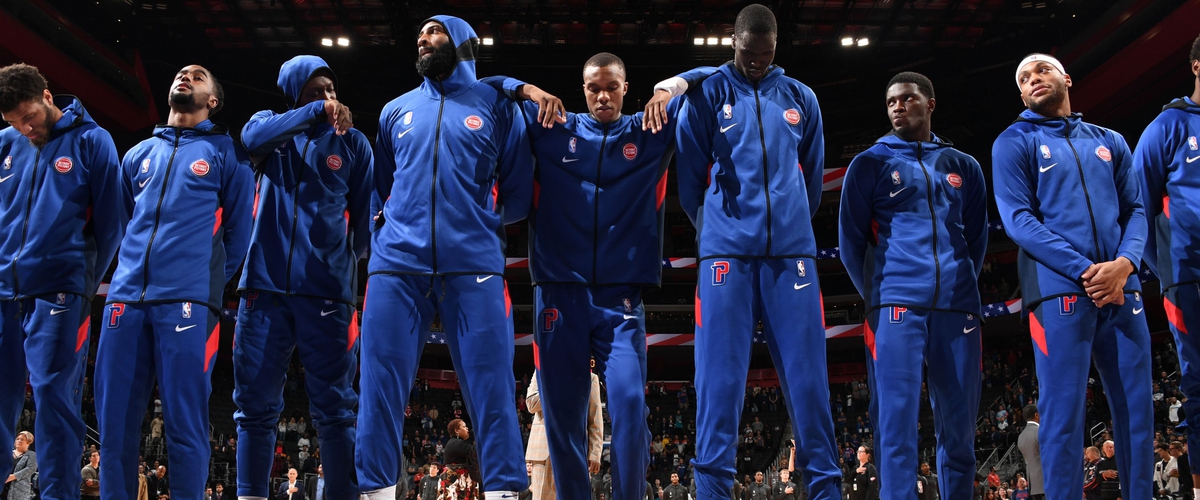 The Pistons have started 4-8 after falling to the Miami Heat on Tuesday night. The have played the most games in the league and also have had the most back-to-backs so far which, for an already injured team, really hurts. However, I'm not here for the excuse route. The Pistons have looked very bad on both sides of the ball this season, which could be the result of not having a lot of their main guys on the court but it shouldn't matter. There isn't really anyone to point a finger at because it has been a team effort looking like this bad, from coaches to players.
There have been few bright spots so far this season. One being the emergence of Luke Kennard as a very, very good scorer. He is averaging 18 ppg, 3.7 rpg, 4.3 apg on 45% from the field and 41% from 3. While most Pistons fans can say this is not a surprise to see him do this, the league however, has been caught off guard. The other bright spot has been Andre Drummond's play. When Drummond is not in foul trouble, he is putting up numbers the league hasn't seen since Hakeem and Abdul-Jabbar. Drummond is averaging 21.9 ppg, 18.6 rpg, 3.1 apg, 1.7 spg, 2.2 bpg, on 58% from the field. The downside? He is averaging 4 fouls a game, which for a teams best player to battling this problem is not very encouraging and with Andre being in a contract year and looking to get max money, he needs to clean up this problem and stay on the floor.
As for the direction of the Pistons, nobody knows since it is so early in the season. I, however, have put together 3 plans of actions for the Pistons. The plans have 3 different goals and 3 different outcomes. What ever one the Pistons decide to go, will determine their expectations for the season.
The Ride It Out Plan -
This plan is the most likely of the 3 plans. The Pistons will not be completely healthy until, barring any unexpected mishaps, around January 1st. The only problem with this is, the season could be beyond saving at the point of everybody returning. The team has a lot of potential, but injuries are slowly turning this into another "what if" situation for the Pistons and fans.
Actions needed for this plan:
1. Coach Casey and Co. need to have a sit down with Dre about his fouling.
While every player receives some phantom fouls, I believe Dre receives more than any other in the league. With this being said though, he still has pretty dumb fouls and then proceeds to disengage from the game. If they can fix this problem, the Pistons instantly become a better team.
2. Regardless of the lineup, Bruce Brown needs to play Point Guard.
With as many injuries this team has had this year, players have had to fill roles they are not used to playing. Bruce has done a wonderful job at point guard and with all 3 Piston point guards battling injuries and when they do play, they don't play very good, Bruce has filled the shoes. His number playing point guard are night and day compared to his shooting guard numbers. Him being comfortable will make this team better, as it allows him to do what is natural.
3. Thon needs very limited minutes.
As much as I loved the Thon trade, it isn't looking to good at this point. Thon in 12 games has been basically unplayable in 11 of them. He has been bad on both ends of the floor, except for the Miami game. We signed Christian Wood, who is a lot better than Thon (at least offensively), and he gets less minutes but plays better. This should be a no-brainer Coach Casey, don't make life more difficult than it has to be, play the guy that makes you better as a team.
4. Dwane Casey needs to better at managing the game.
Dwane Casey is a phenomenal developer. When it comes to coaching game it's like he draws a blank. If the Pistons chose to ride it out, he will need to be better. His defense might be one of the worst in the league and his offense is often stagnant and ends a poor shot. Dwane needs to make changes to his gameplan to atleast help keep the boat afloat until fully healthy.
The Retool Plan -
I think this is my favorite of the 3, we don't totally blow up but we make necessary changes. When the roster is fully healthy, I believe we still need to add a few things. One thing I want to make clear, this is a retool not an all-in plan. This means we don't make any crazy trades, just a few that will make us be more well rounded.
Actions need for this plan:
1. Package Thon Maker and Tim Frazier for a backup Center.
As we have all seen, Thon is not a backup center and with the emergence of Bruce as a point guard, Tim Frazier really isn't needed. We package these guys together for a reliable back up center, because I do not really trust Markieff Morris or Christian Wood with those backup center minutes. I would also be willing to throw in one of our seconds if the deal was good enough, but I want to try and avoid giving up assets. Here is a potential deal: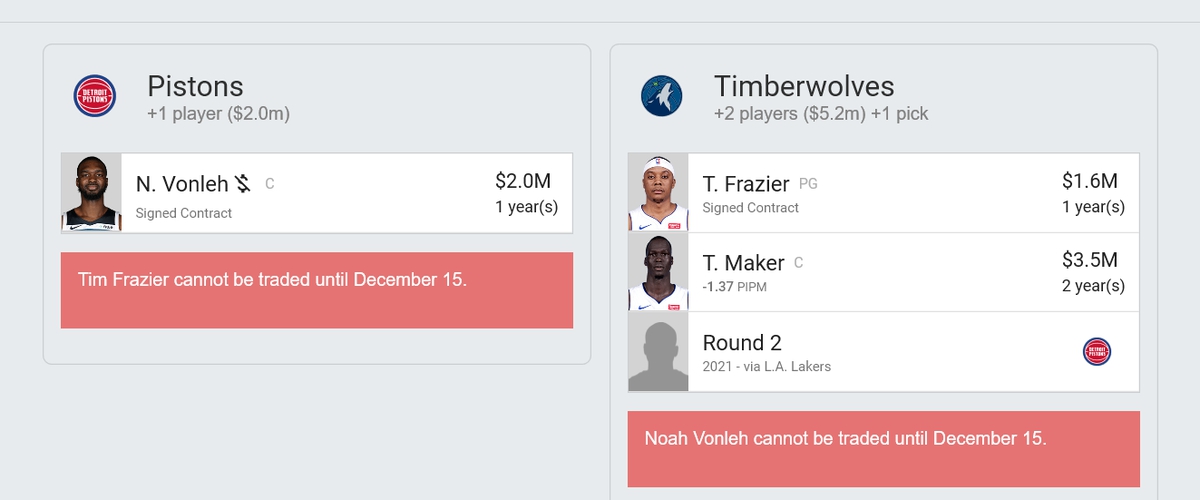 2. If a deal does not get done, cut Thon and sign a backup big.
This isn't ideal but I'd be willing to hold on to that dead money for the rest of the year, in order, to get a true backup big. We need someone to be able to rim protect and rebound when Andre isn't on the floor. Thon hasn't been able to do that, but neither has Christian Wood and Markieff Morris so that's why would need a 2nd big.
Potential Additions:
Andrew Bogut
Joakim Noah
Marcin Gortat
Kenneth Faried
Donta Hall
Amir Johnson
3. After the addition of whoever, Casey needs to be better.
I'm not going to touch on this much, because I've already talked about it in the plan earlier. This team will need Casey to be better at rotations, playcalling, etc. for this team to reach it's max potential. After retooling, it will all come down to how well he manages the game and puts the Pistons in a position to win ball games.
The Rebuild Plan -
This is my least favorite of the plans, due to our past with rebuilds. With a new front office regime and a head coach who is known for his developing skills, it could be different this time. If this type of play continues and the Pistons show no sign of life around the new year, I think it should be time to cut ties and do it all over again.
Actions needed for this plan:
1. Trade Blake Griffin
I appreciate everything Blake has done for the Pistons. He carried us to our first playoff appearance since 2015-2016, he literally played on a tore meniscus in playoffs to try and get us a win. We will not forget that heart; however, us trading him for assets would be huge for our rebuilding efforts. Here are some potential deals: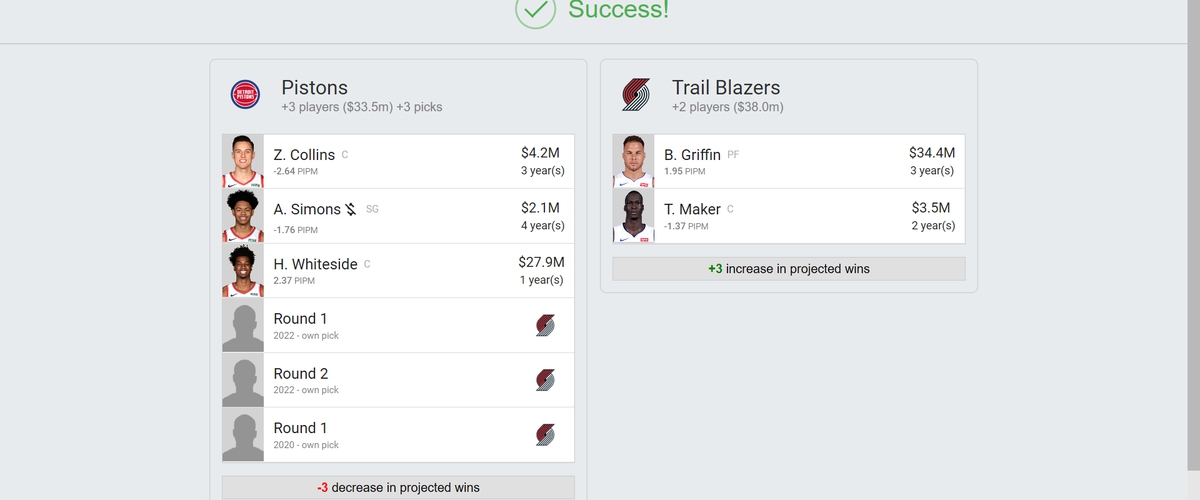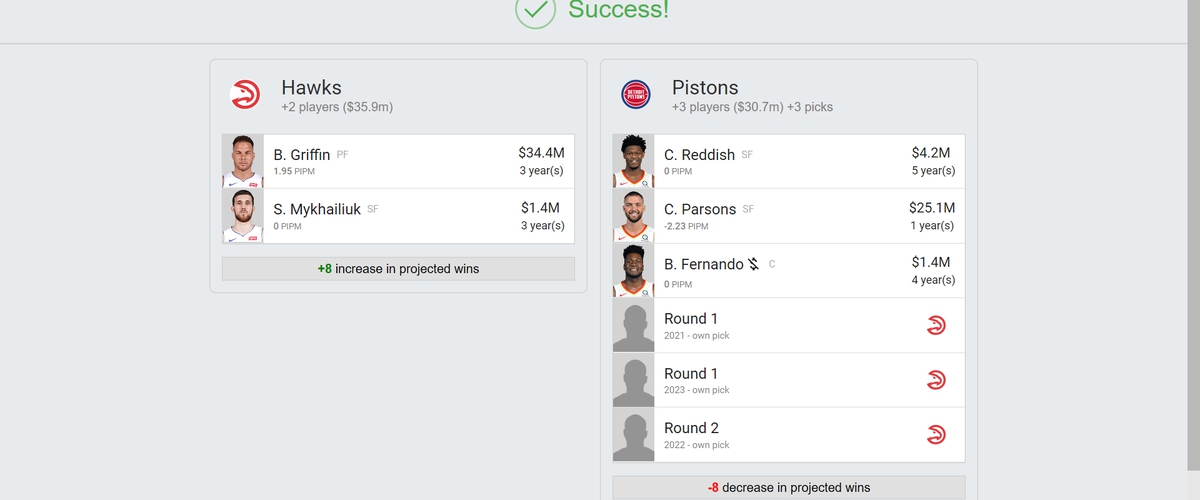 2. Trade Andre Drummond
This one hurts the most, as Andre is easily my favorite player in the league and possibly all-time. I've watched him grow as a player over the course of his career. I've watched him climb the ranks of the greatest to ever don a Pistons a jersey. He is one of the greatest rebounders of all-time, but similar to Blake, trading him for assets would help tremendously in rebuilding. Here are some potential deals: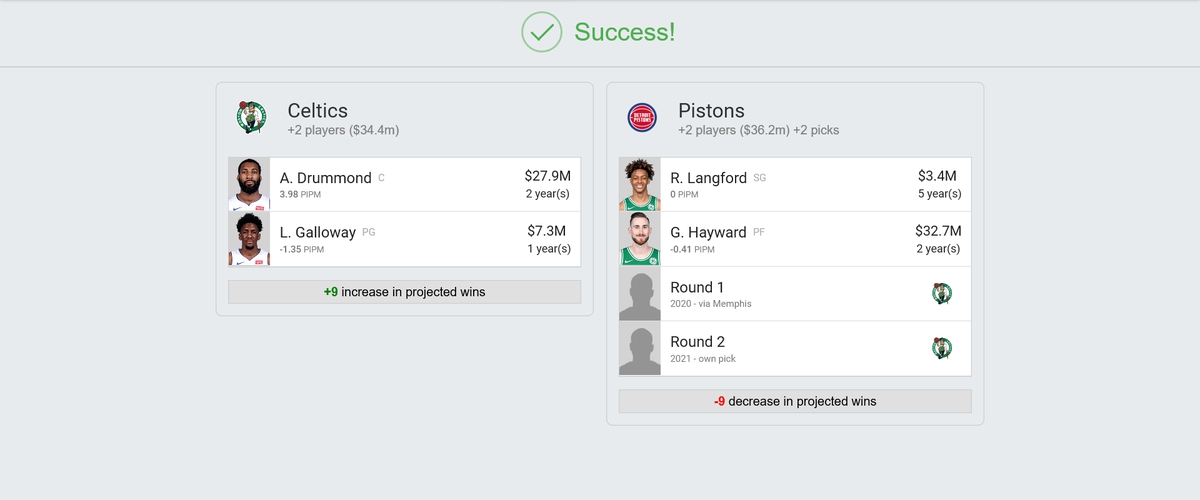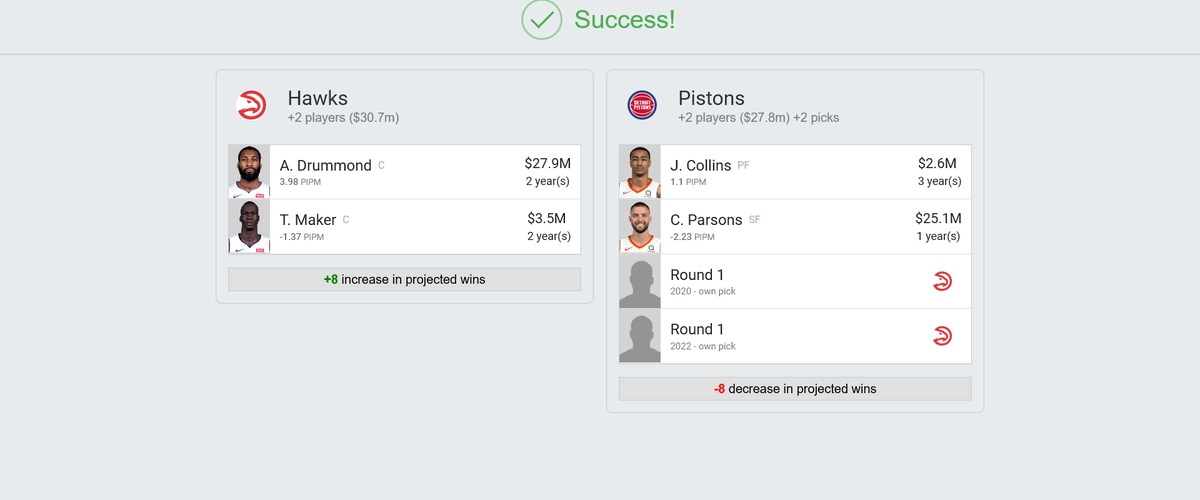 3. Trade Derrick Rose
Derrick has shown this season that he still has a lot left in the tank and some team will gladly scoop him up. With us tearing it down, there would be no point in keeping him because he would take minutes away from young guys and his contract would be nice to have off the books. I believe some team out there would willing to give up a first or asset for Derrick. Here is a potential deal: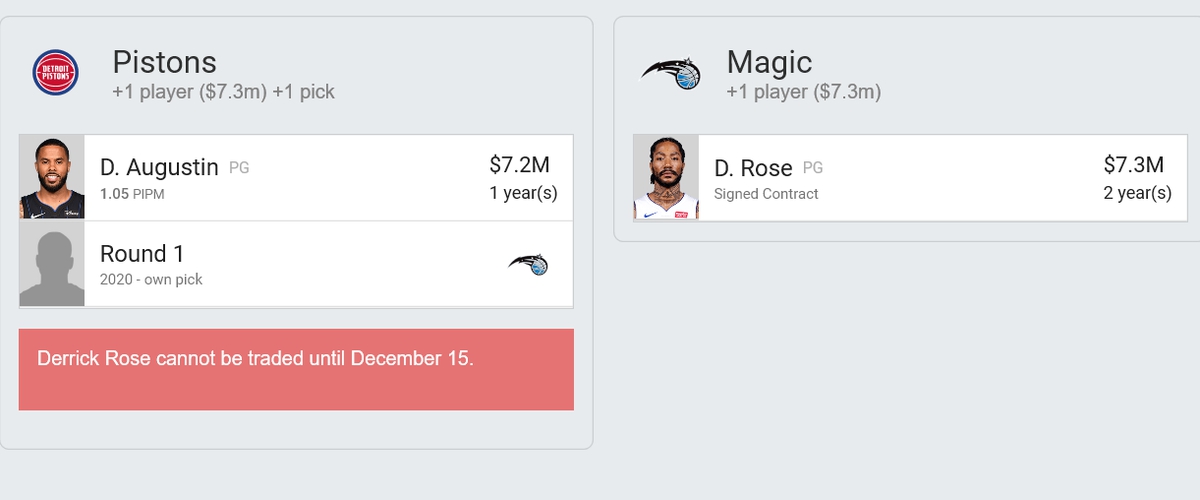 4. Cut ties with anybody else who could get us assets at the trade deadline.
I don't think anybody else on the roster could get us any young players or picks, but if the opportunity is there, we should jump on it. Most of these guys are expiring contracts so we don't necessarily need to trade them because they would be off the books at the end of the year.
5. Play young guys and continue to develop them.
Luke Kennard has already proved he is going to be a good scorer but I would like to see what our other young guys have in the tank. Call up Sekou Doumbouya from Grand Rapids, Let Jordan Bone get back up minutes, Give Svi Mykhailiuk the green light, and let Khyri Thomas (once he is healthy) get some meaningful minutes. We need to see what all of our young guys can do so we know who to keep and what positions to draft.
As a Pistons fan, that last plan was hard to write. I want to avoid a rebuild at all cost but sometimes you have to do what is right. I do not think it gets to that point but it is smart to prepare for everything. A rebuild under this regime could be interesting and who knows we could be better once it's over, but there is a chance we fall back into the dark chamber of awful basketball teams for another decade. I would like to thank you if you are still reading at this point, it means a lot. I'm always open for discussion, so let me know what you think!
---