Tiger Woods' Win at the 2019 Masters... and What it Truly Meant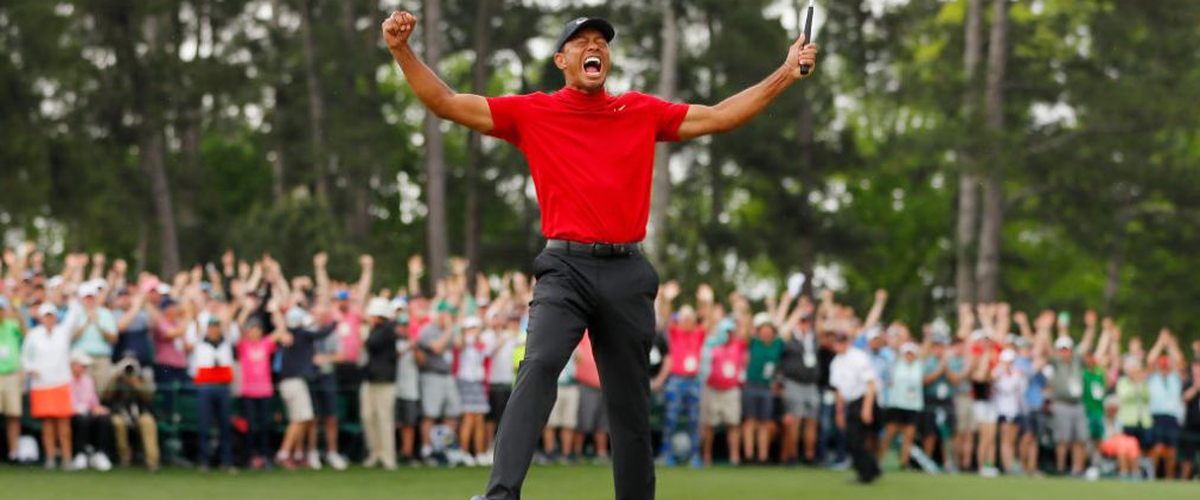 Throughout the history of sports, there have been many great comeback stories. Some of these comeback stories never reach their full potential. Brett Favre is a perfect example... wonderful career as a member of the Green Bay Packers that included a Super Bowl and a couple of MVP seasons. He makes a comeback with the Minnesota Vikings, but turned out to be a shell of his former self. There are other comebacks that do develop and turn into history. Ben Hogan after his near-fatal car accident. George Foreman winning the Heavyweight title again after two decades of unsuccessful attempts. Michael Jordan retiring after winning 3 NBA Championships, and coming back 2 years later to win 3 more. Even Michael Vick coming back from a prison sentence to a brand-new Philadelphia Eagles team and leading them to a division title. All of these comebacks are truly remarkable feats, and we as sports fans appreciated the effort and never-say-die attitude of all of these players. Whether the reason they left their respective sports was self-inflicted or not, the comebacks outweighed the departure. But what happened on April 14, 2019 is something that will live on and be remembered not just as a "great comeback", but the GREATEST comeback in the history of sports.
In order to fully understand the magnitude of what I am about to discuss, there needs to be some perspective put on this. So let's start back in 2008. Tiger Woods wins the U.S. Open at Torrey Pines in a playoff against Rocco Mediate. One of his greatest wins ever, undoubtedly. What we didn't know at the time was that he won that major championship on a torn left ACL. Tiger would miss most of the 2009 season recovering. Then it happened. The story that everyone believes was the beginning of the downfall for Tiger. Thanksgiving Night, 2009. He smashes his Escalade into a tree near his home in Jupiter, FL in the middle of the night. After that, numerous women came to the forefront with shocking allegations about him and extramarital affairs. He holds an absolutely humiliating and embarrassing press conference in front of the entire world, where he confesses to everything. He goes thru a very ugly divorce, and it seemed that Golf was the very last thing on his or anyone else's mind. Everyone seems to think that was where Tiger went downhill. In fact, that couldn't be further from the truth. Did we forget about 2013? No, he didn't win a major, but he did win 6 tournaments and win PGA Tour Player of the Year for an unprecedented 11th time. In 2014, however, he would be hit with something far worse than any car accident or divorce... career and life-threatening injuries.
First it was a knee. Then an elbow. Then a back injury. Multiple back surgeries, and multiple failed comeback attempts. We didn't see Tiger Woods on the PGA Tour on a consistent basis for nearly 4 years. As a last resort, he has spinal fusion surgery. Again, some perspective. Spinal fusion is an extremely risky, very dangerous operation that should end the career of any athlete. This is a surgery you have done when there is no other alternative, and you're looking to live some semblance of life. The operation is done, and he starts putting updates on social media. One last comeback attempt. The whole thing was amazing. A great showing at the Arnold Palmer Invitational. A top-10 and a lead at The Open Championship, and an even better showing at the PGA Championship at Bellrive. It all culminated at East Lake at the Tour Championship, when Tiger was victorious for the first time in nearly 1500 days. That was the comeback. We knew it. We were satisfied. Tiger was back. It was plenty good enough for every sports fan on the planet... but as we soon found out, it was only the beginning.
The Masters. The greatest golf tournament on the planet. More prestige is found in this tournament than anywhere else in the entire world. Going in, everyone had their favorites. Rory McIlroy was playing really well. Justin Rose and Dustin Johnson were #1 and #2 in the world. Brooks Koepka is a major championship machine. But deep down, everyone had a feeling that Tiger Woods would contend. Maybe not win, but he would be in the picture late somehow. Come Saturday, he was well in contention, and made a strong run to get into the final group on Sunday. Tiger's game on Sundays throughout his career has been to play mistake-free Golf. Let the others make mistakes. But there were doubts and questions as to whether or not Tiger's presence would intimidate the competition anymore. And for 11 holes on Sunday, it looked as though it would not. Then it happened. The 12th hole, which has ended the hopes and dreams of so many over the years strikes again. Three players make double bogey, and one makes par. The double bogeys belonged to Tony Finau, Brooks Koepka, and Francesco Molinari. As for the par? That was courtesy of Tiger Woods. It put him in the lead and gave him the momentum going forward. He played safe, and it worked. Mistake-free golf again for the man that has made a career doing it. Coming down the 18th fairway, the world of golf knew what was happening. We could feel it. It was about to happen. The thing that so many people said would never happen again. Tiger Woods was about to win his 15th major championship, his 5th Masters title, and his 81st PGA Tour tournament. With 2 putts, he did so, and the reaction from him said it all (see above picture). He did it. After everything he had been thru - divorces, affairs, a DUI, jail time, rehab, sexual addiction therapy, spinal fusion surgery... you name it, he dealt with it. It all came out with one big roar on the 18th green. A celebration with his 2 children Sam and Charlie soon followed. A hug for Mom, and girlfriend Erica. High fives, handshakes, and bro hugs with some of his close friends on tour, it was a sight to behold. We were all in awe of what we had just witnessed.
So now that we've had a week to soak it in and digest it... what does it all mean? What's the significance? Well most people would tell you that he's one of two men with 5 or more Masters victories (Jack Nicklaus - 6). He's also one win away from tying Sam Snead for #1 on the all-time wins list. It's also the first time he's won the Masters since 2005, and his first major championship since the aforementioned 2008 U.S. Open. While all of these things are certainly very true, and not to be overlooked, this doesn't even begin to explain the true meaning behind this victory. Listen, spinal fusion surgery usually means retirement. It means a life of very little physical activity and little strain on the body. To put that in more specific terms; for all intents and purposes, Tiger Woods shouldn't even be swinging a golf club, much less winning the Masters. It's ridiculous. But it's also proof that nothing is impossible. But it also encapsulates Tiger's last 10 years. When it rains, it pours. The true judgement of a man's character is not what type of adversity he faces, but what he does in response to the adversity he faces. Tiger Woods stared life-altering injuries in the face, and won. He's now the #6 ranked player in the world. 2 years ago, he was #1199. No joke. When life throws curveballs at you, crowd the plate and swing for the fences. That's what Tiger has done. It's proof that you can overcome. If you want it bad enough, you can do it.
In conclusion, every sports fan needs to thank Tiger Woods. No matter if you're a fan of his or not, or if you're a golf fan or not. He has made the sport of golf marketable and cool to watch and play. He has inspired a generation of kids to want to be like Tiger, instead of just wanting to "be like Mike". He's added his name into the conversation of the greatest athletes not just of this generation, but of all-time. What we witnessed 6 days ago will, in all likelihood, never happen again. Not because other athletes aren't capable of coming back from injuries, and not because others won't be faced with similar situations. The reason we won't ever see a replay of last Sunday is because there's only one Tiger Woods. No athlete has ever been higher on the mountaintop of their sport, and brought back down to the pits of the Earth. His whole life exposed, personally and professionally. He's handled it with grace, and has become a very humble human being. He's approachable now. He laughs and smiles on the golf course more than he ever has. He's gotten a second chance to do what he loves, despite all of the odds. He's taken full advantage of his second chance. We also have a second chance. We as fans have a second chance to experience what so many did a decade ago. Tiger Woods dominating the sport of golf like no other athlete has ever dominated any other sport. And much like Tiger, I plan on taking full advantage of this second chance. So as a fan, sports lover, and a normal, everyday human being, I say thank you, Tiger. Keep roaring.
~ Chris Guyette
---