Big Ten Underrated Teams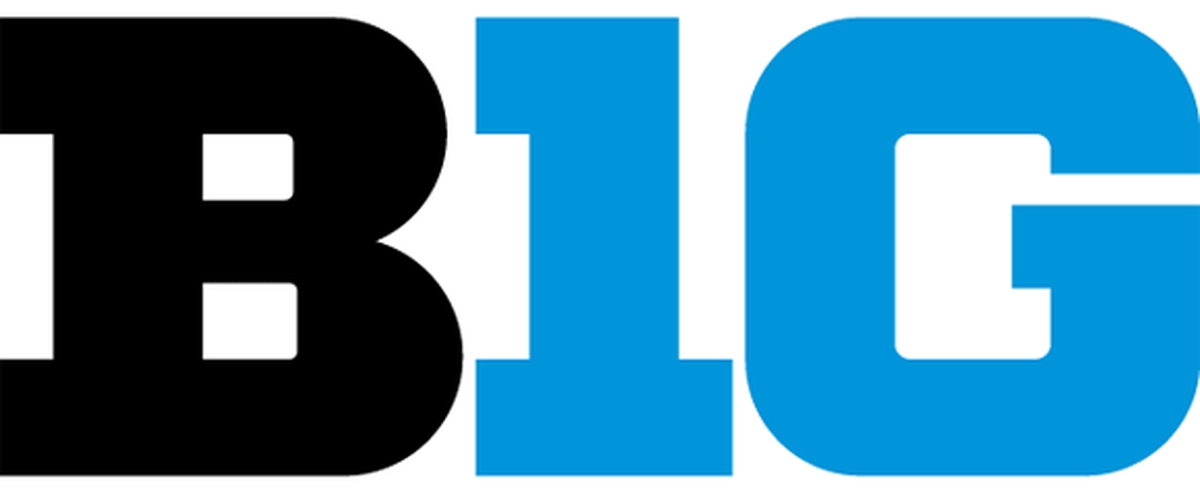 Like the ACC, the Big Ten has proven to be tough and compete. Their overall non-conference record is 39-11 and bowl record is 7-1. Ohio State, Penn State, Wisconsin, Michigan, and surprisingly Michigan State all competed for the college football playoff, but all fell short. Ohio State, despite beating the other 3 of the Big 4 East teams (Michigan, Michigan State, and Penn State), were kept out due to a horrible loss against Iowa. Wisconsin had the best chance, but fell short to Ohio State. Michigan State had an opportunity, but the loss to Ohio State down the stretch kept them out. Penn State went 1-2 and Michigan lost all 3. Next to the SEC, the Big Ten could see two teams getting in if possible, but the party crashers of the West (Northwestern, Iowa, Purdue, and Nebraska) have other ideas in mind. My two picks are Michigan State and Northwestern because they're always underrated and will be sneaky, sneaky again.
MICHIGAN STATE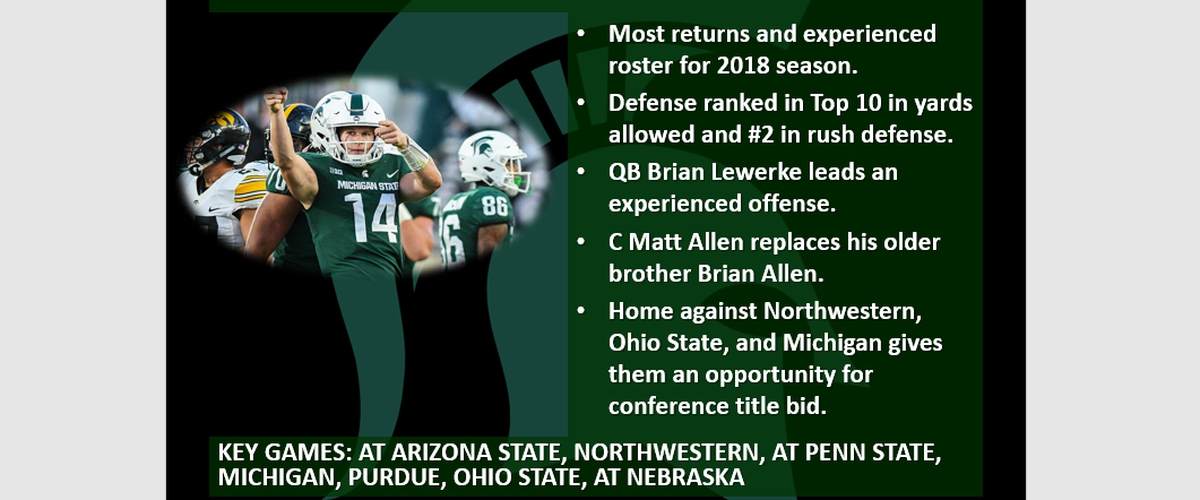 Michigan State snuck their way to a 10-win season. A loss to Notre Dame shutdown their spotlight until they defeated Penn St. Like Michigan, Michigan State returns players on both sides and Lewerke, LJ Scott and Felton Davis III will be the offense's key players to lead them forward. The defense should be a force on the entire team as they allowed over 20 points only 5 times (3 losses were from allowing over 30 points). This could be Michigan State's year because their only big road games are at Arizona St, Penn State, and Nebraska. They host Michigan and Ohio State. Ohio State has some roster turnover and must replace J.T. Barrett, Jamarco Jones, and Billy Price. They also have off-the-field issues that may or may not distract them going forward. Michigan has plenty of returns, but the question will always be if they have an answer at quarterback. If Michigan State dominates their schedule, they could most likely face Wisconsin in the conference championship for a chance at a New Years' Six Bowl or a playoff spot.
NORTHWESTERN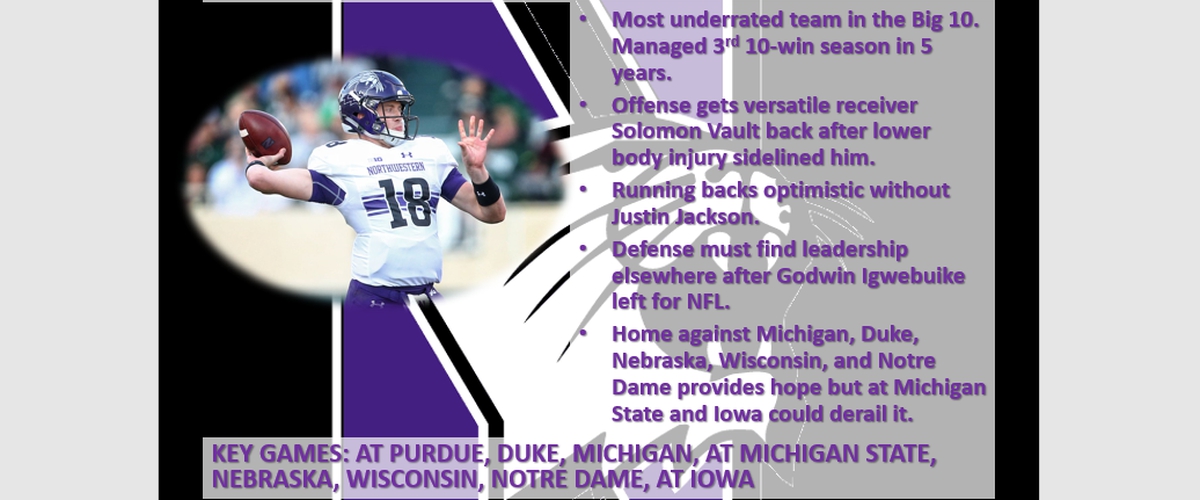 I don't understand why no one talks about Northwestern? They were a sneaky 10-win team. They went 3 rounds with Michigan State in OT and won, defeated Iowa in OT and Purdue. Maybe no one's talking about them because their key wins were at home and they defeated lesser opponents. They also lost to Duke, Wisconsin and Penn State. Here's what ahead of them: they play 3 teams they defeated at least twice, at Purdue for their season opener, at Michigan State, and at Iowa. They have home games against Duke, Michigan, Nebraska, Wisconsin, and Notre Dame. It's likely possible the Wildcats can win 10 games back-to-back. It's also possible they may not finish more than 7 games again like they did 2 years ago because how tough their schedule is. If QB Clayton Thorson is healthy and the new running backs pick up where Justin Jackson left off, Northwestern again can sneak up on the Big Ten and potentially steal Wisconsin's West title and more.