Week 2 Bowl Games
DECEMBER 18: CHERIBUNDI BOCA RATON BOWL - 4PM PT/ 7PM ET [ESPN]
UAB (10-3) VS. NORTHERN ILLINOIS (8-5)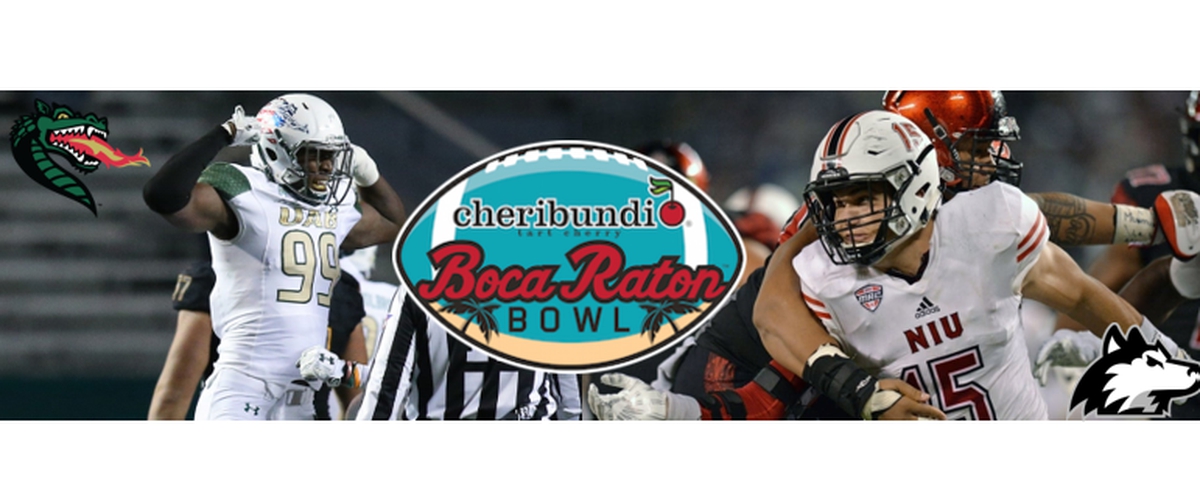 This is the first meeting for both teams and they're also coming off conference championship wins. UAB made a historical comeback in the past two seasons after a 2-year hiatus. Northern Illinois bounced back this season after a woeful last season and makes their second Boca Raton Bowl appearance. Both teams play gritty defense are the points may come at a premium. UAB's returning depth gives them a chance to win their first bowl game in program history while Northern Illinois looks to end their 5-bowl game losing streak.
MY PICK: UAB
DECEMBER 19: DXL FRISCO BOWL - 5PM PT/ 8PM ET [ESPN]
SAN DIEGO STATE (7-5) VS OHIO (8-4)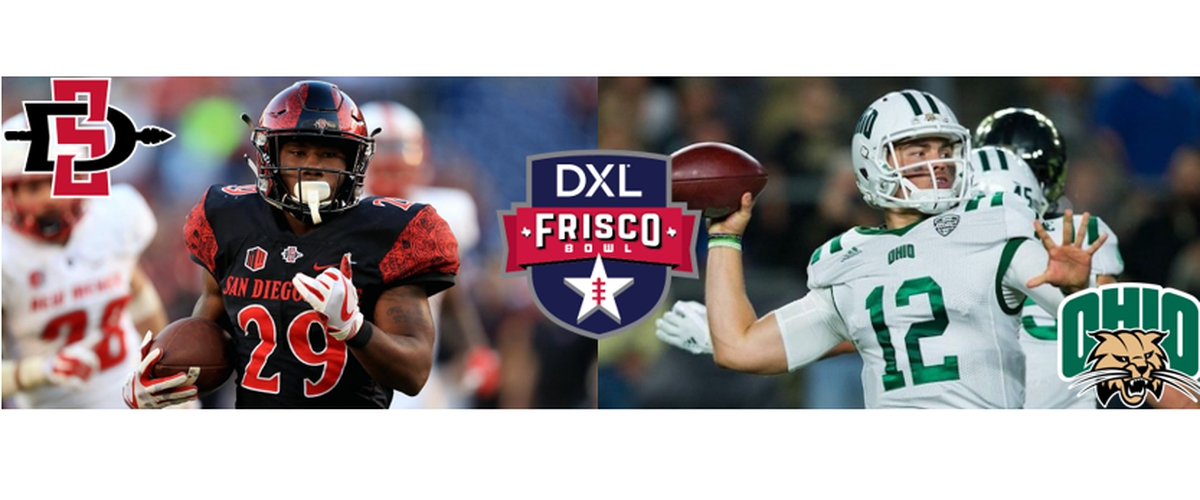 San Diego State and Ohio meet for the first time. However, San Diego State is undefeated against MAC opponents (13-0-1) while Ohio is 2-5 against Mountain West opponents. Ohio came up short of a conference title bid, but nevertheless, they competed all season long. San Diego State was competitive and conference title contenders from September to late October before losing four of their last five. The lack of runs, lack of O-Line consistency, and quarterback play hurt their offense down the stretch. Frisco Bowl will be a physical one and Ohio could be looking for their back-to-back bowl win for the second time since the 2011 and 2012.
MY PICK: OHIO
DECEMBER 20: BAD BOY MOWERS GASPARILLA BOWL - 5PM PT/ 8PM ET [ESPN]
MARSHALL (8-4) VS. USF (7-5)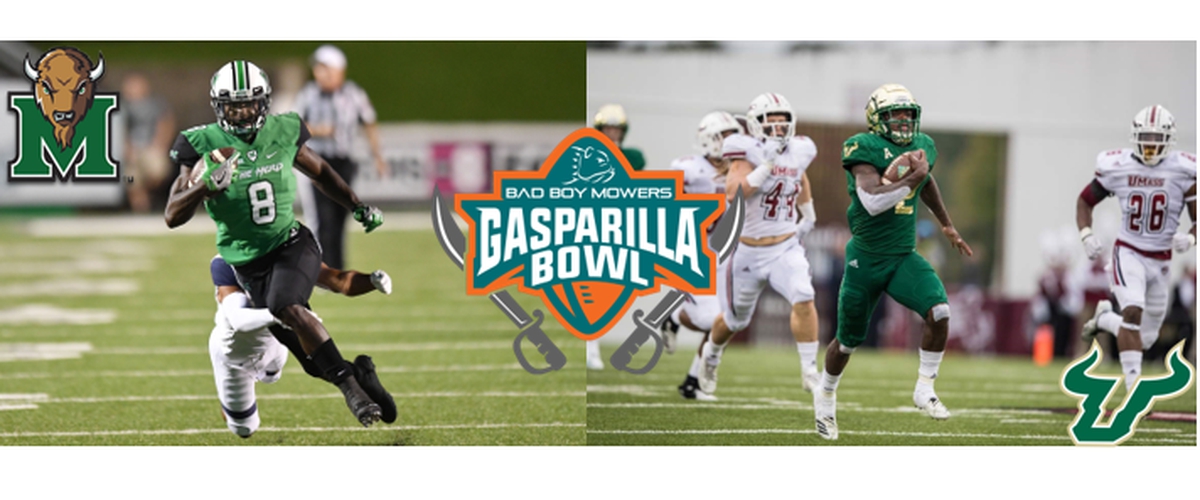 Third straight day of first meetings. Gasparilla Bowl is technically USF's home game, but don't believe that it's homefield advantage for them. They lost their last five games after starting 7-0. Marshall had a solid season and most of their performance came on defense. Despite a consistent quarterback, receiver Tyre Brady is a legit playmaker. Both teams are contrasting but both had only one quality win throughout their schedule. South Florida must win their third straight bowl to salvage their season while Marshall aims for their seventh straight bowl win dating back to 2009.
MY PICK: MARSHALL
DECEMBER 21:
MAKERS WANTED BAHAMAS BOWL - 9:30AM PT/ 12:30PM ET [ESPN]
FIU (8-4) VS TOLEDO (7-5)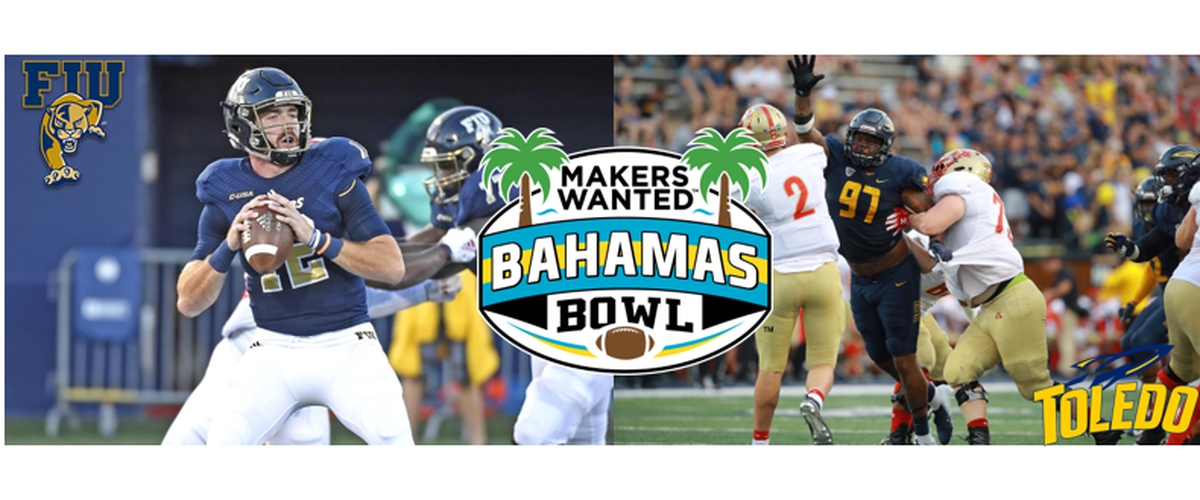 FIU and Toledo meet for the fourth time (FIU leads 2-1 since 2010). FIU may be 1-2 in bowls all-time, but they're 4-2 against MAC opponents all-time. Bowling Green transfer quarterback James Morgan was a benefit in FIU's offense, including the defense has also improved from last season. Toledo took a step back this season after losing all their skilled players to graduation and the NFL, but they still maintain their top three wide receivers that should be NFL-calibur players. James Morgan played against Toledo two years ago with Bowling Green and lost by a touchdown. Toledo lost two-straight bowl games, is 2-9 against Florida opponents, and there's no clue on how Eli Peters will perform against FIU's defense. If James Morgan can breakdown Toledo's coverage, he can end his season on a good note.
MY PICK: FIU
FAMOUS IDAHO POTATO BOWL - 1PM PT/ 4PM ET [ESPN]
WESTERN MICHIGAN (7-5) VS. BYU (6-6)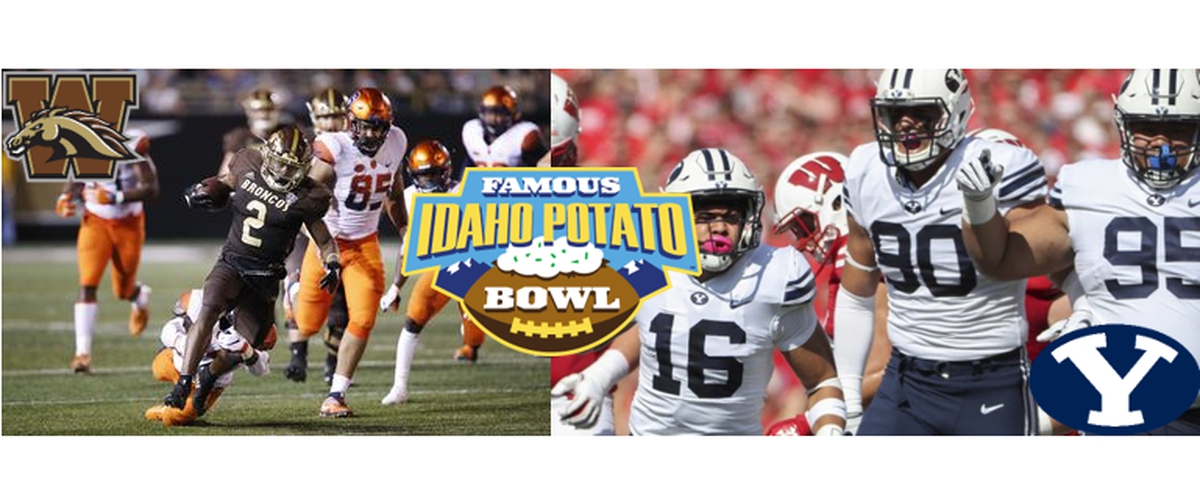 BYU leads 3-2 all-time against Western Michigan. This is the first meeting since 1970. The Broncos make their second appearance in the Potato Bowl, but they're unfortunately 1-6 in bowls all-time. BYU looked good in their first four games and even touched the Top 25, but Washington broke their dreams and lost five of their last eight games. Quarterback Tanner Mangum was hurt and inconsistent again, so freshmen Zach Wilson took his job. Western Michigan went on a 6-game winning streak before losing three of their last four games. Losing quarterback Jon Wassink was the major reason for their slide. I would pick Western Michigan, but losing Wassink was a major blow and I can't trust the backup quarterback to overcome BYU's stingy defense.
MY PICK: BYU
DECEMBER 22
JARED BIRMINGHAM BOWL - 9AM PT/ 12PM ET [ESPN]
MEMPHIS (8-5) VS. WAKE FOREST (6-6)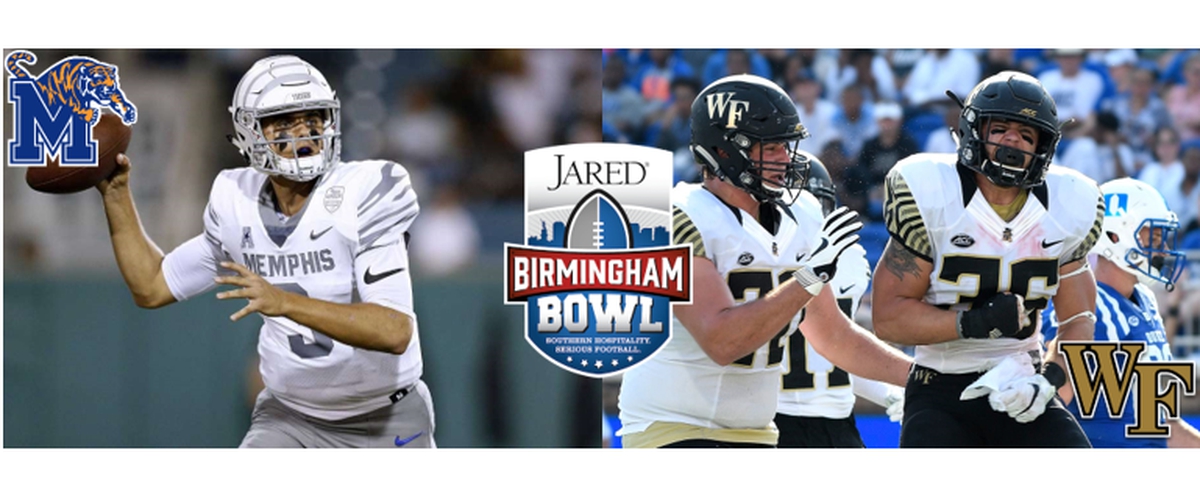 Both teams meet for the first time since 1967 and are tied overall. Memphis makes their second Birmingham Bowl appearance. Memphis won their last four games before losing to UCF in the conference championship. Wake Forest wasn't watched a lot this season, but when I did, I can see energy coming from them and they can be surprisingly entertaining to watch. Majority of their offense is young, but energetic. Quarterback Jamie Newman kept the offenses momentum even after Sam Hartman performed well before the injury. This game features plenty of scoring and energy and people should tune in. It's probably the most difficult pick to make after Darrell Henderson chose to skip the bowl game, but Patrick Taylor is a good new starter for Memphis. Memphis lost 3-straight bowl games while Wake Forest won 2-straight under Dave Clawson.
MY PICK: WAKE FORESTH
LOCKHEED MARTIN ARMED FORCES BOWL - 12:30PM PT/ 3:30PM ET [ESPN]
HOUSTON (8-4) VS ARMY (9-2)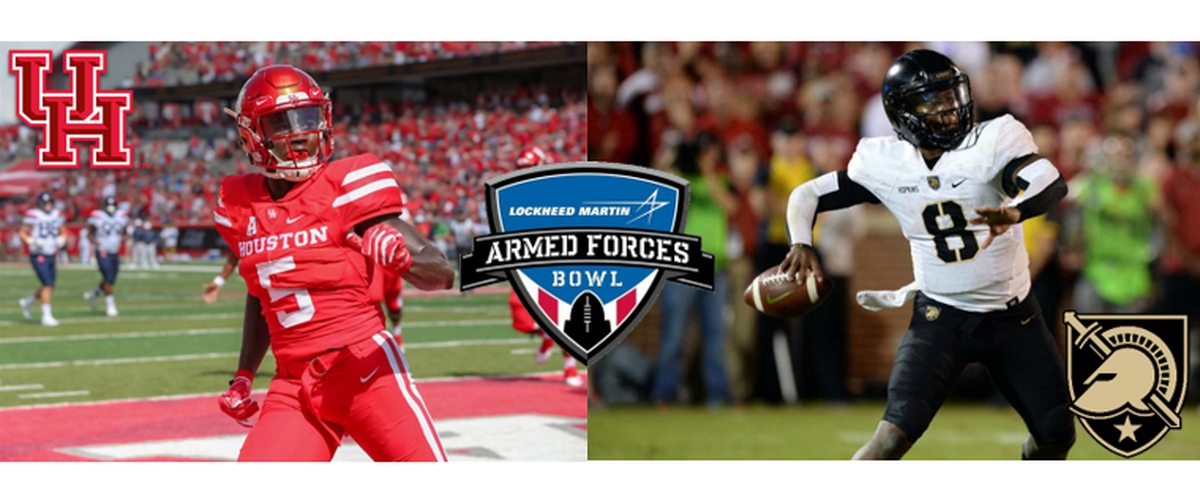 Houston leads 5-2 all-time against Army and this is the first meeting since 2004. Houston makes their fourth Armed Forces Bowl appearance in a decade (2-1), but coach Major Applewhite is 0-2 in bowls all-time. Army makes their third Armed Forces Bowl appearance in eight seasons (2-0). They're also 3-0 in bowl games, and 5-2 all-time. If we're getting historical, Army goes to their third straight bowl game for the first time in their program history will try for their 11th win for the first time in program history. Houston's Ed Oliver skips this game and quarterback D'Eriq King is out for the rest of the season, so there's nothing to look forward to except seeing Army make a historical "run" like UAB.
MY PICK: ARMY
DOLLAR GENERAL BOWL - 4PM PT/ 7PM ET [ESPN]
BUFFALO (10-3) VS TROY (9-3)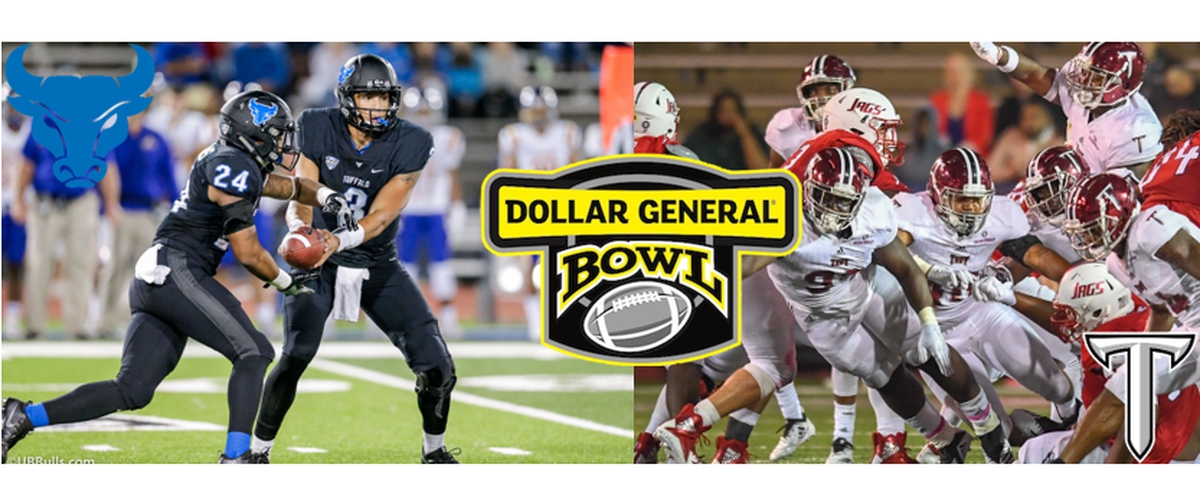 Both teams will meet for the first time, but Troy is technically at home and has lost one home game all season. They also make their second appearance in the Dollar General Bowl and won their last three bowl games after starting 1-3. Buffalo won 10 games for the first time in program history. They have three NFL-calibur players on their roster (quarterback Tyree Jackson, receiver Anthony Johnson, and LB/DL Khalil Hodge). Buffalo is 0-2 in bowls, however. MAC teams haven't been so successful in bowl games while Sun Belt teams have sparked some success in the past decade. Buffalo had a great season, but their performance against good defenses leaves me skeptical. They were unable to finish the second half against Northern Illinois so I doubt they can play a whole game unless their defense can finally come alive for all four quarters.
MY PICK: TROY
SOFI HAWAI'I BOWL - 7:30PM PT/ 10:30PM ET [ESPN]
LOUISIANA TECH (7-5) VS. HAWAI'I (8-5)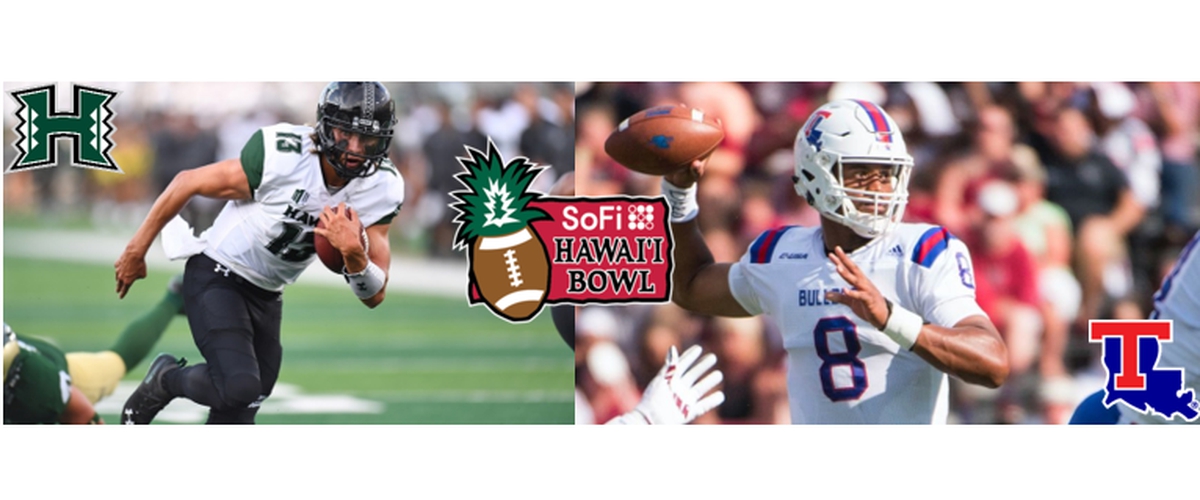 Hawai'i leads this meeting 8-2 all-time. This will be their first meeting since 2011 when the WAC conference still existed. Hawai'i is at home for the bowl game for the 10th time and is 5-4 all-time. Louisiana Tech won four straight bowl games in Skip Holtz's five seasons as head coach. This is a quarterback matchup between Louisiana Tech's J'Mar Smith and Hawai'i's high-flying player Cole McDonald. Hawai'i's offense made life difficult against opponents when Cole McDonald has the ball in his hand. They have also struggled against defenses that succeeds in limiting the run game. Hawai'i may be home, but Louisiana Tech's defense will try to force McDonald to stay in the pocket.
MY PICK: LOUISIANA TECH