Who Alabama Should Be Rooting For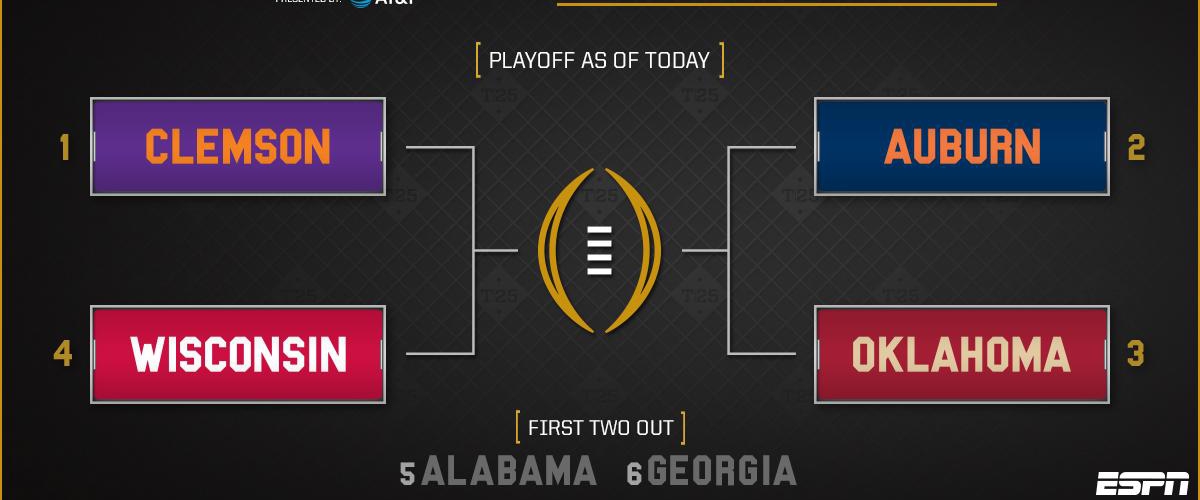 On Tuesday, the College Football Playoff Rankings came out going into the Conference Championships. (Above are top 6) Alabama actually came out pretty good because they are at #5, and if I was Alabama I would rather be outside top 4 then in it because it would be really easy for the committee to take Alabama out next week rather than putting Alabama in if top 4 teams get upset.
Now, onto who the Crimson Tide should be rooting for. This is all according to the FiveThirtyEight. Alabama should be Auburn, TCU, and Ohio Sate's biggest fans. So, let's say Clemson wins since they should. Then, Oklahoma, Auburn, and Wisconsin win, then Alabama has a 1% chance to make the Playoff. But then of course there will be upsets because this is college football. Lets say Clemson wins, TCU comes away with the upset, Auburn wins, but Wisconsin gets upset by Wisconsin. Alabama now has a 57% chance of making it in to the Playoff, which is the highest it can get.(Trust me I checked)
Alabama wants the favorites, Clemson to win because the ACC champion does not matter since whoever wins that will get in. They want Auburn to win because then that helps their case of being only a one loss team.
That one team they lost to are conference champions and are #2 in the nation. So, if Auburn wins that doesnn't mess up their reputation very much. With a Georgia win, the commitee could say that well Alabama lossed to the runner up for the SEC Champion, so they should not make it.
Obviously, they want Ohio State and TCU to win their games because those two game would be upsets. Ohio State is #8 in the rankings which means Wisconsin obviously wouldn't make it sense they lost and Ohio State probably won't make it because they would have to climb 4 spots to get to #4. So, the committees choice would most likely be Alabama for #4. Alabama wants TCU to win for pretty much the same reason. Oklahoma would not make the playoff, and there is no way TCU would get in because they are ranked even lower than Ohio State at #11. The Committee's first choice to be #4 would be who? Alabama.