NFL Week 4: Quarterback Index Leaders - Goff, Trubisky Rise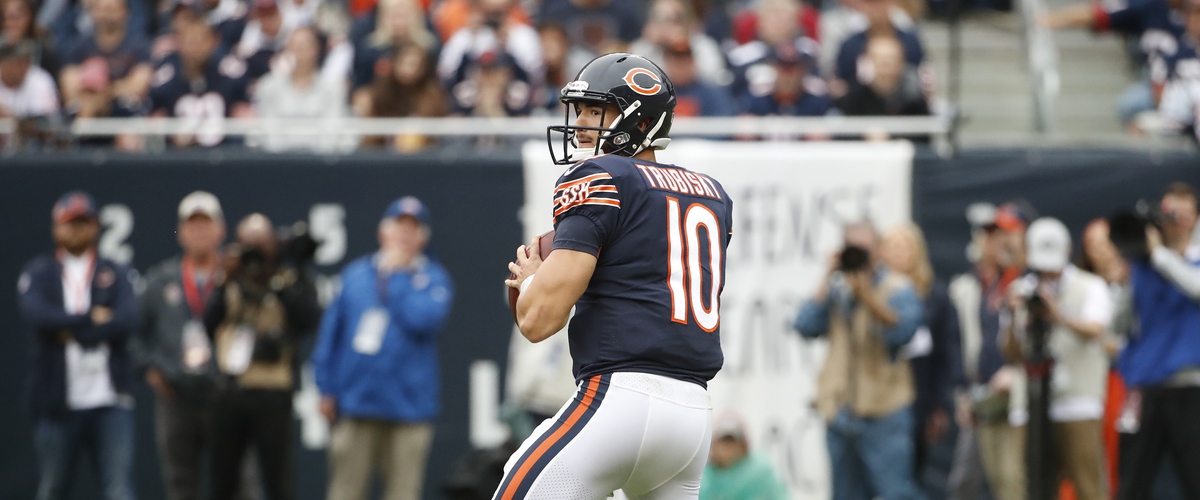 Bears QB Mitchell Trubisky rocketed up 15 places after a career day
Week 4 was certainly eventful in the NFL. The Patriots delivered a performance to show the world they're not done yet, whipping the previously undefeated Dolphins 38-7 in a game in which Tannehill could do nothing right. Mitchell Trubisky tossed six touchdown passes to lift himself far from his Week 3 index ranking, while Sam Darnold continued to sputter out from his stunning debut in a third straight loss. Patrick Mahomes finally looked human - though the Chiefs moved to 4-0 - but Jared Goff did not. This week's QBI column takes a look at these headlines and more through a quarter of the year. QBI is a different take on NFL quarterback performance than Passer Rating or ESPN's QBR. A player's score is read as +/-___%, based on the percentage variance from the mean performance by a starting NFL quarterback in the modern era. As the statistics are efficiency-based, the metric can apply to games or seasons, or even careers with account for an era-based adjustment. This week's column includes each team's majority starter through a quarter of the year - that means no C.J. Beathard and no Jameis Winston, at least for this week's edition. This week's write-ups: what can each starting quarterback do to improve his standing in the Quarterback Index in the final three quarters of the season?
---
Patrick Mahomes II, Kansas City Chiefs: +51.35% - Mahomes played at his worst level of the season in a Week 4 victory on Monday night (with a little help from the referees), but that still meant 304 passing yards and a touchdown. Mahomes doesn't look like a young quarterback with little NFL experience - the K.C. signal caller has yet to throw an interception, a feat matched only by Drew Brees among this season's majority starters. So, what is the one thing Mahomes can improve upon to boost his record-pace Quarterback Index? Completion percentage. Mahomes' 65.2 is roughly 2% above the modern starting quarterback average, but 2% above is far below his performance in other regards this season. If he could boost his completion rate to Brees' level - a record-breaking pace above his last season's 72% - Mahomes would be utterly unstoppable.
Jared Goff, Los Angeles Rams: +40.52% - Goff taking over the No. 2 spot means that the position of runner-up has been occupied by 4 different passers over the first 4 weeks of the 2018 NFL season. First, it was Mahomes, who played second-fiddle to Fitzpatrick (week 2's No. 2), before it was overtaken by Drew Brees, this week's third-place quarterback. Goff had an otherworldly game against a tough Vikings defense, tossing 465 yards worth of passes and 5 touchdowns on 78.8% completions. So, what does Goff have to improve upon? It feels like nitpicking to give an answer, but rushing performance is the closest he'll come. Goff is an athletic quarterback, but he's carried the ball for only 22 yards on 8 attempts. That's a fine rate, but if Goff can truly enhance his ability carrying the ball and, by extension, on roll-out passes even more, the Rams will be the odds-on favorites to reach, and even win, the Super Bowl. That's how well Goff has played, as he posted the NFL's first perfect passer rating game since 2015.
Drew Brees, New Orleans Saints: +27.08% - Brees has been nothing short of stellar and should break the all-time passing record on Monday night, but he has room for improvement. Brees ranks above-average in most, if not all, passing regards, but he certainly could benefit in QBI from an improvement upon his 5.0 touchdown percentage. Sure, it's above-average, but an improvement here would see Brees raise his QBI the most comparatively to other statistics. Brees didn't throw a touchdown pass in the Saints' victory over the Giants, as Alvin Kamara - a legitimate Offensive Player of the Year candidate - ran for three scores. Overall, no improvement on Brees' touchdown rate probably would signal a more balanced and efficient offense, but Quarterback Index would see it beneficial to Brees' success for him to throw for some more scores.
Matt Ryan, Atlanta Falcons: +26.64% - With a 419-yard, 3 touchdown performance, Ryan officially dug himself entirely out of the hole his scarily-bad Week 1 performance put him in, and climbed into the top five. The crazy part: the Falcons lost to move to 1-3 despite putting up 36+ in a second straight game. Where Ryan can improve: the short-passing game. Per NFL.com's Situational Stats, Ryan's completion rate is worse, at 62.5, from 10 or fewer (40 attempts) than from 31+, at 66.7 (27 attempts). That's insane, especially with a pair of above-average receiving backs in Freeman and Coleman who should see plenty of easy targets inside 10 yards away. Part of this is Ryan's fault, and part is the playcalling of the oft-criticized Steve Sarkisian. Whatever's the main problem, it needs to be fixed.
Philip Rivers, Los Angeles Chargers: +26.18% - Rivers has been good for the 2-2 Chargers, but where he needs to improve is simply putting the team on his back. Rivers failed to surpass 300 yards passing against the porous defenses of the 49ers and Bills. If he can't put his team on his back against poor competition, the Chargers might not stand a chance against the NFL's powerhouses - they haven't so far against two 4-0 teams.
Ryan Fitzpatrick, Tampa Bay Buccaneers: +22.64% - Sunday's Week 4 performance against the Bears finally brought about the official return of the Ryan Fitzpatrick we've all grown to know and love. After throwing for 400 yards in three consecutive games, Fitz lost the starting job to Jameis Winston - who proceeded to throw 2 interceptions in his singular half of work against Chicago. With his starting job lost, improving on much is a futile effort for Fitzpatrick at this point, but if he gets a chance, the interception rate needs to be cut. A 3-pick effort against the Steelers and a 0-score, 1-interception half against Chicago blew up FitzMagic's interception rate to well above the league average.
Kirk Cousins, Minnesota Vikings: +14.76% - Cousins threw for upwards of 400 yards on Thursday but was ultimately outdueled by third-year phenom Jared Goff as the juggernaut Rams moved to 4-0. Cousins has been efficient with the ball and has stuffed the statsheet, but where he needs to improve: winning. The Vikings, behind a suddenly mediocre defense and an underachieving offense, suddenly stand at 1-2-1 despite having arguably one of the league's most talented rosters. Cousins needs to find a way to whip his team into shape and finally put together some solid wins, or the Vikings might be the biggest longshot to miss the playoffs to actually do it in recent memory.
Alex Smith, Washington: +12.49% - Washington moved to 2-1 before their early bye week, leaving Smith with the same QBI as last week. The only gripe to make with Washington's signal caller: his touchdown rate. At 4.2, he's sitting below the league average, a figure you'd come to expect as a football fan from years of Smith's efficient but not stat-busting style of play. If he can put up some more touchdowns - Smith failed to even throw one against the Colts - then Washington could be going places in a division that suddenly looks wide open.
Cam Newton, Carolina Panthers: +12.49% - Newton and the Panthers moved into their bye week 2-1, with Newton's QBI (12.4865, to be exact) staying just below Smith's. Where Newton needs to improve to lift his QBI, and Carolina's playoff hopes, is the overall passing game. Newton has a 335-yard game in a loss to Atlanta, and two sub-200 yard performances. Carolina's running game isn't developed enough yet to make that suffice over the course of a season.
Ryan Tannehill, Miami Dolphins: +12.22% - Tannehill remains in the top ten this week despite a laughable -64% QBI against the Patriots in a 38-7 Week 4 loss that proved Miami has a ways to go in claiming the throne from New England. Where Tannehill can improve: interception rate - his three picks have been at times costly for the Dolphins, especially in Sunday's demoralizing effort. The Dolphins showed on Sunday there are two sides to their team: one with potential, and one that is the reason so many projected them a top-five draft pick next season as the year began. Still, Tannehill's first three performances are enough to give him the lead on the AFC East QBI race.
Aaron Rodgers, Green Bay Packers: +11.24% - The Packers are 2-1-1 and still well in the NFC North running, and Rodgers has been his usual self, but he hasn't been the electric player he's always been. Whereas normally Sunday highlight reels are packed (pun intended) with Rodgers' wild scrambles and epic throws, we haven't seen that as much this season. Rodgers needs to get back to doing that for the Packers to stave off the upstart Bears and the underperforming Vikings for the division.
Joe Flacco, Baltimore Ravens: +10.24% - Flacco has a No. 1 receiver in former Cardinal John Brown, and he's played at nothing short of his Super Bowl-winning campaign performance. Flacco added 363 yards and a pair of touchdowns as the Ravens distanced themselves from the Steelers, but the pair of scores boosted Flacco's touchdown rate to just 4.7 percent. If the Ravens want to win what's shaping up to be a huge battle for the division, where any team could seriously contend, Flacco needs to step up in the touchdown efficiency department.
Mitchell Trubisky, Chicago Bears: +10.0% - Trubisky is this week's big jumper, leapfrogging Tom Brady and rising from 28th with a six-score day against the fading Buccaneers. Trubisky's area of improvement: the middle-distance passing game. On passes 11-20 yards, the Chicago quarterback's QB-INT ratio plummets from an overall 8-3 to 1-1. In an NFL where most passes travel in this range, Trubisky needs to get more efficient here before defensive coordinators gameplan to force Trubisky into an uncomfortable range here.
Tom Brady, New England Patriots: +5.12% - Brady's been good through the Patriots' 2-2 start, but he hasn't been up to his usual standards. Brady's Adjusted Net Yards Per Attempt actually falls below average through a quarter of the season, but where he really needs to improve: interceptions. Brady, with 2 more against Miami, has 4 on the year for a pace of 16, which would be a career-worst. None of the star quarterback's interceptions have been easily excusable, either, but as the narrative always is, there's still time for the Patriots to come back from their usual September struggles. Brady was phenomenal in a Week 5 win over the Colts (Week 4 QBI does not reflect Week 5 performance), but he threw a pair of interceptions that were zero percent the fault of his own.
Blake Bortles, Jacksonville Jaguars: +4.87% - Bortles isn't exactly the model of consistency. His near-average QBI hails from this fact, as his poor performances offset his great ones. That's where Bortles has to improve for the Jaguars to be playoff contenders, especially with the shaky status of bellcow running back Leonard Fournette. Bortles has two 300 yard games - a 376-yard effort against New England and a 388-yard day against the New York Jets, but they've been sandwiched between two sub-200 yard performances. That has to change for Bortles to make a real impact come playoff time, where volatility is unacceptable.
Andy Dalton, Cincinnati Bengals: +4.01% - Dalton's 3-1 Bengals have been impressive, but he has been far from perfect. The big area to improve: interceptions. Dalton has completed six passes to the opposite team, including four against the Carolina Panthers. If the Bengals are for real, that will only be a detriment to them. With plenty of playmakers on his offense in A.J. Green, John Ross, Joe Mixon, Tyler Boyd, and electric rookie Mark Walton, Dalton has no excuses to not improve his interception rate in the coming weeks.
Andrew Luck, Indianapolis Colts: +3.65% - The Colts lost in overtime to Houston, but Luck for the first time since his injury and lost season looked like the Luck that led the Colts to an AFC Championship game. His 464-yard, 4-touchdown day was just what the doctor ordered, but his overall efficiency hasn't been great. Luck's Adjusted Net Yards Per Attempt falls 10% below the league average, not a great mark for a quarterback once hailed as the next big thing.
Eli Manning, New York Giants: +3.31% - Manning squeezes out an above-average Quarterback Index thanks to a sub-1.0 interception rate, but he's been less-than-stellar in other regards. Beckham hasn't been a world-beater early in his return, and Barkley hasn't been getting the ball as much as he should in the passing game. With all of this factoring in, Manning's touchdown rate and Adjusted Net Yards Per Attempt have both fallen well below average. Despite completing over 70 percent of his passes, Manning has just 4 touchdowns in 4 games.
Russell Wilson, Seattle Seahawks: +2.56% - Wilson's yardage rate of just 222 per game has fallen well below where the Seahawks would like it, especially as first-round running back Rashaad Penny has lost his job to Mike Davis and fallen to the third string. The Seattle star has thrown 7 touchdowns on somewhat limited throws, but he overall hasn't produced the numbers that would see him match his 2017 Quarterback Index.
Carson Wentz, Philadelphia Eagles: +1.56% - In two games, Wentz has balanced a mediocre performance with a stellar one for the 2-2 Eagles. He's been efficient, throwing just 1 interception (1.1% of throws), but has only tossed 3 scores, at a rate almost a fifth below the starting average. Wentz surpassed 30 touchdown passes in a tragically abbreviated 2017 campaign, so he should be able to utilize a similar supporting cast to up his touchdown rate in the coming weeks. If he can't, 2017's near-MVP could see his Quarterback Index plummet below its current mediocre ranking.
Deshaun Watson, Houston Texans: +0.75% - Watson's 375-yard performance in an overtime win over the Colts raised his Quarterback Index, but his spot on the leaderboards fell two places. The young gunslinger has had a similar problem in this year as in the prior, as Watson has thrown 4 interceptions at a higher rate than the average. With a relatively inexperienced quarterback who is prone to attempting the big play, this is to be expected, but for the 1-3 Texans to start winning, it might not be enough.
Matthew Stafford, Detroit Lions: -0.85% - Stafford had his best performance of the season on Sunday against Dallas, completing 80% of his passes as he raised his Quarterback Index by 10 percent. With 1,202 yards and 8 touchdowns, Stafford has been as statistically prevalent as always, but he's still recovering from a Week 1 slaughtering, as he's thrown 5 interceptions on the season. For Stafford to finally raise his QBI out of the negatives, he'll have to come through with another zero-interception game this Sunday.
Ben Roethlisberger, Pittsburgh Steelers: -1.58% - The Steelers are currently sitting at 1-2-1, tied with the Cleveland Browns and behind the 3-1 Ravens and Bengals in the AFC North. Part of that has been the inconsistency of their Pro Bowl quarterback, from 452 yards against the Chiefs to 3 interceptions in a Week 1 tie with Cleveland. His hat trick of Week 1 picks puts his interception total at five, a rate which is unacceptable for a team looking to maintain its stranglehold on the AFC North. With Le'Veon Bell's return reportedly coming in Week 7, Roethlisberger won't be forced to throw as much, so this figure should decline. If it doesn't, however, it may be time to panic in Sixburgh.
Jimmy Garoppolo, San Francisco 49ers: -3.88% - This week is the last week on the rankings for Garoppolo after the San Francisco star suffered a torn anterior cruciate ligament in his left knee last Sunday. Garoppolo's abbreviated campaign featured some below-expected play from the '9ers quarterback, especially during a Week 1 loss to Minnesota. Garoppolo obviously can't improve on anything this season, but should have been able to see a drop in his interception rate if he'd played out the full season. Sadly, it was not to be.
Dak Prescott, Dallas Cowboys: -5.83% - There's becoming concern in circles of Cowboys fans that Prescott will never retain his rookie season magic. Prescott's 255 passing yards against Detroit were a season high - not good enough in the NFL's passing era. The Cowboys (2-2) offense has revolved around the league's leading rusher in Ezekiel Elliott, and Prescott and the passing element has fallen well below average. Prescott's big struggle comes in regards to scoring. Dak has thrown just 4 touchdowns to 2 interceptions in four games this season, for a touchdown rate 20% worse than the league average. That rate doesn't bode well for a Cowboys team that has struggled to move the ball.
Derek Carr, Oakland Raiders: -10.47% - One of the underrated storylines of this year's NFL season has been just how much Derek Carr has struggled under Gruden for the 1-3 Raiders. Carr has two 300 yard games and a 400 yard game under his belt in 2018, but much of it has come from playing catch-up as a result of miscues like Carr's 7 interceptions. His 4.1% interception rate (over 70% worse than the NFL average) needs to change.
Baker Mayfield, Cleveland Browns: -11.49% - The Browns' franchise revelation had an above-average QBI performance in his debut, but followed it up with a well below-average performance, despite putting up 42 points in a loss to Oakland. Mayfield completed 21 of 41 passes (51.2%) to lower his seasonal average to 59.4%. There's obviously a lot to fix for the quarterback, who despite ranking in the bottom quadrant of the league is the top-ranked rookie starter. Overall, Mayfield could benefit from a higher completion rate, which by extension would raise his below-average Adjusted Net Yards Per Attempt and touchdown rate. Below 60% just doesn't cut it anymore.
Josh Rosen, Arizona Cardinals: -18.18% - Congratulations, Cardinals - you no longer have the NFL's worst starting quarterback. Try fifth worst. Rosen hasn't played a lot, and hasn't been very impressive behind a mediocre offensive crew. In effectively one game's worth of throws, Rosen is 19-of-34 for 216 yards, 1 touchdown, and 1 interception. Not exactly great. To bring up his QBI, and his team, Rosen's Adjusted Net Yards Per Attempt needs to improve. His 4.86 score is third-worst in the NFL, ahead of only a pair of fellow rookies.
Marcus Mariota, Tennessee Titans: -19.56% - Mariota's Quarterback Index is docked hugely from a Week 1 performance in which an injured Mariota tossed a pair of interceptions. What Mariota needs to improve on? Touchdown rate. Mariota was viewed two years ago as a breakout candidate and potentially an above-average passing quarterback, but Marcus has just two touchdowns this season, both coming in a Week 4 win over the reigning champion Philadelphia Eagles.
Sam Darnold, New York Jets: -22.2% - Darnold's fall was swift from the hero of Week 1 to a poor next two weeks, but Darnold's Week 4 performance raised his Index rating 6 points, and he switched places with a veteran signal caller. Darnold was mediocre against Jacksonville, completing a poor half his passes but without an interception. His biggest flaw: ANY/A. Darnold's ANY/A score is the league's second-lowest, behind even Rosen.
Case Keenum, Denver Broncos: -26.86% - Through a quarter of the season, it looks like John Elway was wrong again about getting his quarterback. Keenum dropped his QBI by less than 1%, but it was enough to fall from 30th to 31st with a better day from Darnold. Keenum's biggest flaw thus far is an inexcusable 1:2 TD-INT ratio, a figure that looks out of place in the 1960's, much less fifty years later. Keenum looks to be unable to recreate his magical 2017 season with Denver's lesser supporting cast, and Elway's quarterback search may be again at a crossroads. Is it time for Chad Kelly to take over for Keenum, after the former Mr. Irrelevant knocked enormous bust Paxton Lynch off the roster? I say yes.
Josh Allen, Buffalo Bills: -34.4% - I can't say I expected more from Allen. I thought he was the worst of the rookie starters drafted in Round One. Allen completed 16 of 33 passes against Green Bay in Week 4, his second sub-50 completion rate in 4 games. That's unbelievable, even for a rookie. Allen's interception count doubles his touchdown count, and he's completed 53% of his passes for a laughable ANY/A of 3.12. If Allen can't further develop much, he will bust 100%.