A look at the new pitching approach for the 2017 Miami Marlins
Just four days away from pitchers and catchers report to spring training, the Miami Marlins are entering the 2017 season with a different pitching strategy to win ball games. With the tragic loss of Jose Fernandez, the team loss their ace and pitching work horse. With the free agent market for starting pitching very slim the Marlins wanted to approach the off-season by selecting affordable free agents with steady track records of being durable and able to eat up innings.
They signed Edinson Volquez to a two year $22 million deal and Jeff Locke to a one year $3 million deal. Locke was an All Star in 2013 and Volquez was one 2008. Neither of them are headline nor premiere players by no mean but they are dependable and aren't injury prone which were two characteristics the Marlins were looking for in pitchers they signed.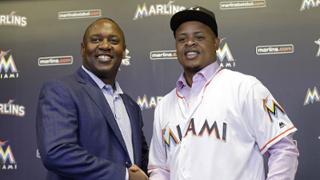 Edinson Volquez at his first press conference in a Marlins uniform with President of Baseball Operations for the Marlins, Michael Hill.
On paper their starting rotation has no true ace and any eye opening starters that would draw the attention of opposing players. But what can separate the Marlins from other teams is their "super" bullpen they assembled.

They tried going after top closers in free agency, Aroldis Chapman and Kenley Jansen, to assemble a deep and talented bullpen. Unfortunately, the Marlins weren't able to sign both those players. One reason why both decided to sign elsewhere was the track record of the Marlins on how they treat high priced free agents to long contracts. I think they dodged a bullet in not signing Chapman or Jansen. They already have an All Star closer in A.J. Ramos who recorded 40 saves and is costing them pennies compared to Chapman and Jansen.
The "super" bullpen is a recent trend in baseball that the Kansas City Royals mastered in 2015 which led to a World Series title. A more recent example can be this past season as the American League champs, Cleveland Indians, had a deep bullpen and were able to shorten the starting game and rode that game plan all the way to the World Series where the lost to the Chicago Cubs. (It's about damn time)
Instead of using $80- $100 million in one player who in reality is only throwing one inning a game the Marlins settled to sign two proven relievers who have been successful and have postseason experience. In a two day span the signed submarine pitcher Brad Ziegler to two year $16 million deal and Junichi Tazawa to a two year $12 million deal. Both are coming from the Boston Redsox organization.
With these two signings, an All Star closer in A.J. Ramos and returning set up men flamethrower Kyle Barraclough and savvy vet David Phelps, the Marlins on paper have one of the deepest and talented bullpens in all of baseball. That's great and all but in a 162 game season they can flame out before August if the starters can't compete or even keep the game close.
Take a look at this starting rotation in no particular order: Wei-Yin Chen, Edinson Volquez, Tom Koehler, Adam Conley and Dan Straily. Straily was a late off season trade acquisition from the Cincinnati Reds in which the Marlins traded minor leaguers depleting an already struggling minor league system. So Straily's performance better be worth the loss of one of the Marlins' better pitching prospect Luis Castillo.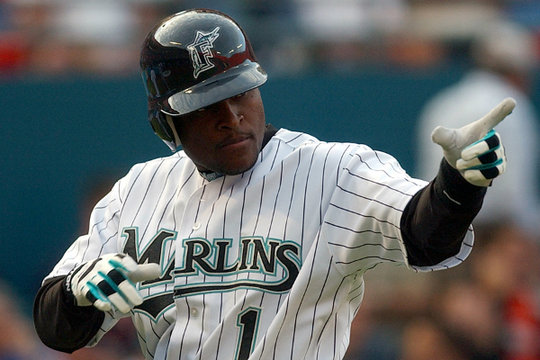 No... Not this Luis Castillo but I wish #bringbacktheteal
The projected starting rotation on paper is nowhere near playoff caliber, but with their new bullpen and returning young core of position players the Marlins can make deep run and compete with National League East favorites Washington Nationals and New York Mets.
In the next issue of the Cap's Corner I break down the position players returning, newly acquired and the outfield that headlines as one of the MLB's most talented outfield trios in the game.
---