Potential Maverick Trade Partners: Cleveland Cavaliers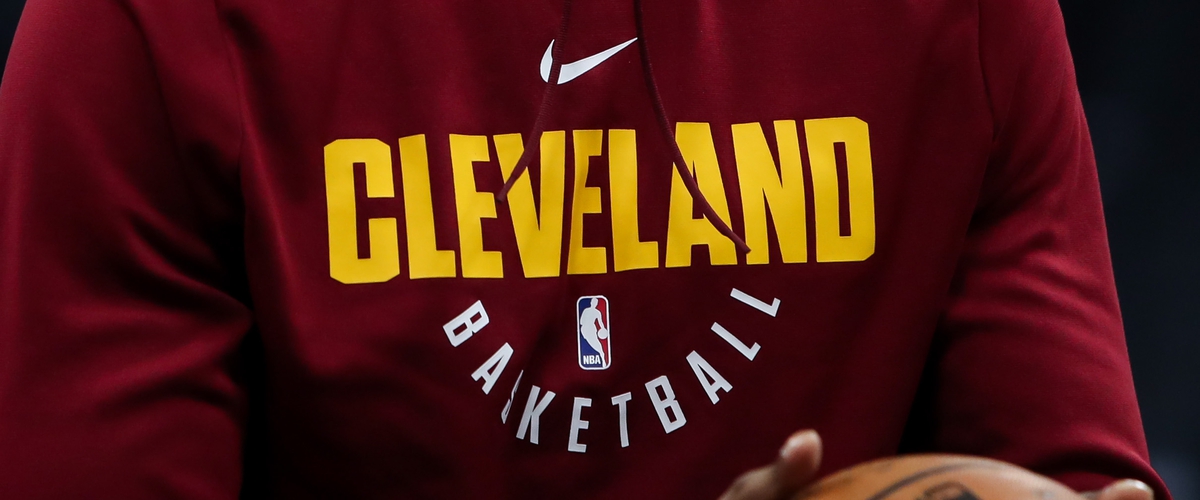 Not that long ago, a report came out saying that LeBron James wanted to team up with Nerlens Noel this coming summer. Whether or not there is any truth behind that odd rumor remains to be seen, but we'll take it at face value and run with it.
Another rumor has come about mentioning the fact that Cleveland would move center Tristan Thompson for "the right price." The question now is, does Dallas have that right price? There are multiple moves that could be made between these two franchises that make sense, so let's look at a few.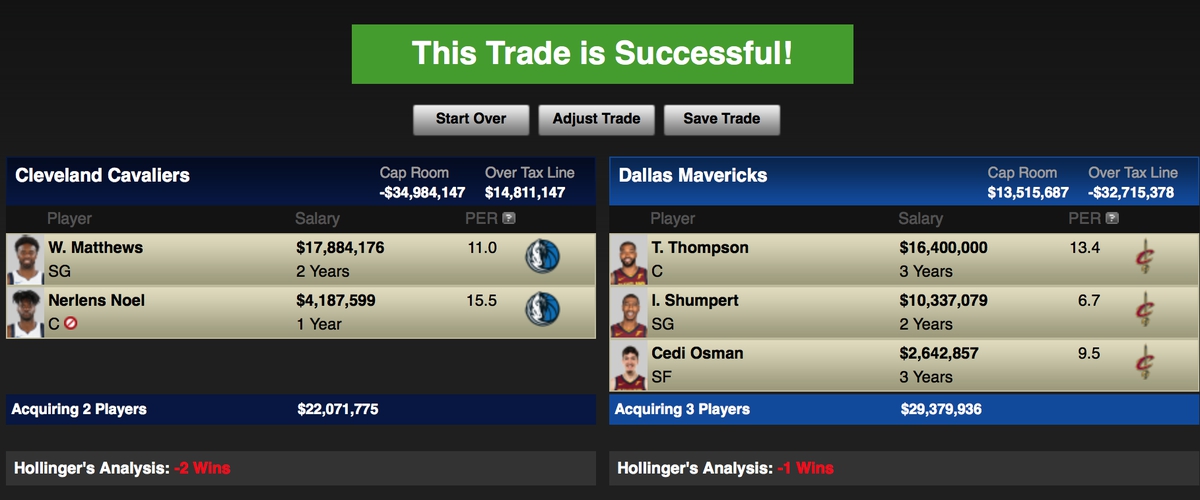 DAL: Tristan Thompson, Iman Shumpert & Cedi Osman
CLE: Nerlens Noel & Wesley Matthews
Maverick fans want Brooklyn's first round pick from Cleveland, but throwing that into this trade may be asking for a little much. However, this may be the right price to pry Tristan Thompson from the Cavs.
Wesley Matthews gives them more perimeter defense and shooting that gives them a better win-now threat. Noel provides Cleveland with a better shot at retaining LeBron in the summer, while also giving them better rim protection. Besides that, this also allows the Cavs to rid themselves of Iman Shumpert, a contract they have been wanting to unload for some time now it seems.
For the Mavericks, they get a young center that would instantly be their best rebounder; plus he could be a piece for the long haul. Shumpert provides some perimeter defense, but more than anything, he is just a piece to entice the Cavs to make the trade. Finally, Cedi Osman. Not many people know much about him, but he is a 6'8 rookie that can shoot the ball. He would be a nice addition for a good price. These next two deals I'm going to look at were actually proposed by other writers.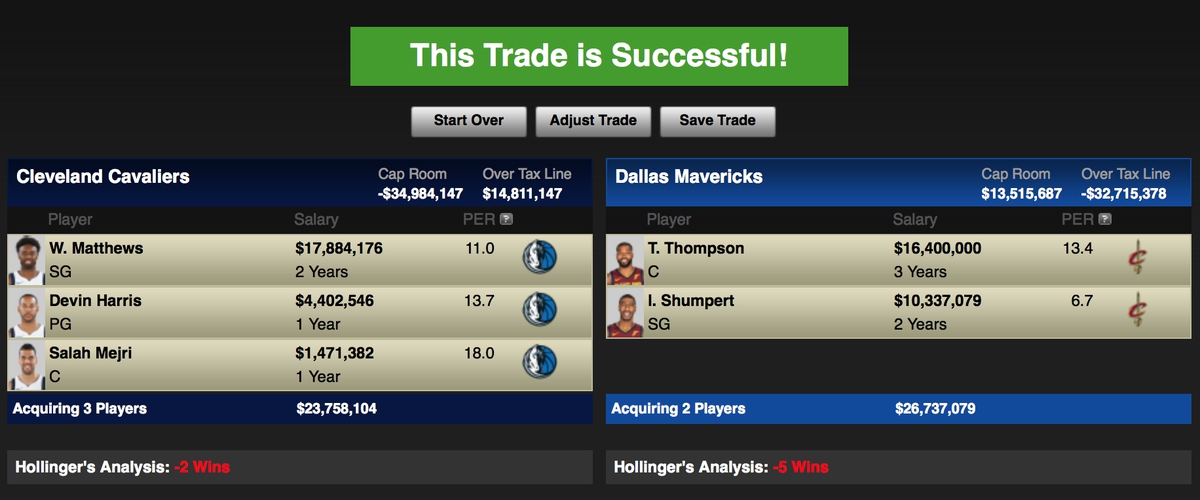 DAL: Tristan Thompson, Iman Shumpert & BKN's 2018 1st RD Pick
CLE: Wesley Matthews, Devin Harris, Salah Mejri & 2 Future 2nd RD Picks
This trade was originally proposed by Dalton Trigg of Mavs Moneyball. Personally, I love it for the Mavs. It gets rid of three older guys and brings in a young stud in Thompson and the coveted first round pick from Brooklyn. However, I don't think either side would go through with it.
On the Mavs side, I do not see them parting with Devin Harris. Harris is one of the best locker room presences in the NBA and has proven trustworthy every time he steps out on the court. Besides that, the way he has played through the tragedy of his brother's death is something that cannot be measured.
For the Cavs, I think they could find a lot more talent for Tristan Thompson. As mentioned before, Cleveland is only willing to deal him for the right price, and unfortunately for the Mavs, I don't think the price is right here. Besides that, I can't imagine Cleveland deals that pick unless it is for someone like Paul George or Demarcus Cousins. AKA, an all-star level player that will help them win now.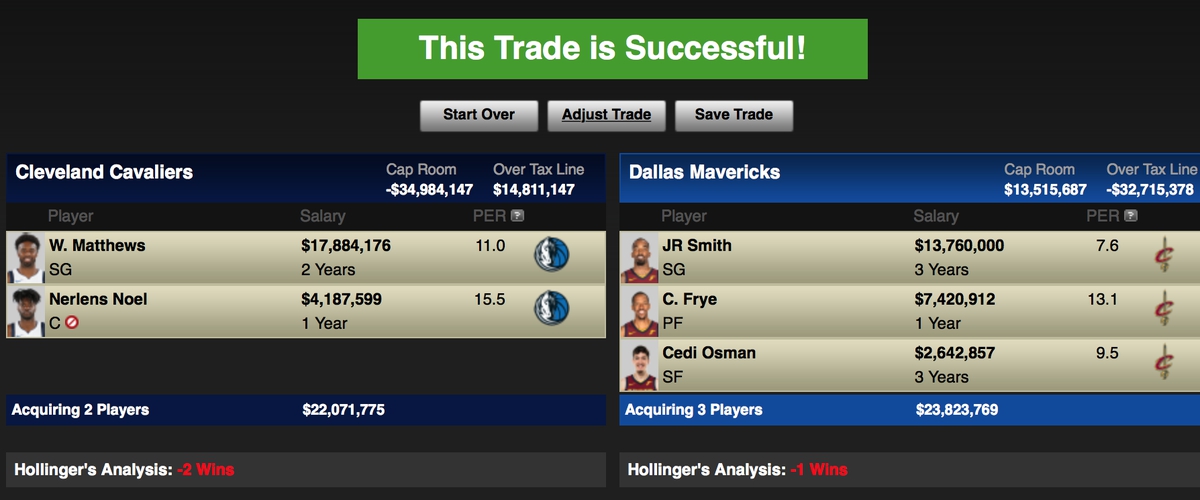 DAL: JR Smith, Channing Frye & Cedi Osman
CLE: Wesley Matthews & Nerlens Noel
Yes, I saved the worst for last. Bryan Kalbrosky of Hoops Hype proposed this trade as a way to get Cleveland into win-now mode. But I think Bryan forgot that the Mavericks have some common sense and would never even consider this.
As I mentioned before, Osman is a decent addition, but nothing that would make the needle move here. The market is so much bigger for both Matthews and Noel. JR Smith is an aging trigger-happy guard with a contract that is just as bad, if not worse than Wesley Matthews'. Channing Frye hasn't been affective all year. He's averaging 4.1 points and 2.2 rebounds per game while shooting just 33% from three. Not to mention, Frye is 34 YEARS OLD. HARD PASS BRYAN KALBROSKY.
Cleveland and Dallas have a lot of options that could work before the deadline. Don't be surprised if a couple Cavs become Mavs and Mavs become Cavs. However, I think any MFFL would be disappointed if a Cleveland-Dallas trade didn't have that Brooklyn pick falling into Dallas' lap.
---