College Basketball Notebook: Big Ten Edition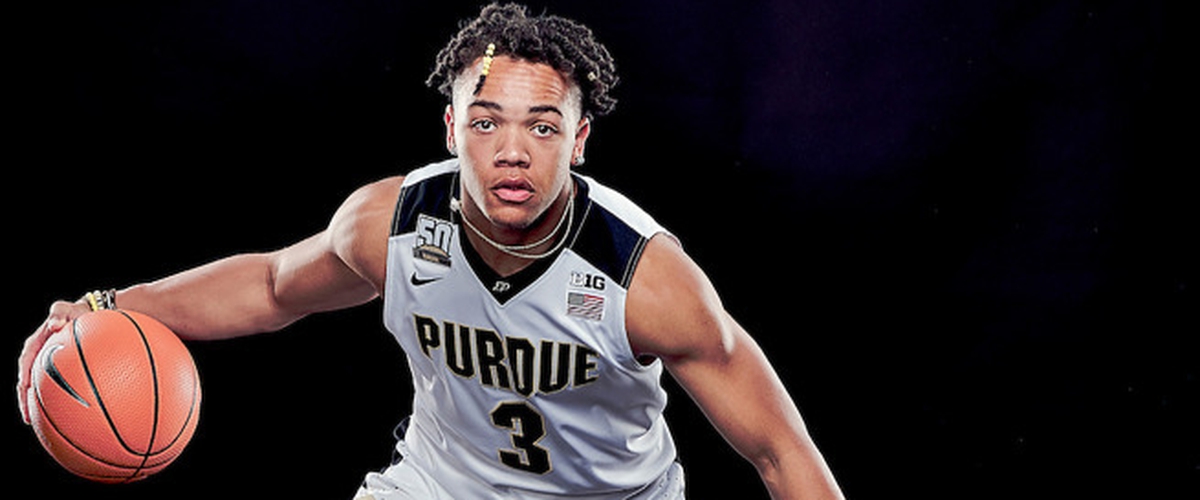 -Welcome back to our college basketball series, and today, we'll take an in-depth look at the Big Ten Conference, which is having a down year in respect to past seasons. If you haven't checked out our ACC, American and Big East articles yet, then make sure you give those a read!
Big Ten: The Top-Tier
#3: Purdue Boilermakers (21-2, 10-0)
-Purdue has been nothing short of spectacular this season, and I am starting to become a believer that this team is the best in the nation. Despite losing star big man Caleb Swanigan to the NBA last season, Purdue has somehow become even better this season, thanks to their elite offense and defense. Purdue is an extremely well-balanced team, evident by Carsen Edwards (17.0 PPG, 3.8 RPG, 3.1 APG), Vincent Edwards (15.6 PPG, 7.7 RPG, 2.9 APG), Isaac Haas (14.1 PPG, 5.3 RPG) & Dakota Mathias (12.5 PPG, 4.6 APG, 3.9 RPG) all averaging double-figures in scoring. The Boilermakers really don't have many flaws; they have a deep rotation (eight players average 12+ MPG), they play great offense and defense, and have an awesome resume. Purdue's two losses this season came in Atlantis, where they lost to a solid Tennessee team by 3 in overtime, and Western Kentucky by 4. The Boilermakers have a plethora of impressive wins, including victories against Arizona, Louisville, Marquette, Butler, Maryland & Michigan (2x). Upcoming games against Ohio State and Michigan State should determine who wins the regular season title in the Big Ten, but I wouldn't bet against the Boilermakers.
Key Statistics:
-As I mentioned two times above, Purdue is elite on both ends of the floor. The Boilermakers rank 5th in offensive efficiency, and their shooting numbers are sparkling. Purdue ranks 11th in FG%, 2nd in 3-PT%, and 71st in FT%, which demonstrate how gifted this team is on the offensive end of the floor. On the other side, Purdue ranks 5th in defensive efficiency, as they allow just 0.88 points per possession, and opponents shoot a meager 38.7% from the floor against the Boilermakers, and 33.0% from 3-PT range. The Boilermakers are so tough to beat, and you probably have to play a near flawless 40 minutes to beat them.
-Purdue is elite on offense and defense, even though they aren't an exceptionally great rebounding team. The Boilermakers rank 103rd in defensive rebound percentage, which is solid, but not spectacular. Purdue is middle of the pack in offensive rebound percentage as well, as they rank 144th in the NCAA in that statistic. While neither of these numbers are a weakness, it could be a point of emphasis that opponents aim to attack. In their game Saturday against Indiana, Juwan Morgan had 24 points & 7 rebounds for the Hoosiers, including 3 on the offensive glass. Isaac Haas is a tremendous player for Purdue, but he is not a good defender. If teams attack him defensively, then they could potentially upset the Boilermakers.
-Purdue plays at a pace right around the D-1 average, as they rank 190th in that category. Ideally, you would want Purdue to play a little slower, as their offense is insanely efficient and could benefit from shortening the game. Considering the Boilermakers rank 5th defensively, imagine if the game slowed down even more, and opponents really had to make every possession count. It would make Purdue virtually unstoppable, and I think could help this team. Let's see if Matt Painter tries that tactic going forward, as it could be an interesting avenue for Purdue to explore.
#5: Michigan State Spartans (20-3, 8-2)
-First off, let me say that we are thinking of, and support the survivors and women who have had the bravery to come forward in everything going on in East Lansing, and Michigan State. Their bravery and what has happened shouldn't be forgotten, and it once again reminds us to value every person's well-being more than we value the legacy or success of one's athletic programs or authority figures. For basketball purposes, Michigan State was a pre-season pick of mine to make the Final Four, and 23 games into the season, I am still convinced this team has the talent to make it there. Miles Bridges was probably the pre-season favorite for Player of the Year, but Sparty is way too balanced for him to win that award. Bridges (17.6 PPG, 7.3 RPG, 3.0 APG) has had a phenomenal season, but so has Nick Ward (13.7 PPG, 7.9 RPG, 1.6 BPG), Josh Langford (13.0 PPG, 2.5 RPG, 1.4 APG) & Cassius Winston (12.4 PPG, 6.9 APG, 3.1 RPG). We named Michigan State's top four scorers without even mentioning stud freshman Jaren Jackson Jr. (11.8 PPG, 6.5 RPG, 3.4 BPG), who is a likely top-10 pick in this year's draft. Michigan State is loaded, as bench players Matt McQuaid, "Tum Tum" Nairn, and Gavin Schilling all play important roles for Sparty as well. It'll be interesting to see how Michigan State finishes this season, all things considered, and if their talent can fully mesh before the tournament starts.
Key Statistics:
-Michigan State has an elite offense, and it might even rival Purdue's. The Spartans rank 3rd in FG% (51.7%), 17th in 3-PT% (40.8%), and 75th in FT% (74.3%), all elite numbers. Surprisingly, Michigan State has shot well from the free-throw line, a statistic they consistently struggle at. Michigan State ranks 6th in offensive efficiency, scoring 1.173 points per possession, and having five players average double figures gives them a tremendous array of players who can get their own shot. The similarities between Michigan State & Purdue offensively are similar, although Michigan State is a turnover-prone team, and it holds them back (14.2 TOPG, ranks 249th in the NCAA). All of Michigan State's starters average 1.4 TOPG or more, and if they can fix that issue, than they'll be a scary team.
-Michigan State is an ELITE rebounding team, as they rank #1 in the country in rebound margin (+12.1). That is absurd; this number means that, on average, Michigan State outrebounds their opponents by 12 per game. Having arguably the best frontcourt in the nation of Miles Bridges, Jaren Jackson Jr., and Nick Ward helps (they average 21.7 rebounds per game), but having guards such as Cassius Winston helping out with 3.1 per game doesn't hurt one bit. Michigan State does the majority of their damage on the offensive glass, where they rank 2nd in the country in offensive rebound percentage (they rebound 38.2% of their own misses), and 48th in defensive rebound percentage (they rebound 76.6% of their opponents misses). Those elite numbers could carry Michigan State deep into the tournament.
-Let's talk about defense, specifically, Michigan State's defense. Michigan State ranks 7th in the country in defensive efficiency (an elite number), and opponents shoot a meager 35.6% from the floor against them, the lowest mark in the country. It is so tough to score on Michigan State inside, as opponents shoot 37.1% from 2-PT range (the lowest mark in the country by over 2%, which is an insane number). A lot of this has to do with Jaren Jackson Jr., who is blocking a ridiculous 3.4 shots per game! The trick to beating Michigan State offensively might be to play small; making Nick Ward check out of the game (he's not capable of covering somebody on the perimeter), will soften up the interior, or if Tom Izzo opts to keep Ward in the game, opponents could attack him every possession. It'll be an interesting point to monitor going forward.
#17: Ohio State Buckeyes (18-5, 9-1)
-I'll be honest, Ohio State has been one of the most pleasant surprises in college basketball this season. Former Butler coach Chris Holtmann has been fantastic in his first season in Columbus, leading Ohio State to a hot 9-1 start in the Big Ten, with their only loss coming off of a ridiculous buzzer beater to Penn State. Ohio State had a massive 16-point win against Michigan State earlier this season, which puts them in a strong position to secure the number 1, or the number 2 seed in the Big Ten Tournament. A big reason Ohio State has been so successful has been stud forward Keita Bates-Diop (19.9 PPG, 8.6 RPG, 1.7 BPG), who is well on his way to first team Big Ten. Junior guard C.J. Jackson (13.0 PPG, 4.4 APG, 4.1 RPG), and senior Jae'Sean Tate (12.8 PPG, 6.0 RPG, 2.8 APG) are solid complementary players, along with freshman forward Kaleb Wesson (11.2 PPG, 5.2 RPG). To be honest, I'm not sold on Ohio State; they haven't played Purdue yet, won a home game against Michigan State (I don't ever get super excited over home upsets in conference play), but lost all of their signature non-conference games, including showdowns against Gonzaga, Butler, Clemson and UNC. This is a different team than the one we saw in the PK80 Tournament, and a win next Wednesday against Purdue would make me a believer.
Key Statistics:
-Ohio State is a really solid offensive team, as they rank 35th in the country in offensive efficiency, averaging a cool 1.103 points per possession. Keita Bates-Diop has been so effective in the post and mid-range games, that it has opened up Ohio State's offensive tremendously. Ohio State has 54.7% of their points coming from the two-point variety, pointing to how important Bates-Diop has been for this offense (he takes roughly five 3-PT attempts per game and nine 2-PT attempts). The Buckeyes emphasis on two-pointers, and the major improvement we have seen from Bates-Diop is a huge reason why Ohio State has become a near-lock for the Tournament this season.
-Ohio State doesn't have the talent of other teams, but they are extremely well-coached on both ends of the floor. Ohio State ranks 41st in defensive efficiency and 26th in defensive rebound percentage. In other words, Ohio State can get stops at a high level, and finish their defensive possession by preventing opponents from getting a second chance to score. Having a versatile defender such as Jae'Sean Tate on the perimeter, and Bates-Diop gives the Buckeyes two legitimate players to lockdown potential star guards or forwards. Opponents shoot 34.1% from 3-PT range against Ohio State, which is a bit below average, but opponents are only shooting 46.1% on 2-PT shots, which is well below average. So, in theory, the way to attack Ohio State is from behind the arc, and opponents have had just 41.5% of their shots be from the 3-PT variety, which is ranked 293rd in the NCAA. It'll be interesting to see if an opponent who loves the 3-PT ball (Purdue), can exploit Ohio State.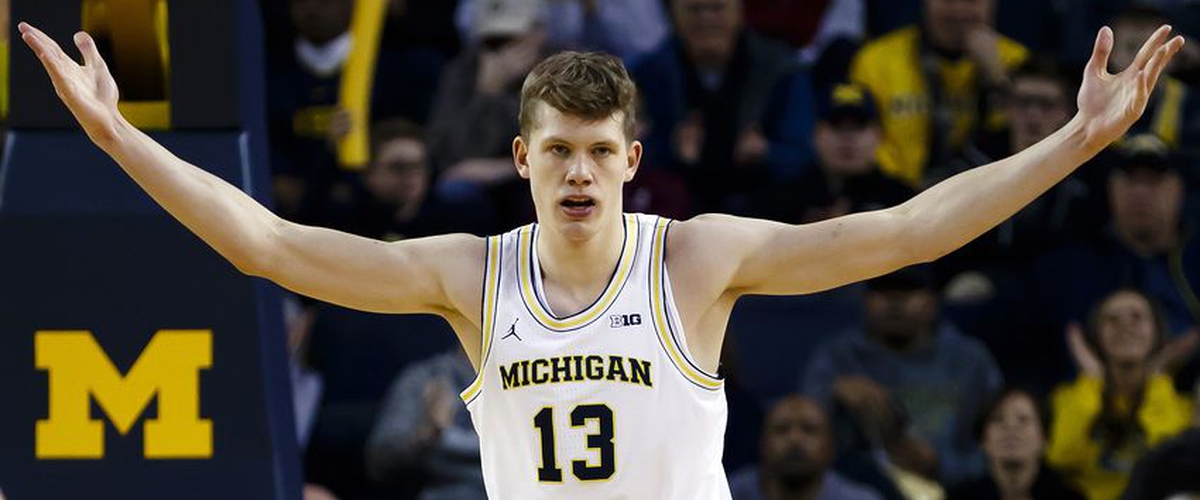 Big Ten: The Mid-Tier
#24: Michigan Wolverines (18-6, 7-4)
-I was so tempted to put Michigan in the top-tier, but they are 3.5 GB of Purdue for first place, making them just a bit too far back to crack that upper-tier. Make no mistake however, Michigan has a very good team, as their 7-4 conference record is a bit misleading since three of their losses have been against Ohio State & Purdue, with two of those coming on the road. However, examining this team deeper, you'll see that those three losses have been by a combined 14 points, and they have played Purdue to the buzzer twice. That is beyond impressive, and I believe this Michigan team will cause problems in March. This isn't your typical Michigan team, as they are much better defensively than they are offensively this season. Junior big man Mo Wagner (14.0 PPG, 7.0 RPG), and Kentucky transfer Charles Matthews (14.4 PPG, 5.2 RPG, 2.9 APG) lead this team in scoring, while Muhammad-Ali Abdur-Rahkman might be their X-factor (11.1 PPG, 4.0 RPG, 3.1 APG). Michigan is still a low-turnover offense (9.7 TOPG, 5th best in the country), and are still a solid perimeter shooting team that lives and dies by the three ball (Michigan shoots 37.2% from 3-PT range, 84th best in the NCAA, and 42.6% of their shots are of the 3-PT variety, 69th in the NCAA). Michigan is awful from the free throw line (65.8%, 320th in the NCAA), and they'll have to improve that number to win some close games. Once again I'll say it, games in March are often decided by the free throw battle. The Wolverines have the defense to make a statement in March (they rank 31st in defensive efficiency), the question will be whether they can make their free throws, and defend the 3-PT line well enough (they rank 250th in that area) to make it to the second weekend in the Tournament.
Nebraska Cornhuskers (17-8, 8-4)
-It is surprising to put Nebraska in this territory, and possibly even more surprising to mention that they are only 1 GB of Michigan State in the standings! Although Nebraska did rout Michigan this season, I still don't think Nebraska is as good of a team, and I don't think it is particularly close. The interesting thing about Nebraska is they might have to win 4-5 of their final 6 conference games to make the Big Dance, as they don't have many signature wins. Nebraska lost by 1 to Kansas, they lost to Creighton, and their only solid non-conference win was against Boston College in the Big Ten/ACC Challenge. Additionally, outside of their conference win against Michigan, they haven't beaten the elite Big Ten teams. Five of Nebraska's eight conference wins have come against the bottom four teams in the standings, teams they should beat. Don't get me wrong, Nebraska has been impressive, especially junior guard James Palmer Jr. (17.6 PPG, 4.4 RPG, 2.6 APG). Nebraska is a low-turnover team (11.2 TOPG, 26th in the NCAA), which helps offset their poor shooting numbers (they shoot just 43.2% from the field, 257th in the NCAA). Nebraska is a solid, but not spectacular defensive team, although they are elite at defending the 3-PT line (24th best at defending the 3-PT line). If the Huskers can get hot from the floor during a game, then they really do have a chance to compete against some really good opponents. However, their Achilles heel is rebounding the basketball; Nebraska ranks 332nd in defensive rebound percentage which is awful, as they rebound only 67.2% of their opponents' misses. If that number doesn't improve, than I cannot see this team making the NCAA Tournament.
Maryland Terrapins (15-8, 4-6)
-Maryland has fielded a really solid team all season, despite the fact that they lost arguably their best player, Justin Jackson, for the season 12 games ago. Since Jackson has been out, Maryland has struggled, as they are only 7-5, with the majority of their wins coming against teams in mid-major conferences. The Terps might be lucky to stumble into the NCAA Tournament at this rate, although College Park is one of the toughest places to play in the nation. Luckily for Maryland, they still have 4 home games remaining, and have games against Wisconsin, Rutgers and Northwestern (x2) remaining. Maryland could finish anywhere from 22-9 to 17-14, so we really don't know if they are a tournament team, yet. Anthony Cowan (16.2 PPG, 5.0 APG, 4.6 RPG) & Kevin Huerter (14.3 PPG, 5.4 RPG, 3.5 APG) have both been terrific this season, and they'll need to continue their strong play over these final eight games. It'll be interesting to see who steps up for Maryland, and the player to watch could be the 7'1 senior from the Czech Republic, Michal Cekovsky. Maryland is an above-average offensive team (57th in offensive efficiency) and defensive team (51st in defensive efficiency), which gives them a chance to stay in a lot of games. However, the Terps will have to improve in the turnover battle (they rank 277th in TOPG), and they don't force many turnovers. That is a huge concern, and couple it with only two players averaging double-figures scoring, and Maryland might have some serious issues.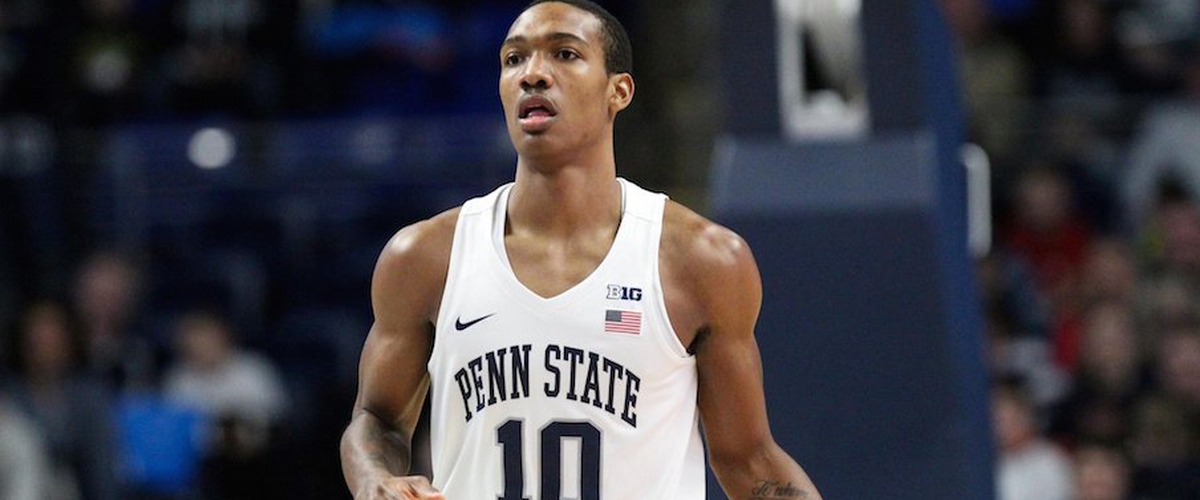 Big Ten: Fringe Contenders
Penn State Nittany Lions (15-8, 5-5)
-The football school, Penn State, might actually make it into the tournament this year, which would be quite a feat for a school that isn't a "basketball school". Penn State's resume isn't phenomenal, but they do have a signature road win against Ohio State. That win looks phenomenal, and while a non-conference loss to Rider seems like a huge negative, it actually isn't that bad, as Rider currently leads the MAAC conference, and might be a tournament team. Penn State has a stud in sophomore guard Tony Carr (19.2 PPG, 4.8 APG, 4.5 RPG), a really solid sophomore forward in Lamar Stevens (15.1 PPG, 6.4 RPG), and phenomenal sophomore big man Mike Watkins (13.1 PPG, 10.1 RPG). The Nittany Lions have 5 scorers who average 10+ PPG, and four of those players should return to school next season. If Penn State misses the Big Dance this season don't worry, they'll surely be in it next season. Penn State still plays Michigan State, Purdue, Ohio State and Michigan this season, and if they can win 2 of those games, they might be a team to make it deep into March.
Indiana Hoosiers (12-11, 5-6)
-Indiana is one of the most prestigious college basketball programs in the country, and I would be lying if I said I wasn't a fan. I almost went to the University of Indiana-Bloomington actually, and after seeing Assembly Hall up close, I can tell you, Bloomington is an awesome place for basketball. Archie Miller has been fantastic in his first season as head coach, and although their record doesn't show it, this team is dangerous, and they have greatly improved throughout the season. Juwan Morgan, a junior forward, is one of the most underrated players in the country, evident by his stats (16.3 PPG, 7.1 RPG), and having a ton of solid players around him (Robert Johnson, Josh Newkirk, Devonte Green, Collin Hartman) certainly helps. A rebuild in Bloomington will take a while, but the Hoosiers have competed well this year, as they beat a Notre Dame team that had Bonzie Colson & Matt Farrell healthy, and have played Duke & Purdue down to the wire. I don't think Indiana is a tournament team, as they don't have a ton of signature wins, and they have a few bad losses, but the future is bright for the Hoosier faithful.
Northwestern Wildcats (13-10, 4-6)
-Northwestern, similar to the team coming next, has been one of the biggest disappointments this year in college basketball. Fresh off of their first ever NCAA Tournament berth, it appeared as if the Wildcats were destined for a great season, but that hasn't been the case. Northwestern has flopped, mainly because they are a very poor shooting team. Scottie Lindsey (14.0 PPG, 3.5 RPG, 1.8 APG) & Bryant McIntosh (12.7 PPG, 5.5 APG, 2.6 RPG) have been solid, but not spectacular this season, which has prevented NW from taking that key step forward. Unfortunately, since Northwestern has struggled this year, it'll be a while before they crack the tournament again; as their top two scorers are both seniors. Additionally, we won't be seeing another Northwestern "Cinderella story" this year in the Tournament, barring a miracle.
Minnesota Golden Gophers (14-9, 3-7)
-Minnesota has been one of the most disappointing teams in the country this year, as they were poised to be a Sweet 16 team this season. A year after being a #5 seed in the NCAA Tournament, Minnesota has fallen flat on its face, especially now that Reggie Lynch has been barred from campus for two years (and rightfully so). Minnesota has mainly struggled because of injuries and suspensions, but they somehow still sit at 14-9. Jordan Murphy has been a stud (17.6 PPG, 11.7 RPG), and Nate Mason is still one of the better guards in the country (15.8 PPG, 4.5 APG, 3.9 RPG), but the Golden Gophers have shot the ball very poorly as a team (43.9% from the floor), and lost 4.1 BPG when Reggie Lynch was suspended. Minnesota is 1-6 since Reggie Lynch was suspended, and they have allowed on average 77.7 PPG in that span. Minnesota is in a tailspin, and while they have some impressive wins (Providence, Alabama), I think they have less than a 5% chance to make the tournament.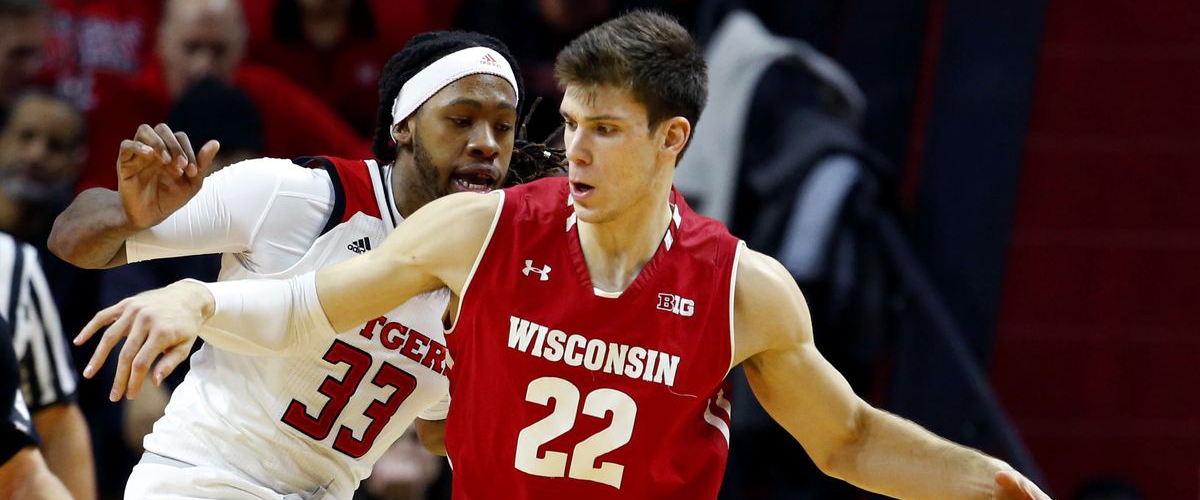 Big Ten: Non-Contenders
Wisconsin Badgers (10-13, 3-7)
-Wisconsin is my favorite school for collegiate athletics, but this has not been their year on the basketball court. Wisconsin lost four starters, and while returning big man Ethan Happ (17.5 PPG, 8.6 RPG, 3.9 APG) has been one of the best players in the Big Ten, it has been a struggle for the rest of this roster. Luckily for Wisconsin, their whole roster (basically) should be returning next season, and they lost two of their better players due to injury. If freshmen Brad Davison & Nate Reuvers continue to improve, and Kobe King & D'Mitrik Trice can come back healthy next season, then Wisconsin should be back in the NCA Tournament next season.
Rutgers Scarlet Knights (12-12, 2-9)
-Rutgers has struggled in the athletics department for a while, but this has been a solid year for them in basketball. Rutgers had an awesome upset win against Seton Hall this year, played Florida State tight, and has given Michigan State a scare, twice. Rutgers has a promising freshman in Geo Baker (11.4 PPG, 3.1 APG, 2.4 RPG), and junior Corey Sanders (13.5 PPG, 4.3 RPG, 3.3 APG, 1.5 SPG), which gives them a solid duo to build around for next season, and to hopefully begin to crash the NCAA Tournament party. Something else to remember, Rutgers is an elite defensive team (11th in defensive efficiency), which should set them up well for next season.
Illinois Fighting Illini (12-11, 2-8)
-Illinois is a team that has a bright future, despite going through massive struggles this season. Brad Underwood is the first year head coach here, and he has had tremendous success at Stephen F. Austin, and Oklahoma State in prior stops. Once Underwood fully implements his style, culture, and players, then Illinois will start to play solid basketball. The Fighting Illini turn the ball over a ton, and shoot the ball horrifically from beyond the arc, which is not a recipe at all for success. However, Illinois has some major pieces returning next season, and freshman guard Trent Frazier has shown some promise this season.
Iowa Hawkeyes (12-12, 3-8)
-Iowa had a magical team two seasons ago, but they have yet to replicate that success. Iowa has a really solid sophomore duo of Tyler Cook (15.1 PPG, 6.8 RPG) & Jordan Bohannon (14.0 PPG, 5.4 APG, 2.0 RPG), Fran McCaffery is still one of the better coaches in college basketball, and they rank 5th in the country in assists per game. That's a lot of positives to build on for the Hawkeyes' faithful, even though they are going through an abysmal season. Iowa is built for the future; their four leading scorers are all sophomores or freshmen, which means success might be headed back to Iowa City within the next two years.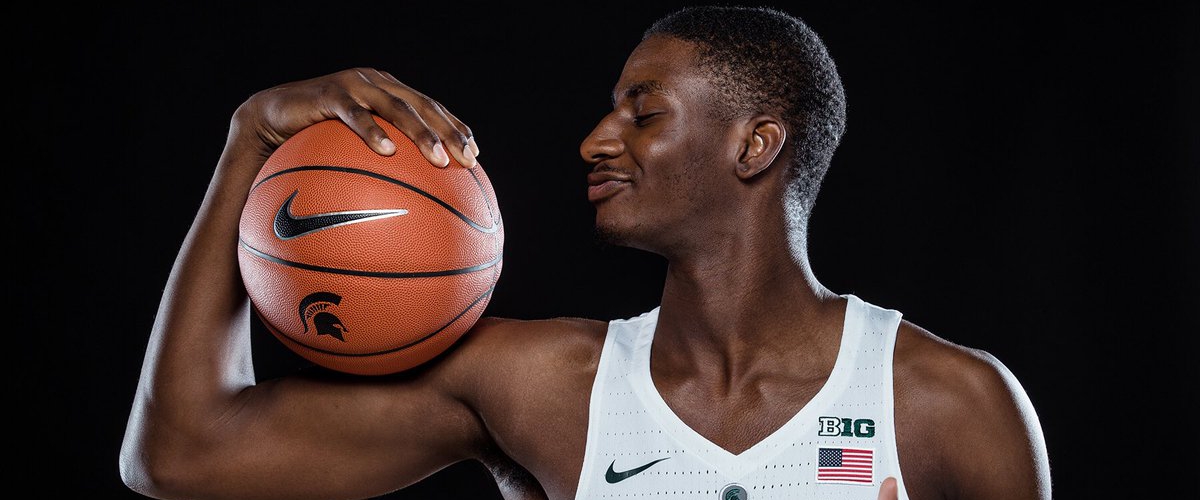 Big Ten: Players to Watch
1. F-Jaren Jackson Jr. (Michigan State Spartans-Freshman)
-Jaren Jackson Jr. is a complete stud, and he is constantly overlooked on a team that features Miles Bridges. However, not mentioning Jackson Jr. would be a huge mistake; he is 5th in the NCAA in blocks per game, he can shoot from the perimeter, he's a tremendous rebounder and a legitimate low-post threat. I think Jaren Jackson Jr. is the best player in the country that nobody is talking about; he's the stereotypical stud freshman that can fully burst into the spotlight in March, and I bet he does. Jaren is a likely top-10 pick, and his versatility is such an advantage for Michigan State. For example, his fellow frontcourt mate is Nick Ward, who isn't an athletic big and typically stays close to the basket. While he is the link to exploit, Jaren's length, and rim-protection allows him to occasionally slide over to play center, with Miles Bridges at the 4 and Matt McQuaid getting minutes off the bench. That might be something to monitor if teams try and go small against Sparty, and I think Michigan State will have success with it.
2. G-Tony Carr (Penn State Nittany Lions-Sophomore)
-Tony Carr is a legend around Happy Valley, thanks to his miracle buzzer beater to hand Ohio State their first conference loss. Carr, however, is much more than just a one-shot wonder, he is one of the best guards in the Big Ten. Carr has vastly improved this year, and I mean he really has become a legitimate star in the Big Ten. Take a look here:
2016-2017 Season: 13.2 PPG, 4.8 RPG, 4.2 APG, 2.6 TOPG, 37.7% FG, 32.0% 3-PT, 77.1% FT
2017-2018 Season: 19.2 PPG, 4.5 RPG, 4.8 APG, 2.3 TOPG, 41.6% FG, 45.5% 3-PT, 82.5% FT
-That is an incredible jump, and it is a big reason why Penn State is on the tournament radar this season. Carr is the engine that makes Penn State go, and it is evident by his production. In games this season where Carr has collected 5 or more assists, Penn State is 9-2 on the season. When Carr is getting his teammates involved, good things happen. With games against Ohio State, Michigan State, Michigan & Purdue remaining, they'll need Tony Carr to have multiple big games to get an at-large bid to the NCAA Tournament.
3. G-Muhammad-Ali Abdur-Rahkman (Michigan Wolverines-Senior)
-Muhammad-Ali Abdur-Rahkman is the X-factor for Michigan, as he is a microwave type guard who can really light it up. Looking at some of Michigan's best wins this season (VCU, UCLA, Texas, Michigan State, Maryland), Abdur-Rahkman has averaged 11.2 PPG, 4.0 RPG, and 2.4 APG, which are near his season averages. However, look at Abdur-Rahkman's best games of the season; Texas (17 points, 10 rebounds), Michigan State (14 points, 3 rebounds, 3 assists), and @ Purdue (26 points, 3 rebounds). Michigan won two of those games, and they lost at Purdue by 4 points. When Abdur-Rahkman shows up and plays well, Michigan performs at a high level. Additionally, Abdur-Rahkman is the senior leader of this team, and he has the experience to help carry this team in March, and he averages the most minutes per game on the roster. It's hard to understate how important Abdur-Rahkman is for Michigan, and he is a player to watch over the last month or so of the regular season.
4. G/F-Kevin Huerter (Maryland Terrapins-Sophomore)
-When Justin Jackson went down for Maryland, we all knew it would be an uphill climb for this team to reach the tournament. That has proven to be true, as the Terps are just 7-5 since Jackson has been out. The guy Maryland needed to step up the most, was Kevin Huerter, and they're going to need him to string together some magnificent performances over this final stretch of the season. Since Jackson has been out, Huerter has averaged 14.8 PPG, 6.2 RPG, and 3.5 APG, all solid numbers. However, in the biggest games, Huerter has been inconsistent. In close losses to Michigan & Michigan State, Huerter has averaged 14.5 PPG, but he's shot just 40% from the floor, and 28.6% from 3-PT range, all while averaging 2.5 TOPG in that span as well. Maryland will need Huerter to be in his best form over the final stretch of the season, as Maryland would like to win 5-6 of their final 8 Big Ten games to feel comfortable about an at-large bid.
5. G-Dakota Mathias (Purdue Boilermakers-Senior)
-Purdue is arguably the best team in the country, and while Vince Edwards, Carsen Edwards & Isaac Haas are the most well-known players, Dakota Mathias is arguably the most important. Mathias is the senior point guard for Purdue, as he averages a team-leading 4.6 APG, while adding 12.3 PPG, and 4.0 RPG, all while shooting 46.8% from the floor, and 46.2% from 3-PT land. Mathias is a savvy floor general, averaging only 1.4 TOPG, and snagging 1.3 SPG as well. Having a two-way player like Mathias, who also functions as a lethal shooter who can play off-ball, gives Purdue elite positional versatility. In big games this season, Mathias has average 15.7 PPG, 3.7 RPG, 5.2 APG while shooting 47.4% from 3-PT range. Having a player of this caliber show up at the biggest stage is inspiring, and bodes well for Purdue's chances to make a deep run come March.
Big Ten: Key Upcoming Games to Watch
Wednesday, January 31:
Penn State Nittany Lions @ #5 Michigan State Spartans (6:30-BTN)
-Like I have previously stated in our other college basketball notebooks, I have a hard time picking road teams to win conference games; it's just too hard. That doesn't change in this game, although I believe Penn State keeps this one close. Michigan State's weakness is their high propensity to turn the ball over, and Penn State just happens to rank 38th in the NCAA in steals per game. I think the turnover battle helps Penn State stay competitive, but I don't think they'll have an answer for Michigan State's awesome frontcourt in this one.
Prediction: Michigan State (71-62)
Maryland Terrapins @ #3 Purdue Boilermakers (8:30-BTN)
-This is a huge game for Maryland, as this one could be the key signature win this program needs to feel confident about their tournament chances. Unfortunately, they have to head to Mackey Arena and face one of the hottest teams in college basketball, Purdue. It'll be tough for Maryland to stop Isaac Haas inside, and I think Purdue really controls this game from start to finish.
Prediction: Purdue (77-61)
Saturday, February 3:
#5 Michigan State Spartans @ Indiana Hoosiers (8:15-ESPN)
-This game is going to be a ton of fun, as Assembly Hall should be rocking Saturday night when Sparty comes to town. Michigan State has a loaded roster, but Indiana is a sneaky-good team that consistently plays up to the competition. The Hoosiers have the frontcourt talent to match up against Nick Ward & Jackson Jr. (looking at you Juwan Morgan), but it could be a challenge to keep Michigan State off of the offensive glass. However, if Robert Johnson & Josh Newkirk can hit some big shots, I think Indiana has a chance.
Prediction: Indiana (74-70)
-Thanks for reading the B1G notebook, be sure to follow our twitter (@BeastlineSports), and check back later this week for a Big 12 article and another NBA Trade Deadline piece!
---