Philadelphia 76ers' Future Outlook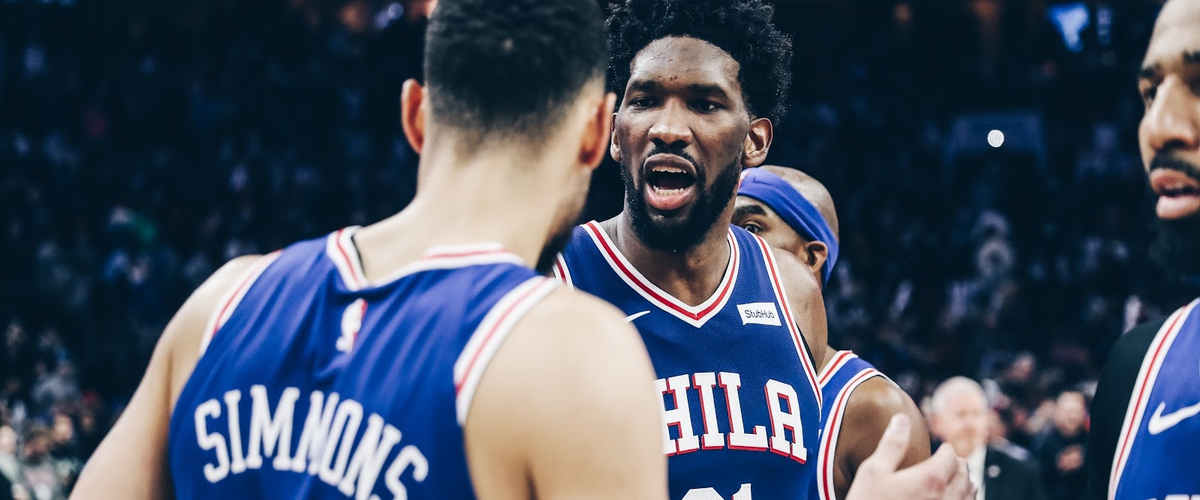 (via Google Images "Embiid Simmons")
After discussing what the lottery teams are going to be facing going into the future, it's now time to discuss the postseason teams prematurely. However, I feel that doing this now also explains a bit about what is possibly at stake for teams. Will the Bucks' results actually affect Giannis' decision? If Philly fails, do they trade Embiid or Simmons? Does the small-ball experiment in Houston actually work? All of these are examples for the remaining NBA teams (and the Warriors, who likely will return next season to a much better standard of basketball) and why their future will be impacted by the playoffs.
So, I'm going to lead of with the Philadelphia 76ers as I kind of have been rotating between divisions and am on to the Atlantic. Philadelphia is currently in fifth in the East in spite of all of the turmoil and drama. Ben Simmons and Joel Embiid reportedly "don't like each other" and that is a bit of why this drama is going on. After tanking for all of those high draft picks, the process is starting to show a bit of a flaw, and it might be time to start reconsidering where to take the franchise in the future.
WHO'S GONE: G Alec Burks, G/F Glen Robinson III, SG Furkan Korkmaz, PG Raul Neto, F/C Kyle O'Quinn
Basically, the best of the bench will be leaving Philadelphia after this season. Sure, keeping some of these guys might be feasible, but with four players approximating over $120 million over the next three seasons, the 76ers have committed to their core. Korkmaz will be too expensive to keep, and "Baby Big Dog" Robinson will too. O'Quinn and Neto are replaceable. Burks has been kind of up and down from the league the past few seasons, but he likely will be outside of the 76ers price range as it stands today as well.
WHO'S LEFT:
C-Joel Embiid, Al Horford
PF-Mike Scott, Norvel Pelle
SF-Tobias Harris, Matisse Thybulle
SG-Josh Richardson, Zhaire Smith
PG-Ben Simmons, Shake Milton
With the exception of Horford, the entire bench is going to need to make some major strides in 2021 since affording non-minimum and/or rookie depth is out of the question now barring trades. Josh Richardson will also likely want a bigger contract after next season than his current $10 million. This group is in the luxury tax already, and will be for at least three more seasons, which is scary if you hope for outside improvements. It's not impossible, but this group is going to have to get it done on their own.
WHAT'S NEXT:
If Philadelphia makes it to the East Finals, which likely means they will get through the Bucks in the second round, then this group will likely stay together. Simmons and Embiid will have made up, and they can take Tobias Harris and the rest of the roster back for another go. If they get swept by the Bucks, or something like what happened to Boston last season, then the rumors really ramp up. Embiid is the easier contract to trade, since he has two less years and is making $20 million less overall, so that's the route they will go for most likely (plus they still have Horford).
However, Embiid is a transcendent player and might be one of the best five players in the NBA, so Philadelphia management will need to be flawless in what they bring back for him. Say they do make that move, here are a few sample returns:
1) Embiid & Mike Scott to Oklahoma City for Danilo Gallinari, Dennis Schroder and a few draft picks
2) Embiid to Memphis for Jonas Valanciunas and Justise Winslow/Tyus Jones plus draft picks
3) Embiid & Korkmaz to Sacramento for Bogdan Bogdanovic, Nemanja Bjelica and Cory Joseph plus draft picks
4) Embiid to San Antonio for DeMar DeRozan and Derrick White plus draft picks
5) Embiid to Phoenix for DeAndre Ayton and Kelly Oubre (or Cameron Johnson & Mikal Bridges) plus draft picks
These are all successful according to NBA trade machine, all take him out West, and all depend on the draft picks to make it work. I think my favorite for Philadelphia is the one with Phoenix, as it works well for both teams. Having Ben Simmons with DeAndre Ayton and that group of wings would be fun to watch, and likely less dramatic. I also like the Kings trade, especially since it also resolves the Bogdan situation in Sacramento, gives Philadelphia more shooters and a backup point guard in the process. Oklahoma City makes the least sense basketball-wise, but they have the best collection of draft picks.
Overall, the Sixers have a lot of upcoming questions that will depend on what happens in these next two months and the postseason, and it will be very fun to watch it unfold.
---