Will Jalen Hurts take Carson Wentz's job?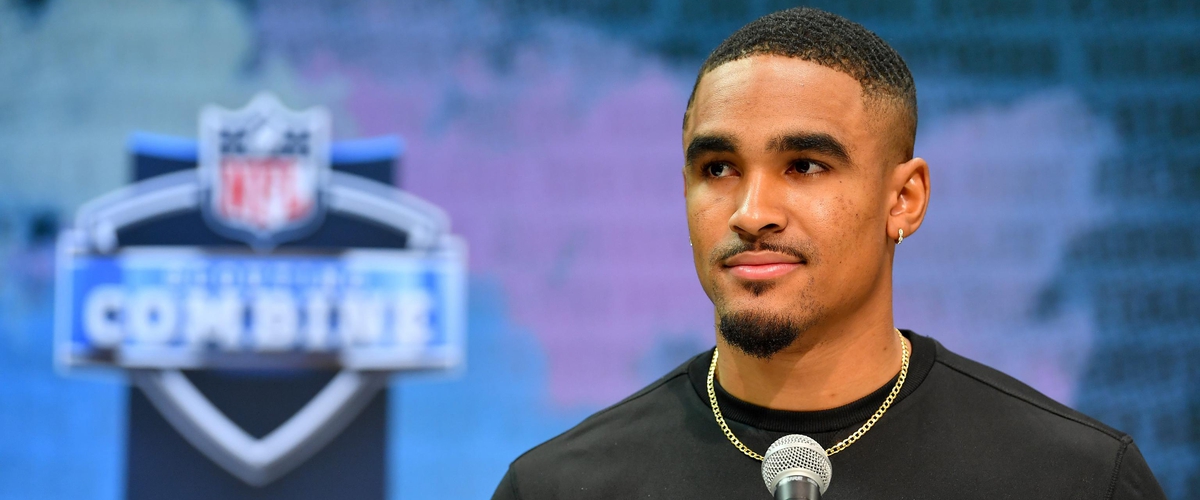 The Green Bay Packers were not the only NFL to surprise fans during the 2020 virtual draft just over a week ago.
Midway through the second round, the Philadelphia Eagles shocked the football world taking former Alabama Crimson Tide and Oklahoma Sooners QB Jalen Hurts 53rd overall.
After starting two full seasons in Tuscaloosa, Hurts lost the starting gig to the fifth overall pick in this year's draft - Tua Tagovailoa - in the national championship game against Georgia in early 2018.
After sitting on the bench for a season and making a few cameos late in blowouts, the Texas native transferred to the Big 12 and was the starter for a season under head coach Lincoln Riley and helped the Sooners to the College Football Playoff semifinals.
Hurts was labeled as a third or fourth-round prospect because of his questionable throwing accuracy and decision making, but the Eagles were prepared to take him in the second round regardless of what the experts and the fans thought.
According to general manager Howie Roseman, the team called current starting QB Carson Wentz to let him know they were thinking of taking Hurts if he fell to them. Roseman said the call was "not comfortable" and Wentz was preparing mentally for the team to take a quarterback.
Monday morning on a conference call, Wentz again emphasized his desire to win in Philly and stay healthy for an entire season.
I came to Philly ever since being drafted and all I've wanted to do is win and stand up there and hold that Lombardi trophy. Whatever that takes and whatever that looks like, I'm on board," he said. "I'm a competitor, I want to be out there, I want to have the ball in my hands - we all do - but at the same time, whatever is going to help us win, I'm confident the coaches and everyone is going to put us in the best situation.
Reading these comments, it is clear to me that Carson is a bit nervous about what the future might hold. It is no mystery that he has struggled to remain healthy since being drafted second overall in the 2016 draft.
After a breakout rookie year that saw him start much sooner than anyone expected, Wentz has missed at least some time due to injury the last three seasons. Drafting Jalen Hurts is not only a move to add depth at the position, but is a look towards the future of the franchise.
Roseman and Eagles head coach Doug Pederson have started to lean more on younger players in the last couple of years and with Wentz under a huge contract through 2024 that will see him make $107 million guaranteed, this is also a "what if" plan.
Hurts has the raw athleticism, arm strength, and game sense to be an elite quarterback, he just needs to adapt his game slightly and learn the flow of the NFL before he can truly succeed.
I think the competition will be a good thing for Carson Wentz and he should be a little nervous that he could lose his job. Maybe this pressure will help him play better in the years to come.
---