Jagr Scores Number 750, Ovi Hosts Special Hockey, Las Vegas NHL to Have a Name Nov 22
Florida Panthers forward, Jaromir Jagr, reached another milestone in his illustrious career on Thursday night, as he became just the third player in the National Hockey League to score 750 goals.
The 44-year-old veteran picked up number 750, just over 14 minutes into the middle frame of the Cats game against one of his former teams, the Washington Capitals at the BB&T Center in Sunrise, Florida.
The goal may not have been enough to give the Panthers the victory, but it did move Jagr into third place in the NHL's All-Time goal scorers, trailing only "The Great One," Wayne Gretzky (894) and "Mr. Hockey," Gordie Howe (801).
In talking about the accomplishment, Jagr said, "That is nice, but I would rather win. So, it is kind of tough."
In 1,633 NHL games, over 23 seasons, with the Panthers, Capitals, New Jersey Devils, New York Rangers, Dallas Stars, Philadelphia Flyers, Boston Bruins and Pittsburgh Penguins, has scored 750 goals and 1,120 assists for 1,870 points. He needs 17 points to tie Mark Messier (1887) for second place. Gretzky is the All-Time Points Leader with 2,857.
Jagr is in sixth place in assists, 15 behind Paul Coffey.
Jagr added, "It is always good to get the first one. A good play, a good pass, I was wide open in the slot. I had a lot of chances in the game before, but I could not put the puck in. I am glad I did it tonight."
Per Elias Sports Bureau, Gretzky recorded his 750th goal, in 1,001 games at the age of 31, Howe did it in his 1,598th game at 41 years of age and Jagr picked up his 750th in his 1,633rd game at the age of 44.
In Other NHL News: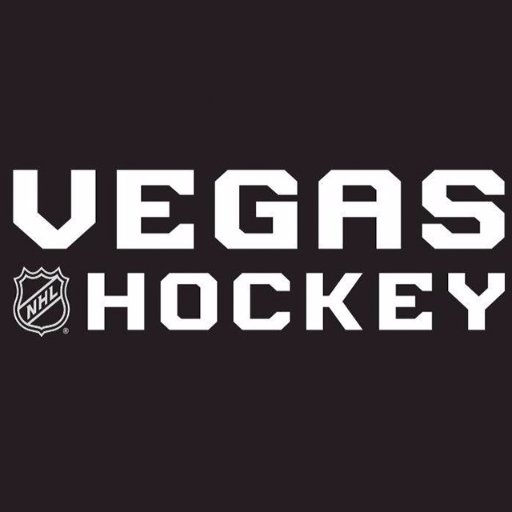 The Las Vegas NHL Team announced they will unveil their nickname and logo on November 22, at Toshiba Plaza, just outside the T-Mobile Arena.
General Manager, George McPhee will be joined by NHL Commissioner, Gary Bettman, on Tuesday night, November 22 as they reveal the nickname, team colors and logo for the organization. The franchise will begin play in the 2107-2018 NHL season.
The franchise expected to have Knights in their nickname, will also have merchandise from hats to T-shirts available for sale at the unveiling ceremony, but jerseys will not be made available until the expansion draft in June.
The fans of the first major league sports franchise in "Sin City," will finally find out the name of their new team, just in time for the holiday season.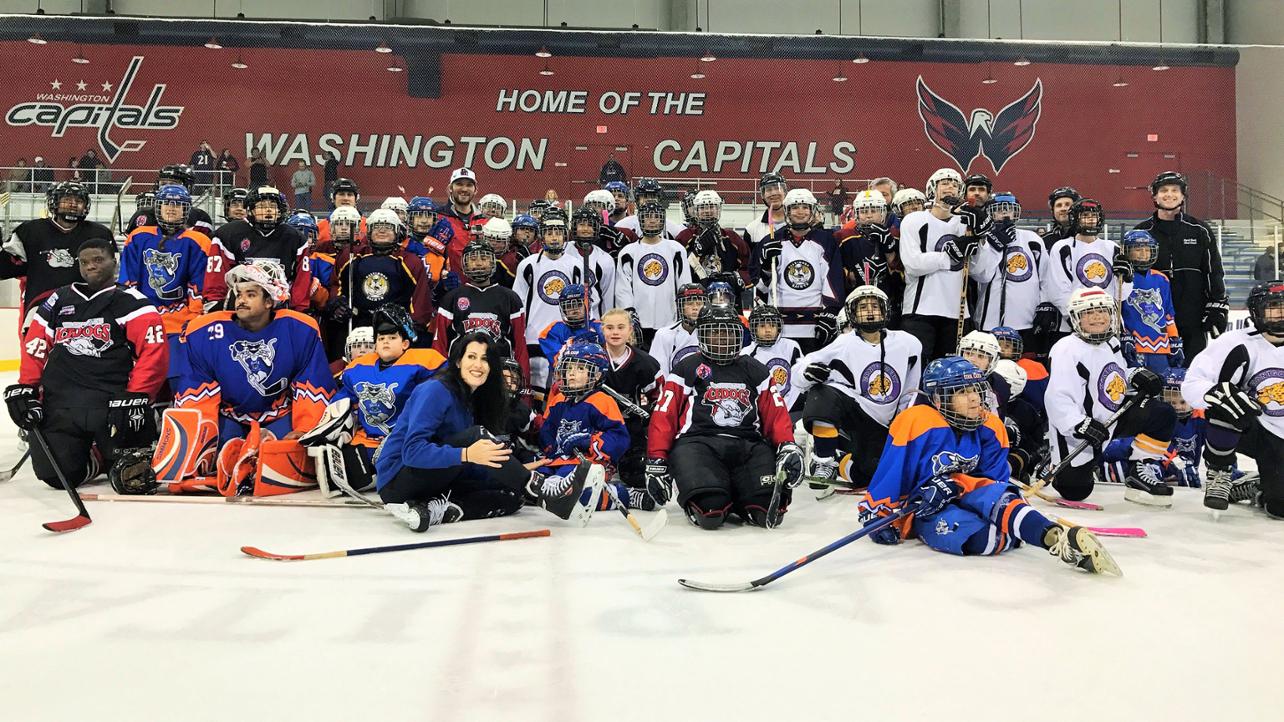 Capitals captain, Alex Ovechkin and the Caps hosted their third annual skating event with the American Special Hockey Association at the Kettler Capitals Iceplex on Friday.
Ann Schaab, 12, who plays for the Washington Ice Dogs, was among one of the 60 players that participated in the event.
Schaab, who has Down Syndrome, went on a special sushi date with Ovi back in 2014, following a preseason game. Since then the two have created a friendship.
At Friday's event, Schaab said, "Me and Ovi are special friends. He helps me a lot. He helps my team and he helps my friends play hockey."
Ovechkin seems to enjoy the event as well. While helping them with their drills, he offers the athletes encouragements and fist bumps.
He said, "It is fun. I can see they are smiling. They ask me questions. It is always fun. It is nice to see them smile."
Founded in 2005 for players with developmental disabilities, the ASHS has developed into a nationwide program with more than 2,000 players in 60 programs across 54 cities. At Friday's event, the Ice Dogs, Baltimore Saints, Montgomery Cheetahs and the Nova Cool Cats were represented.
ASHA president, Mike Hickey said, "The big thing with our players is we are therapeutic-based, not competitive. We are trying to instill confidence in them and teach them responsibility and socialization, and this is a real shot in the arm as far as confidence. They go to school tomorrow and tell all their friends that they skated with Alex Ovechkin. So, it is kind of a big deal."
He added that Ovechkin's event helps to give exposure to the ASHA, helping to create an invaluable experience for the organization and its players.
As part of his contributions to the ASHA, which includes the car he won during the 2015 NHL All-Star Game in Columbus, Ohio, Hickey presented Ovechkin with the 2016 ASHA Inspiration Award at Friday's event. Former NHL defenseman, Matt Carkner, who played for the New York Islanders, Ottawa Senators and San Jose Sharks, received the award in 2015.
Hickey added, "For these NHL players, a lot of this is obligations, For Ovi, this is not an obligation. He loves doing it the last three years. He has a smile on his face, he loves the kids, and they love him."
Ovechkin felt that it was "special" to be able to receive the award. He said, "I got lucky. I am a professional hockey player. I just try to help the kids, and the organization does a great job to help me and help everybody around."
The Inspiration Award, was not the only thing that Ovi took home with from the event. Before heading out to the ice, Schaab gave him a gift in the Capitals locker room.
Schaab was sitting in Capitals forward Nicklas Backstrom's locker, trying on his helmet when her buddy came out to greet her. She wears the number 19, because of Backstrom, despite her friendship with Ovechkin.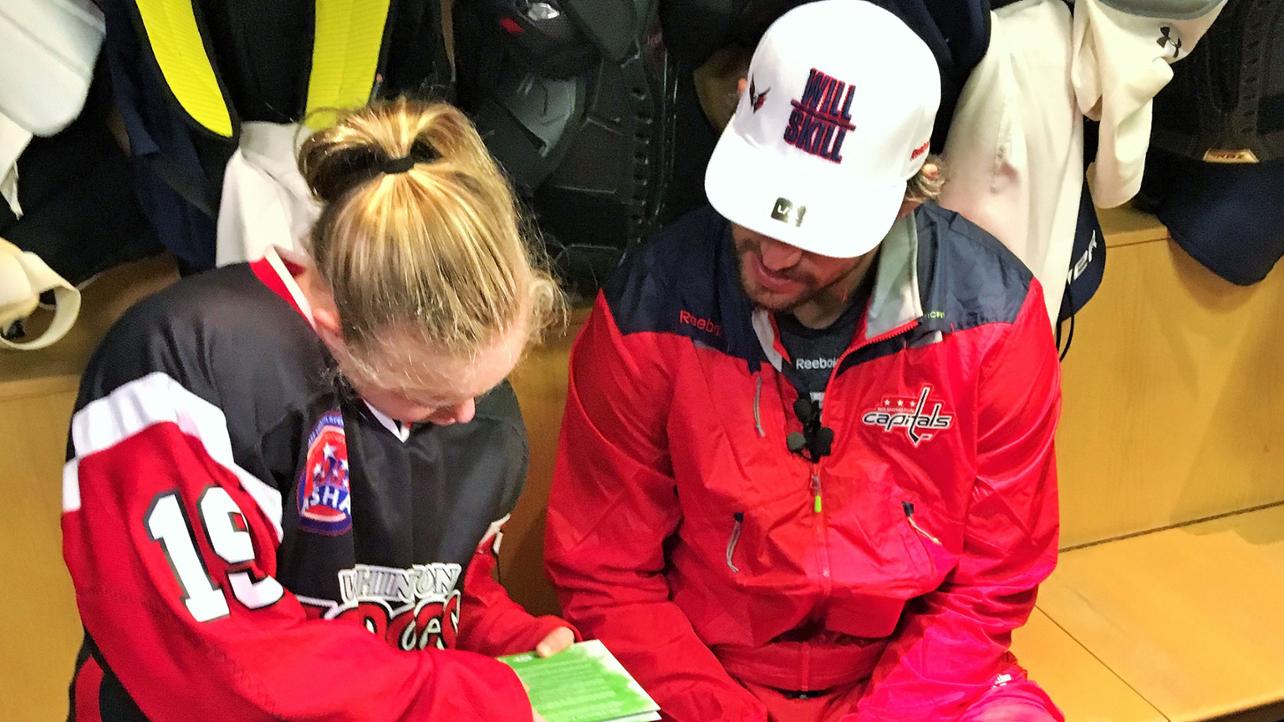 He gave her a hug, as she showed him a children's book, entitled "Drop the Puck, Let's Play Hockey" by Jayne J. Jones-Beehler. After reading about the friendship between the two players, and meeting Schaab at an Ice Dogs fund raiser, Jones-Beehler chose to incorporate the two into the third installment of the series.
The premise of the story entails one of its characters, Blaine, who has Down Syndrome and is the manager of the Minnesota Bears youth hockey team, joining an ASHA team. As Blaine has trouble learning how to skate, a new character named Ann lends a helping hand.
Schaab opened the book to the page where her character helped Blaine, and signed the page for Ovechkin. He promised her that he would put the book with all his trophies and awards.
Proceeds from the sales of the book, through November 7, will benefit the ASHA. As Ovechkin, has talked about starting a family with his wife, Nastya, liked that he would one day be able to read the book to his children as they learn about his special friendship with Schaab.
He added, "It is always nice when the kids love you and I love them. We have fun, we talked before the skate and it is great."
---