2018 NBA Offseason Prediction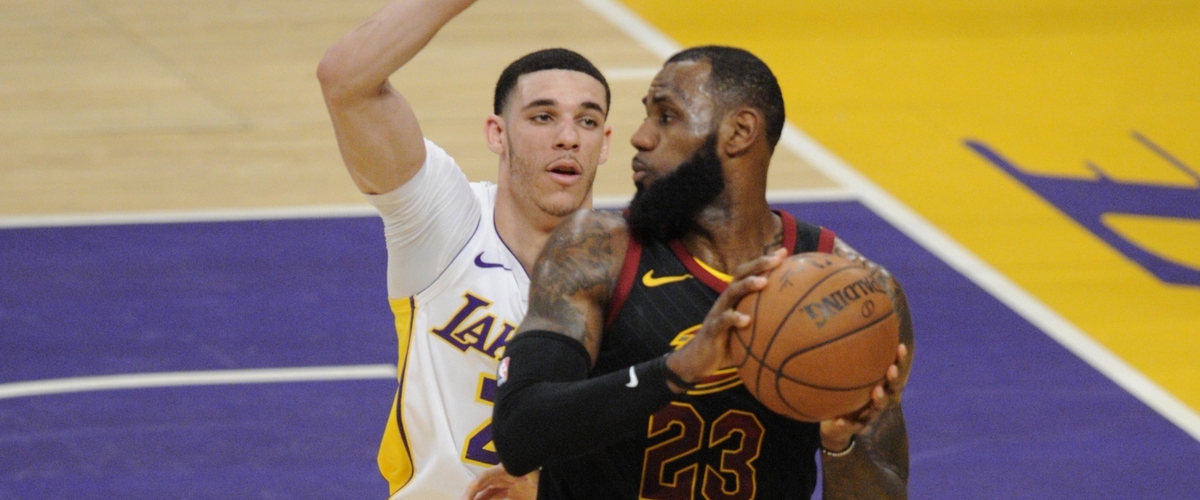 I'm not the biggest NBA fan, mostly because of the constant Cavs-Warriors Finals matchup, but the offseason is my absolute favorite part of the NBA. Teams go out spending tons of money on players that they hope can help them take down the Golden State Warriors, and become NBA Champions. This offseason could get very interesting, with plenty of names on the market and trades could also shake up the offseason. In this article, I will predict where I think some of the biggest name free agents will end up and the biggest trades that I think will happen this offseason!
-Signings
1. LeBron James signs with the Los Angeles Lakers.
-Up until recently I've thought the Rockets were going to end up with LeBron, but now that I've seen just how hard it is for the Rockets to have enough cap space to sign him I doubt it's likely. The Lakers can afford two max contracts in free agency, and with a bunch of good young players already in place the Lakers could quickly turn themselves into title contenders.
2. Kevin Durants re-signs with the Golden State Warriors.
-Kevin Durant has a player option this offseason, which I'd expect him to take. This still should not stop the Warriors from trying to sign Durant for even longer. With the Warriors winning back-to-back titles it seems like Durant is a slam dunk to come back to the Warriors next year.
3. Paul George signs with the Los Angeles Lakers.
-Before the rumors of LeBron James potentially signing with the Lakers picked up steam, before the talks of Kawhi Leonard potentially being traded to the Lakers, this was the talk of the Lakers offseason. George has seemed destined to go to the Lakers for quite awhile now. George is California born and raised, and a Fresno State graduate. George gets to come back home now and play for the Lakers.
4. Chris Paul re-signs with the Houston Rockets.
-The Rockets enjoyed great success with Chris Paul on the team last year. You could argue that if he was healthy in Game 7 of the Conference Finals that the Rockets would've been in the NBA Finals, but I'm not a big "what if" guy. Paul is absolutely coming back to the Rockets in 2018.
5. DeMarcus Cousins signs with the Washington Wizards.
-This is likely going to have to come in a sign-and-trade. Which I guess I could've put in my trade section of the article but I already have seven trades in that section which seems like plenty. Likely the Wizards would have to trade away one of Otto Porter Jr. or Bradley Beal, one of Marcin Gortat or Ian Mahinmi, and some draft picks to get Cousins. I think Cousins is worth that for this Wizards team that has no post help. The East is weak, and if the Wizards want any chance of possibly winning it they need another star on their roster.
6. Clint Capela signs with the Atlanta Hawks.
-Every year there's a signing like this that makes no sense to most people, but I could see this happening. The Hawks have one of the best cap situation in the NBA. They have decent pieces at the Point guard and Shooting guard poistion, they have a young and talented John Collins at Power forward, and the no.3 overall pick. Capela gives them a potential playoff type lineup in the weak Eastern conference, with a lineup looking like; Dennis Schroder, Kent Bazemore, another free agent/draft pick, John Collins, and then Capela.
7. Aaron Gordon re-signs with the Orlando Magic.
-Aaron Gordon is a restricted free agent this offseason, so the Magic have the opportunity to match any offer sheet he is signed too and I expect that the Magic will do so. Gordon is a very talented Power forward and may be the face of the Orlando Magic as they move forward.
8. Julius Randle signs with the Dallas Mavericks.
-Randle is a Dallas born kid, and he fits the bill for what Dallas needs. Dallas needs a physical down low precense and Randle is just that. Randle would also lessen the workload of 39-year old Dirk Nowitzki, who sadly may be playing his last season in the NBA. Nowitzki is still a great player but he may be suited better as a sixth man-rotational starter than an everyday player at this point in his career.
9. Isaiah Thomas signs with the Chicago Bulls.
-Just two years ago it would've likely costed you a max contract to land Thomas, but after a hip injury derailed him last season, Thomas is seen as a player who will either be a hit or miss. For Thomas this likely means he is getting a one-two year deal for not too much money. The Bulls do not have a starting type Point guard on their roster. Thomas is worth the one-two year gamble for the Bulls, and if Thomas performs well the Bulls or another team should pay him well.
10. Tyreke Evans signs with the Indiana Pacers.
-Is it just me or did it seem like the Pacers were only one weapon away from beating the Cavs and LeBron James in the first round of the Playoffs? The Pacers surprised me a lot last season, and if they get Victor Oladipo some help this offseason they could make a splash in the East. Evans is coming off of one of the best seasons of his ten year career, and is that piece that the Pacers needed in the First round of the Playoffs. While they can't go back in time to make that a reality, they can bring him along for the 2018-19 season and try to make a deep run in the East.
11. Zach LaVine re-signs with the Chicago Bulls.
-LaVine is coming off maybe the best year of his career and is only 23 years old. LaVine was the big piece in a trade that sent star Shooting guard Jimmy Butler to the Minnesota Timberwolves. If you think there's any way that the Bulls are not matching any offer sheet out there for the 23 year old restricted free agent, you are wrong. LaVine will be on the Bulls in 2018.
12. Carmelo Anthony opts-out of contract with the Thunder, signs with the Houston Rockets.
-I do not expect Melo to come back to the Thunder in 2018, no matter how much money is on the table. Melo wants a ring, and the Rockets give him the best chance to win a Championship. I expect this signing to come later on in free agency as other pieces leave the Rockets, making Melo much more affordable.
13. Derrick Favors re-signs with the Utah Jazz.
-Favors has now spent the last eight seasons with the Jazz, and it's hard to imagine him playing anywhere else. Favors is a nice Power forward/Center and can even come off the bench if needed. I wouldn't even be surprised to see Favors take a pay cut to stay with the Jazz.
14. Trevor Ariza signs with the Orlando Magic.
-It's hard to see why Ariza would want to sign with a non-contender like the Magic, but he's said he wants 50-60million in free agency this year. The Rockets can not afford to pay him such a salary and try to keep the rest of their roster intact. Ariza will go wherever the money takes him and the Magic have the money Ariza is looking for.
15. Enes Kanter opts-in to contact with New York Knicks.
-I think it'd be a surprise if Kanter opted out of his $18.6 million deal with the Knicks. I know there's a chance he could get more, but he may not want to risk it when the money is already on the table. Kanter is an excellent low post scorer and rebounder. He will be necessary to any potential shot (and it's slim) that the Knicks will make the Playoffs next year, with Kristaps Porzingis seeming like he may miss some of the 2018 season.
16. Will Barton signs with the New York Knicks.
-The Knicks have a bunch of young guards in a rotation essentially, and they really need to figure that out soon. Barton would fit in well as either the Knicks starting Shooting guard or Sixth man. A guy like Barton brings stability to the Knicks lineup and paints a clearer pitcure for the Knicks 2018 season.
17. Jusuf Nurkic re-signs with Portland Trail Blazers.
-Jusuf Nurkic has only had one better season than he did last year (2016-17) and the Trail Blazers should match any offer sheet he is signed to. Especially if they plan on potentially moving on from C.J. McCollum. Nurkic has been phenomenal since he got traded to the Trail Blazers, and has been the only consistent post player the Blazers have had since LaMarcus Aldridge left.
18. Avery Bradley signs with the Sacramento Kings.
-Bradley is no slum of a player. He has significant scoring potential form both inside and outisde the arc, and he plays above average defense too. At the end of last season he was traded from the Pistons to the Clippers and he didn't perform too well in Los Angeles. This, plus a lack of "superstar" status may hurt Bradley in free agency but a young team with lots of money like the Kings won't mind.
19. JJ Redick signs with the Utah Jazz.
Redick has been a great scoring/3-point threat for years now and that certainly continued last season for the 76ers. The Jazz could use a guy like Redick to become a much more serious threat in the West. Rotating Ricky Rubio and JJ Redick at Point guard offers a nice variety of skill sets, and could help both players prevent injury (especially Rubio).
20. Elfrid Payton signs with the Brooklyn Nets.
-Why not? The Nets have a top ten cap situation and they have to get someone on this list. Payton would be a nice role player for the Nets going forward.
21. Dwayne Wade re-signs with the Miami Heat.
-It just feels right. I hated seeing Dwayne Wade in a uniform that was not the Heat's. Luckily, I don't think we'll have to see that again as I believe Wade will retire a member of the franchise he built up.
22. Marcus Smart re-signs with the Boston Celtics.
-A good young Guard, Smart wants his money this offseason and he may get it. However, he is a restricted free agent and the Celtics can match any offer he receives this offseason. I expect the Celtics to do so with Kyrie Irving set to hit free agency after the 2018 season.
23. Brook Lopez signs with the Golden State Warriors.
-Lopez is going title chasing, and why not? He literally had to suffer on those awful Nets teams as he was the last remaining piece of what could've been from the Nets in 2013 and 2014. Lopez deserves to be on a winning team and I expect him to join one in 2018.
24. Rodney Hood re-signs with the Cleveland Cavaliers.
-Hood has a pretty nice season off the bench for the Cavaliers last season, and at only 25 he has room to improve. Hood would be nice piece for a Cavaliers team who is likely about to enter a rebuilding phase.
25. Dirk Nowitzki opts-in to contract with the Dallas Mavericks.
-This is not a surprise, Nowitzki has been on the Mavericks for 20 years now! Nowitzki said he is coming back for a 21st season, and with his declining play it may indeed be his last. Nowitzki will return to the Mavericks for at least one final go around.
26. Kentavious Caldwell-Pope signs with the Milwaukee Bucks.
-The Bucks have two solid Point guards with Eric Bledsoe and Malcom Brogdon, but yet they have no good Shooting guards. Caldwell-Pope could be that quality shooting guard the Bucks need!
27. Rajon Rondo re-signs with the New Orleans Pelicans.
-I know the Pelicans already have Jrue Holiday to man the point guard position, but a veteran that can assist at the rate Rondo has is special. If the Pelicans want to remain a playoff threat in the West they need Rondo at least coming off the bench.
28. Kyle Anderson signs with the Brooklyn Nets.
-Anderson is young with plenty of potential and he may get an offer from a young team like the Nets that is too much for the Spurs to want to match.
29. Austin Rivers opts-in to contract with the Los Angeles Clippers.
-As long as his father Doc Rivers is the coach, Austin will be on the Clippers. Rivers had a career year for the Clippers last year and will most likely be back on the team for the 2018 season.
30. Wayne Ellington signs with the Memphis Grizzlies.
-Wayne Ellington is a major scoring threat off the bench, and may fit well into a Grizzlies team that it is unclear whether they are trying to rebuild or still contend.
31. Greg Monroe signs with the Sacramento Kings.
-There was a stretch from 2011-2014 where Monroe almost averaged a double-double per game. Thus, he received a huge contract form the Milwaukee Bucks, but he was never the start center the Bucks thought he would be. Maybe it was just a fit for both parties. However after playing for three different teams in 2017-18, I'm sure Monroe would live to find some stability and hopefully return to his highest for in 2018. The Kings have no major post threat and Monroe could potentially be that guy!
32. Thaddeus Young opts-in to contract with the Indiana Pacers.
-There's $13.7 million dollars to be made by Young if he just opts-in to his contract with the Pacers. It's hard to imagine Young not doing so when he likely won't get more elsewhere and he's already on a pretty solid team.
33. Fred VanVleet opts-out of contract with the Toronto Raptors, but re-signs with the Raptors on a new contract.
-Fred VanVleet would only make $1.7 million next year if he opts-in to his contract. VanVleet played well off the bench for the Raptors last season and is certainly worth more than $1.7 million. Expect VanVleet to opt out this offseason and expect the Raptors to make a strong push for VanVleet to stay in Toronto.
34. Michael Beasley signs with the Oklahoma City Thunder.
-Beasley had one of the better years of his career last year with the Knicks, and is a viable scoring asset. I'd hate to see him go (as I am a Knicks fan) but I fully expect Beasley to move on from the Knicks this offseason. If Paul George and Carmelo Anthony both leave the Thunder this offseason they should have plenty of money to sign Beasely for more than the Knicks, and Beasley woul give the Thunder another nice scorer to compliment Russell Westbrook.
35. Rudy Gay opts-in to contract with the San Antonio Spurs.
-Rudy Gay had one of the worst years of his career last year with the Spurs. This would certainly hurt him on the free agent market, but luckily he has $8.8 million dollars on the table if he just opts to remain a Spur.
-Trades
1. The New Orleans Pelicans trade Power forward/Center Anthony Davis and Point guard E'Twaun Moore to the Golden State Warriors for Shooting guard Klay Thompson, Small forward Andre Iguodala, Center Jordan Bell, the no.28 pick, and the Warriors 2020 First Round pick.
-To some this is just a rumor, to others it is a reality. The Warriors have the necessary depth it would take to trade for Anthony Davis. No matter how it is sliced and diced at least one of the Warriors big four is going to have to go. I know a lot of people would think Draymond Green is the most likely to go, but I think Klay Thompson makes more sense to trade if you are the Warriors. The Warriors already have two serious threats from anywhere on the court with Steph Curry and Kevin Durant. Draymond Green has came out to say he wants the max contract when he becomes a free agent in 2019, and the Warriors should not be afraid to give the former Defensive Player of the Year just that. This trade gives the Warriors the opportunity to give Kevin Durant a new (maybe max) contract this offseason, Draymond Green a max in 2019, and then Anthony Davis a max contract in 2020 or 2021. This trade makes the Warriors even more dangerous with arguably three of the top ten players in the NBA. As for the Pelicans they get an elite Shooting Guard, the NBA's best sixth man, a young Center, and two future first round draft picks. This trade makes the Warriors even more dominant, and helps speed up the Pelicans track to becoming a title contender.
2. The San Antonio Spurs trade Small forward Kawhi Leonard and Point guard Patty Mills to the Philadelphia 76ers for Small forward Robert Covington, Guard Markelle Fultz, Power forward Dario Saric, and the no. 10 pick.
-Kawhi Leonard has apparently gone on record to say he wants out of San Antonio, with his preferred destination to be the Lakers. However, the Spurs don't owe Leonard a trade to his preferred destination. The Spurs will likely do what's best for them and I believe this package from the 76ers is as good as anything the Lakers could put together. I know Leonard said he wouldn't re-sign with any team he is traded to besides the Lakers, but once a max contract is thrown at him I'll doubt he cares where it comes from. The 76ers have an impressive young core and enough money to offer Leonard that max contract in the 2019 offseason. Leonard turns the 76ers into serious Championship contenders. While Fultz, Saric, Covington, and the no.10 pick likely could be enough to keep the Spurs a Playoff team in 2018.
3. The Memphis Grizzlies trade C Marc Gasol to the Toronto Raptors for C Jonas Valanciunas, SF Norman Powell, and SF OG Anunoby.
-This trade actually hurts me because when I think of the Grizzlies I think of Marc Gasol. Marc Gasol has been the rock of this Grizzlies team for the last 10 years, but with the Grizzlies seemingly out of playoff contention it may be time for the two to part ways. The Raptors need an upgrade at Center to try and finally come out of the East, and Gasol would provide them with just that + a veteran presence in the locker room. This trade gives the Grizzlies a younger starting Center with potential to progress in Valanciunas, and two other young guys with potential.
4. The Portland Trail Blazers trade Shooting guard C.J. McCollum and their 2019 second round pick (from Lakers) to the Cleveland Cavaliers for Power forward Kevin Love, Shooting guard Kyle Korver, and the Cavaliers 2020 first round pick.
-The relationship between Damian Lillard and C.J. McCollum was well debated last season, and that only got worse when the Trail Blazers got swept by the no. 6 seed Pelicans in the Playoffs. As for the Cavaliers, they appear to be losing LeBron James in free agency this offseason and have said they plan on trading Love if they do lose LeBron. Both of these teams are looking to move on from a player in this trade, and that could make them a mutual trade partner. McCollum was born local to Cleveland in Canton, Ohio, and now the hometown boy gets a chance to be a significant piece in the Cavs future rebuild. Love and Korver add depth to the Trail Blazer lineup and put them in a position to remain contenders in the West.
5. The Charlotte Hornets trade Point guard Kemba Walker and Small forward Michael Kidd-Gilchrist to the Detroit Pistons for Point guard Reggie Jackson, Power forward Jon Leuer, Small forward Stanley Johnson, the no.42 pick, and the Pistons 2019 first round draft pick.
-For years now I have heard rumors that the Pistons are exploring the possibility of trading Kemba Walker, why not just do it? The Pistons need an upgrade at the Point Guard to help compliment Blake Griffin and Andre Drummond in the post. Kidd-Gilchrist would offer a nice scoring option likely off the bench. In return the Hornets get a nice veteran point guard in Jackson, a good rebounder off the bench in Leuer, a young forward with lots of potential in Johnson, and two future picks.
6. The Miami Heat trade Center Hassan Whiteside to the Houston Rockets for Shooting guard Eric Gordon, Small forward PJ Tucker, Center Chinanu Onuaku, the Rockets 2020 first round pick, and the Rockets 2021 first round pick.
-The Heat are obviously unhappy with Hassan Whiteside, and I believe that feeling is mutual for Whiteside. If the Rockets lose out on re-signing Clint Capela this offseason than they have an immediate hole to fill at Center. With this trade the Rockets get a Center who was season just two seasons ago one of the rising stars in the NBA, and the Heat get two accomplished veterans, a young center, and two future first round draft picks.
7. The Los Angeles Clippers trade Center DeAndre Jordan to the Milwaukee Bucks for Small Forward Jabari Parker, Shooting Guard Tony Snell, Center Thon Maker, and their 2020 first round draft pick.
-This is totally predicated on Jabari Parker re-signing with the Milwaukee Bucks as a restricted free agent. The Bucks have an opportunity to match any offer sheet Parker is signed to, and I expect them to match any offer unless it's ludicrous and due to Parker's injury history I doubt he's getting any huge offers. With this trade the Bucks finally get an above average post player, and the Clippers get two young former first rounders, a role player, and a future first round draft pick. This offers the Bucks a chance to make a push for the East in the immediate future, and offers the Clippers a lot of future potential.
---