Pre-Free Agency 2019 NFL Mock Draft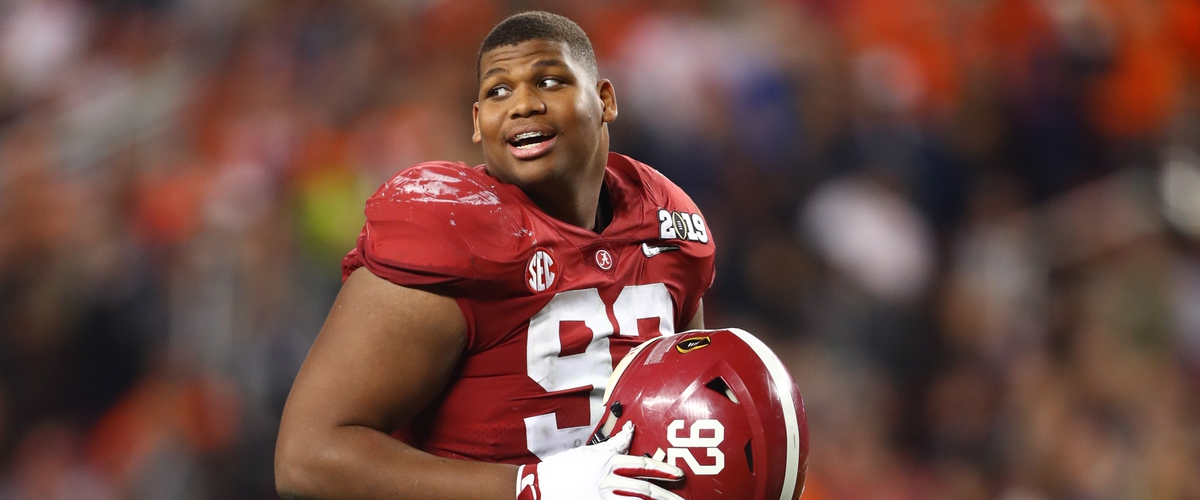 Super Bowl 53 concluded yesterday with the New England Patriots taking the Super Bowl title over the Los Angeles Rams 13-3. Every year right after the Super Bowl and before Free agency starts I release my first of two offseason Mock Drafts. Here's the first! *No trades included*
1) Arizona Cardinals: Quinnen Williams DT/DE, Alabama.
-I think a lot of people are expecting Nick Bosa to go here, but he doesn't fill a huge need for the Cardinals. I also don't think Nick Bosa is a "can't miss" guy. Williams has shot himself draft boards all year, and has himself set to 100% go in the top 5. Williams fills a weakness in the middle of the Cardinals front seven. Williams is a safe pick at no.1.
2) San Francisco 49ers: Nick Bosa DE, Ohio State.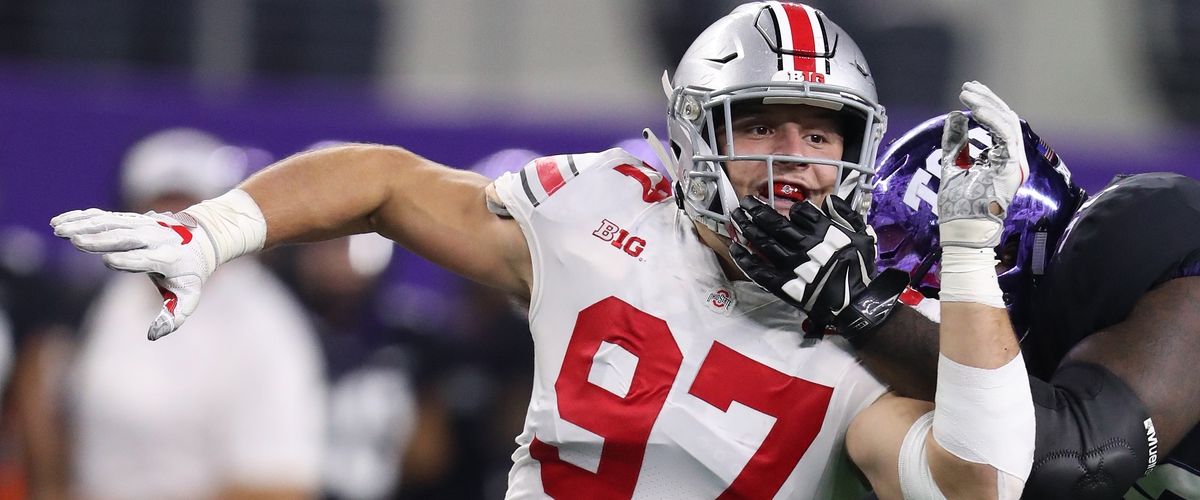 -Sure seems like the 49ers take an edge rusher every year, and for the most part they have. From 2015-2017 all of their first picks played edge. Regardless, Bosa is a special talent, a talent that a lot of people expect to get him to be the no.1 pick in the draft. I'm going to say the Cardinals opt not to take Bosa based off of needs elsewhere, but I'm sure the 49ers won't mind taking Bosa if the Cardinals pass on him.
3) New York Jets: Josh Allen DE/OLB, Kentucky.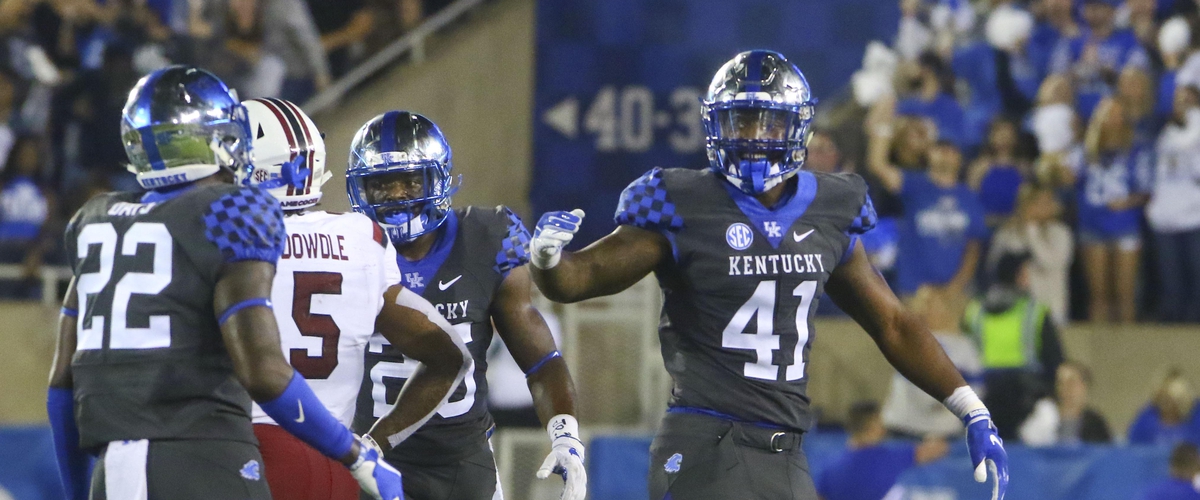 -After Kentucky's Bowl win against Penn State Josh Allen said, "If I don't go No. 1, I don't know who is." That was a VERY bold statement on Allen's part. He is very deserving of no.1 consideration though. Allen may be the best pass rusher in this draft, the Jets will be more than happy if Josh Allen falls to them at no.3!
4) Oakland Raiders: Montez Sweat DE/OLB, Mississippi State.
-At one point I had Sweat going to the Raiders with the no.27 pick, but after a great Senior Bowl I've seen him flying up the board in Mock Draft's. What's not to be overlooked is that Jon Gruden coached in the Senior Bowl. While Gruden didn't coach Sweat's squad, he did get an extended look at Sweat as the week progressed. Maybe Gruden will give Sweat the opportunity to fill the void that was left when the Raiders traded Khalil Mack last offseason.
5) Tampa Bay Buccaneers: Greedy Williams CB, LSU.
-The Buccaneers were a very fun squad to watch last season despite their 5-11 record, but they were only worth watching because of their offense. The Buccaneers decided it was time to find a new coach, hiring Bruce Arians. Arians should understand the value of a good corner after his years coaching Patrick Peterson in Arizona. While Williams may not be a Patrick Peterson, there's no reason not to find out.
6) New York Giants: Dwayne Haskins Jr. QB, Ohio State.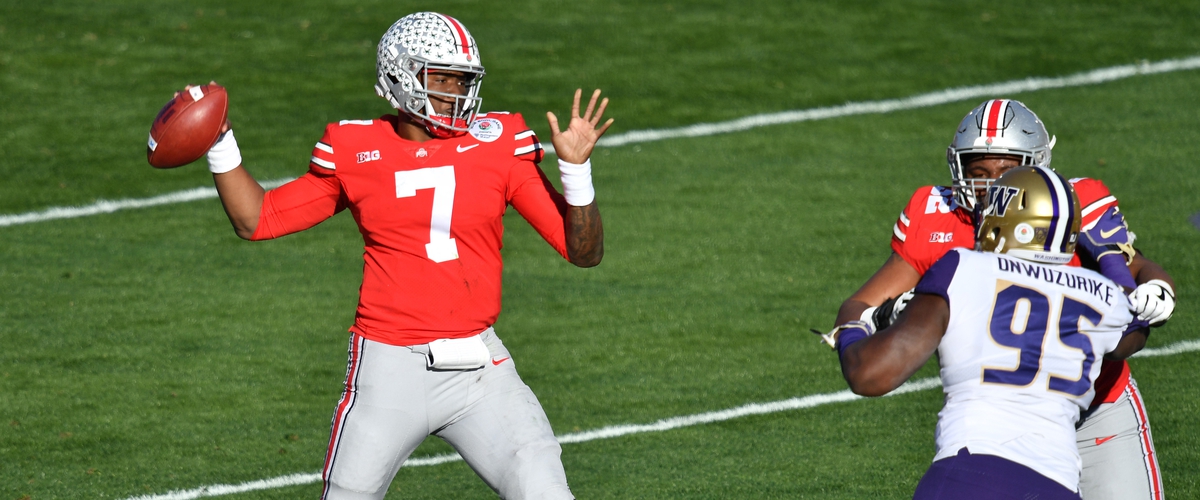 -I fully expect some team to trade up and draft Haskins, but since I'm not including trades in this Mock Draft this is where Haskins lands. Dwayne Haskins was phenomenal at Ohio State this season and it's put him firmly in place to be the first Quarterback selected in the draft. If the Giants are lucky enough to land Haskins it should make for a killer trio with Haskins, Saquon Barkley, and Odell Beckham Jr.
7) Jacksonville Jaguars: Drew Lock QB, Missouri.
-I'd be really surprised if the Jaguars took anything but a Quarterback with their first pick, the only thing they have to decide is which one they'll take. I think there's a pretty good chance the Jaguars will trade up to get Dwayne Haskins Jr. from Ohio State, but since there are no trades in this Mock the Jaguars land what's the second best Quarterback in the draft in most people's eyes. Lock is no sure bet, but he does have a cannon of an arm.
8) Detroit Lions: Clellin Ferrell DE/OLB, Clemson.
-The Lions have a decision to make with Ezekiel Ansah in Free agency this offseason, and if they opt to let Ansah walk finding a pass rusher should be their no.1 priority in the draft. Ferrell has slid up and down Mocks this year, but at the end of the day he's spent more time in the top 10 than he has out of it. Matt Patricia lands a pass rusher to replace the void of Ansah.
9) Buffalo Bills: Rashan Gary DT/DE, Michigan.
-Kyle Williams was a vital part of the Bills defense for 13 seasons before he announced his retirement at the end of this season. Maybe the Bills won't waste anytime trying to find their next Williams. The former no.1 High school prospect Gary would be a welcome addition to the Bills Defensive Line.
10) Denver Broncos: Devin White ILB, LSU.
-A lot of people think this pick could be used on a Quarterback, but in this scenario the two that would fit the Broncos offense best are off the board. The next most common pick I've seen in Mock Drafts is the Broncos taking a Cornerback. I have them taking neither a Quarterback or a Corner. Devin White is the best Inside Linebacker in this draft and the Broncos could certainly use an upgrade at that spot. Brandon Marshall spent a good portion of 2018 injured, and Todd Davis is below-average. New Head coach Vic Fangio goes defense with his first pick!
11) Cincinnati Bengals: Cody Ford OG/OT, Oklahoma.
-The Bengals defense was an absolute nightmare, primarily at the Linebacker position. However, they hired an Offensive-minded Head coach this offseason, and their likely choice on the defensive side (Devin White) is off the board. Ford primarily plays Guard but has the ability to slide over to Tackle. The Bengals could use players at both positions on the right side of the Offensive Line. Ford makes a lot of sense for the Bengals if they choose to go Offense in the First round.
12) Green Bay Packers: Jachai Polite DE/OLB, Florida.
-The Packers may be letting go off Clay Matthews and/or Muhammad Wilkerson this offseason, and even if they don't they could use an upgrade over Nick Perry. Polite has been slotted to the Packers in many Mocks, add mine to the list. You can never have enough pass rushers in today's NFL.
13) Miami Dolphins: Jeffery Simmons DT, Mississippi State.
-The Dolphins never filled the void from the departure of Ndamukong Suh last offseason. Simmons is 1/2 of the dynamic duo Mississippi State had this year on defense, with Montez Sweat being the other. Simmons, a very commonly mocked pick for the Dolphins comes off the board at no.13.
14) Atlanta Falcons: Ed Oliver DT, Houston.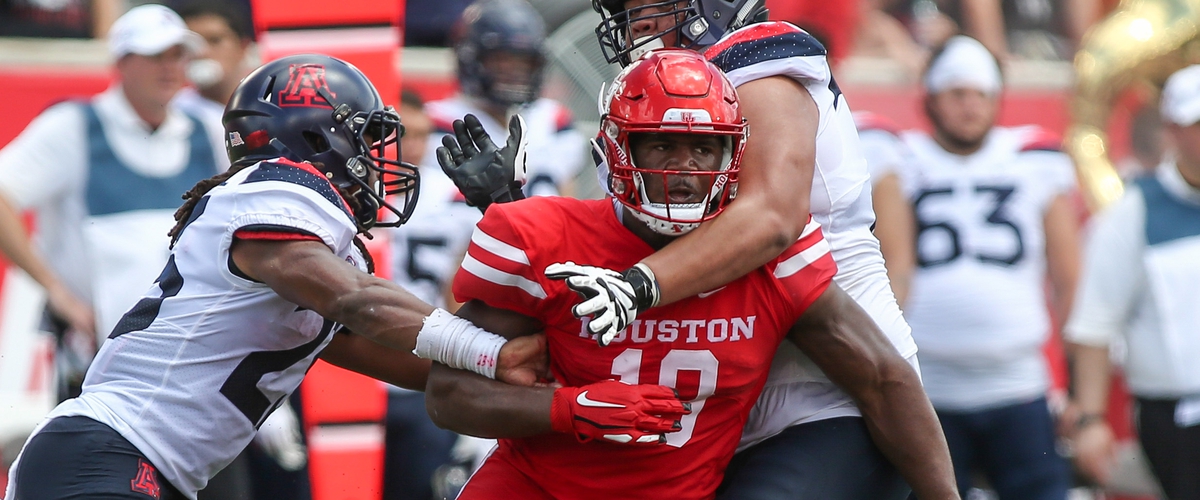 -What a season it's been for Oliver. Oliver started off the season as the no.1 pick in many preseason Mock Drafts, missed a few games and began to slide down boards. Oliver has to feel like a steal for the Falcons at this point. No matter what concerns teams have with Oliver, getting a guy Mocked at no.1 before the season at 14 is good value.
15) Washington Redskins: Kyler Murray QB, Oklahoma.
-The Redskins are put in a bit of an unfortunate spot here. They traded for Alex Smith last offseason then Smith suffered a devastating leg injury that derailed what looked like a Playoff contending Redskins, and put Smith's career in jeopardy. Smith is already expected to miss all of 2019 so there's an immediate need for a Quarterback in Washington, and if Smith's career is indeed over then here's a long-term solution for the Redskins. The 5'9" Murray has been the talk of the draft so far because of his choice to enter the NFL Draft one year after being taken no.9 in the MLB Draft last June. Murray is a physical specimen and some team will likely take a chance on him in the top half of the draft, maybe even higher than no.15.
16) Carolina Panthers: Jonah Williams OT, Alabama.
-There was a point in the season when I saw Williams at no.1 in a Mock Draft, since then I've seen him consistently move down Mocks. I think a lot of this is due to the immense defensive talent available in this draft and team needs. The Panthers would be more than happy to hopefully land a future franchise Tackle at no.16!
17) Cleveland Browns: Byron Murphy CB, Washington.
-There's no serious needs for this young and talented Browns team, but it wouldn't hurt to have another quality Cornerback. The Browns have to play 1/4 of their season against the Steelers and Bengals, who both have very talented receiving core's. With the vital importance of divisional games a good Corner could help the Browns immensely.
18) Minnesota Vikings: Greg Little OT, Ole Miss.
-The Vikings have no option to upgrade what may be the worst Offensive line in the NFL. Little would offer the Vikings a good blocker on the outside for the $84 million man Kirk Cousins. Little at some points was in the top 10 of Mocks, but for a few months now he's been sliding down in Mock's. 18 seems like a good range for Little!
19) Tennessee Titans: Brian Burns DE/OLB, Florida State.
-Brian Orakpo announced his retirement after 10 seasons in the league, leaving the Titans with a hole at Outside Linebacker. While it might not be the biggest need for the Titans, Burns seems like the best player available at a position of need here!
20) Pittsburgh Steelers: Devin Bush ILB, Michigan.
-The Steelers lost their best Inside Linebacker in 2017 is a sad way when Ryan Shazier suffered a spinal injury trying to make a tackle against the Cincinnati Bengals. There's no certainty that Shazier will ever play again, and the Steelers didn't do a good job trying to replace him this season. Bush would be a fantastic fit and a fantastic pick for the Steelers!
21) Seattle Seahawks: Deionte Thompson S, Alabama.
-Earl Thomas, the last member of the formerly Legion of Boom is expected to leave the Seahawks this offseason. It's a sad moment for football fans, but Thomas doesn't deserve to stay in a place where he doesn't feel valued. If Thomas departs from Seattle there's an immediate needs at Safety for Seattle. Thompson would be an excellent pick for Seattle, and a step in the right direction for replacing Thomas.
22) Baltimore Ravens: N'Keal Harry WR, Arizona State.
-Baltimore brought in three receivers last offseason via Free agency in hopes of shoring up a receiving core that has struggled for years now. That worked somewhat, but no receiver was consistent this year and the Defense carried this team to the Playoffs. If the Ravens want to help Lamar Jackson's future than they'll need to find him a no.1 target going forward!
23) Houston Texans: Jawaan Taylor OT, Florida.
-Deshaun Watson was sacked over 60 times this season, so it's a must that the Texans ugrade their Offensive Line this offseason. Taylor is seen as one of the potentially four or five Offensive Tackle's who could go in the First Round. He's a good pick here in the later First Round.
24) Oakland Raiders (via Bears): Daniel Jones QB, Duke.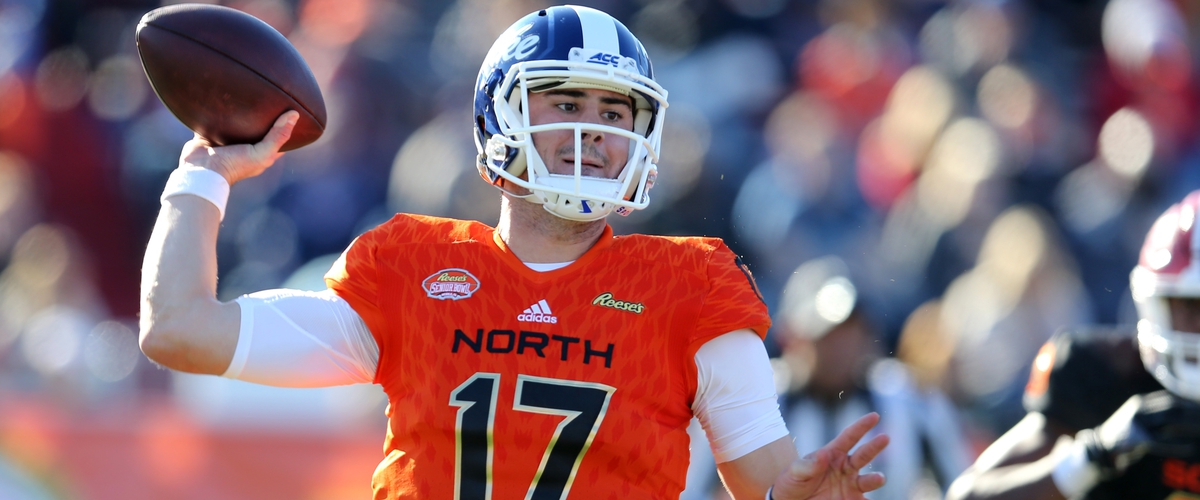 -As I mentioned earlier, Jon Gruden coached the North team in this year's Senior Bowl. One of the Quarterbacks he got to work with plenty was Jones. After it was reported that Gruden praised Jones, Jones went out and backed that praise up by winning the Senior Bowl MVP award. Gruden will have lots of options with this pick, but maybe he'll give Jones a shot to be the Raiders future Franchise Quarterback after spending lots of time with him at the Senior Bowl.
25) Philadelphia Eagles: Nasir Adderley S/CB, Delaware.
-The Eagles secondary spent the entire season banged up, so much so that it was a bit of a surprise they even made the Playoffs. Not only do they suffer from an injury prone Secondary, but they also have three players in that secondary are set to hit Free agency this offseason. Adderley could add depth to the Eagles secondary at either Cornerback or Safety.
26) Indianapolis Colts: DK Metcalf WR, Ole Miss.
-The Colts had two main team needs were exposed in their 31-13 Divisional Round loss against the Chiefs. One of those needs is another receiver to compliment Ty Hilton, the other is at Defensive Tackle. There are options for both here, but finding a compliment to Hilton first may be the best idea. Metcalf, looked at as the best receiver in this Draft class by some experts would be a nice weapon for Andrew Luck to work with.
27) Oakland Raiders (via Cowboys): Kelvin Harmon WR, NC State.
-The Raiders lost their no.1 target this season when they traded Amari Cooper to the Cowboys earlier this season. The Raiders must replace Cooper this offseason. It also makes sense to take a receiver here if they choose to take a Quarterback at no.24, the Raiders can do both by taking Harmon here.
28) Los Angeles Chargers: Christian Wilkins DT, Clemson.
-The Chargers already have a good defensive line with Joey Bosa and Melvin Ingram manning the edge's. This still didn't stop the Patriots from running for over 150 yards on the Chargers in the Divsional Round of the Playoffs. Finding a good Defensive tackle would be a good step in improving the Chargers run defense and turning them into legitimate Super Bowl contenders.
29) Kansas City Chiefs: Deandre Baker CB, Georgia.
-Deandre Baker was once seen as potentially being the best Corner in this year's Draft, since then he's been trending downwards in Mock's. Still, Baker is a smaller, athletic Corner that could help improve a Chiefs defense that likely kept them from making the Super Bowl this year.
30) Green Bay Packers (via Saints): Marquise Brown WR, Oklahoma.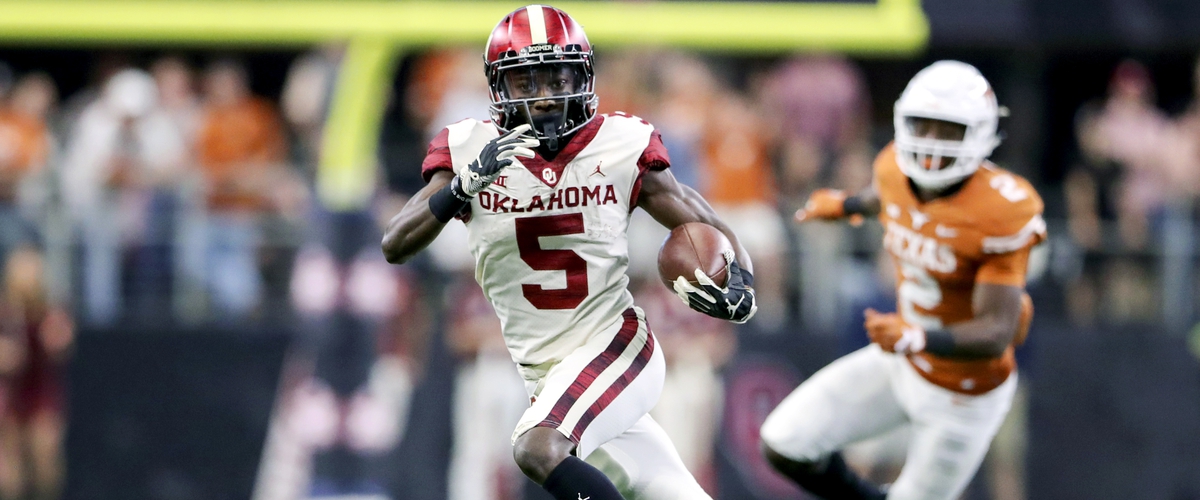 -The Packers could opt to let Randall Cobb walk this year in Free agency, leaving them with a hole at receiver. With his smaller size and speed Brown would be a near copy of Cobb. Brown would be a good weapon for Aaron Rodgers going forward.
31) Los Angeles Rams: Dexter Lawrence DT, Clemson.
-This pick is purely dictated on whether the Rams do or don't re-sign Ndamukong Suh this offseason. If they don't, grabbing a Defensive Tackle becomes a must. If they do re-sign Suh they Rams will likely go with an Inside Linebacker or Offenisve Tackle here (which is also dependent on Andrew Whitworth retiring or not). In a good amount of Mock's Lawrence is going higher than this so at 31 Lawrence is a good value pick!
32) New England Patriots: Noah Fant TE, Iowa.
-Rob Gronkowski has been Tom Brady's favorite target since he entered in the league in 2010. Now Gronkowski is pondering retirement, and if he does retire than the Patriots need to find an immediate replacement for him. Fant is likely the best Tight End in this draft and warrants First Round consideration.