Champions Classic Preview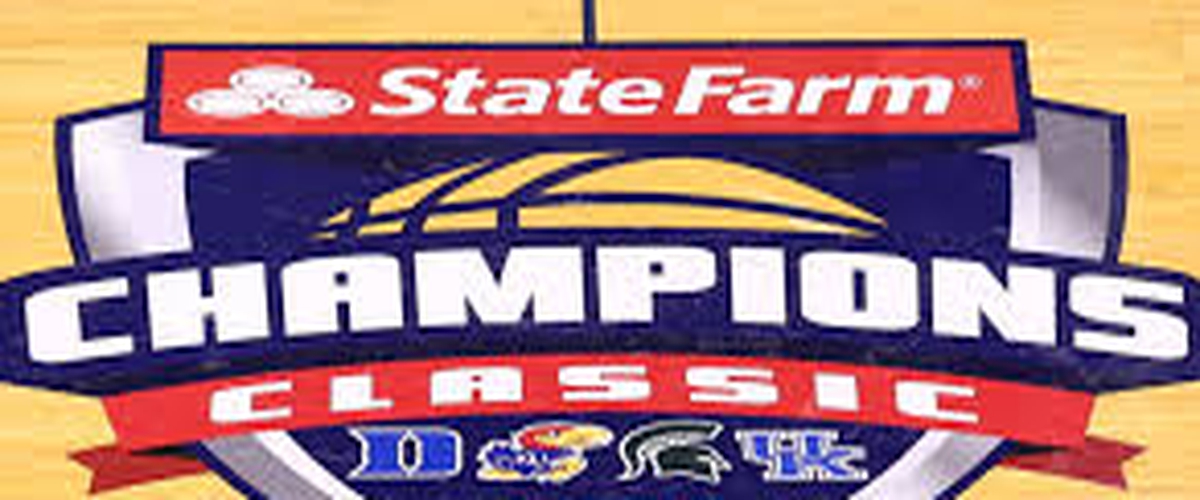 While not an official early season tournament, the Champions Classic has become one of the best events of the early season. While it is the same teams each year, the games are almost always exciting and fun to watch. Tonight at the United Center, 4 Top 10 teams have a chance to get an early momentum win and boost their ranking in the AP Poll.
#1 Duke vs #2 Michigan State
This has game of the year potential as we rarely get a #1 vs #2 game. If you read my preseason rankings, you know that I am not as high on Duke as everybody else, but the Blue Devils have run through Elon and Utah Valley as expected. Marvin Bagley has met the hype so far, averaging 24.5 points and 10 rebounds per game, and while the opponents he's done that against aren't outstanding, those are impressive stats. On the other side, Michigan State blew out North Florida, with 5 players reaching double figure led by Miles Bridges' 20 point performance. Now the two favorites for the NCAA Title meet head on with lots of questions lingering.
Duke plays a 3 guard system, while Michigan State plays 3 bigs. While Sparty will play a bigger starting lineup as a whole, how will they have guarding Duke's near 7 footers Marvin Bagley and Wendell Carter. Tom Izzo only started one player 6'10 in Michigan States last game and don't have the size to match up with Duke's bigs. On the flip side, most of the points Duke has allowed this year were to guards and Josh Langford, Cassius Winston, and Tum Tum Nairn are better than the guards that the Blue Devils have faced this year. Miles Bridges is the X Factor in this game, as his versatility and the way he plays bigger than his size is a huge help for the Spartans, he'll likely guard Duke's Gary Trent Jr, which may be a mismatch, but Bridges should dominate the inside against him on offense.
Despite all this, I think this game will come down to who's bench performs better, and when it comes down to it Michigan State's bench is much deeper and more experienced. Guys like Tum Tum Nairn, Matt McQuaid, and Gavin Schiling have all played in big spots before, while Dukes bench consists of freshmen and Marques Bolden, who has the experience of a freshman.
Pick: Michigan State 81, Duke 76
#4 Kansas vs #7 Kentucky
In the nightcap Kansas takes in Kentucky in a rematch of coaches from the 2007 championship game. Kentucky has been wildly underwhelming so far this season, as they trailed Utah Valley at halftime and were taken to the last minute by Vermont. The bright spot is that Hamidou Diallo's early enrollment seems to have paid off as he's leading the Cats with 17 ppg and has clearly been their best player this season. On the other hand, Kansas ran through Tennessee State with a dominating backcourt performance. Lagerald Vick dropped 23, Devonte Graham scored 10, grabbed 7 boards, and had 12 assists for a near triple double.
This game will be won in the backcourt as Graham, Vick, and Diallo will have huge roles in the outcome of tonights game. Even though the guards will steal the show tonight this game will be decided on the boards. Udoka Azubuike is 7 feet tall and will be the tallest guy on the floor tonight, but against Tennessee State he was out rebounded by Graham and Marcus Garrett, who is only 6 foot 5. Kansas will need him to get back on track on the boards, as Kentucky has a big time size advantage and the Jayhawks won't be able to rely on guards to get their boards for them.
Overall, Kansas has much more experience in this high level games and has cruised though this season while Kentucky has had some struggles. This might be the worst Kentucky team I've seen since they were in the NIT. Where is the experience? They have no leadership, and this is the first time in a while they don't have a solidified lottery pick. Its obviously early in the season, but they really need a win to silence the doubters. Sadly for Big Blue Nation, that win won't come today as the experience of Kansas will simply be too much for John Calipari's new squad
Pick: Kansas 77, Kentucky 65