CSC College Basketball Preseason Top 25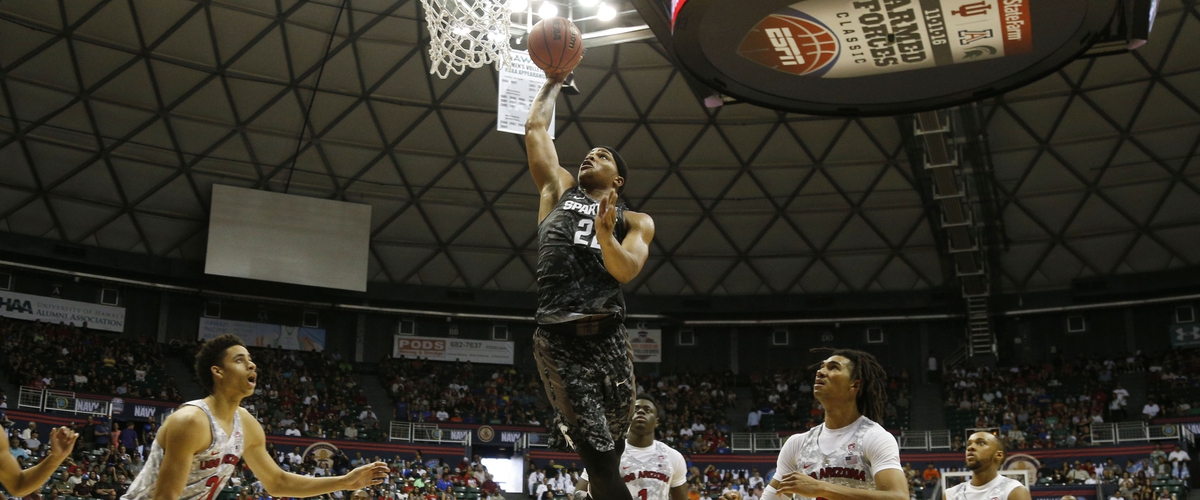 College Basketball is on Friday, giving us a new season of the chaos we all love. Lots of faces have come or gone, and that calls for a new set of rankings.
1. Michigan State (AP #1: Duke)
The Spartans lose PG Eron Harris, but that's really their only major loss. Miles Bridges is back and poised for a 1st Team All-American season, along with Jaren Jackson, Tum Tum Nairn, and Cassius Winston who will all improve after good seasons last year. Finally, a strong recruiting class of 5 star Jaren Jackson and 4 star Xavier Tillman should provide good production to help Tom Izzo make another NCAA Tournament run.
2. Duke (AP #2 Michigan State)
Duke was already going to be a top 5 team, but the addition of Marvin Bagley only boosts that. A insane freshman class consisting of 4 five stars will round out the starting lineup next to Grayson Allen, who is one of the best players in the country. My only concerns for Duke are they don't have much experience outside of Allen, and that if they hit the wall that freshman heavy teams like Duke have in the past they may not have enough experience to get past it.
3. Arizona (AP #3: Arizona)
The Wildcats were originally slated to be my #2 team and challenge for the #1 ranking, and then the FBI probe came out. We still may see punishments come down that alter the season, but Allonzo Trier is back and a 1st Team Preseason All-American, and he's joined by the outstanding Rawle Atkins and Parker Jackson-Cartwright. Paired that with the #3 recruiting class in the country including 2 five stars in Deandre Ayton and Emmanuel Akot, the WIldcats could reach their first Final Four under Sean Miller.
4. Kansas (AP #4: Kansas)
Kansas loses Frank Mason, one of the best players in all of CBB, but Bill Self's Jayhwaks are still loaded. Devonte Graham and Lagerald Vick are back, and add transfer PG Malik Newman to that mix and the Jayhawks have an argument for best overall backcourt in the country. Five star PF Billy Preston joins a outstanding frontcourt consisting of Svi Mykhaliuk and Udoka Azubike (say those two names 5 times fast). The Jayhawks are in prime shape for another Big 12 title.
5. Kentucky (AP #5: Kentucky)
Stop me if you heard this one before, John Calipari sent a bunch of guys to the NBA and replaced them with an outstanding recruiting class. SO good, in fact, that John Calipari has more 5 star freshmen than he has spots in his starting lineup. The Wildcats will likely run with an all freshman starting lineup and have Wenyen Gabriel come off the bench. This should be a fun season to watch Kentucky, as the SEC has a level of competition that hasn't been seen before.
6. Wichita State (AP #6: Villanova)
The Shockers bring back everybody from their 2016-17 campaign, including Gregg Marshall which is arguably the most important. Not everything is the same, as Wichita ditched the MVC for the American, a conference with more talent than the Shockers have ever played in. Landry Shamet and Markis McDuffe are both dealing with injury issues, but have all AAC potential. It'll be interesting to see how they adjust to the new conference, with tons of talented teams.
7. Villanova (AP #7: Wichita State)
Villanova seemingly reverted to their old ways after they won the 2016 title, getting bumped in the Round of 32. Jay Wright will feel the losses of Josh Hart and Kris Jenkins, but they bring back a lot of talent. Four of their projected starters played significant time last year and add Omari Spellman to the lineup. Jalen Brunson will likely be an All American and their will be plenty of production around him. We'll see how far this team can go, even though I don't have much confidence in them reaching even the Sweet 16.
8. USC (AP #8: Florida)
The Trojans are another team that doesn't really lose anyone from last season. Bennie Boatwright is back and will be one of the best players in the Pac 12 and all of college basketball. Andy Enfield is a phenomenal coach and brings in Duke transfer Derryck Thorton at point guard and 4 star recruit Charles O'Bannon Jr. USC will have to deal with a very good Arizona team, but can make a strong push at a Pac 12 title.
9. UNC (AP #9: UNC)
The Tar Heels are the defending national champions but they are far from the favorites to repeat. Roy Williams loses most of his key players from his championship team as Justin Jackson, Kennedy Meeks, Nate Britt, Isaiah Hicks, Tony Bradley are all gone. Joel Berry is back, but broke his hand playing a video game. A lot of bench production will be needed from guys like Seventh Woods early in the year, but Roy Williams doesn't need high level guys to win
10. West Virginia (AP #10: USC)
West Virginia loses a key piece from their team last season in Tarik Phillip, but bring back guys like Jevon Carter and Daxter Miles who will have another season of good numbers. Bob Huggins is a really good coach who works his players hard, and his system is always effective. The Mountaineers don't bring in a great recruiting class, but they are guys who will work hard and fit the full court press system that has won WVU so many games over the years.
11. Florida (AP #11: West Virginia)
After an Elite Eight run in 2017, Florida loses a big part of that team as Kasey Hill, Devin Robinson, and Canyon Berry are gone. Now Florida's 2017 hopes lie on lots of unproven talent. John Egbunu needs to bounce back from injury to produce, and need KeVaughn Allen to repeat his stats from last year, as he was the Gators leading scorer in 2016-17. In a very talented conference this year, we may see the Gators take a step back behind the young upstart teams like Alabama and Missouri.
12. Cincinnati (AP #12: Cincinnati)
Mick Cronin's Bearcats lose Troy Caupain, one of the best players Cincy has had in recent memory, but bring back Preseason All-AAC 2nd Team forward Gary Clark. Jacob Evans, Kyle Washington, and Jarron Cumberland are all back with him and Sacred Heart transfer Cane Broome could terrorize guards in the AAC. The Bearcats are tabbed as the AAC favorite, but they could very well end up in fourth or even fifth.
13. Xavier (AP #13: Miami)
After a shocking run to the Elite Eight, the Musketeers lose Edmond Sumner, but bring back 1st Team All Big East Guard Trevon Bluiett for his senior season. Bluiett is one of the best pure scorers in college basketball, and can carry this team to another top 3 finish in the Big East. Chris Mack is one of the best coaches in the country and should be able to bring this team back to the Sweet Sixteen.
14. Minnesota (AP #14: Notre Dame)
After a first round upset to Middle Tennessee State in last years tournament, the Gophers bring back almost all of their key pieces from that team, including Nate Mason. Mason is arguably the best player in the Big 10. I really like the talent around Mason and think that Richard Pitino has potential to be a really good coach in the next few years. We should see Minnesota not only in the tournament again, but maybe win a game or two this time around
15. Notre Dame (AP #15: Minnesota)
I really like what Mike Brey has this year in South Bend. Bonzie Colson is a Preseason All American and will probably end the season in the same spot, Matt Farrell and Rex Pflueger are both good veterans, and Temple Gibbs is a really talented young guy that could have a bright future. The Irish don't have a deep bench, but they have the talent and the durability to overcome that.
16. Miami (AP #16: Louisville)
Miami has maybe one of the most talented duos in the nation in Lonnie Walker and Bruce Brown. Walker has one and done potential and Brown is a top 25 player in the country in my opinion. Around them is Ja'Quan Newton and an outstanding coach in Jim Larranaga. The ACC is tough as ever, but the Hurricanes have the talent to contend in the conference race.
17. Louisville (AP #17: Xavier)
Louisville could have easily been a Top 10 team if the season had started a month ago, but the FBI investigation hurts them mightily. They still have talented players like Quentin Snider, Deng Adel, and VJ King who are all back from last years team. The team takes a hit as Brian Bowen is currently ineligible and it is yet to be seen if he ever will be. Pair that with a brand new coach with little time to adjust to his new job, this season for the Cardinals could be outstanding, or terrible.
18. Northwestern (AP #18: Gonzaga)
After reaching their first NCAA Tournament in program history, the Wildcats bring back Scottie Lindsey and Bryant McIntosh can be one of the best backcourts in the Big Ten. They also return Aaron Falzon from injury which will likely help perimeter shooting, one of the Cats biggest weaknesses. And most importantly, Northwestern kept Chris Collins, who has proven himself as one of the most up and coming coaches in CBB, and can coach the Wildcats to a record second straight NCAA Tournament
19. Seton Hall (AP #19: Northwestern)
Kevin Willard received some of the best news of his life last year when Seton Hall's great trio of Khadeen Carrington, Desi Rodriguez, and Angel Delgado announced they were coming back to school. Delgado is one of the best big men in the nation and a projected first rounder after averaging 13.1 rebounds last year. The trio already averaged a combined 48 points per game last year and is bound to improve. The Pirates have a potential Sweet Sixteen run in the works this year.
20. Gonzaga (AP #20: Purdue)
After bringing Gonzaga to its first Final Four in history and nearly winning the national title, Mark Few loses a lot of key talent from that team. Zach Collins, Nigel Williams Goss, Jordan Matthews, and Przemek Karnowski are all gone after being a large part of the Zags production last year. Luckily they do bring back a couple of starters in Josh Perkins and Johnathan Williams along with some talented international freshmen. This may be a regression year for the Zags with St. Mary's lurking, but they should contend as always in the WCC.
21. Saint Mary's (AP #21: UCLA)
I think this is finally the year where the Gaels finally get over the Gonzaga hump and win the WCC title after finishing top two 12 times with only one title to show for it. Jock Landale could have one of the best stat lines this year. On the outside Randy Bennett has a bunch of great perimeter shooters, like Emmett Naar. There may be a deep NCAA tourney run in store for the Gaels if everyone plays up to their potential.
22. Purdue (AP #22: Saint Mary's)
Purdue loses one of the best players they've ever had in Caleb Swanigan, but they still bring back 7 footer Isaac Haas and Carsen Edwards, a young guy I'm very high on. The Boilermakers will benefit from playing in a relatively weak conference this year, but will suffer from a pretty tough non conference schedule. Overall, I see Purdue as a 5-6 seed in this years Big Dance, but can't see them going very far.
23. Texas A&M (AP #23: Seton Hall)
I really like what the Aggies bring to the table in a loaded SEC this year. they managed to bring back Robert Williams despite him being projected as a lottery pick. With him is Tyler Davis, one of the best bigs in the country and many others from last years season. A&M will likely drop the opener however, as they face a tough West Virginia team and won't have Williams for that game due to suspension but there will still be chances for big non-con wins as they face USC and Arizona later in the year.
24. UCLA (AP #24: Baylor)
UCLA loses three starters from last years Sweet Sixteen run, including Lonzo Ball. Luckily for them they replace ball with McDonald's All American Jaylen Hands and a very underrated guard in Aaron Holiday who played very well at times last year. Along with Hands, the Bruins add 5 star Kris Wilkes at forward and bring back Thomas Welsh at center. Unluckily they lose starter Cody Riley, 6th man Jalen Hill, and a question mark in LiAngelo Ball due to an arrest in China, which is why the Bruins slipped to 24 on my list
25. Rhode Island (AP #25: Texas A&M)
Decided to go slightly off the board for my #25 with a very good Rhode Island team. Losing Hassan Martin hurts, but bringing back EC Matthews helps a lot. Alongside him are guys like Jared Terrell and Stanford Robinson that have played significant minutes in the past. This is a very experienced team coming off a trip to the Round of 32 with a deep bench. Matthews should contender for A10 POY and the Rams should be in the hunt for the A10 title.