I hate the Capitals, but not really…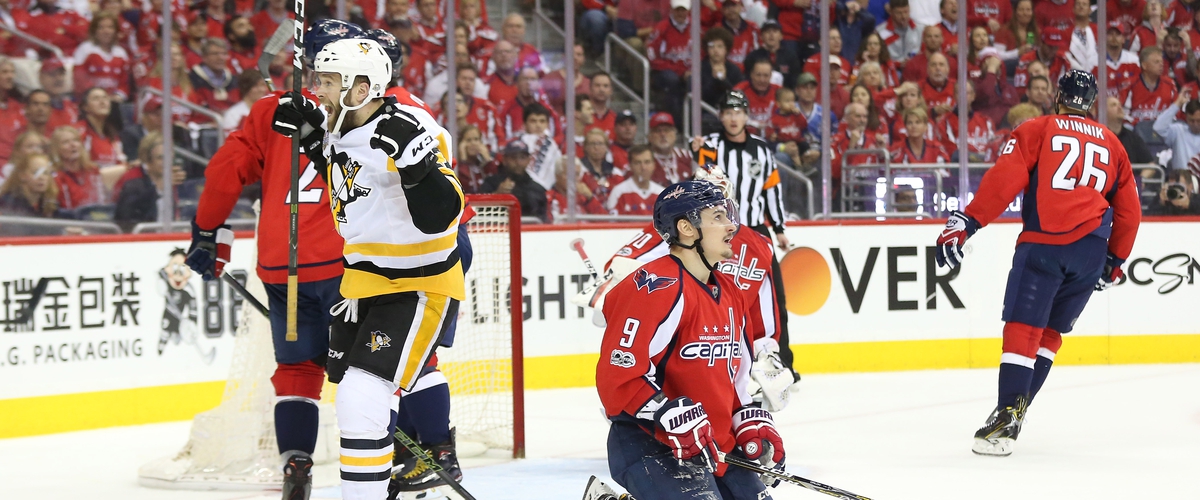 Hockey is more than just a game. It's a passion. It's something your poor mother has to schedule dinner and vacation times around. In the Lizzul household, hockey has become branded into our everyday life. Sorry, Mom and Dad.
For those of you who don't know already, I am a die-hard Washington Capitals fan. And although this team has brought me nothing but heartache over the years, my love for them will never change. My brother is a Rangers fan. We don't know why, considering the Capitals sparked his interest in hockey back when he was at Catholic, but that's fine. It's created a great rivalry and has led to some entertaining arguments over the years.
One thing the Capitals and Rangers have in common is they both suck. Like they actually suck. Both teams have had fantastic regular seasons, but can't seem to get it done in the playoffs. Granted, the Rangers have made it past the second round, but their time to win a Stanley Cup with Henrik Lundqvist ended after the Kings hoisted the Cup in 2014.
But forget about the Rangers. This isn't about them. At least they won a Stanley Cup in 1994. Their only one in the last 70 years, but hey, I would gladly take that. This story is about the Washington Capitals. A team that has been a part of the NHL since 1974 and have done diddly squat since then.
Alex Ovechkin. You poor wasted talent. I feel for you, Ovi. Like Robin Williams said in Good Will Hunting, "It's not your fault."
Those of you who believe Ovechkin is the reason why the Capitals haven't had success during his time in D.C., shame on you. Ovechkin is a superior talent. It's almost embarrassing to hear people knock him for his performance. Year after year, Ovechkin has put up tremendous numbers during the regular season, and the playoffs. Fact check me if I am wrong, but I'm not.
"I was disappointed that people were pointing fingers at Alex," George McPhee, ex General Manager of the Capitals said. "Because Alex does nothing but show up every year, produce at an elite level in the playoffs and in the regular season, hits like a truck and doesn't miss games, plays through everything. And I was disappointed that people were pointing fingers at him."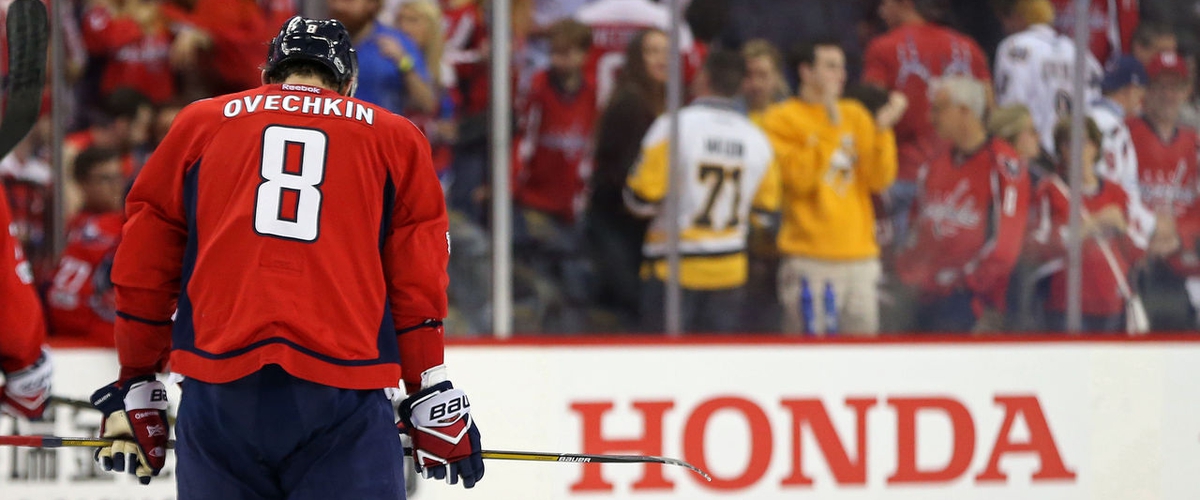 Hey, George. I hate you, but I agree. For those of you who don't know, George McPhee made the worst trade in the history of the NHL when he sent Filip Forsberg to the Nashville Predators for Martin Erat. Since then, Forsberg has grown into a stud, and is currently playing in the Western Conference Finals with Nashville. So yes, my hatred for George is still strong, but his comments on Ovi after this year are spot on.
The Washington Capitals were indeed the favorite to win the Stanley Cup this year. After an abbreviated postseason in 2015-16, this season was supposed to be different. They brought in some guys this past summer that were supposed to make a difference. They did, but not in the playoffs.
The Capitals were clearly the better team against the Penguins in round 2 of the Eastern Conference semifinals. They had more scoring chances, more shots, and just looked like they controlled the pace of play all series long. The Penguins didn't win that series in my eyes. Marc-Andre Fleury did. He stole games from Washington and was the difference maker.
Last year I was depressed. The entire summer I watched replays of the series against, you guessed it, the Pittsburgh Penguins, and kept thinking about what we could have done differently. I was crushed. Cue the violins. This year, I am a different Egg. I'm disgusted.
This was supposed to be the "caps year," which I promoted on social media all season long. And once again, Washington has proven to me and thousands of other Caps fans, that this year was no different from any other year. The Capitals had all the pieces. From depth on offense to tremendous defense. This was a group that dominated teams throughout the regular season. They went into the playoffs with the mindset of not going home early, but in typical D.C. sports fashion, they lost in seven games to the Pittsburgh Penguins.
I don't know why I do it. It hurts every year, but I am so used to it at this point that I am just becoming numb to the idea of early playoff exits. The Capitals are going to look very different next year. Eleven players need new contracts and there is just no way to bring them all back. So, now what?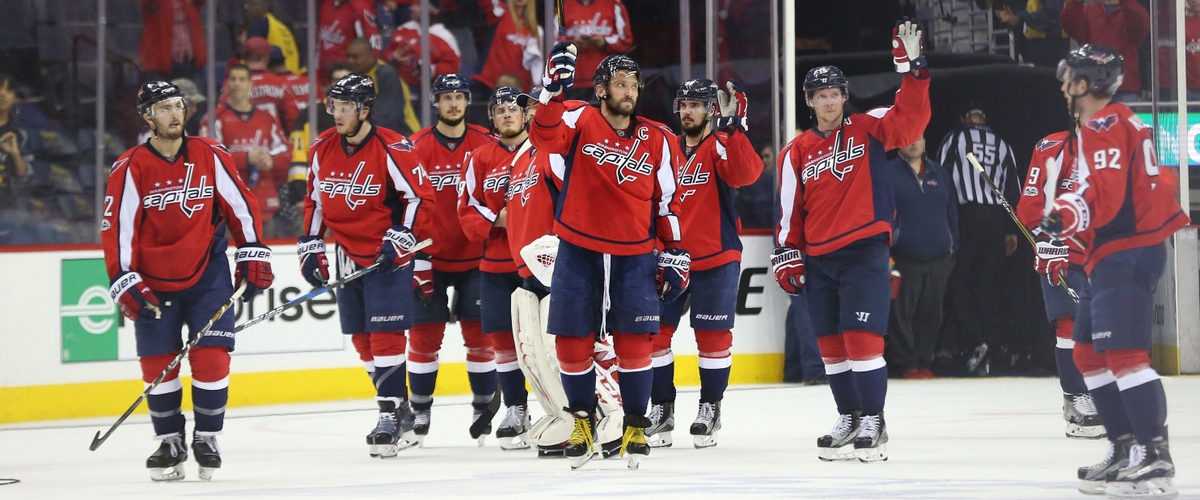 My goodness. What a depressing picture. But I am not panicking yet, Caps fans. Although Ovechkin and Backstrom are getting older, there are still some promising years ahead. Washington is going to have to let some guys walk. It kills me to say this, but Oshie, Williams, and Alzner most likely won't be wearing red next year. We have to look at the future. Oh, and as for Kevin Shattenkirk, he can gladly leave. If he would like to re-join Washington next year for a cheap price, by all means, but that won't happen. He'll get overpaid somewhere else.
With a promising farm system, the Caps should call up some young guys like Jakub Vrana, Travis Boyd and Madison Bowey. They are the future. We have seen the game shift from physical play, to playing with speed. Those guys can bring that. Andre Burakovsky and Evgeny Kuznetsov are the lights at the end of this dark tunnel. They were fabulous in the playoffs, especially Kuzy. They deserve a nice raise this offseason.
The expansion draft should be fun! Said nobody ever. For those of you who don't know, the NHL decided to put a team in Las Vegas. Yep, another team in the desert. As if the Coyotes weren't enough of a mess. Basically the Vegas Golden Knights get to steal one player from each of the 30 existing NHL teams. Complete larceny. And guess who the general manager of the Golden Knights is. George McPhee. Talk about a slap right to the right cheek of the Capitals face.
Washington will likely lose back-up goaltender Philip Grubauer, who deserves to start in the NHL. He's been great behind Braden Holtby and has proven he has what it takes to be a number one for an NHL team. If not Gruby, then Nate Schmidt will be out. If that happens, I am moving far, far away.
Nate Schmidt was our best defenseman in the playoffs this year. He is the perfect example of what defensemen in the NHL are transitioning to. The Brooks Orpik type defenseman in the NHL are a thing in the past. It's all about speed and playmaking on the blue-line. Please George. You have hurt this team once. Don't do it again.
I'm tired of the constant disappointment. I love this team too much to just give up, so I still have hope. The Ovechkin era is coming to an end. Any ideas of trading him are just ludicrous. He helped build this franchise. He is the greatest goal scorer this generation has seen. He is a Capital.
"Knocking Ovechkin is like knocking Chris Paul for not winning an NBA championship, Ernie Banks for never winning a World Series. It's crazy," Long time Capitals fan Larry King said.
It's going to be a busy offseason for Washington. Braden Holtby needed to be better against the Penguins. Like Nick Backstrom said, "we didn't lose this series in game 7, we lost it back in games 1 and 2." Agreed, Nick, who by the way was out-freaking-standing all throughout the playoffs. It came down to one glove save on Jake Guentzal in game 1 that Holtby should've had, and a puck that went off the skate of Dmitry Orlov that trickled into our own net in game 3.
That's hockey for you. This year hurts the most, but I will be back in October to start another long NHL season. We have yet to hear from general manager Brian McLellan on what the Caps plan to do this offseason. So until then, Go Yankees.
~ Eric Lizzul