Pirates are rolling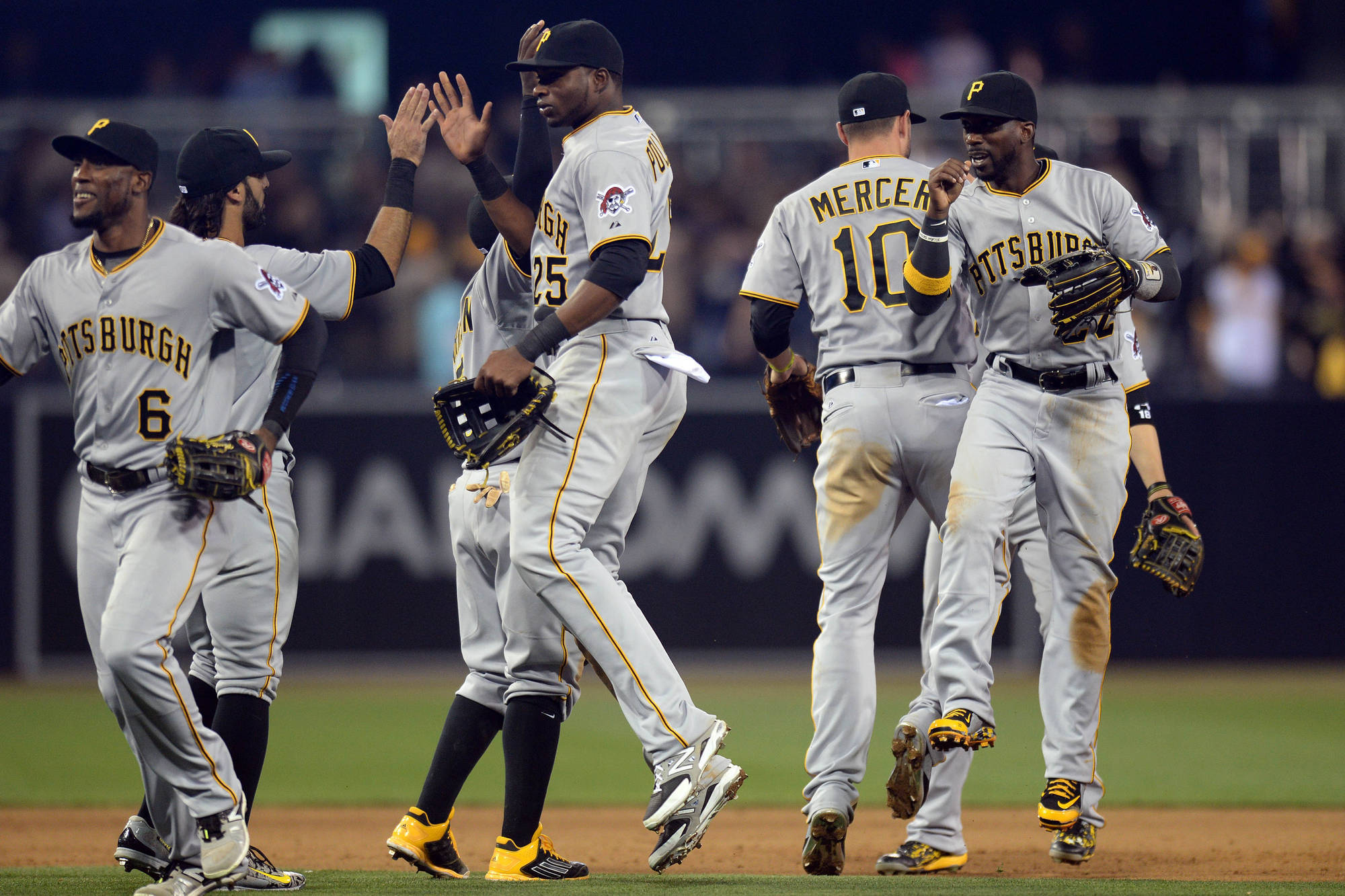 Optional...
Jake Roth-USA TODAY Sports
The Pittsburgh Pirates have been on a tear for the last week by winning 8 of their last 9 games. They swept the home game series against the Mets last weekend. Then they won 3 more games against the Marlins. They are currently in a four game series in San Diego against the Padres and have only lost one game in that series so far on Friday.
In the 8 wins the Pirates have scored 4 or more runs in each game and have won by at least three runs in seven games. Thanks to the Pirates ability to win games they have moved to the middle of the pack in the NL Central and are now six games behind the Cardinals and first place. This spells good news going forward for the Bucs and one of the stand outs lately has been Jung Ho Kang.
Kang was the key to some Pirates victories a few weeks ago and his .302 average is still an advantage for the Pirates. Thursday night against the Padres he started the game with a 3 run home run and the momentum from that homer led the Pirates to a 11-5 victory. Kang has 17 RBI's and 3 stolen bases on the season but his strong presence has been hindering the development of Jordy Mercer. Last season Mercer was the go to guy at shortstop but his .274 average was unimpressive. If Kang remains productive then Mercer will not be seeing a lot of playing time.
Josh Harrison was off to a slow start this season but he is finally starting to be offensively involved. His average has improved to .270 which is fantastic because his average in April was .213 and so far in May his average is .316 with 2 home runs. The Pirates and their fans have been waiting 44 games for Harrison to look like the offensive juggernaut he was in 2014 and it is finally starting to happen. In his last ten games Harrison has 8 RBI's. It might be starting to come together for the Pirates but there are still 113 games left in the regular season which makes for a long summer. The question is will these Pirates be able to build more momentum? Anything is possible.
Until this point the Pirates have been failing quite a bit during the season. The only player who was able to keep them afloat was on the defensive side of the ball, A.J Burnett. "He's been nothing less than this team's MVP, and he entered not only with a best-in-baseball 1.38 ERA but also with his best sinker. And that's saying something considering it's become almost a circus pitch for him in 2015. The thing was moving as if it had holes cut into it," (http://dkonpittsburghsports.com/2015/05/29/column-finding-success-through-failure/).
Last night Pitcher Charlie Morton was trouble for the Padres. He pitched 7 innings and forced 16 ground ball outs, talk about a boring game for the Pirates outfielders. ""He looked like a headache," Andrew McCutchen was saying of his view of Morton from center field. "That's what he looked like. He was throwing, people were swinging, and it was a ground ball. There weren't too many hard-hit balls,"" (http://dkonpittsburghsports.com/2015/05/31/column-this-column-on-the-pirates-is-boring/). Morton allowed only one earned run and three hits. He has made a strong return after missing the first month and a half of the season due to right hip surgery.
With the Pirates looking dominant in their last 8 wins they should have a lot of confidence and momentum going into San Francisco for their three game series against the Giants.
---