Mets revisit talks for Pirates OF Starling Marte
Since the start of MLB offseason this past Halloween, the free agency market has been anything but quiet. Pitchers Gerrit Cole and Stephen Strasburg agreed to two new record-breaking contracts with the Yankees and Nationals, respectively. World Series Champion 3B Anthony Rendon found a new home with the Los Angeles Angels. In fact, 10 of the top 12 available free agents in baseball committed to playing in a new zip code the next calendar year. As for the New York Mets, talks have began to heat back up regarding outfielder Starling Marte, a player not only currently not on the team, but not even a free agent. How will this work with their current group? Will he fit? Is he even interested?
On November 28, 2019, Marte was asked in an interview how he would feel about playing for New York:
They (Pirates) have the power to decide," Marte said. "If I had it in me, I'd leave now because the caliber of players we have is not to compete in a World Series. The Mets have it all, it would be a great opportunity to play with them.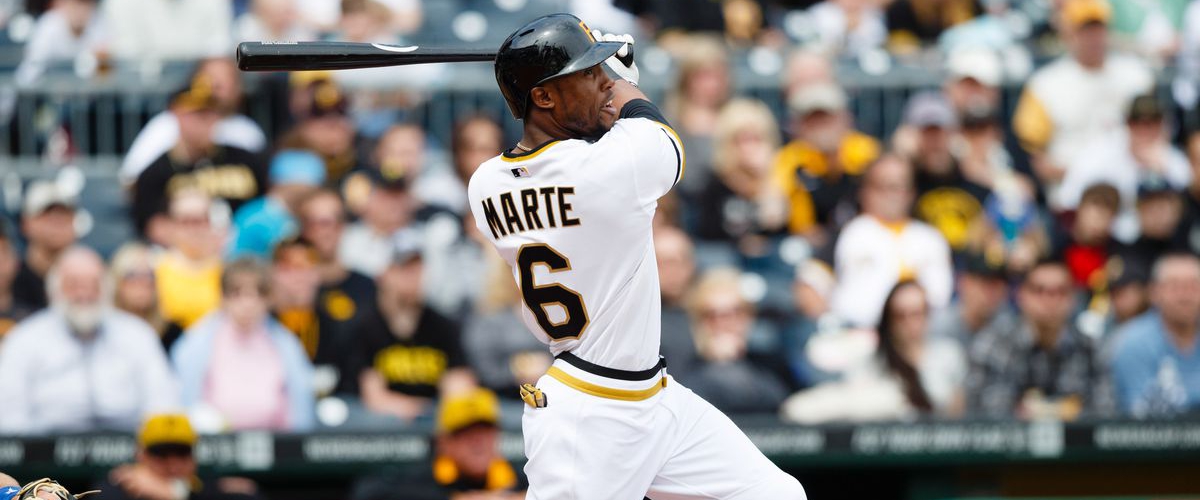 Marte compiled a slash line of .295/.342/.503 in 2019. Photo by Rick Osentoski - USA TODAY Sports
When active/healthy, Marte can have an immediate impact on the Mets offensively. Here's three things, however, they should consider before offering a trade to Pittsburgh:
The health of Yoenis Cespedes
One of the biggest uncertainties heading into the 2020 season will be the health of OF Yoenis Cespedes. Cespedes missed almost the first two months of the 2019 campaign after he had undergone a double-heel surgery to remove calcium buildups in both of his ankles. Shortly after, he was involved in an accident on his ranch, leaving him with a broken right ankle. Since the beginning of the offseason, a video has surfaced of Cespedes taking batting practice in Florida with former Mets outfielder Endy Chavez. It has since been removed from the original account that posted it. Whether this means Cespedes will be ready for Opening Day or not remains a mystery. A healthy Yoenis Opening Day could mean a crowded outfield for the Mets. Assuming he's ready to go, the outfield could consist of Cespedes - Nimmo - Conforto with backups consisting of 3B/OF J.D. Davis, newly acquired OF Jake Marisnick, and 2B/3B/OF Jeff McNeil who, currently, is slated to start at 3rd base. First baseman Dominic Smith has also seen time in left and right field in both the 2018 and 2019 seasons.
Former PED suspension
In 2017, Marte was handed an 80-game suspension by Major League Baseball for violating the MLB's Joint Drug Prevention and Treatment Program. The Mets know almost too well how coming back from a PED suspension could affect future play: enter Robinson Cano. After enjoying 7 All-Star appearances in 8 seasons with the New York Yankees and Seattle Mariners, Cano was handed an 80-game suspension in 2018 after testing positive for Furosemide. Although injuries have plagued part of his return since, Cano slashed .256/.307/.428 in 2018, the lowest of his career and only ahead his 2008 season. Marte has finished two full seasons since his suspension and does seem to be back on track. He seems to be through that part of his career, but hopefully the ghost of Jenrry Mejia can remind him of the bad things that could come with future use.
"Disposable" Talent
One of the biggest gripes of Mets fans lately seems to be the package going to Pittsburgh in exchange for a player like Marte. The three biggest names mentioned so far are OF Brandon Nimmo, 1B/OF Dominic Smith, and 3B/OF J.D. Davis. Nimmo and Smith were each on the 60-day IL in 2019, leaving the Mets clawing for depth. Each made returns in 2019, leaving fans with promise that they'll return to their true forms in 2020. Dominic Smith may have a tougher time finding a true playing spot out of the three. Mets struck gold with 1B Pete Alonso, a candidate for the job for many years to come. The outfield also seems to be falling into place, but also may depend on the health of Cespedes. Dom is a great candidate in this trade. We've only had a small sample of what his everyday play would be like (194 games in 2+ seasons), but he's shown he can hit in important situations and can be a valuable asset defensively. If it's not Smith, of remaining two, Davis makes the most sense. Davis appeared in 140 games for the Mets in 2019 while slashing .307/.369/.527. His biggest concern lies with his defense, however. Davis finished 2019 with a fielding % of .980 in the outfield. The general fan theory that's been popping up on Twitter is that Marte isn't needed because of the age and abilities of the current Mets youth. The Mets have Brandon Nimmo under control until 2023 (age 30), J.D. Davis until 2025 (age 32), and Dom Smith until 2025 (age 30). How much the Mets want to mess around with the group remains to be seen, but it's almost certain that at least one of these bats would have to be included with a minor league prospect or two for anything to happen.
Questions on whether or not Marte will be on the Mets in 2020 remain. The Mets' fielders report to Spring Training on February 18th, 47 days away.
---