Dak Prescott is struggling in training camp, and why that matters.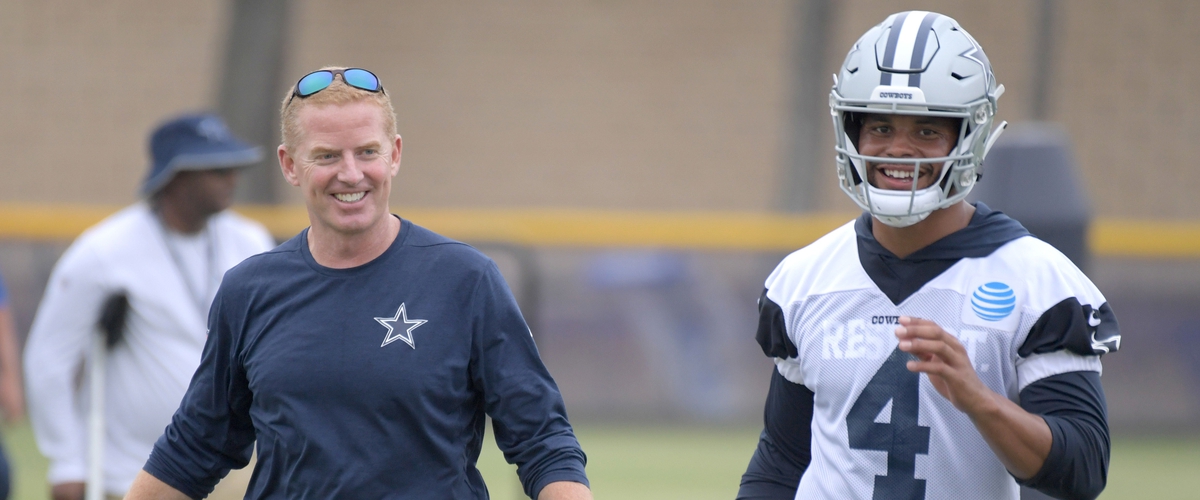 Multiple reports are coming out of the Dallas Cowboys training camp, suggesting that quarterback Dak Prescott is struggling, severely. The third-year quarterback is coming off of a rather disappointing second year, and, although it is early, It appears that Prescott's second year, is making an unfortunate continuation into his third year.
After Dak Prescott's well-perceived rookie campaign, the Dallas Cowboys and their fans alike; had Superbowl expectations going into the 2017 NFL season. However, things didn't turn out well for Prescott and company. Prescott saw a huge drop in numbers, so did the Cowboys' receiving core.
Prescott threw for 3,667 yards, 23 touchdowns, to just 4 interceptions, with a whopping passer rating of 104.9, and an incredible completion percentage of 67.8 in his rookie year. However, last year, Dak Prescott's numbers were quite frankly, below average. Last season, he threw for 3,324 yards, 22 touchdowns, to 13 interceptions, along-side a poor completion percentage of 62.9, with a subpar passer rating of 86.6. Those are huge drops in numbers, especially his completion percentage and his passer rating (the most important stats in football, in my opinion).
Dak Prescott has a ton of naysayers. And, last year's performance didn't silence them, It only made them louder. Many of these naysayers are Dallas Cowboys fans who felt the organization did former Cowboys quarterback Tony Romo dirty by not letting him start in 2016 when he healed from his injury. As well as, they feel as if Romo could still play in the National Football League, and that the Cowboys are sticking to their decision to start Prescott, too vigorously. Considering, the Dak-naysayers haven't seen much from Prescott to suggest that he's a better fit for the Dallas Cowboys, than an older, more broken up Tony Romo. Or, many other quarterbacks, as well.
Now onto 2018 Training Camp.
Many news outlets are reporting Dak Prescott's struggles in camp.
Clarence E. Hill Jr. of the Star-Telegram said:
Through one full week of Dallas Cowboys training camp, the offense remains a work in progress. Quarterback Dak Prescott and the first-team offense have yet to throw a touchdown pass in team or 7-on-7 work.
Offensive Coordinator Scott Linehan commented on the obvious offensive struggle:
We are not where we want to be. We have to have better execution on offense," offensive coordinator Scott Linehan said. "We are still a work in progress and we are making strides but we have to make strides here quickly. Hopefully, we will be putting that ball in the end zone a lot this year.
Dak Prescott has been "way off" on a lot of his throws in practice. Especially on high balls, long balls, and touch-throws.
One notable concern of mine is: he's dinking and dunking the ball, a bit too much, again. One notable source, the Athletic, said this about Prescott's performance in camp:
We're only seven practices into training camp and Cowboys quarterback Dak Prescott continues to struggle. Thursday's practice featured another day of inconsistent play from Prescott. He displays a strong arm, smarts and the ability to move well in the pocket. He's just not making the necessary plays.
Prescott has unofficially thrown three interceptions and just one touchdown in the team periods. His touch on some throws is way off and he continues to dump passes down to running back Zeke Elliott and any tight end within five-to-seven yards near him. Prescott has completed a few deep passes, like a pretty throw he made to Tavon Austin, but there are times you wonder why he doesn't make the simple play.
Definitely, not what Dallas Cowboys fans want to hear. The Dallas Cowboys' 2017 offense was undoubtedly the weak link of the team. And, hearing this news coming out of camp, has to make Dallas Cowboy's fans across the nation weary of what's to come.
The Dallas Cowboys' first Preseason game is just five days away. Traditionally, the starting quarterback sits out the first one, but perhaps, Prescott may need the extra practice. If, he continues to struggle like this in training camp, days leading up to the game.