Camp Report: Dan Bailey struggling badly, Prescott tosses touchdowns and interceptions.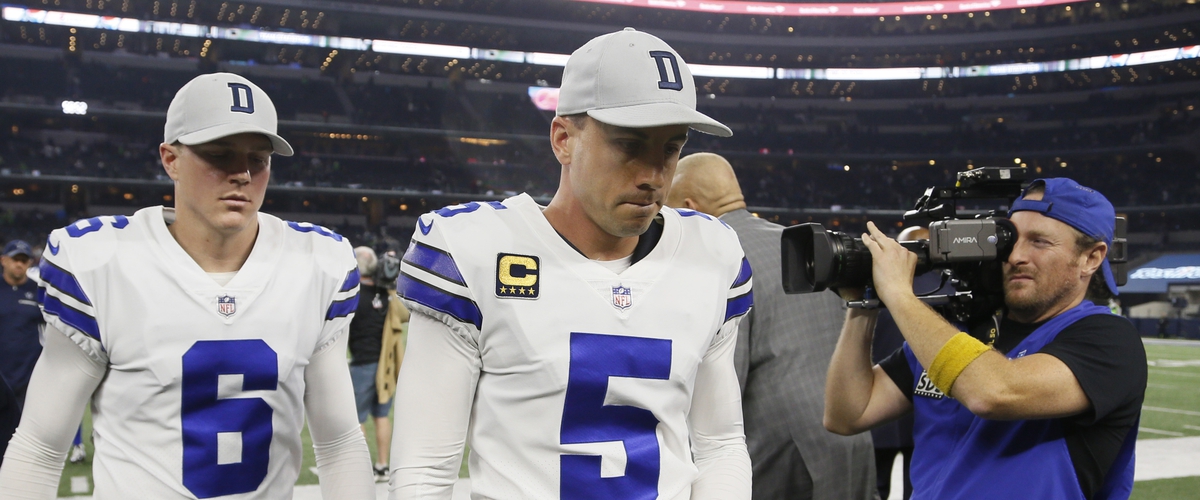 CAMP REPORT: Kicker Dan Bailey has missed four short-range field goals over the last two practices. Insiders say his inaccuracy is quietly causing a panic among coaches, even though, Coach Jason Garrett said: there's "no real concern" over Dan Bailey's missed field goals. Bailey didn't have a good year in 2017, and, he's looking to get back to being the old, all-time accurate kicker we Cowboys fans have come to know and love.
On Dak Prescott: He finally threw a couple of touchdowns (before yesterday, Prescott had yet to throw a single touchdown in scrimmage). That's good news, but, the bad news is, he threw a couple of interceptions to a quite frankly, weak looking defensive scheme. One Prescott interception was in the red zone. From what I've seen, our defense isn't showing anything too exotic thus far. Dak Prescott still throwing short, dink and dunk passes to his running back, and his tight ends (Rico Gathers particularly). Very vanilla, very boring stuff.
However, early on in the scrimmage, it appeared Prescott had gained a little rhythm with his wide receivers, particularly, Cole Beasley. However, Dak Prescott's rhythm with his receivers didn't seem to last long, just went back to his up and down, passes to high, passes to low kinda thing.
However, I can't say Cooper Rush or Mike White looked any better. Cooper Rush threw a couple touchdowns and interceptions as well. And Mike White looked like your average rookie. The only thing I can say is: Cooper Rush looked better in the red zone, and he's willing to take more chances. Don't let him fool you. He wants to start for this team.
Expect Cooper to take big chances in the preseason.
Our running game looks great as always. And, Zeke looks like he's put on a few pounds, and not the healthy kind. Looked a tad bit slower than usual, and looked winded on long runs.
The defense is really hard to read. The offense is so vanilla, I can't say whether or not they'll be any good. All I can say is: The defense looks strong in the front seven, and they look okay in the backfield. Even though Chido Awuzie looks to be a standout.
Also, Taco Charlton is such a "non-standout", you forget about him, and he really just blends in with the numbers. Not good. I've been very disappointed with Taco. Truthfully, I thought he was a wasted pick from the beginning, but I'm not writing him off as a bust. It's too early for that!