The Big Man vs Big Papi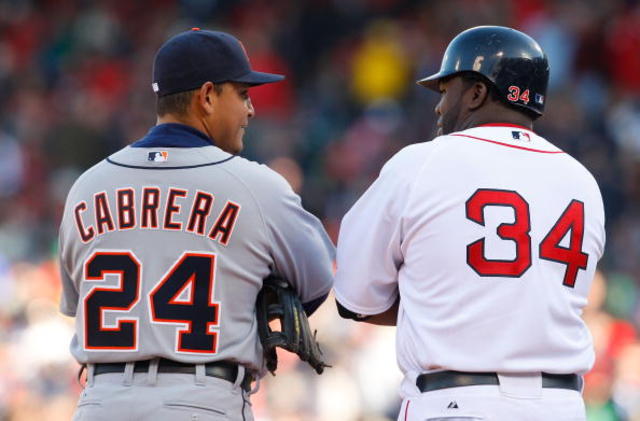 It's no secret that Boston's Big Papi, David Ortiz is retiring at the end of this season. This has sparked waaaay to much Big Papi worship over the recent months. Far too much for this Tigers fan to handle quietly. If all the Goodbye Celebrations in every damn MLB Stadium wasn't enough, now our TV and radio programming is flooded with Big Papi, mostly thanks to Comcast Xfinity and those "BIG" commercials. You know, the ones where Big Papi can't seem to pronounce the "G" at the end of Big???...annoying....REEEEL ANNOYEEN (yeah, did that on purpose.) Corn mazes, cereal boxes, Lego statues... Not to mention all the images of him doing his signature upward pointing after every homerun. (Food for thought, would he point down if he was a Satanist?)
Don't get me wrong. David Ortiz is a great player, probably headed to Cooperstown some day. But as a Detroit Tigers fan, I've had enough. No more Big Papi please. I offer a better alternative.
Let's get Miggy Wit It. http://www.youtube.com/shared?ci=kBNuBP-yyLM
Let's compare their 162 game averages and career numbers .
Ortiz: 20 seasons. .286, 162 H (2469), 36 HR (540), 119 RBI (1765), .380 OBP, .551 SLG, .931 OPS, 55.3 WAR (career), 10x All Star, 6 Silver Slugger, 0 MVP, 0 Triple Crowns
Cabrera: 14 seasons .320, 195 H (2513), 34 HR (444), 120 RBI (1555), .399 OBP, .561 SLG, .960 OPS, 69.3 WAR, 11x All Star, 6 Silver Slugger, 2 MVP, 1 Triple Crown. BOTH have a World Series ring.
My case is closed. There is no comparison as the numbers clearly speak for themselves, Miggy is BY FAR, the more superior player. IF Big Papi is getting this kind of attention because he is retiring, Cabrera better be getting ticker tape parades in every MLB city, commercials, TV shows, his own movie, and a key to the White House executive bathroom.
"If he stays healthy, I don't see any reason why he can't be the best hitter of all time." -Justin Verlander
"Miguel Cabrera is the best hitter I've ever seen." -Rajai Davis
"He's one of the greatest hitters of all time, maybe the greatest right-handed hitter of all time, quite frankly -- you can make the argument. And he's not done yet.". -Brad Ausmus
"In Miguel Cabrera, we are witnessing greatness." -ESPN's Jayson Stark
"Miguel Cabrera is the best hitter I've everseen by far. -Tigers legend AL Kaline
Will he go down in history as the greatest right handed hitter ever? Probably not, but he will end his career MILES ahead of Big Papi and will definitely be remembered as ONE if the greatest. And with it, better come every but as much, if not more, fanfare that Ortiz got.
David Ortiz is done, now is The Age of Cabrera.
ALL HAIL KING MIGGY.
Edit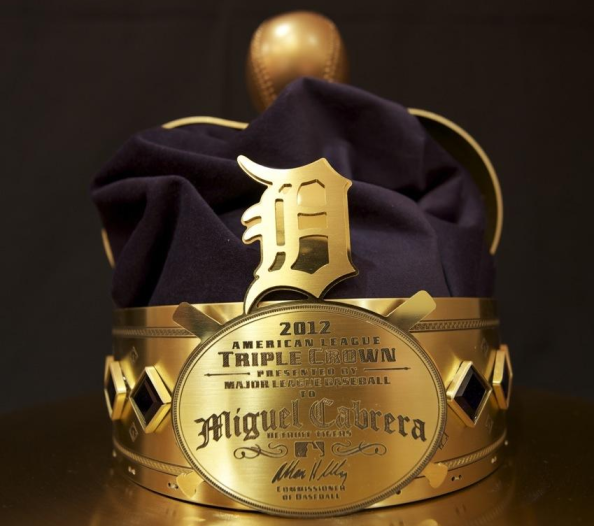 ---