February 18th, 2001: 16 Memories for 16 Years
It's one of those "Where were you when?" events. The sports world was frozen in time on February 18th, 2001.
In one of the most anticipated sporting events of the season, that abundant excitement turned into drowning shock and sadness in a split second.
As the cars roared into Turns 3 and 4 for the last time on this day, the crowd was riveting. Enthusiasm filled the Daytona International Speedway as they watched a young Dale Earnhardt Jr push Michael Waltrip to his first career Winston Cup victory. The two pulled away from the pack, as seven-time champion Dale Earnhardt Sr ferociously protected the lead of the two cars that he owned.
But in a drastic turn of events, that blocking led to a devastating crash, one that the sport of NASCAR has yet to fully recover from.
But knowing Dale, and how he cared about his family, friends, and race team, I highly doubt he would change a thing.
In memory of "The Intimidator" and the 16 years that have passed since his saddening death, here's 16 uplifting, iconic, and historic moments of his Hall of Fame career.
16. Winning in a Ford
Earnhardt was rarely seen driving a Ford, but in 1982, he started the first of two years driving the #15 Ford Thunderbird for Bud Moore. Despite struggling much of the season, Dale grabbed a win at Darlington, his first in a Ford, leading over half of the laps.
15. The Start of Dominance
The two Daytona 500 qualifying races used to be called the Twin 125's. During these days, you may as well have inked Dale Earnhardt to win one of them. In 1983, Earnhardt bounced back from a disappointing season finishing 12th in points. He won his Twin 125, and this started his domination of the race. Eleven other wins in the 125's would be added, showing The Man in Black was no joke when in Daytona Beach.
14. Bittersweet Victory
Dale Earnhardt's 1994 Winston Cup season was a very special one, but it started out with tragedy. In practice for the Daytona 500, Neil Bonnett lost control of his Chevy and smacked head on into the Turn 4 wall. Bonnett, a very good friend of Dale's, did not survive the incident. As many would say, this put Dale into a different state. But his drive to win remained, as he won the 5th race of the season at Darlington.
13. Kissing the Bricks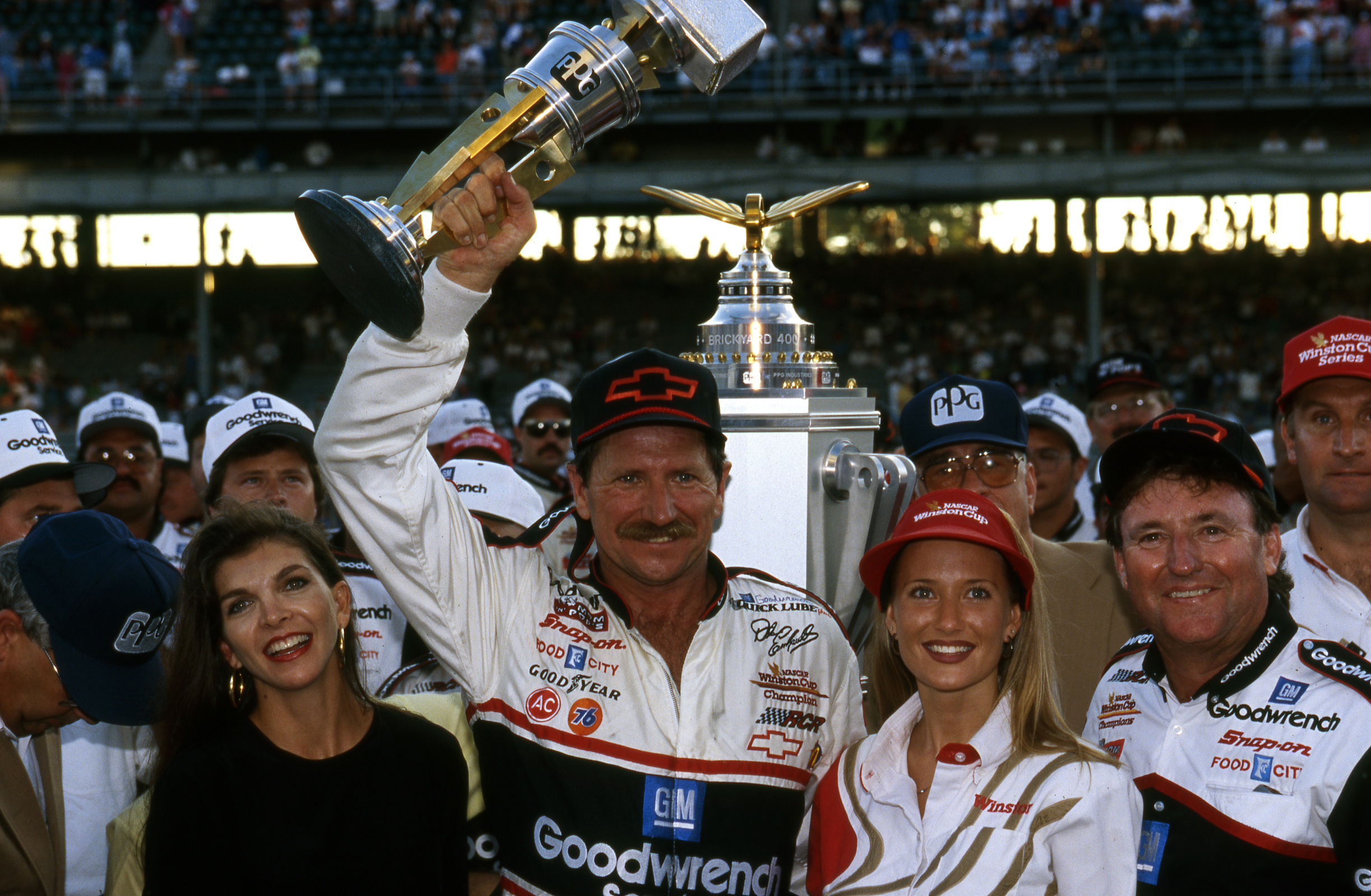 In what he called the biggest win of his career, Earnhardt grabbed victory in the second annual running of the Brickyard 400 at Indianapolis Motor Speedway. It was a great year for the #3 team, but Jeff Gordon ended up winning the championship. 
12. Family Milestone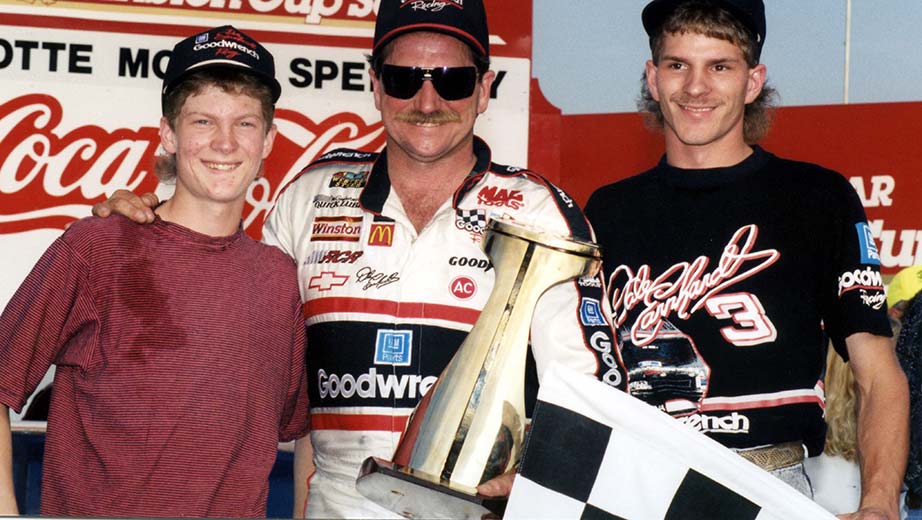 In 2000, Dale Jr entered NASCAR's top series as a rookie. In the Pepsi 400 at Michigan, Sr, Jr, and his half brother Kerry all ran the race. This was only the second time that a father raced with two sons in one race (Lee Petty raced with sons Richard and Maurice). Sr would finish 6th, Jr 31st, and Kerry last after crashing out.
11. The Beginning of a Legend
In 1975, who would become known as The Man in Black and The Intimidator made his first Winston Cup start at Charlotte Motor Speedway in the World 600. He would finish a promising 22nd, showing the then kid had talent as a wheelman.
10. The Man of an Era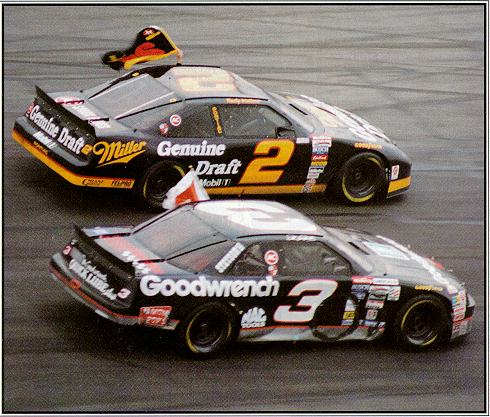 The late 80s and early 90s can only be known as Dale Earnhardt time in the realm of NASCAR. During this time, Dale won five championships, starting with his second and third back-to-back in 1986 and 1987, and finishing with his sixth in 1993. This pales in comparison to the emotional Victory Lap ran by race winner Rusty Wallace and Earnhardt himself at the 1993 Hooters 500, honoring the late Davey Allison and Alan Kulwicki. 
9. The Classic Intimidator Returns
At a point in every athlete's career, they lose their mojo and are not their old selves. 1999 was not that time for Dale Earnhardt Sr. Despite not winning at a true short track since 1995, Senior was eager to get back to Victory Lane at Bristol Motor Speedway. On the last lap, in Turn 2, Earnhardt gave Terry Labonte a bump, spinning him out, and wheeling the 3 car to the finish line in first. One of the most iconic Intimidator moments came as his career was coming to a close.
8. Like Father, Like Son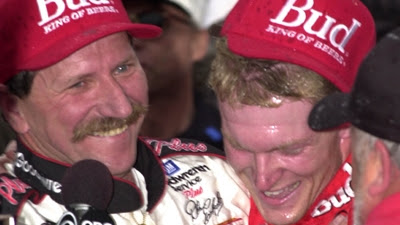 Dale Jr's first full-time Winston Cup campaign surely did not disappoint. In only his 12th start, Junebug grabbed the checkers at Texas Motor Speedway after leading over 100 laps. Later that year, Junior would win at Richmond and the All-Star Race, but victory lane in Fort Worth is something etched in stone.
7. The Pass in the Grass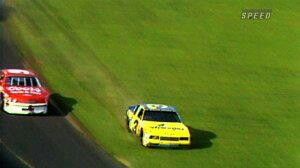 Two things happened during the 1987 Winston (modern-day All-Star Race): Dale Sr earned the nickname "The Intimidator" by spinning out Bill Elliott in the race's final segment. But what everyone remembers; "The Pass in the Grass". Earnhardt, being aggressive as always, was forced to manuever his car in the grass, and he somehow successfully passed Elliott. That pass will likely always be the most entertaining and most wild pass in NASCAR history.
6. To First in the Blink of an Eye
2000 was no down year for the seven-time champion. Earnhardt, seeking his record 10th win at Talladega Superspeedway, was in 18th with four laps to go. In an asinine and daring final four laps, Dale passed all of the cars in front of him to grab the checkers and win his 10th at the track. His restrictor-plate skill was basically unstoppable. This would also mark as his last win in NASCAR.
5. Old-School Photo Finish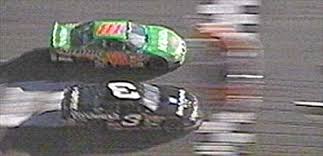 The Cracker Barrel 500, often regarded to as the best race of the 2000 NASCAR season, saw Bobby Labonte and Dale Earnhardt battle it out for the win. As the cars came to the stripe, Earnhardt edged his competitor by a hundredth of a second. If you knew Dale, you knew there was no way anyone was going to pass him for the win in that race.
4. That First-Timer Feel
In Dale's first full season, he raced Rod Osterlund's #2 Chevrolet. Despite not having a sponsor on board for the race at Bristol, Sr led 163 laps en route to his first career victory. This win would propel him to many more in the future.
3. From Rookie to Champion
It didn't take The Man in Black much time to get accustom to the Winston Cup Series. In his second full-time season, still driving for ROR, Earnhardt notched five wins and won the points championship. This was his first of seven, and to this day, no other driver has ever won Rookie of the Year and the title in succession.
2. Top Dog for One Last Time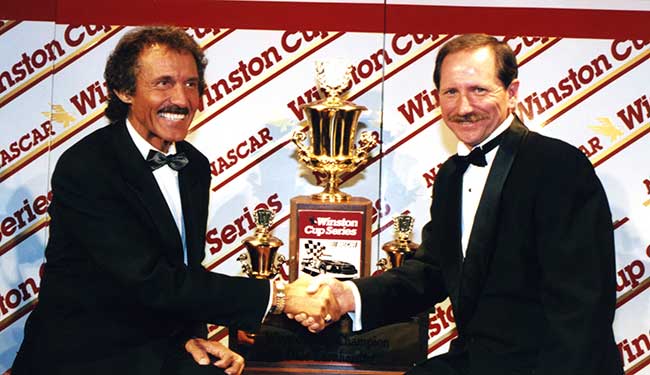 1994 was a very un-Earnhardt year. He didn't lose his immense talent or rambunctious aggressiveness, but not as many flashy moments occurred as usual. Instead, the '94 campign saw Earnhardt drive very consistently throughout the season, scoring four wins and winning his seventh Winston Cup to tie Richard Petty, "The King". 
1. "20 Years of Trying, 20 Years of Frustration"
Daytona International Speedway could not elude the great Dale Earnhardt. With the clock ticking, Dale knew he was running low on shots to win The Great American Race. The Intimidator did it in true fashion, vociferously blocking and leading over 100 laps. As the cars wrecked with 1 to go, Dale Earnhardt was finally able to take the Daytona 500 checkered flag. Just a picture cannot do this moment justice:
As Mike Joy gave the world possibly the greatest NASCAR call ever, Dale Earnhardt finally conquered the biggest race of his life. It was the one thing that bugged him to no end, the one hump he could not surpass. But with brute determination, the #3 team found itself in Victory Lane, sporting a Daytona 500 trophy. 
3 years and 3 days later, the tables turned on all of us. The unthinkable happened. A NASCAR great saw his career come to an abrupt ending. That day, NASCAR lost one that will never be replaced. So as you watch The Clash tonight, remember, rejoice, and celebrate the sensational career of The Man in Black, The Intimidator himself, Dale Earnhardt.
Photo credits go to the respective links the pictures direct to; statistical credit goes to racing-reference.info. Follow @dapsportsblog on Twitter for more NASCAR features, articles and updates.
---