Ryan Newman Has Been Released Form the Hospital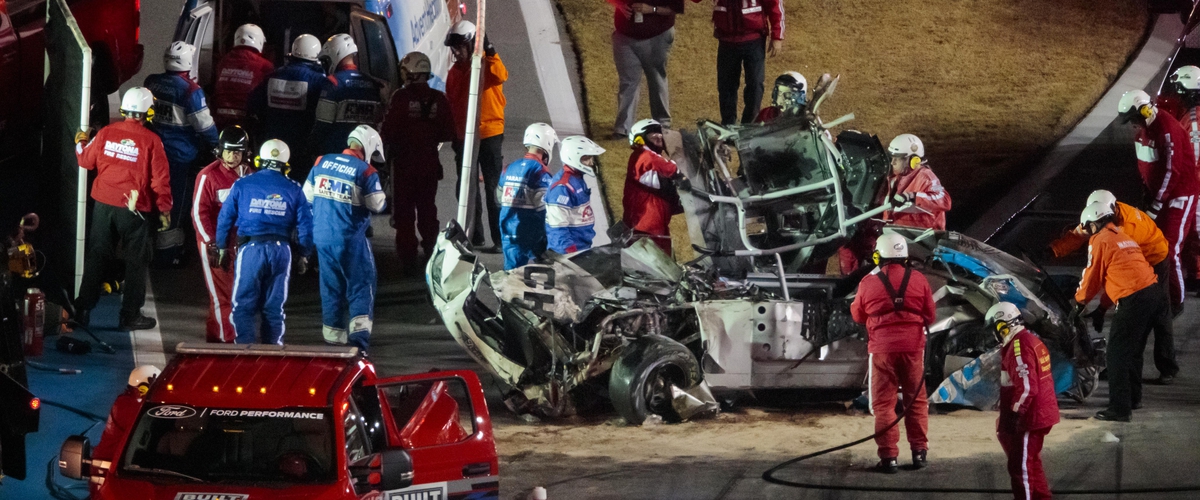 This is the image of Ryan Newman's wrecked racecar at the end of the 2020 Daytona 500. Everybody at the speedway was scared that it was going to be a very bad experience for the NASCAR community. Newman was taken to the Halifax Medical Center In Daytona. And that when Later on Monday night it was announced by that Ryan Newman's condition was serious, but with non-life threating injuries. When a crowd outside the hospital head that news there were some cheers that could be heard. When it was announced that Newman was up and around talking that was excellent news. But the best news of all came on Wednesday, that was when it was announced that Ryan Newman was released form the Halifax Medical Center. It is a miracle that a driver that went through something like that 48 hours ago is walking out of the Hospital.
Roush Fenway Racing released a statement saying, " It's great to see Ryan up and about. Think about what he just went through and you'll see why it's a miracle. Ryan is talking to family and friends and playing with his two daughters.
John Henry, principle owner of Fenway Sports Group, released a statement of his own. " Ryan Newman is one tough customer and one dog gone tough driver. It's a miracle that he is up walking around after a violent crash that he had to endure. I hope nothing but the best for the Newman family."
So what's next for Ryan Newman, Roush Fenway Racing has released no details on injuries or no timetable for his return to the racecar. For now Ross Chastain will fill in for Ryan Newman at the race in Las Vegas this coming Sunday. Chastain has three career truck series wins and two Xfinity wins to his credit. We'll see how Chastain does for Roush Fenway on Sunday.
Here's my take, and It's very simple.
Ryan Newman is one very lucky person after that crash at the end of the Daytona 500. I do have a confession to make, I was scared after that crash at the end of the race. My thoughts immediately went back to 2001 when we lost Dale Earnhardt on the last lap of the Daytona 500. That image popped into my head. But when I got the news that Newman was in serious condition but with non-life threating injuries I breathed a sigh of relief along with the NASCAR community. The Safety system mandated by NASCAR saved Ryan Newman's life. The Car did it's job and the safety system of the lap belt, shoulder harness and the HANS device saved Ryan Newman's life and the NASCAR safety team did their work beautifully.
Should Ryan Blaney be punished by NASCAR for the wreck on the last lap, I say no and here's why. It was just a motor racing accident, it happens. What Ryan Blaney did has happened in NASCAR for so many years and so many times, I just say forget it. As far as Corey LaJoie goes, I felt bad for him because he had nowhere to go but hit Newman's car at 200 MPH. That's what happens in motor racing.
I was approached by some people today and a couple of them asked me two simple questions. Why do racing drivers do what they do. And is it worth it. The first question I answered was with simple explanation. Racing drivers do what they do for the glory and prestige of winning one of the biggest motor races in the world, in this case it's the Daytona 500. And to the question is it worth it, I said yes because of the money and the glory they obtain. Yes they want to be with their families at the end of the day. But if you see some of these drivers they are not dare devils, they are family men, Ryan Newman has two daughters, he's a family man. At the end of the day all of these drivers want to go home to their families and all fans know that, and they have the respect and that's the main thing.
Bottom Line..
---