A's 5th Starter Spot Will Be Subject to Change
Following an injury and inconsistency plagued 2016 season in which the A's were forced to use 14 different starting pitchers in route to the second highest starter's ERA in the AL, stability in the rotation is a matter of utmost concern for Melvin & Co. heading into 2017.
On paper, the A's hope they've found the bulk of their steady starting staff. It will be headed by a reportedly healthy Sonny Gray , followed by Sean Manaea , Kendall Graveman , and last year's September breakout Jharel Cotton . Now that doesn't look too shabby, does it?
After some rookie growing pains early, Manaea found his stride late in the season, posting a sparkling 1.05 ERA while holding opponents to a .161 average over his final six starts.
The story was similar for Graveman, who looked like a weak link early in the season but became the team's most consistent starter in the second half and the only member of the rotation to make all of his starts in 2016.
As for Cotton, all he did upon reaching the big leagues was dominate, allowing just four earned runs over his first four starts and posting a paltry 0.82 WHIP over 29.1 innings pitched.
Of course, Sonny Gray is the lynch pin of this whole discussion, and we're all aware of what he's capable of. Whether or not he can remain healthy and return to form is paramount to Oakland's success in 2017.
However, the rotation puzzle isn't quite complete, in today's game four pitchers a full starting staff does not make. So who will be the A's fifth and final starter?
Andrew Triggs
Throughout the offseason, many have looked at what Andrew Triggs was able to accomplish in his limited time as a starter last season (1-1, 2.70 ERA, 0.79 WHIP in six starts) and have tabbed him as the frontrunner for the fifth starter spot. MLB.com A's beat reporter Jane Lee called Triggs "the likeliest dark-horse candidate" for the job, but is he really a dark-horse if everyone is saying that? Along with Lee, who's covered the A's for MLB.com since 2010, Triggs gets the nod from Susan Slusser of the San Francisco Chronicle, the highest ranking A's writer in all the land:
Andrew Triggs already was the frontrunner for 5th starter spot; right foot surgery for Mengden probably solidifies Triggs' status.

— Susan Slusser (@susanslusser) February 8, 2017
Throw in the praise he received from Billy Beane and Bob Melvin this winter and it's hard to categorize Triggs as a Cinderella story. If he was we wouldn't be talking about him so much. But aside from what amounted to four good starts in the month of August, what exactly has Triggs done to convince such tenured baseball people that he's the man for the job? Technically speaking Triggs started seven games last season. He made his first spot start of the season on June 18th against the Angels, tossing three innings and allowing one earned run. Ok, cool, guy had started exactly one game in four pro seasons prior to that, don't want to stretch him too far.
Triggs second "start" was more of an emergency patch when Rich Hill was a last minute scratch prior to his scheduled start against the Blue Jays on July 17th. Triggs threw one inning, enough time for the A's to get an actual starter--Sean Manaea--warmed up, and Manaea took over and pitched the next five innings. So yea, not really a start.
Then came August, when Triggs found his stride for a whole two and a half weeks. And a great 17 days it was, as he held opponents to a .181 average, walking just one over 21.2 innings while picking up his first big league win. Unfortunately the A's went 1-3 in those four starts, but it was more a product of their inability to score than anything Triggs was responsible for.
Then came September, when Triggs made a single start, lasting one inning before being removed with a back issue that kept him sidelined for the rest of the season. So there you have it. A guy who basically hasn't started since college, has never thrown more than 67 innings in a professional season, and who pitched well for a two week span last season, your 5th starter.
Sounds like an open and shut case to me.
Don't get me wrong, I have nothing against Triggs. The journeyman who played all four years of college, slogged his way through the minor leagues, finally got his shot and did enough to earn himself another one. It's the type of story that makes baseball great. However, does he look like a guy who's going to make 20+ starts and remain in the rotation for the majority of the season? Unfortunately, that's questionable. Chances are he'll be the fifth starter to begin the season, but won't remain there all year. So, in steps…
Jesse Hahn
Expectations were high for Hahn going in to last season, as he was coming off 2014-2015 campaigns in which he went a combined 13-10 with an impressive 3.23 ERA and 1.19 WHIP for the Padres and A's. Then, for lack of a better description Hahn face-planted in 2016, posting a 6.02 ERA and 1.64 WHIP over nine scattered starts with Oakland. Hahn lost his rotation spot in early June and never got it back, making just two spot starts in the big leagues the rest of the season.
Hahn didn't fare much better with Triple-A Nashville either, going 1-7 with a 4.32 ERA and an unsightly 4.6 BB/9 for the Sounds in what clearly was a lost season overall. Still, Hahn is just 27 and less than two years removed from a 2015 season in which he looked every bit like a solid middle-to-back end of the rotation starter, and has the most big league innings under his belt of any of the fifth starter candidates.
What exactly went wrong for Hahn in 2016? One may look to pitch usage, as Hahn seemed to stray away from the mix that made him successful in his first two big league seasons. According to BrooksBaseball.net, Hahn threw the highest percentage of fastballs (71.08%) and the lowest percentage of breaking balls (21.08%) of his career. Compare those numbers to his rookie season in San Diego (61.14% FBs and 31.49% BBs) and 2015 with the A's (67.81% FBs and 22.08% BBs) and you may begin to find your answer.
In addition, for whatever reason Hahn abandoned his slider in 2016, which had been an effective fifth pitch for him in his first two seasons. Now, it's easy to say Hahn was throwing more fastballs because he was constantly trailing on the scoreboard or behind in counts, but it's more a matter of what type of fastball he was throwing. In 2015, Hahn overwhelmingly favored his two-seam fastball, which averages right around 95 mph and has always been his greatest groundball producing pitch. In 2016 however he threw his four-seam--a pitch that's generated fewer whiffs, more fly balls and more home runs in his career--nearly the same amount as his superior two-seam.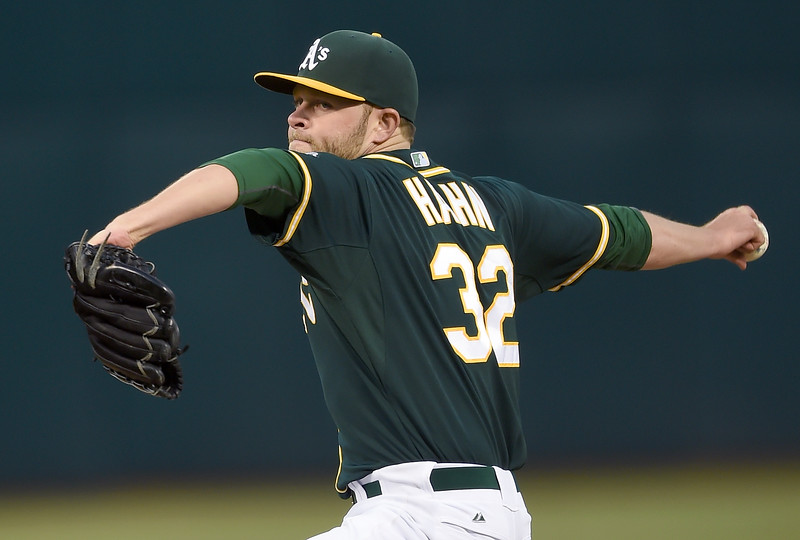 Despite a forgettable 2016, Jesse Hahn still has plenty of time to find his old self (Photo courtesy of www.ibabuzz.com)
Whether or not Hahn will revive his slider and cuddle back up to the two-seam fastball he uses when he's at his best will be something to look for over the course of spring training. He may be on the outside looking in for the opening day roster, but should Triggs falter it's a safe bet to say Hahn will be ready and waiting to assume the fifth starter job.
Chris Bassitt
Why would I include someone coming off Tommy John, who hasn't seen major league action since last May and likely won't be ready to pitch until June in this discussion?
"What about Alcantara!? What about Montas!? You know, those guys who can actually throw right now!"
It's simple, really. For one, I just like the way Chris Bassitt throws a baseball. He's a little hurky jerk, knees and elbows, glove side flying out towards the first base line, but boy howdy does that ball jump out of his hand. While he doesn't hit the upper 90s with his fastball, the way his 94 mph heater jumps on hitters like its 97 is a testament to the deception in his delivery. And talk about a 12-6 YACKER. Bassitt's curveball falls off the table, and has the potential to be a devastating out pitch.
Inconsistency with command has plagued Bassitt over his short major league career however; the 28 year-old comes in to 2017 carrying a career 3.6 BB/9, which in simple terms means too many free passes. Bassitt attributes his tendency to labor through long innings, as well as his injury, to poor mechanics. He's put streamlining his delivery front and center as he continues to rehab from TJ. He recently spoke in Arizona with Jane Lee about the extra time the rehab process has given him to slow down and focus on his delivery:
"My mechanics for 27 years were horrendous. But when you're at the big league level, when do you have time to work on them? You have to perform now. The Minor Leagues? No. You're trying to get to the big leagues. This was the first time I could say to myself, 'You have time. You can work on anything you want.'"
Bassitt is putting an emphasis on a less strenuous delivery that will not only allow him to stay healthy over the course of a full season, but will allow his naturally electric stuff to flow freely, and on a more consistent basis:
"I broke down way too fast, too sloppy, too much effort, so we're trying to be the opposite. Less effort to see better results."
The A's could see the right-hander back as early as June, which could be right on time if Triggs can't prove he can be a starter for a full season, or Hahn cannot regain his past form.
Yes, Bassitt is a wild card, but could be worth a low risk gamble when fully healthy.
Raul Alcantara and Frankie Montas
I've lumped the two youngsters together because this section will be relatively short and sweet. Let's begin with Raul Alcantara . The 24 year-old is entering his eighth pro season, and has been kicking around the A's minor league system since 2012, and has been relatively average over that time, posting a 35-32 record with a 4.18 ERA and 1.22 WHIP. Average numbers tend to be the result of average stuff, and that's just what Alcantara brings to the table. A fastball that's firm, but not overpowering, a change up that can get outs, but isn't a strikeout weapon, a flat slider and a curveball that makes an appearance once in a while. He got lit up like Christmas in Times Square in his 5 starts last season(7.75 ERA, 31 H, 9 HR in 22.1 IP), and unless something changes in a hurry, simply isn't the man for the job.
As for Frankie Montas , in spite of continuing reports that the A's will keep him in the mix for a spot in the rotation, I'm not buying it. His long term value as a starter doesn't seem worth the risk of stretching out a pitcher with an injury history. The bullpen is set with veterans for the time being, but guys like Ryan Madson and Santiago Casilla are reaching the back end of their careers, with John Axford not far behind. So go ahead and allow Montas to stay in a starter's mindset for now, pace himself, and learn to use all his pitches, it will only help him when meets his destiny as a lights out late inning reliever.
-AC
---