2017 Fantasy Football: Best Receivers to Target Early
With the 2017 NFL season just around the corner, all the avid fantasy football fanatics like myself can hardly wait for the season. All major sites like ESPN and Yahoo have had mock and live drafts up for a while, which has helped me get lots of practice in. A lot of experts, including myself have published their own rankings, sleepers, busts, and breakouts, which along with mock drafts have helped us already perfect our drafting strategies. However, after a lot of mock drafts, I've noticed that rounds three and four have been tough for me.

It's important to understand what players you'll be looking for in rounds three and four. Now ideally, the goal is to take the best player available of either running back or wide receiver. Even though there are other positions like Quarterback and tight end, it isn't recommended that you draft them this highly. With the abundance of running back committees in the league, it is strongly recommended that you grab a bellcow back in either the first or second round. If this is how your first two rounds go, then wide receiver is definitely a position to look at in rounds three or four.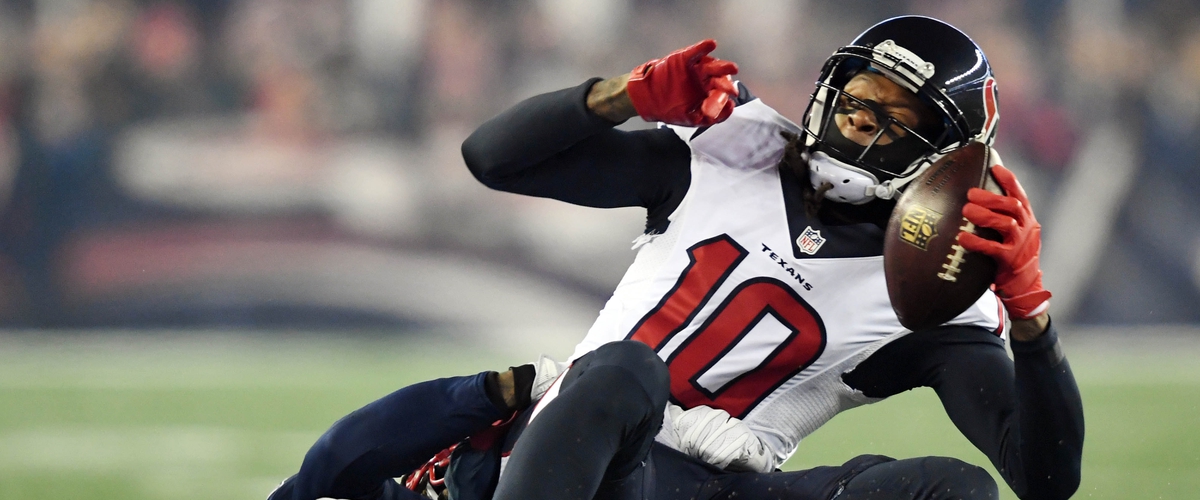 Fortunately, there are a lot of talented wide receivers in these two rounds, the downside is that everyone has some issue. Whether there is concern regarding injury history, Quarterbacking play, or added competition at the position from last season, every receiver listed below has something working against them to make them a WR1. Now some of these receivers may overcome their obstacles, but it's not always easy to predict.

Below I have a chart of all receivers going in rounds three or four of most mock drafts. I have organized the receivers into rankings based on ADP, and our recommended rankings for standard and PPR scoring systems. These rankings are an average of a few of my colleagues' personal rankings at SoCalledFantasyExperts.com, a site that I've been writing for for about six months. I will dive into the rankings, explain why players are ranked differently under certain formats, and why some players are ranked far differently from their ADP. Also, please excuse the fact that I had to break up the chart below, this site has issues with posting full photos.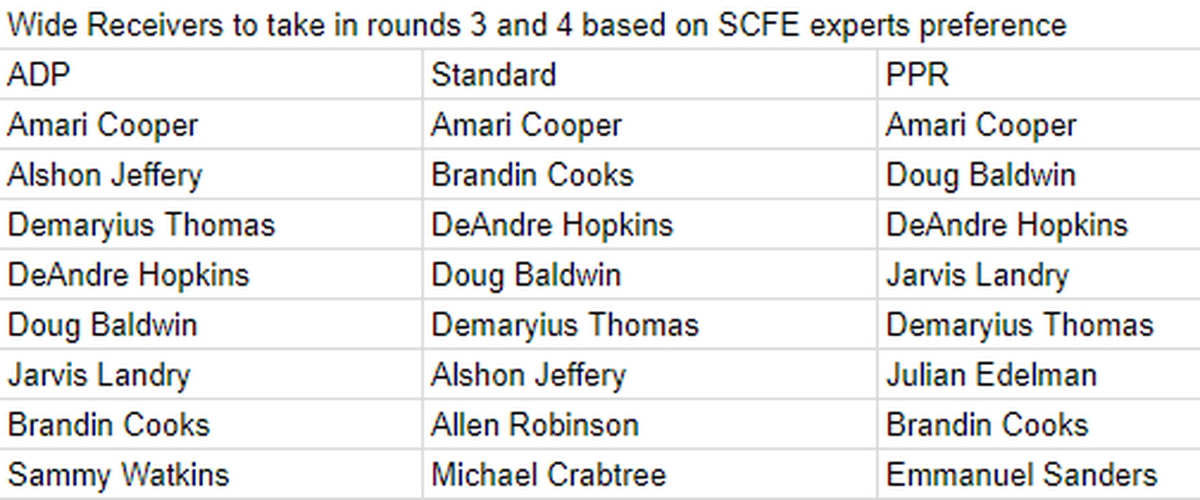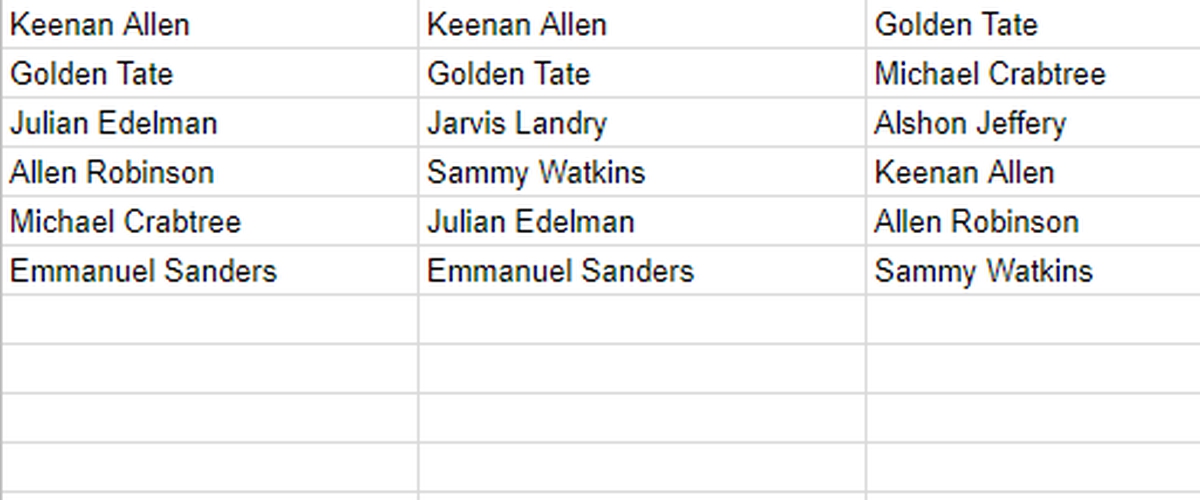 Standard Scoring

For those who need a refresher, standard scoring is a very basic scoring system for fantasy football. Every ten yards receiving is one point, every ten yards rushing is one point. This scoring system generally favors running backs more than wide receivers, simply because backs get more touches than receivers do. Since this is the case, I usually try to get two bell cow backs to carry my team, unless there is too much value in a WR1 that has fallen down the board to pass up. This will cause you to look to draft receivers in rounds three and four to balance out your roster.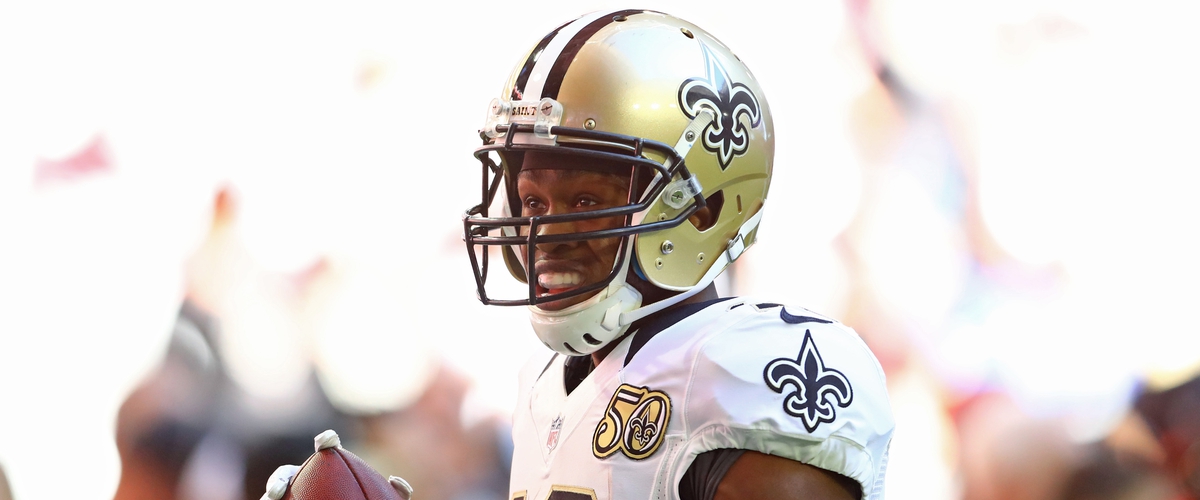 It's important to first understand what kind of receivers you are looking for in standard leagues. Since you don't get any points per reception, it's important to look for big play receivers and redzone threats. This would theoretically move receivers like Alshon Jeffery, Allen Robinson, Demaryius Thomas, Brandin Cooks, and Sammy Watkins up this list. The reason that they aren't higher up this list isn't because of their play styles, but their injury histories and situations.

After two seasons of playing 16 games, 85+ catches, and over 1,100 yards, Jeffery has dealt with various injuries the last two seasons. Jeffery has only played 21 games over the last two seasons, and hasn't totalled over 850 yards in either seasons. After a breakout year in 2015, Robinson and the whole offense struggled in 2016, as Robinson totalled just 73 catches for 883 yards. A lot of this is due to Blake Bortles' poor play, which isn't necessarily guaranteed to improve greatly this year. Demaryius Thomas had a solid year with 90 catches and almost 1,100 yards, but Quarterback is still an area of concern. Brandin Cooks hasn't been able to prove himself outside of dome stadiums, and is on a team where they get the ball out quick. Sammy Watkins just can't stay healthy, and Tyrod Taylor didn't even pass for 20 touchdowns last season. Even though all these receivers have the ideal play style to target in standard scoring, be wary of their concerns and what could prevent them from hitting WR1 numbers.

Now since you don't get points per reception in standard leagues, many receivers lose their appeal. Receivers that are good for close to 100 receptions each season, but don't produce many touchdowns, are not the most ideal to draft in standard. Examples of these receivers are Jarvis Landry, Julian Edelman, Golden Tate, and Emmanuel Sanders, all of whom are in the bottom five in our standard rankings. These are players to avoid unless they fall far down your draft board.

PPR Scoring

The difference between PPR scoring and Standard scoring is that in PPR formats, running backs and receivers get an additional point for each reception. So if a receiver catches five passes for 50 yards, he gets 10 fantasy points in PPR formats, and five in Standard formats. This scoring system changes not only the importance of wide receivers and pass-catching running backs on draft day, but also the kind of receiver you're drafting.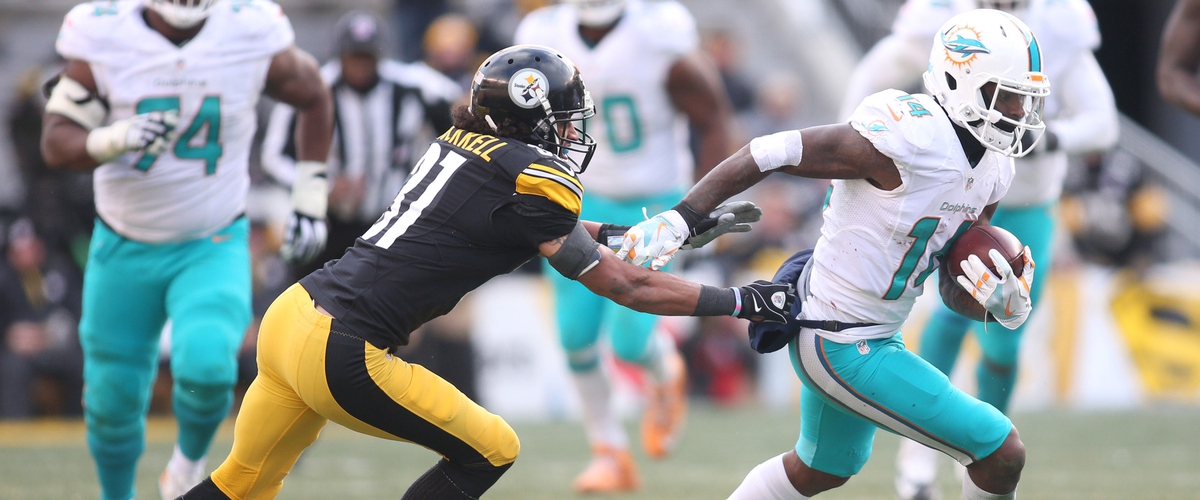 Even though big play receivers are good fits in standard formats, they aren't as valuable here in PPR scoring. It's the receivers who have a high number of receptions that jump up in value. Receivers that catch 100 passes a season award you 100 free points in this format. This bumps up the value of players like Jarvis Landry, Julian Edelman, Golden Tate, and Emmanuel Sanders. It also helps with receivers Doug Baldwin and Deandre Hopkins, who both catch touchdowns and make big plays, but also catch a lot of passes.

The major concern with the PPR receivers listed above is that they aren't great touchdown producers. This gives them a high floor each week, but not a consistent high ceiling. However, this value is still very important, as being able to pencil in 15 fantasy points a week from a receiver like Landry or Edelman is definitely useful.

This format hurts big play receivers that only catch three or four passes a game, but they are deep passes. This includes receivers like Brandin Cooks, Sammy Watkins, and Allen Robinson. Brandin Cooks could be used as a big play threat and an over the middle hybrid under Bill Belichick. However, we won't know more about this until training camp, so for now we can only guess. In addition to Watkins' injury history, he's traditionally been a big play threat, and is risky despite the lack of receivers in Buffalo. Allen Robinson has had most of his success when the Jaguars are behind, but their additions on defense and drafting Leonard Fournette might limit his potential. These are receivers to be cautious of, especially in PPR format.

One Final Note

To sum everything up, I just wanted to list out the concerns for each receiver going in rounds three and four. Take this information into consideration as you like, but these are all concerns that experts are seeing in these players.

Amari Cooper, Oakland Raiders: Only totaled 21 combined fantasy points in standard scoring over his last four games. Cooper is the least of our worries, and should have a big year.

DeAndre Hopkins, Houston Texans: Quarterback will be another issue, but it can't get much worse than Brock Osweiler. The Texans also have one of the most complex route trees for receivers, that can confuse both the receiver and the quarterback.

Doug Baldwin, Seattle Seahawks: Definitely was inconsistent week in and week out, which can be contributed to Russell Wilson's injury. Seahawks are also always a second half team, so he should be an interesting buy low candidate at some point.

Jarvis Landry, Miami Dolphins: Great PPR receiver but not a great touchdown producer.

Demaryius Thomas and Emmanuel Sanders, Denver Broncos: There is still a tough Quarterback battle between Trevor Siemian and Paxton Lynch. These receivers are so good that they will still produce, especially if the run game struggles again.

Julian Edelman, New England Patriots: The lack of touchdowns and the number of weapons in the offense is concerning, but he's still a favorite of Tom Brady.

Brandin Cooks, New England Patriots: An elite receiver, but we're not sure how he'll be used by Belichick. High ceiling but a fairly low floor.

Golden Tate, Detroit Lions: Lack of touchdown production, but with Anquan Boldin gone this should go up. Tate also has a really tough schedule early on, so he might be a great buy low candidate.

Michael Crabtree, Oakland Raiders: Touchdown count might come down a bit but no big concerns other than not being the WR1 in the Oakland offense.

Alshon Jeffery, Philadelphia Eagles: Even though Jeffery could be huge for Carson Wentz and this pass heavy offense, he has only played 21 games over the last two seasons, so injury is the biggest concern.

Keenan Allen, Los Angeles Chargers: Allen absolutely has WR1 talent, but he's only played half a season over the last two years.

Allen Robinson, Jacksonville Jaguars: Robinson gets most of his points when Jacksonville is losing, but their additions to defense and drafting Leonard Fournette should hurt his value.

Sammy Watkins, Buffalo Bills: Watkins is in one of the best situations in the NFL if he can just stay healthy.