2019 Fantasy Football Busts and Under performers WR Edition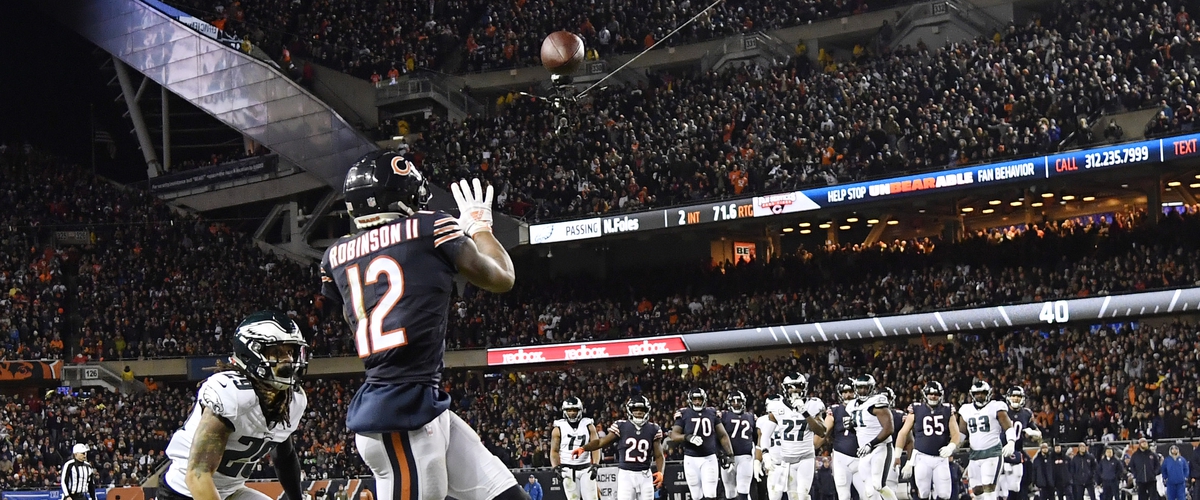 This series of articles will be controversial and many of you may not like what I have to say about these players. However, I expect these players to significantly under perform where I expect them to be drafted.
Allen Robinson II WR, CHI (ADP 40-50, WR 18-23)
This is around the same area that Robinson was drafted last year in fantasy. Robinson finished the 2018 season as the 42nd receiver based on half ppr scoring. Robinson only played 13 games this season, however his production in those games don't justify him going this high in drafts. However, Robinson played very well in the playoffs of the NFL this season and is going to be a reason why he is overdrafted in fantasy. Robinson is a very talented WR, but he plays with an inaccurate QB, Mitch Trubisky, who will likely cost Robinson some points in 2019 as well. The Bears offense and Matt Nagy use a good amount of weapons and they spread the ball around well, in 2018 Robinson received on average 7.2 targets per game, but only averaged 4.2 receptions per game. I expect Robinson to be slightly better next season but he shouldn't be taken where the current projection has him.
Overall: I expect Robinson to be around the 30th WR in fantasy for 2019 and expect his numbers to improve slightly over his 2018 campaign. However, he simply can't be a mid-to-late WR 2 when he only averages 4 catches per game. Robinson only had 4 TDs last season and I'd expect that to just about double however, even with that improve he should not be a WR 2. I would take Robinson in the mid 6th round to mid 7th round (ADP 70-80) as an WR 3/flex option that has solid WR 2 upside.
Corey Davis WR, TEN (ADP 40-50, WR 18-23)
I think Davis is a good young receiver who will continue to get better as his career progresses, however; I don't see him living up to his 5th overall pick potential, and don't think he's worthy of being a mid-to-low WR 2. Davis finished this season as the 26th WR in half ppr, with 112 targets for 65 receptions for 891 yards and 4 TDs. Davis averaged 7 targets per game, and caught about 4 catches per game. Again the same argument for Robinson is being made for Davis, a team's #1 receiver who is only catching 4 passes per game, and average around 15 yards per catch. Davis also suffers from his QB, Marcus Mariota, who over his brief career as shown to not be a great passer.
Overall: I would put Davis in the same area as Robinson, around WR 30 this season. I think he should be considered a WR 3/flex option that has huge play ability. Davis in 2018 had just 4 games over 10 points, but those games were worth 29.6 points, 23 points, 21.5 points, and 12.9 points. Obviously, Davis is highly volatile in fantasy. I would use a late 6th to late 7th round pick on Davis (75-85), slightly lower than Robinson simply because he is very inconsistent, which may not be his fault.
Tyler Lockett WR, SEA (ADP 50-60, WR 20-25)
I think Lockett will be a common player among regression candidates for 2019. This has nothing to do with Lockett, who is a big play waiting to happen and adds the possibility of a punt return TD anytime the ball comes his way. However, Russel Wilson's passer rating when he targeted Lockett was perfect this season (158.3), which is almost impossible to repeat. I expect Lockett's regression to be due to a couple of factors, the fact that his 2018 season was highly effiecent for a big play receiver, and the reemergence of Doug Baldwin who wasn't 100% for most or all of the 2018 season. I wouldn't be surprised if the Seahawks involved TE Will Dissly who was an incredible fantasy TE at the start of 2018 before he got injured or TE Nick Vannett who was not used often in 2018, but played fairly well.
Overall: I expect Lockett to regress from his great 2018 season, but not as much as the other 2 receivers in this article. I would draft Lockett in the mid 5th round to mid 6th round (ADP 60-70) which isn't far off of his projected ADP, but I think he may creep up the draft boards as we get closer to the 2019 fantasy season. I think Lockett will be a low-end WR 2 who can have huge games. I expect Lockett's receptions and yardage to remain similar to this year, but his TDs will likely drop to around 6-8 from his career high in 2018 of 10.
---