Top Ten Moments in the Career of Jay Cutler...
The culmination of Jay Cutler's NFL career was absolutely fitting. What it lacked in appreciation and apprehension, it made up for in other facets. After eleven seasons, 32,467 yards, 208 touchdowns, and a vast array of memories good and bad, it's safe to say Cutler won't see his name in Canton's Hall of Fame. Regardless, it's amazing the level of regard (or lack thereof) that Cutler got for his play. The player turned analyst has quite the legacy to consider, even for a single trip to the Pro Bowl and a lone Playoff win. Since the topic hasn't seemed to come up whatsoever, let's go into the vault, and look at the top ten moments in the career of #6.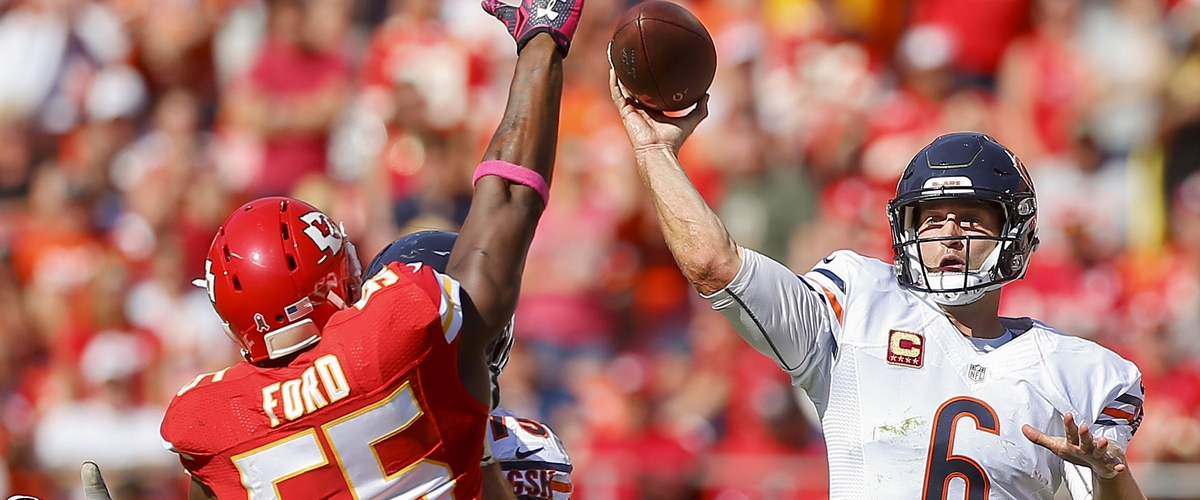 #10: Big Man on Kansas - October 11th, 2015 - Week 5 at Chiefs --- The 2015 season is widely believed to be the best in the career of Jay Cutler, and rightfully so. Cutler's ability to lead the Bears down the stretch in close games was incredible. One week after leading a game-winning, clutch-as-ever charge against the Raiders, Cutler was back for more, leading a game-winning, 8-play, 67-yard drive, culminating in a 7-yard TD - with plenty of dramatics - to Matt Forte, leading to an 18-17 comeback.
What makes this game so much more special is the storyline of it. Absolutely nothing went right for the Bears for the first 53 minutes of the game. They trailed 17-6 with no semblance of an offense prior to a blocked kick by Pernell McPhee. As we learned on one fateful afternoon in Kansas City, time has nothing on #6. Without his top two wide receivers, on the road against a team that finished 12-4, Cutler sailed a 22-yard beauty to Marquess Wilson, then returned for another score with just 23 seconds left. In perfect Cutler form, he proceeds to drop the snap, have to scramble to pick it up, and still finding Matt Forte for the dagger in all the same motion. Can you say clutch? I know I can.
#9 - The Cutler-Copter? - October 4th, 2009 - Week 4 vs. Lions --- Even in his first season after leaving the Denver Broncos, Jay Cutler couldn't help but give us one more John Elway-like moment. During a 48-24 demolition of the Detroit Lions, Cutler was flushed out of the pocket and forced left into a sea of Lions defenders. With only a single yard separating #6 from six points, Cutler made a play that lives in the hearts of Bears fans to this day.
While most QBs would slide, Cutler elected to literally jump sideways, getting his touchdown by all means necessary. Forget that NFC Championship Game - Cutler's willingness to put his body on the line for the sake of the team was underrated. The play helped guide the Bears to a (3-1) start that season.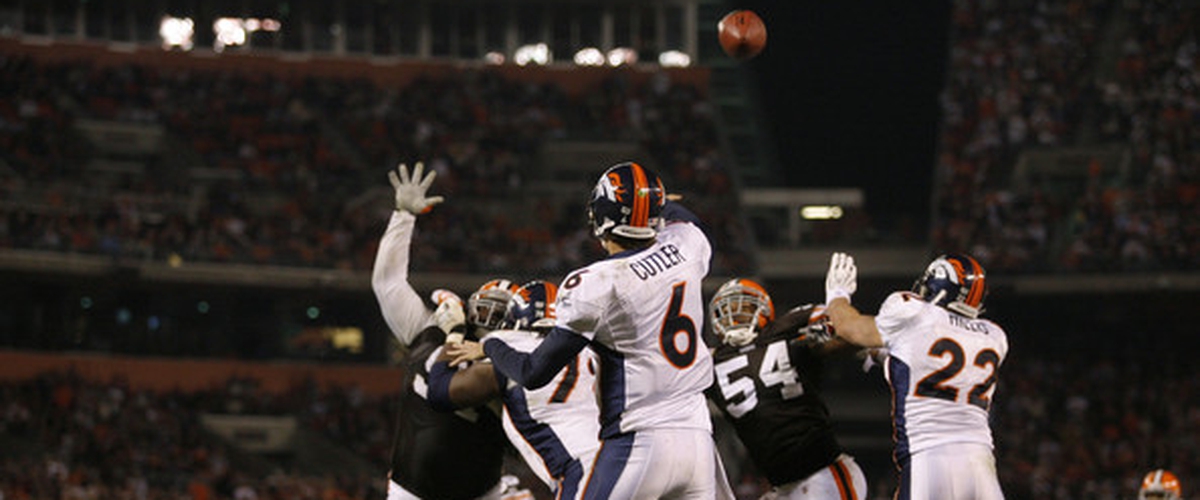 #8 - The Drive Pt. 2 - November 6th, 2008 - Week 10 at Browns --- Once again a time, Jay Cutler was the future of the NFL. This game was one of the reasons why. Just four days after a game against the Dolphins, Cutler and the Broncos were caught on a short week against a decent Browns team. Fighting to get over .500, it was a must win game for sure.
To say that Cutler saved his best for the bright lights would be an understatement. After falling behind 23-10 in the third quarter, Cutler loaded up his cannon arm, and put the team on his back. The highlight play here was a 93-yard touchdown pass to Eddie Royal. On the night, Cutler finished 24-of-42, 447 yards, to go with three touchdowns and an interception. There would be no faltering under pressure on this night. This remains Jay's highest yardage total, and his three fourth-quarter scores ended him Player of the Week honors. All in all, it was an absolute clinic from the three-year QB.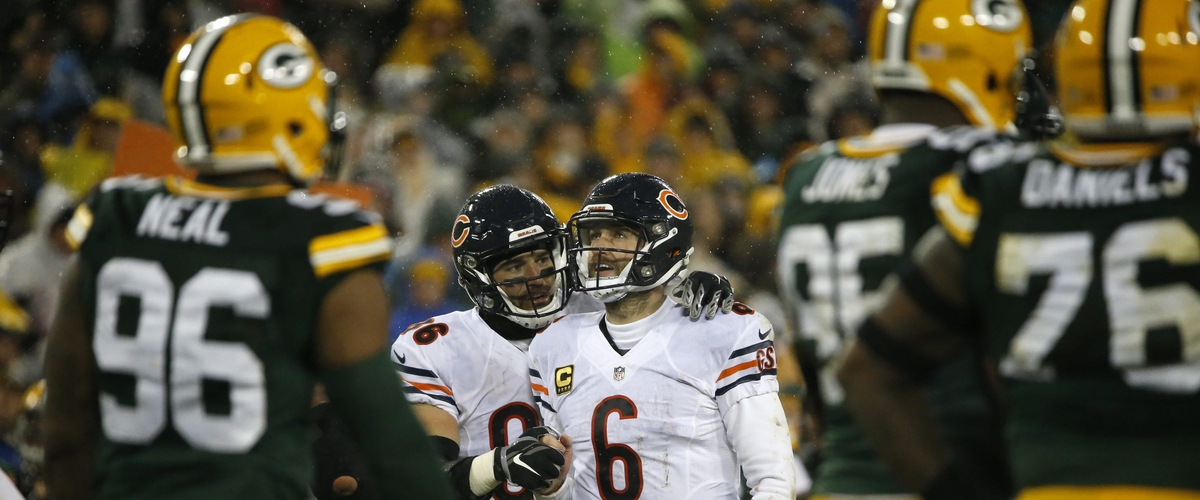 #7: Spoiling Favre Night - November 26th, 2015 - Week 12 at Packers --- The creativity of the Chicago Bears certainly can't be questioned. Under the leadership of Jay Cutler, they'd seemingly found new ways to lose to the Green Bay Packers. Lambeau Field, specifically for Cutler, had become the house of horrors. In fact, the year prior, they'd lost 55-14, and heading into this game, Cutler's record at Lambeau Field was 0-4, sporting a QB rating of 41.1 with a TD-INT ratio of 3:11.
That being said, on Thanksgiving Night in 2015 - Brett Favre Jersey Retirement Night - Cutler was anything but the prototypical gunslinger. With a chance at getting to 5-6 hanging in the balance, Cutler actually outplayed Aaron Rodgers. Even if just for one night, we were finally satisfied with Cutler. The coming weeks weren't nearly as promising, but no one can take away this moment from the Cutler fans.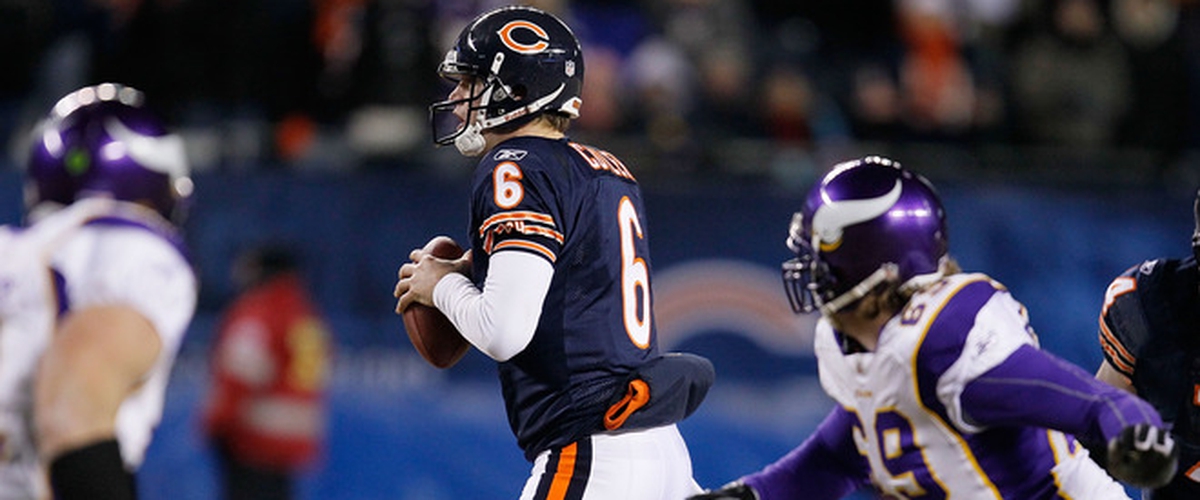 #6 - Setting the Tone - December 28th, 2009 - Week 16 vs. Vikings --- Next up, we go from Jay Cutler ruining 'Brett Favre Night' to Jay Cutler ruining Brett Favre's night. Week 16's Monday Night Football showdown was supposed to be somewhat of a coronation. Led by Favre and Adrian Peterson, this was supposed to be the night that the Vikings secured the #1-seed in the NFC. To this day, Vikings fans blame this game for the reason they missed out on Super Bowl XLIV.
Coming into this game, I'll never forget the look of Cutler's stats during the 2009 season. 19 TDs compared to 25 INTs. He'd saved his best for last, apparently, going 20-for-35, 273 yards, and 4 TDs. The Bears definitely weren't a Playoff team, finishing the season 7-9. Still, this game put Chicago on the fast track to success for the 2010 season. I remember thinking that following this performance, we'd be used to seeing Cutler win primetime shootouts for years to come. That's a different story, for a different day.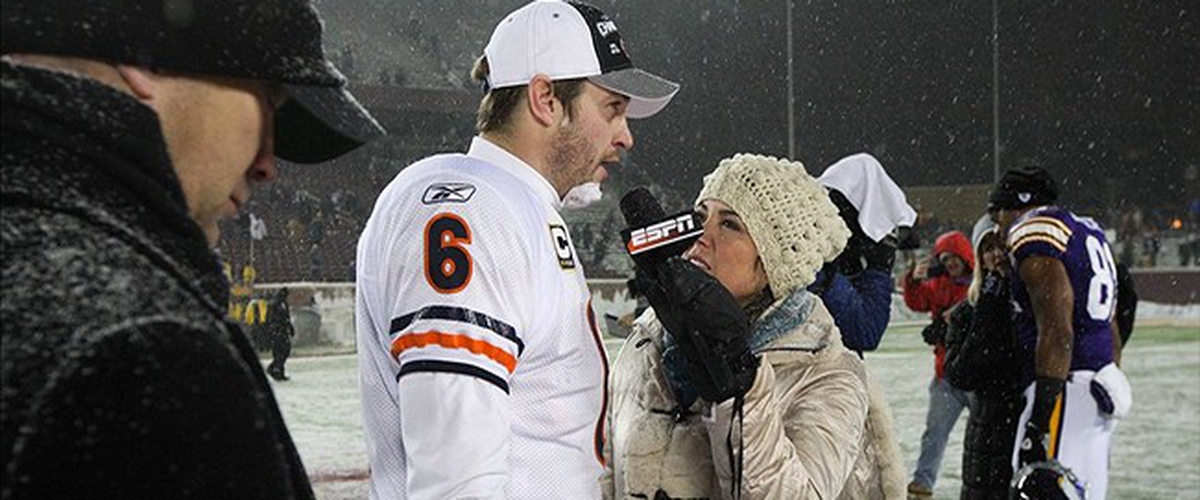 #5 - Securing the Crown - December 20th, 2010 - Week 14 at Vikings --- By now, you'd think this blog was made by a Brett Favre hater, but this is the last one, I promise. One year later on Monday Night Football, Jay Cutler secured his first NFC North Division Title in a 40-14 rout of the Vikings. This meant that for the first time in his career, his season would extend to the Playoffs.
The storylines of the game were dominated by the unofficial end of Brett Favre's career, thanks to a hit from Corey Wootton, as well as the dominance of Devin Hester. Somewhere along the way, Cutler quietly tossed for three touchdowns (and a pick) with 194 yards on 14-of-24 passing. We all know how this solid season ended, but for a time, it looked as though Cutler and the Bears were legitimate title contenders, thanks to games like this.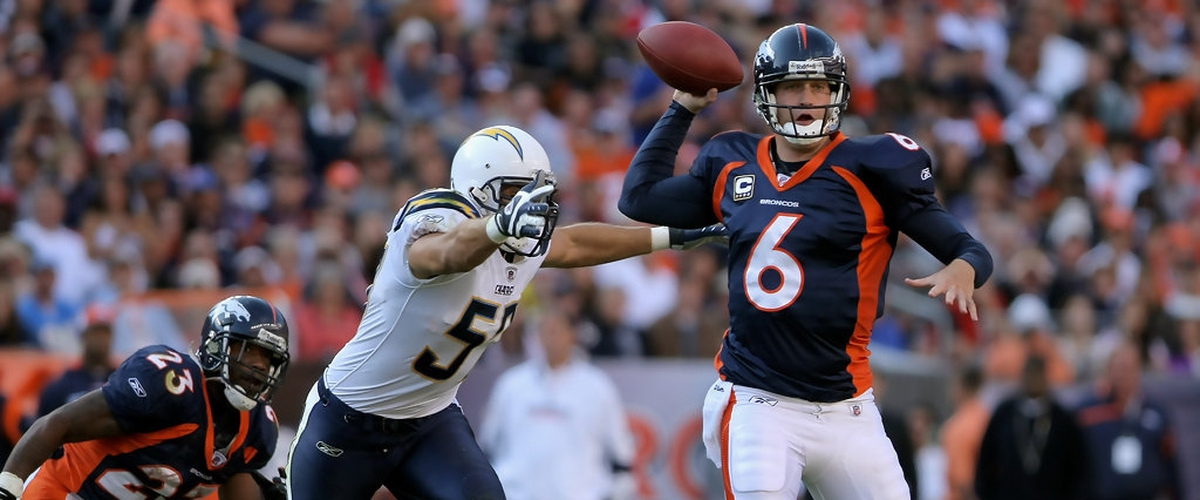 #4 - The Mile High Shootout - September 14th, 2008 - Week 2 vs. Chargers --- To this day, this remains arguably the best game in the career of Jay Cutler. After years of being pummeled by the LaDainian Tomlinson and Philip Rivers led Chargers, he'd finally came to battle in a pivotal, early season AFC West matchup. For the time being, he'd answered questions regarding if he were ready to take off in his third season.
To combat 38 points from the San Diego Chargers, Cutler came into Invesco Field with guns a blazing. His final line on the night: 36-of-50, 350 yards, 4 TDs, and 1 INT. The coaching staff put full trust in their young QB, and he delivered. The best moment of it all, after trailling 38-37, Broncos coach Mike Shanahan elected to do for a two-point conversion. With the game in the hands of Cutler, he sent the Broncos to a 39-38 victory. It probably helped Cutler to have greatest weapon, Brandon Marshall back for 18 catches, 166 yards, and a touchdown, but no one can take away the magic Cutler created this afternoon.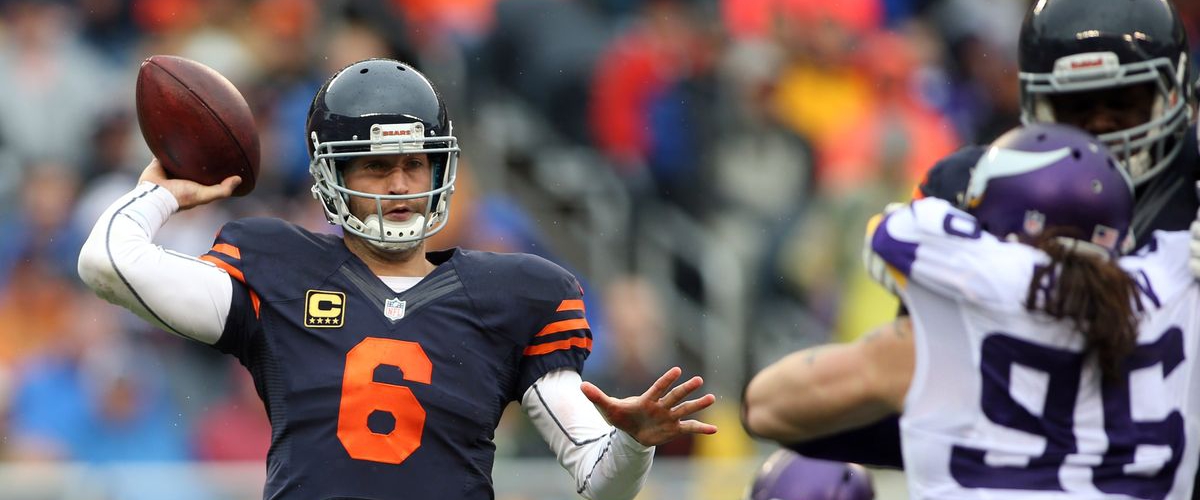 #3 - Mr. Fourth Quarter - September 15th, 2013 - Week 2 vs. Vikings --- Everyone remembers how poorly the Marc Trestman era in Chicago was executed. Of course, the disloyalty, lack of control, and late-season deficiencies will define Trestman's tenure, but what goes forgotten is how special the duo of Cutler and Trestman worked at first. After the Bears roared out to an impressive 3-0 start while averaging 31.6 PPG, it looked as if Cutler had finally found a coach to match his psyche.
Week 2 was a prime example of that, as the Bears and Vikings met up for a crucial NFC North matchup. The game had gone back-and-forth, with Cutler throwing his mix of good and bad into the deck. In the end, the game rode on one play. Cutler, who'd began to display his insane clutch ability, hit Martellus Bennett for a game-winning 16-yard pass to put the Bears up 31-30, leaving little to no time at all for a comeback. After the game, Cutler was lauded for his poise and calmness in an otherwise jittery huddle, earning the nickname "Mr. Fourth Quarter" from estranged teammate Brandon Marshall.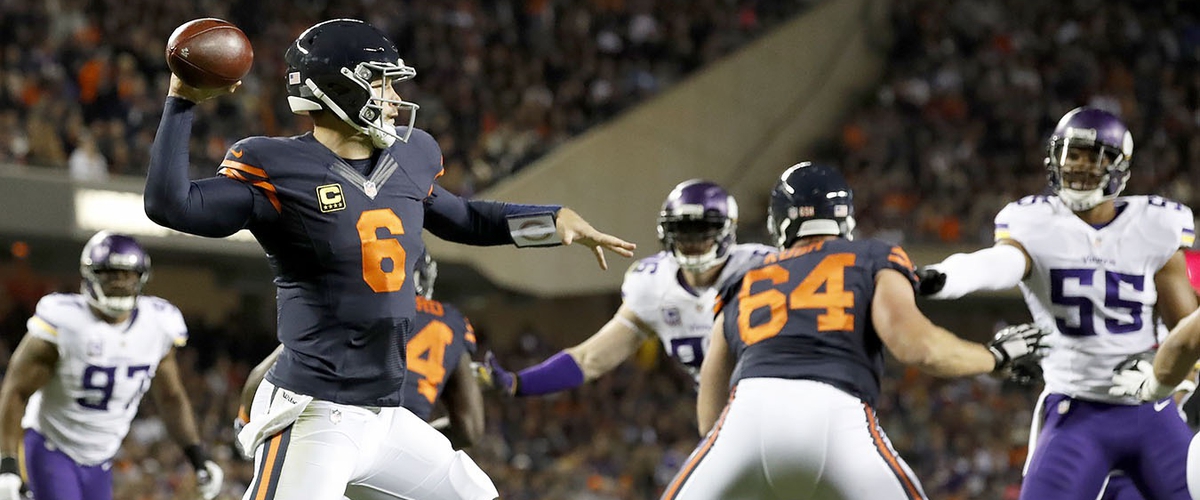 #2 - Closing the Curtain - October 31st, 2016 - Week 8 vs. Vikings --- If it isn't evident by now, Jay Cutler has had some sensational moments against the Minnesota Vikings. Unbeknownst to many at the time, this would be the last home game in the career of #6. In a 20-10 victory, Cutler went out the right way, going 20-of-31, 252 yards, and one TD score. After a few trigger happy decisions in the early goings, Cutler started to get into his groove.
The way he was playing he was playing behind a makeshift line against an elite (at the time) NFC contender, Cutler provided fans with one more treat of fool's gold. At the time, the Bears were 2-6, and fans were clamoring on about running the table this, and making the Playoffs that. Obviously, it wasn't meant to be, and Cutler's season was over less than a month later. It'd seemed this game was either going to save Cutler's chances of staying in Windy City or provide a strong audition for others. Neither of those happened, but at least Cutler's final Soldier Field performance was a positive one.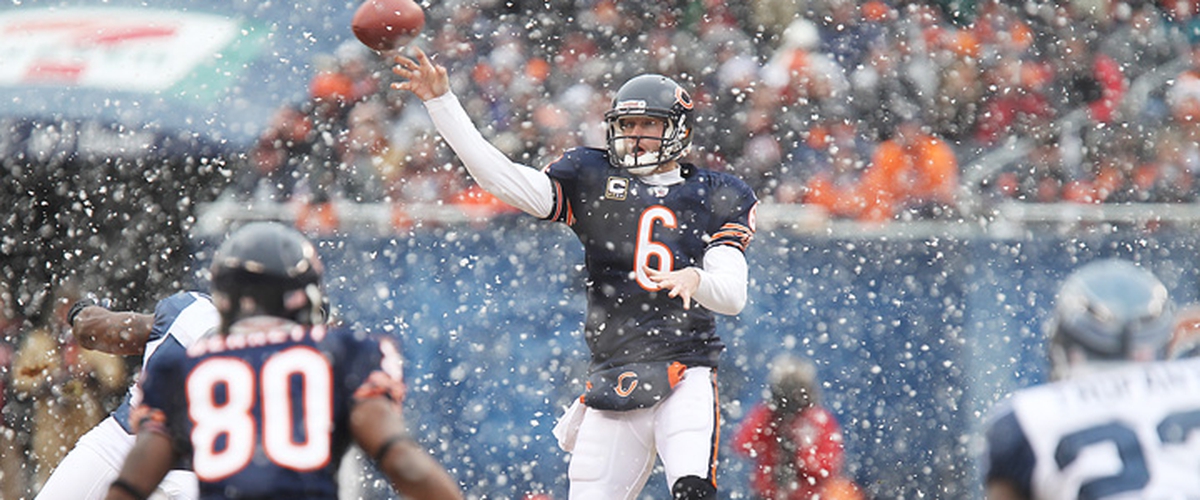 #1 - Don't Talk About Playoffs! - January 16th, 2011 - NFC Divisionals vs. Seahawks - Somewhere in the vault of special moments in Jay Cutler's career lies this very moment. For players, there's nothing more special than Playoff sucess. Even if he didn't have the quantity of production he desired, quality was there in the form of a dominant 35-24 shellacking (don't let the score fool you) of the Seahawks.
Cutler accounted for an afternoon that saw him finish 15-of-28, 274 yards, and 4 TDs (two rushing and passing). He became the second QB in history to have two rushing and passing scores in a Playoff game. Forget about what happened in the next week. There were absolutely no jitters or signs of nervousness for Cutler in his first Playoff game, and while it is sad that this is the lasting Playoff memory for Cutler, it is arguably his greatest moment in his career.
So that will do it for this one. I had quite a blast writing this blog over the course of two days. Thank you for the support, and I'll see you in the next one. This has simply been sports through the mind of an 18-year old fanatic. Any feedback, negative or positive is welcomed. Have a great day!
Melo, out.
---