Playing GM San Francisco Giants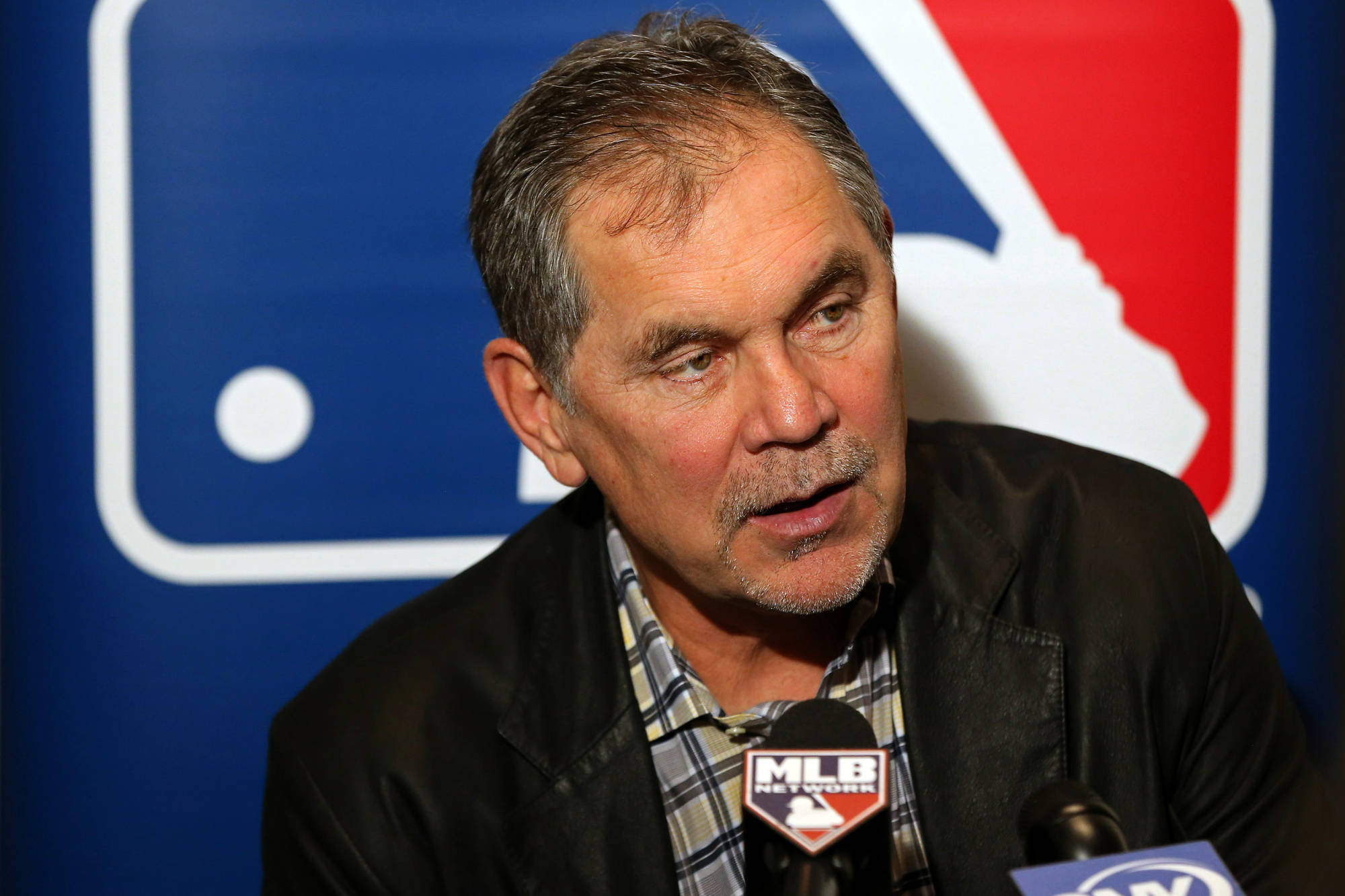 Bruce Bochy during an interview

Geoff Burke-USA TODAY Sports

The San Francisco Giants in 2017 much resemble that of 2016, their biggest improvement being the addition of Mark Melancon. Considering the Giants led the league in blown saves last year, the bullpen was considered their biggest weakness. If the Giants began the season today, the starting lineup would consist of Buster Posey, Brandon Belt, Joe Panik, Brandon Crawford, Hunter Pence and Denard Span. They all have locks on their positions all but Span will all be there for the foreseeable future. The starting pitching staff is essentially set with Madison Bumgarner, Johnny Cueto, Jeff Samardzija, Matt Moore and either Matt Cain or Ty Blach in the 5 spot of the rotation. The bullpen - with the addition of Mark Melancon - contains Hunter Strickland, Josh Osich, Cory Gearrin, George Kontos, Derek Law, Will Smith, and Steven Okert. The questions for the Giants are third base and left field; they'll trot out Eduardo Nunez and a platoon of Mac Williamson and Jarrett Parker, respectively. Today I am going to make some theoretical moves to fill these holes. Understand that I am simply making moves that I believe would be good for the Giants. In no way am I saying these are going to happen or even likely to happen.

Move Christian Arroyo to Third Base

The Giants situation is peculiar to say the least. The Giants farm organization consists of stud middle infielder: Christian Arroyo. He could be ready for the big leagues as soon as next season. My first move would be to move Christian Arroyo to third base. With Brandon Crawford and Joe Panik remaining at the middle infielder spots for a very long time, the only open spot on the infield is third base. The other option would be to trade Christian Arroyo, however holding on to Arroyo would give vast flexibility to the middle infield spots and third base. Arroyo would be the future of the Giants at third base. There is another position that Arroyo could fill in the future, which brings me to my next move.

Trade Ehire Adrianza for Cash

Ehire Adrianza is a young defensive shortstop with little to no offensive ability. The Giants have other options to fill the backup shortstop role, namely Kelby Tomlinson and recently acquired Jimmy Rollins. Since Tomlinson is already on the roster, this would open the door for the long-time Phillies second baseman to make the roster and assume Adrianza's position. Having the veteran shortstop on the roster and in the clubhouse, would be a huge boost. Rollins has seen just about everything, and knows how to win a championship. A rebuilding team like the Phillies would likely take a shot on Adrianza for 2-3 million dollars because of his youth and defensive ability. The money added to the budget would allow for a bigger move to occur and let Christian Arroyo into the show after Jimmy Rollins retires.

Trade Jarrett Parker, Heath Quinn, and Chris Shaw for Todd Frazier

Trying to figure out if I was going to upgrade left field or third base was difficult. Once I decided on third base, it was difficult to decide whether to go all in on a trade or sign a cheap free agent. I eventually decided to trade Jarrett Parker, Heath Quinn, and Chris Shaw for Todd Frazier. Though Frazier's batting average doesn't excite me (a career .250 hitter), Frazier also averages 30 homeruns a season along with another 12 stolen bases a year; 2016 was one of the better years of his career: 40 homeruns, 98 RBI's, 64 walks and scored 89 runs - all of which are career highs. He also stole 15 bases - his second most in a season. Frazier has good situational hitting; he was 5th in the AL last season with 7 sacrifice flies. He also had only 14.8 at bats per homerun: 8th in the AL. It's a fair bet that Frazier's numbers would drop in the pitcher-friendly AT@T Park. However, the Giants were one of the worst teams in the league last season when it came to hitting the long ball. Frazier can hit as high as .273. Adding his 30 homeruns, he has an all-star campaign. The Giants would be trading one of the members of the left field platoon: Jarrett Parker. In 63 games, last season Parker hit .236 with 5 homeruns for the Giants. However, you don't have to look far to see his potential. In 2015, Parker made the minor-league all-star game batting .283 with 23 homeruns 74 RBI's and 20 stolen bases in 124 games. Given the opportunity, Parker could very well be a quality player at the big-league level.

The next man sent to the White Sox is the Giants' 10th overall prospect: Heath Quinn (minorleaguebaseball.com). In 2016, the 21-year-old hit .337/.423/.571 with 9 homeruns, 26 walks, and only 50 strikeouts in 205 at bats for the Northwest league. Quinn continued to rake in High A when he went 6/17 in four games. Rated with lots of raw power and a great throwing arm, Quinn's estimated time of arrival in the big leagues is 2019: just in time for the massive free agent class on which the White Sox could build.

Finally, the last - and one of the more promising – prospects: Chris Shaw. In between High A and Double A Shaw batted .267/.335/.484 with 21 homeruns. His power grades out higher than Heath Quinn, and he has an above-average throwing arm. However, he is largely considered a poor defender; it makes an A.L. team that much more appealing. If Shaw's walk rate continues to improve by his estimated 2018 arrival, he could end up being the next dominating DH.

Though the lower moves are more likely than the blockbuster trade, we've all seen crazier things happen in MLB. Todd Frazier would take over at third base and Eduardo Nunez would move out to left field. It would complete the Giants lineup while still leaving a path for Christian Arroyo to the big leagues. These moves would set up the Giants for current and future success. Let the debate begin.

Written by Jacob Taylor. Edited by Rachael Vega.



---