FullerMetrics Final 2018 NFL Mock Draft - 1st Round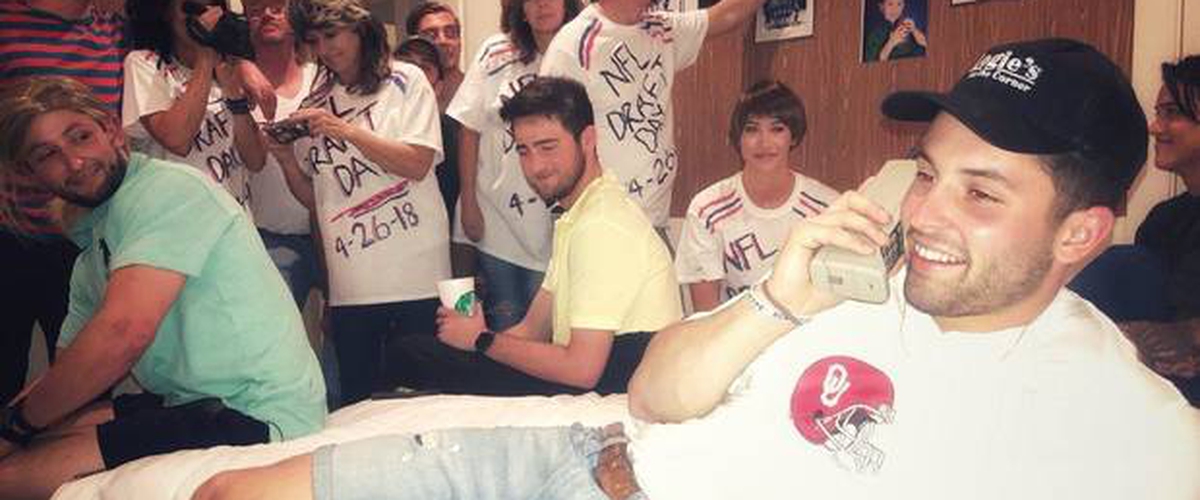 Baker Mayfield did a fantastic job of recreating Brett Favre's infamous draft day photo, but he'll likely already do something Brett Favre didn't in his career: go #1 overall. What? Yes, Baker Mayfield is the most likely to go #1 overall. A while back, I believe it was on my second mock, I pointed out that John Dorsey was openly a big fan of Baker, but I didn't think it meant he would take him at #1. Sources all over the league, many of which funneling to Adam Schefter, claim he's the consensus top pick as of this morning. I don't know what Cleveland did to suddenly jump the Sam Darnold train, but I'm going to trust the dozens of day-of sources. Like Mock Draft 4.0, I'll submit a mock draft with no trades projected. Well, since that obviously won't happen, I'll make one single trade. With trades included, the odds of actually predicting both trades and picks correctly is simply inconceivable. Hell, this year is as likely as any year to be a total crapshoot for people's mock drafts. Well, with that positivity, let's take one last crack at it...
1. Cleveland Browns: Baker Mayfield, QB, Oklahoma
I can't believe I'm actually typing this, but Baker Mayfield is the most likely #1 pick. The under-sized, small-handed Quarterback is the top overall pick. I have him at #26 on my Big Board, so that shows how little faith I have in Mayfield becoming a franchise Quarterback. Wait, didn't the Brown draft a Heisman-winning, under-sized Big 12 Quarterback with character issues already? Good luck, Cleveland.
2. New York Giants: Saquon Barkley, RB, Penn State
Rumor has it GM Dave Gettleman actually came to his senses and now wants to take an instant 1,000-yard rusher over a Quarterback with plenty of question marks. The front office essentially got rid of everyone involved with the Eli Manning Week 16 benching fiasco, showing they have confidence in Eli Manning for the near future. I'm assuming Gettleman & Co. doesn't see their next franchise gunslinger at the top of the board, so Barkley is a fantastic choice.
3. New York Jets: Sam Darnold, QB, USC
They traded up to take a Quarterback, and while I've had Josh Rosen slotted here throughout most of the draft process, why wouldn't they take Sam Darnold if he's still on the board? They have Teddy Bridgewater and Josh McCown, so Darnold can play through his mistakes with confidence that the Jets at least have other veteran short-term options. I mean, if they still like Josh Rosen here, by all means, but I'm not as high on a player with a lower ceiling who also hasn't stayed healthy for three straight seasons, and the Jets shouldn't be either.
4. Cleveland Browns: Bradley Chubb, Edge, North Carolina State
I originally had Minkah Fitzpatrick here, because getting a good deep option could free up Jabrill Peppers to play as an in-the-box Safety, which is best for his skill set. However, Bradley Chubb has emerged as the unanimous best defensive prospect in the draft, and I'm sure John Dorsey is salivating pairing Myles Garrett with Bradley Chubb.
5. Buffalo Bills (projected trade from Denver): Josh Allen, QB, Wyoming
If Josh Allen is still on the board at #5, there's no way Buffalo and all their picks wouldn't jump at the chance. The Bills are known to love Allen, and he'll be given some flexibility next to A.J. McCarron on the depth chart. Denver is a good team that now has more draft picks to round out their talented slot. It's a win-win.
6. Indianapolis Colts: Quenton Nelson, G, Notre Dame
The Colts are just as good of a candidate to trade down as Denver, but the deed has been done. Quenton Nelson is by far the best player available, and their ideal pick Bradley Chubb is gone. Assuming Andrew Luck will be healthy enough to play for most of 2018, they want to do whatever they can to protect him and his shoulder.
7. Tampa Bay Buccaneers: Derwin James, SS, Florida State
While the Bucs have a need at Corner, their Safeties are Keith Tandy, Justin Evans and Chris Conte. None of those players are in-the-box playmakers, and Derwin James fills that non-existent spot right away. He's an absolute playmaker who gets to stay in state.
8. Chicago Bears: Roquan Smith, LB. Georgia
Willie Young, Pernell McPhee and Lamarr Houston are all gone, leaving a huge hole at Outside Linebacker. Roquan Smith steps in immediately as an incredible 4-3 Outside Linebacker. Tremaine Edmunds is also a very likely pick.
9. San Francisco 49ers: Tremaine Edmunds, LB, Virginia Tech
Minkah Fitzpatrick and Denzel Ward are still on the board, but Jimmie Ward and Richard Sherman are getting paid big time to lead those spots. There are a ton of legal and ethical questions swirling around Reuben Foster, and a suspension is likely to come. Tremaine Edmunds can instantly fill that Inside role in packages, and he's NFL ready wherever San Fran decide to play him.
10. Oakland Raiders: Mike McGlinchey, T, Notre Dame
This isn't the prettiest pick, especially with Minkah Fitzpatrick and Denzel Ward available, but it's the most functional. Inside Linebacker is probably their biggest need, but with Roquan Smith and Tremaine Edmunds gone, Rashaan Evans is a major stretch. Right Tackle is their second-biggest need, and Mike McGlinchey is the safest pick on the board. He's an instant starter and obviously a much younger, talented option over Breno Giacomini and the departed Marshall Newhouse.
11. Miami Dolphins: Josh Rosen, QB, UCLA
Ryan Tannehill isn't seen by many as a franchise Quarterback anymore. Josh Rosen is the most NFL-ready Quarterback who should give Tannehill competition right away and eventually give Miami the freedom to cut him. Nate Allen and Michael Thomas are out of contract, so Minkah Fitzpatrick makes sense here as well.
12. Denver Broncos (projected trade w/ Buffalo): Denzel Ward, CB, Ohio State
Aqib Talib is gone, meaning their best option next to Chris Harris and Bradley Roby is.... Tramaine Brock. Denzel Ward gives them a fantastic slot option, leaning behind Harris, a player with a very similar skill set. If they like a Tackle option, they could stretch for one too.
13. Washington: Vita Vea, DT, Washington
Washington desperately needs help inside with the run defense, and Vita Vea fills that need right away. This is a pick I've called for a couple months.
14. Green Bay Packers: Minkah Fitzpatrick, DB, Alabama
The Packers like Marcus Davenport a lot, and desperately need a young edge rusher, but Minkah Fitzpatrick is simply the most talented player on the board. Green Bay can use him in the slot, against big tight ends and in pretty much any package.
15. Arizona Cardinals: Lamar Jackson, QB, Louisville
Arizona will be tempted to take Calvin Ridley, but they're super high on Lamar Jackson and Sam Bradford can't possibly be their long-term solution.
16. Baltimore Ravens: Calvin Ridley, WR, Alabama
Calvin Ridley is debatably the best player on the board and the Ravens are trying to get as many talented weapons for Joe Flacco as possible. They like Mike McGlinchey, but he's gone.
17. Los Angeles Chargers: Da'Ron Payne, DT, Alabama
I've had this pick for awhile, and Corey Liuget's four-game suspension makes the Inside D-Lineman need even bigger.
18. Seattle Seahawks: Marcus Davenport, Edge, Texas-San Antonio
They'll take a long look at Josh Jackson, Jaire Alexander and Mike Hughes, but Marcus Davenport is a great get on the edge at #18
19. Dallas Cowboys: Courtland Sutton, WR, SMU
Courtland Sutton wasn't in my first round mocks from the past month, but Dallas cutting Dez Bryant makes this need, and this fit, a beneficial one for both parties.
20. Detroit Lions: Taven Bryan, DT, Florida
Detroit needs help across their D-Line, and Taven Bryan is a better overall prospect than any of the available Interior O-Linemen.
21. Cincinnati Bengals: James Daniels, G/C, Iowa
Cincinnati needs O-Line help as much as anyone, especially on the Inside, and James Daniels is a fantastic fit who can start right away.
22. Buffalo Bills: Rashaan Evans, LB, Alabama
Preston Brown is gone, leaving Matt Milano and Lorenzo Alexander as the only start-worthy Linebackers. Rashaan Evans is a great 4-3 weakside Linebacker fit who can also handle reps in pretty much any package Buffalo throws on the field.
23. New England Patriots: Kolton Miller, T, UCLA
Kolton Miller is by far the best true Left Tackle prospect, and New England hasn't replaced Nate Solder. Someone has to cover Tom Brady's bildspot, and the Pats wont let a 6'8" mauler pass them by on the chance he falls to #31.
24. Carolina Panthers: Will Hernandez, G, Texas-El Paso
This is a coin flip between Will Hernandez and receiver D.J. Moore, and they have yet to replace Andrew Norwell at Guard. Will Hernandez is one of my favorite players in this entire draft.
25. Tennessee Titans: Harold Landry, Edge, Boston College
I'm pretty sure I've had the Titans taking Harold Landry in every one of my previous four mock drafts, and it doesn't change in this one. Kevin Dodd looks to be a bust, and Derrick Morgan and Brian Orakpo are aging and entering their contract year.
26. Atlanta Falcons: Maurice Hurst, DT, Michigan
Atlanta really likes Taven Bryan, but Maurice Hurst is an All-American 4-3 Defensive Tackle who has cleared all of his recent medical tests. He looks to be ready to start right away, which is necessary after the Falcons let Dontari Poe walk and didn't replace him.
27. New Orleans Saints: Dallas Goedert, TE, South Dakota State
Hayden Hurst seems to be the most popular pick here, and while I agree with the position, I believe Dallas Goedert has solidified himself as the best Tight End in this class. If they like Mason Rudolph, they could give him a chance here.
28. Pittsburgh Steelers: Leighton Vander Esch, ILB, Boise State
Ryan Shazier won't play in 2018, but Leighton Vander Esch certainly will. He's ready to see starting reps right away, and his tackling form is as good as anyones in this class. Again, if they like Mason Rudolph, he's an option here.
29. Jacksonville Jaguars: D.J. Moore, WR, Maryland
Jacksonville parted ways with Allen Robinson and Allen Hurns, and they kept Marquise Lee and brought in Donte Moncrief. That may not be enough to help Blake Bortles look better than he really is for another season. D.J. Moore is a speedy do-it-all receiver that translates well as an immediate WR3.
30. Minnesota Vikings: Isaiah Wynn, G, Georgia
Assuming Mike Remmers stays at Right Tackle, Isaiah Wynn is an immediate replacement for now-retired Joe Berger. If for some reason they like Billy Price, he's an option. If they move Mike Remmers back to Guard, Connor Williams is a great Right Tackle value at #30.
31. New England Patriots: Mason Rudolph, QB, Oklahoma State
Mason Rudolph is as productive as any quarterback in this class, and while he's the sixth gunslinger to go, New England are known to like him and they don't have any other long-term options behind 40-year-old Tom Brady.
32. Philadelphia Eagles: Connor Williams, T, Texas
Many mock drafts have a Running Back going here, but Jason Peters and Lane Johnson are aging, injury-prone and expensive. Philly could go a lot of different directions with this pick, but Connor Williams is a great Tackle value at #32 and it's sensible.