FullerMetrics NFL Draft Big Board 1.0: Pre-Bowls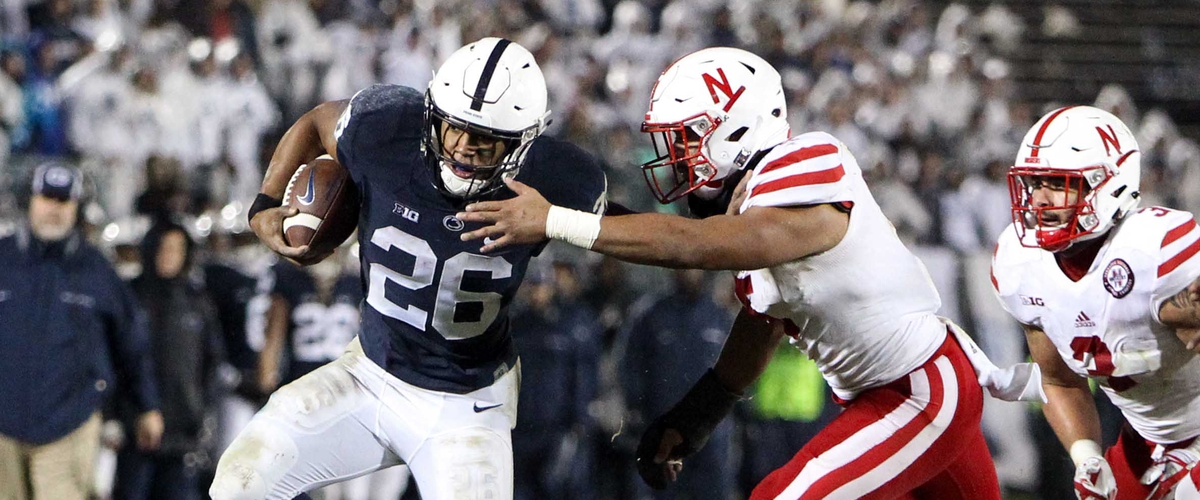 Now, before I dive in to the first big board for the 2018 NFL Draft, let's remember that this is a big board, not a mock draft. Just because I put a running back #1 (spoiler alert) doesn't mean I think he's the #1 overall pick. Big boards involve a combination of talent, current prestige, draft stock, and commonalities between other boards and mock drafts. I refuse to do a mock draft before we know where each team will actually pick. Sure, the Browns will end up with the #1 pick and the Giants are the heavy favorites for #2, but #3 could be the Colts OR the 49'ers, and it gets even messier the further down the draft you go. Let's stick to the big board for now. With it being pre-bowl season, some of these players (I'm looking at you Sam Darnold, Josh Rosen and Derrius Guice) might actually stick around past this year. At this point, if they haven't openly said they are coming back (i.e. West Virginia's QB Will Grier), then they are free game for the board. Let's go!
1. Saquon Barkley, RB, Penn State
Sure, I could put Josh Rosen or Sam Darnold here, the other two names in the #1 pick conversation, but as far as an actual football player, Saquon Barkley is by far the most all-around talented individual. Think of Leonard Fournette last season about this time, and look what he's put up so far in his rookie campaign. Fournette 2.0 right here.
2. Bradley Chubb, DE/OLB, North Carolina State
Once again, no QB here because a QB is only going #1 or #2 simply because that team needs it, not because he's good enough. Bradley Chubb sure is. Chubb is an explosive edge rusher with great versatility, a non-stop motor and NFL readiness on his side. He could (and will start) Day One of his rookie year, and it's hard seeing him outside of the Top 5.
3. Minkah Fitzpatrick, FS, Alabama
Minkah Fitzpatrick is a rangy playmaker that could also play shutdown corner if a team prefers it. Think of Jalen Ramsey 2.0, and he could very well go as high as Ramsey did last year.
4. Sam Darnold, QB, USC
Darnold has worse footwork and decision-making than UCLA's Josh Rosen and Wyoming's Josh Allen, but he might very well have the most potential (and he's more ready than Allen). Another year at USC could do him good, as all three first-round-lock throwers could return to college, but a potential #1 spot and crazy guaranteed money are likely enough for him to go pro early.
5. Josh Rosen, QB, UCLA
There will be major debate about who's the best QB out of Josh Rosen, USC's Sam Darnold and Wyoming's Josh Allen, but Rosen looks to be in first place before bowl season. Rosen is the most NFL-ready gunslinger in this year's draft, and while people may argue that Darnold and Allen have higher ceilings, they said the same about DeShone Kizer and Pat Mahomes in why they'd pick them above Deshaun Watson and look how their seasons have fared...
6. Quenton Nelson, G, Notre Dame
It's probably a big surprise seeing a Guard this high on a big board, but most current mock drafts have Nelson as a Top 10 pick pushing into the Top 5, and you have to be a pretty damn special Guard to be considered that high. Nelson is that good, as he's already blocking at an NFL 16-game starter level, and his 6'5" frame is perfect for the next level.
7. Josh Allen, QB, Wyoming
Enter quarterback #3. Allen has an absolute cannon of an arm, and scouts will drool over his 6'5" sturdy fram,e but he made a lot of dumb plays and put together a highlight reel more showing of a prospect than an NFL-ready Quarterback. Still, a team willing to coach him a bit (I'm looking at you, Denver) to get up to an NFL level might end up having a new franchise QB.
8. Derrius Guice, RB, LSU
It's still up in the air if Guice is entering the draft or not, but if he is, this explosive, speedy running back could easily go Top 10. The only runner not named Barkley likely to go in the first round, Guice won't run over people like Fournette did, but his speed and tackle-breaking abilities will carry over at the next level - if he can stay injury-free.
9. Calvin Ridley, WR, Alabama
Alabama runs a run-heavy offense, so his offensive stats might not look off the charts, but his speed and 16.2 Yards per Catch make him stand out as the best receiver in this class. His speed/acceleration combo with consistent catching ability make him a threat for any offense day one.
10. Arden Key, DE/OLB, LSU
Key is the best natural pass rusher in this year's draft, but his departure from LSU for "personal reasons" while only managing 4 Sacks on the year might drop him just outside of the Top 10. Still, he's a Top 10 talent with immediate Noah Spence comparisons.
11. Derwin James, SS, Florida State
James is one of those versatile defensive backs that will undoubtedly test well at the combine. Think of him as a better Obi Melifonwu that also can return. That combination of speed and playmaking ability will surely push him into the Top 15.
12. Connor Williams, OT, Texas
Williams is the best tackle in a relatively weak tackle class. His value stems from his ability to play both Left and Right Tackle at the next level right away. He'll push his way near the Top 10 come draft day.
13. Baker Mayfield, QB, Oklahoma
Debatably the biggest question mark of this year's draft, The Heisman winner has shown natural intangibles and leadership qualities that remind people of how every team passed on Russell Wilson in 2012. As scapegoat-like as the comparison may seem, there's a lot of Russell Wilson in the Oklahoma gunslinger.
14. Clelin Ferrell, DE/OLB, Clemson
Only a sophomore, there's a good chance Ferrell returns to Clemson next year, but if he decides to depart early, his recent performances showcasing his pass rushing ability and impressive work ethic have him sitting currrently as a mid-1st-Round lock.
15. Roquon Smith, LB, Georgia
With Roquon Smith, you get versatility. Whether a team runs a 4-3 or a 3-4, Smith can line up at any of the linebacker positions. Think of him as a more athletic Jarrad Davis with a strong case for a Top 15 selection.
16. Christian Wilkins, DT, Clemson
Wilkins has experience all over Clemson's D-Line, and he'll likely suit up best as a 4-3 interior lineman. His quickness and effective hands starting from the snap make him both a run-stopping and pass-rushing threat, a rare feat making Wilkins a Top 20 guarantee.
17. Denzel Ward, CB, Ohio State
Ward is simply a great man-to-man defender, and in a relatively feeble corner class, he's the best true corner on the board right now. He compares accurately to former teammate Gareon Conley, who's been an absolute disappointment in his rookie season for the Raiders. His ranking among a coveted position could easily get him in the Top 15, but his talent alone might not be Top 20 worthy.
18. Mike McGlinchy, T, Notre Dame
McGlincy doesn't offer much as far as an NFL ceiling goes, but his abundant experience and natural size enables him to be a plug-in baseline starting tackle his rookie year. That alone pushes him into the Top 20, injury-barring.
19. Harold Landry, DE/OLB, Boston College
Landry's 16.5 Sacks in 2016 led the entire nation, but an injury-filled training camp and regular season drops him down to the second half of the first round. Still, a team willing to gamble on an injury-prone defender (The Cowboys with Jaylon Smith) could benefit from his natural and consistent pass rushing ability.
20. Rashaan Evans, LB, Alabama
Evans wasn't on anyone's board before this year, but a stellar senior campaign has him rising up into the first round and possibly into the Top 20. He's as versatile as Roquon Smith; he just has much less tape and overall consistency proving it.
21. Ronnie Harrison, S, Alabama
Although Harrison has lined up as a Strong Safety more than any other defensive back position, many scouts see him bearing Pro Bowl Free Safety potential at the next level. His zone defense play and eye for the quarterback make him a first-round lock.
22. Josh Jackson, CB, Iowa
Jackson has the length, ball skills and playmaking ability to give him a run for the best natural corner in this draft. His 3 INT's against Ohio State made him jump up a whole round for some people, and if he tests well, he's got as good of a chance as making the Top 20 as any other corner.
23. Vita Vea, DT, Washington
Vea is 6'4". 346 pounds and uses that sumo-like frame to eat up blocks for the rest of the Washington defense every play. He's also flashed glimpses of quickness and freak athleticism, so if Vea has a really good combine, he could soar high up this board near the Top 10.
24. Courtland Sutton, WR, SMU
Speaking of soaring up boards, Courtland Sutton has gone from mid-range consideration to guaranteed first rounder. He may be the hottest rising player in all of college football not named Baker Mayfield, and if he has a good pro day and combine, he might be pushing the Top 10.
25. Orlando Brown, T, Oklahoma
The son of Orlando "Zeus" Brown, the Oklahoma Left Tackle has shown his natural run-blocking ability all season, suggesting he may fit even better in the NFL as a Right Tackle. Dropping some weight and, in turn, adding some quickness before the combine could solidify his first round worthiness.
26. Billy Price, G/C, Ohio State
Like his former teammate Pat Elfein, Price is a plug-and-play interior lineman. He's played starter all year, but most scouts agree he'll fare better as a guard at the next level. Similar to McGlinchey, he doesn't have a high ceiling by any means, but his readiness gives him legitimate first-round consideration.
27. Maurice Hurst, DT, Michigan
The consensus All-American Mo Hurst has put together a solid senior year, and his 6'2", 292 pound frame and skill moves demonstrate his pass-rushing ability. The biggest question is if he can transfer that to the next level, and that question will be the deciding factor on if he's a first rounder or not.
28. Lamar Jackson, QB, Louisville
28th overall might still be too high for Jackson. Obviously the former Heisman winner has natural scrambling gifts no other quarterback in this class can parallel, but his decision making and, sadly, his overall arm could easily keep him out of the first round. I'm giving him a chance going into his pro day and the combine; however, don't be surprised if this is the first and last big board or mock draft he ends up on.
29. Isaiah Oliver, CB, Colorado
Oliver's size and athleticism are first-round worthy, but his overall play has not showcased that level of talent. If he doesn't back up his physicality with good combine numbers, he's not getting into the first round.
30. Malik Jefferson, LB, Texas
Jefferson is an athletic sideline-to-sideline linebacker who shapes up well as a 4-3 outside linebacker. The Derrick Johnson comparison isn't completely unfounded, but there are still questions as his next level potential that could see him slip out of the first round.
31. Dallas Goedert, TE, South Dakota State
The best tight end in the entire draft is from the FCS program South Dakota State, and I've been watching him play for the past few years. His ceiling is high, and he could realistically become one of the best receiving tight ends in the league, but his complete disappearance when it's time to block keeps him as a bubble first rounder.
32. Taven Bryan, DT, Florida
There are about a half-dozen guys that could go in this thirties area deserving of #32, but I just watched film on Taven Bryan today and let me tell you, he's got a ceiling of Ndamukong Suh-level playmaking. This guy is a disruptor. A good combine and staying away from off-the-field issues would put him at good odds of hearing his name called in the first round.
Honorable Mention:
1. Sam Hubbard, DE, Ohio State
2. Christian Kirk, WR, Texas A&M
3. Mason Rudolph, QB, Oklahoma State
4. Da'Ron Payne, DT, Alabama
5. Donte Jackson, CB, LSU
6. Tremaine Edmunds, DE/OLB, Virginia Tech
7. Dorance Armstrong, DE/OLB, Kansas
8. Martinas Rankin, T, Mississippi State
9. Ben Banogu, DE/OLB, BYU
10. Marcus Allen, S, Penn State