FullerMetrics NFL Mock Draft 1.0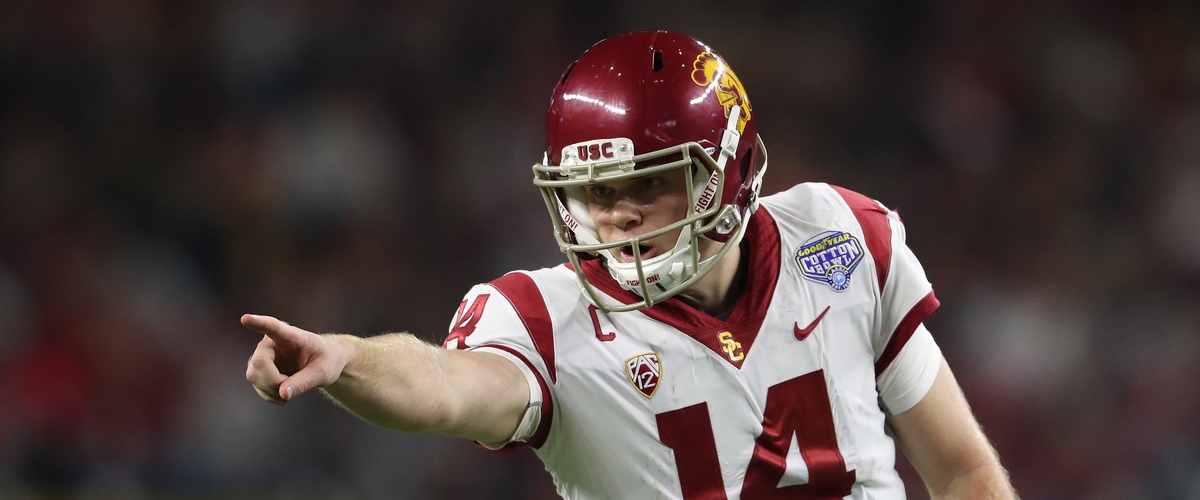 With the conclusion of an incredible Super Bowl performance proving the phrase "Defense Wins Championships" to be true once again, it's now officially the offseason. Enter draft season. Sure, there are free agents and coaching vacancies and probably a few Lions and Browns players being arrested, but it's basically draft season. With the draft order (minus a San Fran/Oakland coin toss) being officially set, it's time to take the Big Boards and put them to good use. Cleveland, you're on the clock....
1. Cleveland Browns: Sam Darnold, QB, USC
Other quarterbacks in this draft had better seasons and showed more NFL readiness, but for some reason, the current consensus is Sam Darnold is the top guy. Apparently UCLA's Josh Rosen disqualified himself by being, well, a Grade-A douchebag during Senior Bowl interviews. A possibly interesting twist here is the newest draft adviser for the Browns is Scot McCloughan, who openly said in October that he'd pick Baker Mayfield to run a franchise. If he has a good amount of influence on this pick, the six-foot Heisman winner could miraculously end up the top pick.
2. New York Giants: Josh Rosen, QB, UCLA
Many scouts believe Rosen is the best pure passer in this draft, and it's his questionable ceiling that is raising concerns. Well, and the fact that he's a dick. Still, the Giants are reportedly hot on him and he's a Top-5 talent regardless of his attitude. He's most likely the most NFL-ready gunslinger as well. If the Giants keep Eli Manning around , this pick could be a more developmental QB like Wyoming's Josh Allen, or even best-available RB Saquon Barkley. Right now, Rosen's still the man, and he gets his way by avoiding Cleveland.
3. Indianapolis Colts: Bradley Chubb, DE/OLB, North Carolina State
I could see Indy going one of two ways here. They could take Saquon Barkley, the best overall player in the draft, and truly round out their offense, or they could take the best defender in the draft in Bradley Chubb. Chubb is a multi-tool, NFL-ready pass rusher that could really do damage in the mediocre-blocking AFC South. The Colts finished 31st in Sacks last year, so Chubb is the bigger need.
4. Cleveland Browns: Saquon Barkley, RB, Penn State
The Browns need more playmakers on both sides of the ball, and they have two available here: RB Saquon Barkley and DB Minkah Fitzpatrick. New GM John Dorsey loves size, speed and athleticism, something Fitzpatrick definitely brings, but they're getting a new quarterback and what makes a young QB automatically better? A good running game. Barkley can start day one and contribute like recent Top 10 RB draftees Leonard Fournette and Todd Gurley.
5. Denver Broncos: Quenton Nelson, G, Notre Dame
Right now, I see Kirk Cousins landing in Denver, and if not him, I'm fairly confident John Elway would rather sign a guy instead of trying via the draft AGAIN (sorry Paxton Lynch, you're not the guy). One thing the Broncos haven't done well in a long time? Protect whoever's playing quarterback. Quenton Nelson is the best Guard prospect in a long, long time. If not Nelson, Minkah Fitzpatrick would be a good get here.
6. New York Jets: Baker Mayfield, QB, Oklahoma
Even if Josh McCown is brought back, he's not the quarterback to bring the Jets back to the playoffs. Bryce Petty completed less than half of his passes, and Christian Hackenberg hasn't seen a single snap in the two years since he was drafted in the second round. That leaves Josh Allen and Baker Mayfield. Allen's size and arm strength have scouts drooling, but Baker Mayfield is a downright winner. The combine might determine which of the two gets taken here, but after an incredible Senior Bowl week for Mayfield, he gets the nod.
7. Tampa Bay Buccaneers: Minkah Fitzpatrick, DB, Alabama
The whole Bucs defense could use some work, but any defender other than Minkah Fitzpatrick here would be a bit of a reach. Fitzpatrick is a lengthy, fast playmaker that can line up anywhere in the secondary. If Saqoun Barkley or Quenton Nelson drop to #7, they'd be taken, but the best player available also fills Tampa's needs.
8. Chicago Bears: Calvin Ridley, WR, Alabama
The Bears' have become the new favorite joke in Green Bay since Jay Cutler left the Windy City. I mean, they're so bad. When Josh Bellamy becomes your top red zone target? Mitch Trubisky deserves better, and he could get it if the Bears take the best receiver and best player overall here in Calvin Ridley. They also need help at corner, so Josh Jackson or Denzel Ward could get some looks here.
9/10. San Francisco 49ers: Josh Jackson, CB, Iowa
San Fran wins the coin toss in this scenario, but even if Oakland win, they have different interests in 2018. With Jimmy G as the new face of the franchise, their draft attention will likely go to the defense (again). Four of their last five first round picks have addressed their front seven, and with QB's like Jared Goff and Russell Wilson in their division, they need help at corner. Josh Jackson was arguably the hottest defender in the nation during the second half of the season, and his brightest moments were in the spotlight. His size, speed and playmaking ability make him the top corner over fellow Big 10 peer Denzel Ward. However, if San Fran has short term memory loss, they could take another edge rusher in Virginia Tech's Tremaine Edmunds or UTSA's Marcus Davenport.
9/10. Oakland Raiders: Roquan Smith, LB, Georgia
The Raiders need more playmakers on defense, and Roquan Smith is the exact type of player Jon Gruden loves: a hard-nosed, sideline-to-sideline disruptor. He seemed to be everywhere against Alabama in the National Championship, and looking through his other film, that trait was paralleled in every other game too. He's an every-down backer that could see an extremely high number of snaps in year one. It's hard to see anyone else going here, but if they did decide to go in another direction, Tremaine Edmunds, Marcus Davenport and Denzel Ward would be the front-runners.
11. Miami Dolphins: Josh Allen, QB, Wyoming
Miami is a tough team to predict. Is Jarvis Landry going to come back? Is Ryan Tannehill really the right QB option moving forward? Who's going to be their top back? What the hell is the plan on defense? Two guys that have landed here frequently in other mock draft, Quenton Nelson and Roquan Smith, are both off the board. The only other O-Lineman good enough to go this early is Texas's Connor Williams, and some would still consider that a reach. It may be a bit of a surprise, but Josh Allen is a GM's dream to develop and they have Tannehill who can play right away while Allen put his tools together. This pick could easily change by the next mock draft, especially if they deem the offense good enough and go for one of a few great edge rushers available here.
12. Cincinnati Bengals: Connor Williams, OT, Texas
Cincy could grab an edge rusher or a corner here, but protecting the quarterback was a big problem that they can immediately solve by picking Texas's Connor Williams. Orlando Brown and Mike McGlinchey will fight Williams to be the top Tackle, so the combine will have a lot of influence on this pick. I think their pass rush was decent, but if they decide to go defense, Marcus Davenport, Tremaine Edmunds on the edge and Denzel Ward at corner are all solid options at #12.
13. Washington: Da'Ron Payne, DT, Alabama
The inside of this defense raises many concerns. With Roquan Smith gone, there aren't any inside linebacker prospects deserving to go this early. This leads to D-Tackle, where one name has soared up the board since bowl season: Da'Ron Payne. The big Alabama defender was an early second rounder before the College Football Playoff, but now he looks likes the real deal in both pass rushing and run stopping. If the combine changes the order of interior lineman, look for Vita Vea and Maurice Hurst to get looks here.
14. Green Bay Packers: Tremaine Edmunds, OLB, Virginia Tech
Alright, time to dive in. I'm going position by position on this pick. The Packers need a backup quarterback better than Brett Hundley, but they'll address that in Free Agency (I'm looking at you, Sam Bradford). Running Back is fine, and they're deep at receiver. They need another tight end, but they could grab the likes of Mark Andrews, Mike Gesicki or Hayden Hurst in the second or third round. They need a Right Guard and a Right Tackle, and both of those are likely to be addressed in rounds two through four. The D-Line is the only comfortable line of defense. They need an edge rusher BADLY, so they should get one here and push Clay Matthews inside. They need a lockdown corner day one, and Josh Jackson is gone, so they need to pay good money in Free Agency to address that as well. Morgan Burnett is the only unrestricted free agent worth paying what he deserves to bring back, so he'll likely get resign, but if not, safety is a need. Unfortunately, the only safety deserving to go this high is Derwin James, and he's too similar to Josh Jones to coexist in defensive packages. With all of the above being considered, the positional choice is obvious: edge rusher. They have a freak of nature available here with Tremaine Edmunds still on the board. If he's gone, which he easily could be, Marcus Davenport is a fine alternative. Beyond those two, they'd have to reach for Harold Landry or Arden Key.
15. Arizona Cardinals: Orlando Brown, OT, Oklahoma
I had a dream last night that Nick Foles was traded to Arizona (where he played college) so I'm going with that as a real scenario. With the Fantastic Four of quarterbacks gone, they'll have to address that need elsewhere. What they do need is someone to protect whoever their next gunslinger is, and Orlando Brown is a solid option that right now tests just as well as Mike McGlinchey and shows more potential. If Josh Allen is still on the board, which is a very possible scenario because him landing in Miami is a stretch, he'd be the clear option here. They could go defense here and get the likes of Vita Vea or Denzel Ward.
16. Baltimore Ravens: Mike McGlinchey, OT, Notre Dame
The Harbaugh-less Ravens have a few directions they could go with at #16. If Calvin Ridley's on the board, he's the obvious choice. He'll likely be gone, so SMU's Courtland Sutton and Oklahoma State's James Washington should both get serious consideration here. Austin Howard had an awful season at Right Tackle, so taking Mike McGlinchey or Orlando Brown (who's already gone) here would make a ton of sense. They could go for another outside linebacker here with Marcus Davenport still on the board. Given Joe Flacco's contract, the smartest front office choice right now would be Mike McGlinchey.
17. Los Angeles Chargers: Vita Vea, DT, Washington
Nope, still not used to typing Los Angeles. They could reach for a guy like Lamar Jackson and try to develop a guy behind Phillip Rivers, but there are too many good options to fill defensive needs left on the board. Vita Vea is a massive do-it-all interior lineman that can't stop getting compared to Haloti Ngata. Imagine that opening up space for Melvin Ingram and Joey Bosa on the outside. Scary.
18. Seattle Seahawks: Derwin James, SS, Florida State
There are two players in first round contention that just look and play like Seahawks defenders: Josh Jackson and Derwin James. Both of them are Top-15 talents, and with Jackson gone and James still available, he's the obvious choice. If both are gone, they could reach for the likes of WR Courtland Sutton, RB Derrius Guice or CB Isaiah Oliver.
19. Dallas Cowboys: Maurice Hurst, DT, Michigan
The Cowboys have a clear need for interior defensive lineman, and they have a consensus All-American on the board here in Mo Hurst. If Da'Ron Payne or Vita Vea were available, they'd obviously get equal consideration, but Dallas would be more than happy to take Hurst. He perfectly fits Rod Marinelli's scheme and style. This may be one of the best fits in the first round.
20. Detroit Lions: Marcus Davenport, DE/OLB, Texas-San Antonio
The Lions have a good number of holes to fill. They have need on the inside of both lines, but with Da'Ron Payne, Vita Vea and Mo Hurst gone, the only line possible to fill here would be the O-Line in Ohio State's Billy Price. He would make an instant impact, but is that what first-year head coach Matt Patricia wants to do? They still don't have any running back close to being a 1,000-yard player, so Derrius Guice should be a legitimate option here, but the Lions have the possibility of getting an impact pass rusher in Marcus Davenport here. All-Pro edge rusher Ziggy Ansah is a free agent who could easily walk, and Matt Patricia is a defense-first coach, so Davenport might be a dream scenario here. Although he's slipping down boards, Clemson's Clelin Ferrell is a good scheme fit if Davenport is gone. Otherwise, Harold Landry and Arden Key are first round-worthy.
21. Buffalo Bills: Denzel Ward, CB, Ohio State
The Bills struck gold with Tre'Davious White last year in the first round, and they could get another impact corner here with Denzel Ward. E.J. Gaines is a free agent, and Ward is an incredible value at #21. If they're looking for a more sizable corner option, Isaiah Oliver wouldn't be too much of a stretch here. With back-to-back picks in the first round, they have a unique situation of time and flexibility late in the first round. More analysis to come with #22.
22. Buffalo Bills: Billy Price, G/C, Ohio State
The Bills are a team that could look at second-tier quarterbacks Mason Rudolph and Lamar Jackson with one of their two picks. The next best defensive tackle is Taven Bryan, and this would be too early for him. While I think Lamar Jackson would be an interesting project for Buffalo, Eric Wood's career-ending neck injury leaves a huge hole on the offensive line that Billy Price can fill. Price is a powerful blocker who can start away, perfect for the Bills.
23. Los Angeles Rams: Isaiah Oliver, CB, Colorado
I think it's safe to say the Rams should have finished better than they did given their talent on both sides of the ball. If the likes of Jared Goff, Todd Gurley and Aaron Donald can stay healthy, they could end up going much further in the 2018 Playoffs. The one major hole the Rams have this offseason is Cornerback, with top corner Trumaine Johnson and slot corner Nickell Robey-Coleman both free to leave this spring. They'll have to reach a bit with Josh Jackson and Denzel Ward both rightfully off the board. Right now, the top corner left is Colorado's Isaiah Oliver, but Central Florida's Mike Hughes, Auburn's Carlton Davis and Louisville's Jaire Alexander all would work in Wade Phillips' scheme.
24. Carolina Panthers: Will Hernandez, G, UTEP
Carolina has a few needs they could fill here. If Left Guard Andrew Norwell isn't brought back, they could stretch a bit and get UTEP's Will Hernandez or Georgia's Isaiah Wynn. They also need another receiving threat to go along with Devin Funchess and Curtis Samuel, and both James Washington and Courtland Sutton could be the answer. Julius Peppers is on the wrong side of 35, and while Mario Addison is a solid option, they could save money by cutting Charles Johnson and adding an edge rusher. Sam Hubbard would be the best scheme fit, but Harold Landry and Arden Key are both talented enough on the edge. Given the plethora of receiving and edge rushers this season, starting-ready guards are harder to find, and assuming Andrew Norwell walks, Will Hernandez is the hottest and most sensible pick here. He was the best player not named Baker Mayfield at the Senior Bowl.
25. Tennessee Titans: Harold Landry, DE/OLB, Boston College
Among scouts and fans, the consensus seems to be Tennessee needs to address the pass rush this offseason. Brian Orkapo and Derrick Morgan aren't getting any younger, and it's both of their last contract years in 2018. 2016 second-rounder Kevin Dodd looks to be a bust, and the only other really glaring weakness is the inside of the offensive line. While Tennessee might drift away from the tradition 3-4 given Dick LeBeau's departure, Harold Landry would be a solid choice no matter what sets they run. Landry racked up 16.5 sacks in 2016, and if it weren't for an injury-riddled 2017 campaign, he'd be a Top 10 lock. If they still have major concerns with his health, Arden Key would be a solid replacement. Isaiah Wynn of Georgia would probably be the best O-Line option if they try that route.
26. Atlanta Falcons: Taven Bryan, DT, Florida
The Falcons have a lot of the pieces put together; they just simply under-performed. Right Guard West Schweitzer has performed at a lower level than his O-Line counterparts, so Georgia's Isaiah Wynn could stay in-state here. Dontari Poe and Adrian Clayborn are both set to walk, and while they have Takk McKinley to step up on the edge, Poe leaving would leave a huge hole next to Grady Jarrett on the interior. Taven Bryan is the next best D-Tackle, with Harrison Phillips next up in a lower tier. Fans might want another weapon for Matt Ryan, and James Washington and Courtland Sutton are still on the board, as well as Christian Kirk. Given the contract situations, Taven Bryan would satisfy the biggest need for Atlanta right now.
27. New Orleans Saints: Courtland Sutton, WR, SMU
Drew Brees is coming back; I don't care what his contract situation is. Still, he's one nasty injury away from hanging up his cleats, and they could afford to take a prospect like Mason Rudolph or Lamar Jackson given how well they drafted last season. Receivers Brandon Coleman and Willie Snead are both free agents, so the likes of Courtland Sutton, James Washington and Christian Kirk should rise here. They could also use another hybrid linebacker, so Alabama's Rashaan Evans and Texas' Malik Jefferson both are possibilities for the first time in this mock draft. The Saints could also give Brees another Tight End weapon with Dallas Goedert sitting as a bubble late first-early second round talent. Assuming Brandon Coleman and Willie Snead both leave, Courtland Sutton is 6'4" with proven big play ability, and with him paired along with Michael Thomas, no cornerback corps are prepared for both of their heights.
28. Pittsburgh Steelers: Rashaan Evans, LB, Alabama
I think Le'Veon Bell will return, eliminating Derrius Guice's name as a possibility. The Steelers need better play out of their corners, so Jaire Alexander, Mike Hughes, Carlton Davis and even LSU's Donte Jackson could be surprise first rounders here. Safeties like Alabama's Ronnie Harrison and Penn State's Marcus Allen would both be good scheme fits. However, Ryan Shazier suffered what could easily be a career-ending injury, and even if he miraculously returns, they still need depth at linebacker. Rashaan Evans gives them the ranginess and versatility their defense desperately needs. Malik Jefferson of Texas would be a suitable alternative at inside linebacker as well.
29. Jacksonville Jaguars: Dallas Goedert, TE, South Dakota State
The Jags say Blake Bortles is their QB for 2018, and even if they reasonably changed their minds, they'd likely go with a proven veteran (*cough trade for Eli Manning cough*). The Jaguars could definitely use better O-Lineman, but in this mock draft, they'd be left with taking Isaiah Wynn or reaching for guys like Kolton Miller, Brian O'Neill, Martinas Rankin or Chukwuma Okorafor. Other than Wynn, none of those guys are guaranteed play-right-away guys. Dallas Goedert would give them a solid Tight End option, something Blake Bortles could take advantage of in his short-range passing game. Given that Goedert ranks decently higher on my Big Board than fellow Tight End Mark Andrews and Guard Isaiah Wynn, he's the man right now.
30. Minnesota Vikings: Isaiah Wynn, G, Georgia
Okay, what the hell are the Vikings going to do at Quarterback?! If I had to guess right now, Case Keenum walks and joins Pat Shurmur in New York as the new starter, and the Giants trade Eli Manning after pissing him off at the end of this season. Teddy Bridgewater will be the undisputed starter, and Sam Bradford will go to another team and be a reliable #2 option (maybe even the Packers?). That being said, they're obviously not addressing it in the draft. What they DO need to address is Guard, and Isaiah Wynn is a perfect option here at #30. They might need a D-Tackle if Tom Jackson and Sharrif Floyd both don't return, so look for whoever's left in this range (Taven Bryan, Harrison Phillips, maybe Rasheem Green?) to get some attention.
31. New England Patriots: Mike Hughes, CB, Central Florida
If the Patriots like either Mason Rudolph or Lamar Jackson, they could take a quarterback here. Tom Brady is 40 and Brian Hoyer is by no means a long-term option. If Left Tackle Nate Solder leaves in free agency, they absolutely need to address that, but not here in the draft. The Patriots could use depth at their aging positions like Defensive Line and Inside Linebacker, and they could use a young, productive edge rusher. Malcolm Butler is certainly not coming back next year, and they don't have any reliable depth at corner either. Out of Carlton Davis, Mike Hughes, Jaire Alexander and Donte Jackson; Hughes seems to be the hottest trend right now. The lengthy corner would give New England youth and depth at a position exposed for its lack of depth and talent on the world's biggest stage.
32. Philadelphia Eagles: Kolton Miller, OT, UCLA
The Super Bowl Champions have pretty much all of the pieces put together. One question mark was Left Tackle, as veteran and fan favorite Jason Peters will be 36 and recovering from two torn ligaments in preparation for next season. He might honestly retire. I think Halapoulivaati Vaitai did a decent job filling in, but it's understandable if the Eagles don't see him as the long-term option to protect 2018 MVP candidate Carson Wentz. They could move Lane Johnson over and draft a right tackle, or they could draft a player who has a high ceiling, incredible build and can be developed on either side of the ball: Kolton Miller. The 6'8" UCLA lineman might not be suitable for all of the starting reps at Left Tackle right away, but he's a promising project on either side of the ball and not too far away from starting wherever Philly wants him to. They could also gain youth and depth at inside linebacker here with Malik Jefferson.
Top Second Round Options:
1. Arden Key, DE/OLB, LSU
2. James Washington, WR, Oklahoma State
3. Sam Hubbard, DE, Ohio State
4. Derrius Guice, RB, LSU
5. Malik Jefferson, LB, Texas
6. Lamar Jackson, QB, Louisville
7. Clelin Ferrell, DE, Clemson
8. Ronnie Harrison, S, Alabama
9. Christian Kirk, WR, Texas A&M
10. Mason Rudolph, QB, Oklahoma State
Players for Packers Fans to Watch:
1. Tremaine Edmunds, OLB, Virginia Tech
2. Marcus Davenport, OLB, Texas-San Antonio
3. Josh Jackson, CB, Iowa
4. Harold Landry, OLB, Boston College
5. Arden Key, OLB, LSU
6. Braden Smith, G, Auburn
7. Anthony Miller, WR, Memphis
8. Michael Gallup, WR, Colorado State
9. DJ Moore, WR, Maryland
10. DaeSean Hamilton, WR, Penn State