Kyrie Irving To The Bucks? They Could Win The East, But Be Careful...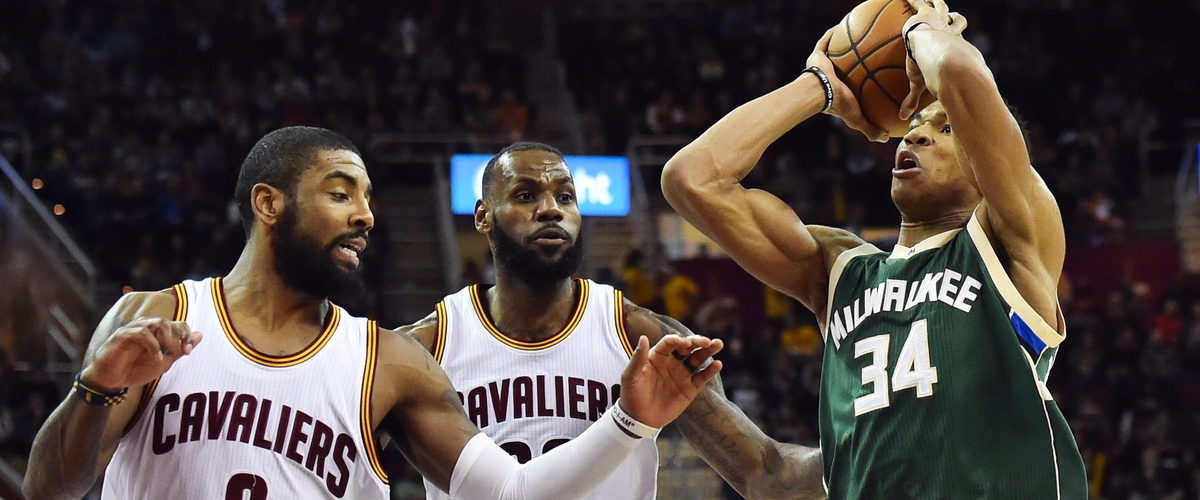 The big offseason question for the Milwaukee Bucks was how to become a contender in the Eastern Conference. Acquiring a superstar in Kyrie Irving while still "owning the future" could do exactly that.
Kyrie Irving has demanded a trade from Cleveland. I guess playing along the best player in the NBA while making All-Star Games and making the Finals three years in a row is getting old for the 25-year-old point guard. Personally, my finger points at owner Dan Gilbert, who fires an incredible GM in David Griffin, pisses off pretty much everyone, and in his free time, runs controversial ads of different cities (look it up).
The Bucks are one of the potential suitors for Kyrie Irving. I first heard it on 105.7 The Fan's morning show, and my first reaction was just to chuckle and refocus on the Brewers pennant run. However, when I really thought about it (during the commercial break, of course), I realized how plausible this situation could be. The Bucks have some valuable pieces, and other teams might not be as willing to part with their key players. Here's what the Bucks could offer:
The Bucks trade SG Khris Middleton, PG Matthew Dellavedova, G Malcolm Brogdon and their 2018 1st-Round Pick to the Cavaliers for PG Kyrie Irving and SG Iman Shumpert
This trade could actually work.
Kyrie needs to go, so their hand for the superstar is already forced. The Cavs could get Delly, a defensively tenacious point guard, back on their roster and add the Rookie of the Year in Brogdon while essentially swapping 3-point aces in Iman Shumpert and Khris Middleton. The Bucks would have another consistent scoring star, which is essential with Jabari out for the majority of the season. For those questioning why the Bucks would swap Khris and Shump if there's only a marginal difference, the trade wouldn't work without those two due to Luxury Cap purposes (try it on the NBA Trade Machine if you don't believe me).
I've seen this trade done including a 2018 1st-Rounder, and while I myself wouldn't offer that right off the bat, I'm willing to consider it if the trade could be clinched via a pick. Although others may be skeptical, I'd be open to potentially moving Jabari Parker instead of Middleton if need be. ESPN's NBA Trade Machine gives the Bucks a +7 Win differential from the trade, so that could halter Cleveland from pulling the trigger, but there aren't any other avenues that look significantly better than the Bucks offer.
Here are some other potential trades I've seen around the circuit.
Charlotte Hornets
Cavaliers: PG Kyrie Irving, SG Iman Shumpert
Hornets: PG Kemba Walker, SF Michael Kidd-Gilchrist
I just don't see this one happening. Sure, the Cavs save $4 Million, get rid of outcast Kyrie and still have a star Point Guard, but they're also getting the worse of both players (Kyrie > Kemba, Iman > MKG). This would give Kyrie a chance to be the Top Gun on a team, but his chances of seeing playoffs glory just dropped exponentially. If Charlotte threw in Malik Monk or Frank Kaminsky, or a first-rounder or two in there, this deal would make more sense.
Denver Nuggets
Cavaliers: PG Kyrie Irving
Nuggets: G Jamal Murray, SF Wilson Chandler, SG Will Barton
You could really replace Will Barton with Jameer Nelson or Malik Beasley and it wouldn't matter. Jamal Murray wants to be a star guard and has that potential, Wilson Chandler is a double-digit scorer and the backup guard is just a filler. Yes, Kyrie would get to be THE GUY with Nikola Jokic, but I don't see why the Cavs would accept this. Sure, Jamal Murray could be really good, but a line-up of Murray/Smith/Shumpert/James/Love with Chandler as the 6th man doesn't really help them short-term OR long-term. Cavs have a -4 Win differential via NBA Trade Machine with this one.
Miami Heat
Cavaliers: PG Kyrie Irving
Heat: PG Goran Dragic, SF Justice Winslow, 2018 1st-Round Pick (Top 7)
Kyrie and Hassan Whiteside would be a decent duo, and the Cavs would get a decent starting point guard, a young wing with potential and a really good draft pick right away next year. This trade has been loosely thrown around, and Miami might not even want to offer all of that. NBA Trade Machine has Cleveland losing 3 Wins from this though. Plus, how funny would it be if Kyrie left Cleveland for Miami just like LeBron did? They could include Wayne Ellington for Iman Shumpert in this deal as well, if the Cavs like that look better (they could).
Minnesota Timberwolves
There's no deal here. Minnesota has been named as an ideal situation, but they'd have to move Jimmy Butler, Andrew Wiggins or Karl-Anthony Towns, and that's just extremely unlikely. Plus, that's too many touches to split up. The logistics are god awful.
New York Knicks
There could be a potential trade here, but it's going to be extremely complicated. The Carmelo-to-Cavs trade rumors have been around for a while, but Kevin Love was always mentioned as the return. Somehow Kristaps Porzingis would have to be in the mix, and New York looks extremely hesitant to consider moving KP. Even if Carmelo or Kristaps was the return, they'd most likely need new PG Frank Ntilikina and future firsts, not to mention other teams for financial purposes, just to pull a deal off. I'm not writing it off, but it's going to be a helluva lot of paperwork and budgeting.
Phoenix Suns
Cavaliers: PG Kyrie Irving
Suns: PG Eric Bledsoe, PF Dragan Bender, and a 2018 First-Round Pick
The Suns don't want to move Devin Booker, that's for sure. I've heard the Suns involved in three-team deals involving New York/Cavs and Bucks/Cavs, but Cleveland and Phoenix could get this done just between them. They could swap out Bender for Marquess Chriss, or nix Bender and the pick and straight-up offer Eric Bledsoe and SF Josh Jackson. Kyrie would get the chance to be the man, as he walks in being the most talented player, but even with Kyrie the Suns might not make the playoffs. The Cavs also lose 2 wins via NBA Trade Machine here.
San Antonio Spurs
Similar to the Timberwolves, I don't know what the Spurs necessarily have to offer. Tony Parker has no trade value, and LaMarcus Aldridge's value has diminished. Salary-wise, the Cavs couldn't take both players, nor on. Kawhi Leonard is untouchable, and their best young prospect is Dejounte Murray. Even if they included Patty Mills, there's no package that's enticing for the Cavs to accept. Sure, this would work wonders for Kyrie, but it's not Kyrie that's accepting the trade.
Here are some trades that I PERSONALLY have made up:
Boston Celtics:
Cavaliers: PG Kyrie Irving, C Kevin Love
Celtics: PG Isaiah Thomas, C Al Horford
This would be a mega-deal. The Cavs and Celtics swap superstar Point Guards, both of whom would be leaving eventually, and Kevin Love, the man always on the trade block, would find a new home. I don't know if either team would be willing to pull this off, but both should consider it. Boston is most likely losing Isaiah Thomas after this season anyways, and they could get Kyris for two, maybe three years. Kevin Love could easily be seen as an upgrade to Al Horford anyways. For the Cavs, Isaiah Thomas is by far the best return you could get for Kyrie anywhere. They've been open to trading Kevin Love for a while, so Al Horford as a return for him is plausible as well.
Cleveland, New York AND Phoenix:
Cavaliers lose: PG Kyrie Irving, SG Iman Shumpert, PF Channing Frye, 2018 1st-Round Pick
Cavaliers get: PG Eric Bledsoe, SF Carmelo Anthony
Knicks lose: SF Carmelo Anthony, PG Frank Ntilikina
Knicks get: PG Kyrie Irving, 2018 1st-Round Pick (CLE)
Suns lose: PG Eric Bledsoe
Suns get: SG Iman Shumpert, PG Frank Ntilikina, PF Channing Frye
This is the first deal I could make that financially makes sense and everyone has a decent chance at accepting. New York is one of Kyrie's ideal locations, and he and Kristaps would run the show and likely make the playoffs, so Kyrie likes it. The Cavs like it because they get two stars that LeBron is friends with in Carmelo and Bledsoe. The Knicks like it because they finally shed Melo and have a superstar in Kyrie Irving. The Suns like it because they get more veterans and the best point guard prospect in this year's draft to supplement a young core of Miles Booker, Dragan Bender, and Marquess Chriss.
Miami and New York (via three teams) are the two of the locations Kyrie mentioned (San Antonio and Minnesota, the others) that have potentially enticing trade packages for Kyrie Irving. This being said, the Bucks offer in my eyes is still just as valuable as the other packages. Throw in a future first-rounder and that deal is done.
Hold the phone.
I still see one potential downfall of making this trade: an identity crisis. I don't want another Kobe vs. Shaq, or James Harden vs. Dwight Howard. The Bucks belong to Giannis, and no player coming in could change that. Not even Kyrie. One of the reasons Kyrie wanted to leave was to be the face of a franchise, and he couldn't do that in Cleveland with King James still around for at least another year. If Kyrie's okay with sharing the spotlight (and the ball) with Giannis, then the Bucks have a good chance of winning a Conference Championship for the first time since 1974. If Kyrie's going to be a ball hog and want to be the team captain, then it's pointless even trying to trade for him. If any move jeopardizes the Bucks from being Giannis's team, then it's irrelevant.
What Kyrie needs to realize is that he's not going to be the sole face of any of the franchise of any of the four teams he shortlisted.
San Antonio? Kawhi Leonard.
Miami? Hassan Whiteside.
New York? Kristaps Porzingis, if not Carmelo Anthony
Minnesota? Uh, Karl-Anthony Towns, Jimmy Butler AND Andrew Wiggins
If he wanted to truly be the face of a franchise, he'd have to look towards Denver, Phoenix or Charlotte. Still, none of those situations are picture perfect either, because Denver has Nikola Jokic, Phoenix has Miles Booker (and no playoff hopes) and Charlotte would have to give up their franchise player, Kemba Walker, in order to get Kyrie. What does Kyrie value most? If it's being the face of a franchise, he might have to go to a losing-record team. If he values success and just doesn't want to play with LeBron anymore, then he'd have to accept he might not be the Ace somewhere else either.
The most important factor of all of this has nothing to do with Kyrie whatsoever: Kyrie Irving is under contract. Whether he gets traded or not is all up to the Cleveland Cavaliers, not Kyrie and his entourage. The Cavs are going to need a significant return to even consider letting a superstar go - especially considering there's a good chance LeBron James leaves after this season. Owner Dan Gilbert doesn't have to do anything. If I was Dan Gilbert, I'd hold out unless I received a mother lode offer. He still has two years left on his deal. Even ESPN's Brian Windhorst has reported that the Cavs could easily tell Kyrie where he can shove it and get on with the season with Irving still at the point.
IF Kyrie Irving moves, the Cavaliers are going to need a decent haul, and if Kyrie is okay with playing on a young, contending team and sharing the spotlight with Giannis, then the Bucks trading for him could be extremely benificial for both teams.
---