Packers Training Camp by Position: Defensive Line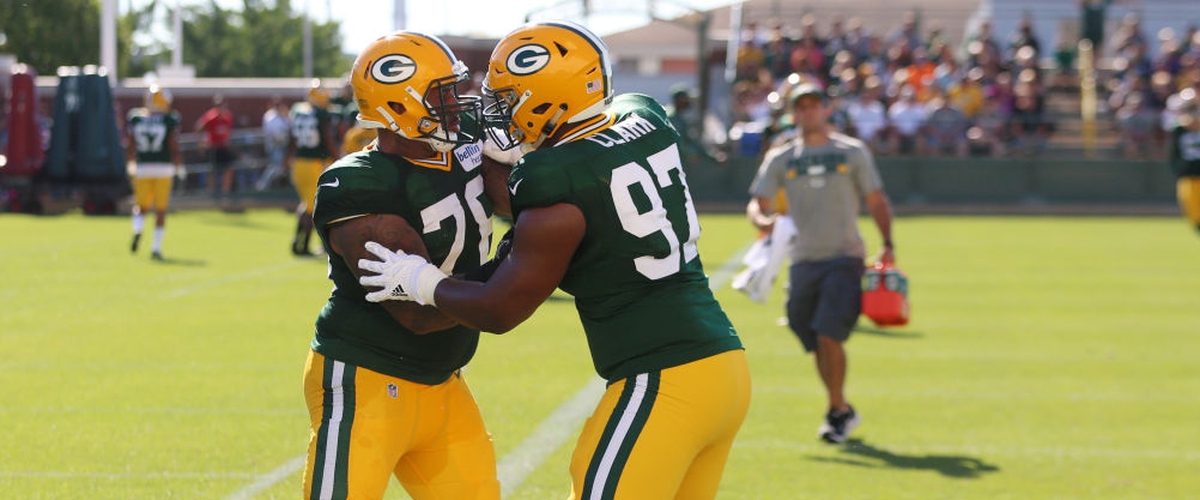 Defensive Line units are typically divided in two: Defensive Ends and Defensive Tackles. However, the Packers typically run a base 3-4, and have many packages of just two big men on the front line. Add in the fact that new Defensive Coordinator Mike Pettine likes to run a ton of different hybrid packages, some including four defensive linemen, and suddenly the positional differences become irrelevent. Mike Daniels is the Pro Bowl-caliber anchor of the line, and Kenny Clark had an incredible sophomore campaign last year. Newly-singed Muhammad Wilkerson has 12 Sacks in 2015, but hasn't even reached 5 in the past two years. His arrival is expected to a whole new pass rushing dynamic to this line, and as far as the backup jobs, it's open season. Let's take a look at how many big men Mike Pettine, Mike McCarthy and Brian Gutekunst want to keep around on defense...
Mike Daniels - 29, 7th season, 63 starts, $9.84M Salary
Daniels has turned into quite a find, considering he was a 4th-round pick back in 2012. 5 Sacks and 49 Tackles may not seem like much on paper, but if you watch 2017 Green Bay film, you'll see he was double-covered by every single offensive line he faced. The league certainly took notice by giving Daniels his first career Pro Bowl nod last year. Now, imagine that feared explosiveness combined with rising stud Kenny Clark and the lethal Mo Wilkerson all on one line. That's a damn good D-line.
Muhammad Wilkerson - 28, 8th season, 105 starts, $4.9M Salary
Wilkerson, who played under new DC Mike Pettine when he was in the same position with the Jets, signed a relatively-cheap "show me" contract back in March. As said in the introduction, he tallied 12 Sacks in 2015 but hasn't reached 5 in a season since. With how poor Green Bay's pass rush was last season, many fans would be stoked if he could tally just half of what he did a few years ago. There was a league-wide lack of edge rushing talent this offseason, so Wilkerson was signed to provide the needed pressure internally instead of externally. As long as he stays healthy, he's an obvious starter who could possibly be the most significant addition made to the Pack this offseason.
Kenny Clark - 22, 3rd season, 17 starts, $2.55M Salary
Entering his third season, Clark is still only 22 and racked up 55 tackles and 4.5 Sacks while starting 15 games for an otherwise lackluster pass defense in Green Bay. He's developed from a split-reps, underwhelming first-rounder to a well-rounded young stud for this defensive line. He, Daniels and Wilkerson form one of the scariest 3-4 base D-Lines.
Montravius Adams - 23, 2nd season, 0 starts, $782K Salary
Adams was taken 93rd Overall in 2017 with an already-established injury history, and then he suffered a stress fracture in his foot on the second day of camp. I wrote him off as a soon-to-be bust after missing the entire preseason and barely showing up in the 7 Games he ended up playing last year. I mean, just one solo tackle? However, he's making me eat my words in 2018, as he's been blowing through interior O-Lineman all camp and was the best defensive player on Family Night. Seriously, his finesse moves and technique look miles ahead of what they were at Auburn. He's not going to steal a starting spot from Clark, Daniels or Wilkerson, but he's turning into a can't-cut, developing #2 true Defensive Tackle.
Dean Lowry - 24, 3rd season, 11 starts, $726K Salary
Lowry just flat-out looks like a Packers player. Big, tough-nosed, and gives 110% every play. After an uneventful rookie season of 8 Tackles off the bench, he started 11 Games, played in all 16, and quadrupled his tackle count in 2017. No one can forget seeing him haul ass during a 50+ yard Fumble return for a Touchdown against Tampa Bay last December. The addition of Mo Wilkerson pretty much kills his odds at starting again this year, but he's a proven-yet-still-developing true defensive end, with high usage value in Mike Pettine's occasional 4-3 set. His roster spot should be pretty safe.
Joey Mbu - 25, 4th season, 0 starts, $630K Salary
Mbu is in his fourth different training camp in four years. He had 3 Tackles in 7 Games off the bench with Atlanta in 2015, spent most of 2016 on Washington's practice squad, then was promoted for 2 games in 2017 off the Colts' practice squad. Basically, he's a fringe roster player who hasn't given other teams with poor depth a reason to keep him on the active roster. That being said, he's made a couple run stuffs early in camp, and he's the #6 D-Lineman on the preseason opener's depth chart. It's unlikely Green Bay keeps less than six down linemen, so it's him vs. James Looney, Conor Sheehy and Tyler Lancaster. If depth charts mean anything to you, the 53-Man roster spot is his to lose.
James Looney - 23, Rookie, $502K Salary
Looney was taken in the 7th round back in April, and so far in camp he's won most of his one-on-one drills. He'll be fighting with Joey Mbu for that presumably sixth and last D-Lineman spot, and looking at the first preseason depth chart, Mbu has the edge. However, Looney falls under four years of team control if kept on the active roster, whereas Mbu is already a restricted free agent next year. If Looney just looks raw, stashing him on the practice squad for a season may help significantly in his development.
Conor Sheehy - 22, Rookie, $480K Salary
It's hard not to cheer for a former Badger, and Conor Sheehy will have the reps this preseason to prove himself. That being said, he just looks a step behind development-wise compared to the likes of Dean Lowry, Joey Mbu and James Looney. If Green Bay likes a lot of what they're looking at, he's a decent practice squad candidate, but it seems more likely right now that another team with less D-Line depth (possibly looking for a natural 4-3 End?) will grab him for their practice squad come September.
Tyler Lancaster - 23, Rookie, $480K Salary
Lancaster is another undrafted free agent coming from the Big Ten (Northwestern), and at 6'3" and 315 pounds, he has the build and experience of a true Defensive Tackle. Some experts say he's a dark horse for that last D-Line spot, but with Mike Pettine, a very hybrid, multi-scheme defense-oriented coordinator at the helm, it seems much more likely that a player like James Looney or Joey Mbu would earn the spot. Lancaster and Conor Sheehy both will have a shot at someone's practice squad, whether in Green Bay or somewhere else.
SUMMARY:
Mike Daniels: Starting 3-4 Defensive End
Muhammad Wilkerson: Starting 3-4 Defensive End
Kenny Clark: Starting 3-4 Nose Tackle
Montravius Adams: Backup Defensive Tackle
Dean Lowry: Backup Defensive End
Joey Mbu: Better-than-not odds at making 53-Man Roster
James Looney: 50/50 Odds at making 53-Man Roster, excellent practice squad candidate if he doesn't
Conor Sheehy: Misses the cut, average practice squad candidate
Tyler Lancaster: Misses the cut, average practice squad candidate