Revising the Packers' 2020 Draft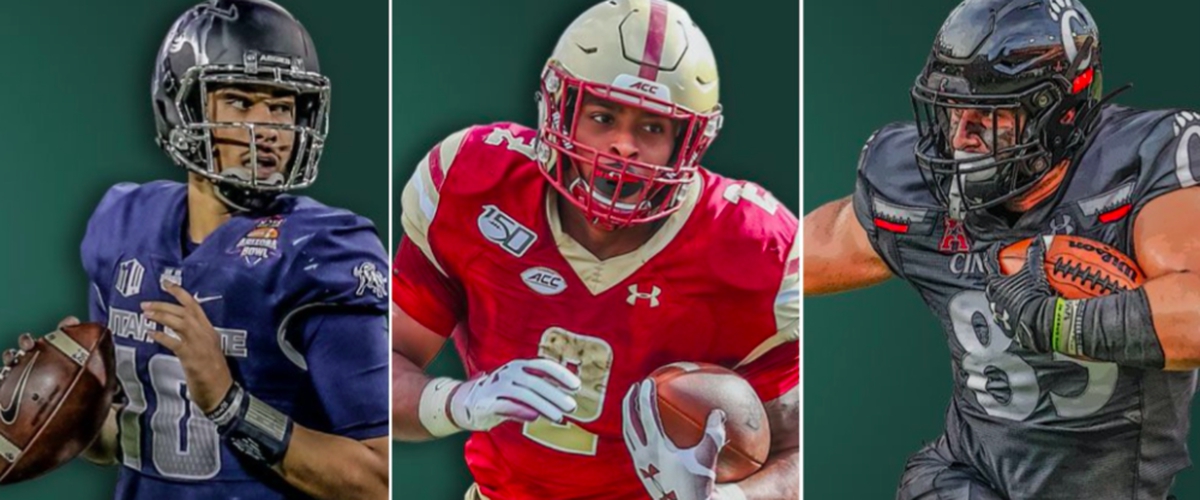 This year's virtual NFL draft is the fifth straight I've graded, and after a "B+" 2019 class and back-to-back "B" classes in '17 and '18, we're taking a MAJOR step in a different direction...
For starters, I needed at least a week just to process what happened on Green Bay's war room calls. This class was 32nd out of 32 teams in Mel Kiper's ranking, and twitter-flocking cheeseheads were (and to a degree, still are) losing their damn minds. Here are some common questions that may or may not have run through your mind:
- Why would a team in contention for a deep playoff run trade up and draft a quarterback in Round One?
- How does a team desperate for more receiving weapons fail to take one of the nearly 40 wide receivers drafted?
- With plenty of starting-caliber talent on the board throughout Day 2, why did we take a power-based Running Back and an H-Back of a Tight End?
- Why did we ignore the major needs of (Wide Receiver, Linebacker & D-Line) while taking flyers on THREE late-round O-Line prospects?
Still confused? Me too. Let's take a look at each of the picks, then the class as a whole, and afterward I'll take a shot at what I'd do given we still had #30 and #136 instead of trading up to #25. Sound good?
Round 1, Pick #26: Jordan Love, QB, Utah State. Grade: B-
Scouting Report: There's a lot to like about Jordan Love, especially long-term. He's a smooth, natural thrower with tight spirals from a variety of launch angles. Love is athletic, bears great field vision, keeps the ball secured, and has both the arm strength and pinpoint accuracy to nail pretty much any throw at the next level. The talent is there, it's his consistency and production that concern most coaches. His head coach, offensive coordinator and most of his offensive weapons left following the 2018 campaign, and his numbers suffered a year later (32 TD, 6 INT, 64% Comp, 158.3 PR in '18 to 20 TD, 17 INT, 61% Comp and 129.1 PR in '19). His decision making is one of the biggest concerns, especially against zone coverage, but that can be corrected with ample coaching. Most scouts agree Love needs two, probably three years sitting behind a quality decision-maker before getting a proper shot as a starting Quarterback. When he's ready, he'll have the ceiling of a lesser Patrick Mahomes and a floor of backup-level Blake Bortles.
Analysis: Alright, let's unpack this. Rodgers is 36, and while he went on the radio to say he wants to play past 40 (through 2023), Green Bay doesn't have a potential successor in the wings. That logic checks out, but the Packers are a contender and Rodgers needs more weapons. This being said, first-round Wide Receivers have a questionable track record, and there's no single position more valuable to a football team than a starting quarterback. Patrick Queen was still on the board and we need Inside Linebacker help, but again, if Matt LaFleur and Brian Gutekunst agree that Jordan Love is their guy for the future, the Utah State gunslinger is certainly worth more than a rotational 'backer or a flyer at another quality Wide Receiver. This being said, I definitely don't think Green Bay had to trade up to get Love - many scouts slapped a 3rd or 4th round grade on the long-term project.
Best Available at #26: LB Patrick Queen, S Xavier McKinney, and QB Jordan Love
Round 2, Pick #62: AJ Dillon, RB, Boston College. Grade: D+
Scouting Report: James Conner 2.0. Dillon's built like a bus (6', 247), but posted the highest vertical (41") of all Running Backs despite being the heaviest. His vision, finesse, and passing game potential makes him much more than just a power back. He's handled heavy workloads well but has racked up wear & tear. His tape shows disciplined running and trust in the run blockers ahead of him. Dillon's natural power will add yards after contact, and dropping weight while adding quickness could boost his potential from rotational back to a full-blown starter.
Analysis: Matt LaFleur must be hoping AJ Dillon is Derrick Henry 2.0. He's built for the inside zone runs LaFleur loves to call, and his 3-down potential makes the impending free agency situations of both Aaron Jones and Jamaal Williams a little less stressful. Value-wise, I think Dillon was taken one round too early, as he was 105th on my board and taken at #62 above higher-valued RB Zach Moss. There were also a dozen start-ready prospects available across positions that need new starting options (i.e. LB, WR, TE, DL, RG/RT).
Best Available at #62: LB Zach Baun, LT Josh Jones, S Jeremy Chinn, DL Justin Madubuike, DT Neville Gallimore, C Lloyd Cushenberry III, OLB Julian Okwara, and many more...
Round 3, Pick #94: Josiah Deguara, TE, Cincinnati. Grade: C-
Scouting Report: Deguara isn't your traditional Tight End prospect: he projects as a move TE / H-back hybrid who can cover at Fullback and be exploited in mismatches as an oversized slot option. His grit and determination in run blocking is evident on tape, and Deguara's sure hands and ability to pick up zone coverages well should earn him targets. His catch radius is suspect and doesn't offer much as an in-line Tight End, automatically making him scheme-dependent, but Deguara should be a consistent rotational contributor at multiple spots in the right offense.
Analysis: Yes, the Packers need additional help at Tight End, but Deguara isn't exactly a step-in-line starting option. He's a combo Tight End / H-back, meaning Matt LaFleur will likely try to use him like Kyle Shanahan uses Kyle Juzsczyk in San Francisco. This was a historically weak Tight Ends class and while the value is pretty similar among most mid-round TEs, I still had roughly six to eight options ranked higher that were still available at #94. Deguara was 179th on my board, making this pick a pretty poor value on paper. Let's see if his versatility and scheme-dependent usefulness makes up for it.
Best Available at #94: TE Adam Trautman, LB Malik Harrison, RT Lucas Niang, C Tyler Biadasz, DB Terrell Burgess, LB Akeem Davis-Gaither, LB Jacob Phillips, T/G Ben Bartch, DL James Lynch and many more...
Round 5, Pick #175: Kamal Martin, LB, Minnesota. Grade: D+
Scouting Report: Martin was productive enough to finish second in Tackles (66) for Minnesota last year, adding 2 INTs and 2 Fumble Recoveries in only eight games. This being said, there's plenty of issues that'll prevent Martin from being a full-time starting Linebacker. He takes too long to diagnose plays, making him an easy downfield block. Martin plays too upright and stiff, doesn't impress too much on passing downs, and didn't stop the run as efficiently as he should've given his positioning. His angles and tackling techniques are NFL-ready, but that may be about it. Martin's an early Special Teams candidate with the potential to fill in rotationally either as a secondary 3-4 Inside Linebacker or as the SAM-backer in 4-3 sets.
Analysis: Linebacker is a big need - the best option next to new signing Christian Kirksey is Oren Burks - but Justin Strnad, Markus Bailey, and Evan Weaver were higher-valued Linebackers still on the board at #175. Martin's knee injury prevented him from testing at the combine, so we'll just have to assume he'll fit into Mike Pettine's defense as the off-ball secondary Inside Linebacker. Is he any more fit to start than Burks? Guess we'll find out come training camp. Martin was #215 on my boards with a 6th Round-or-later grade, so once again, Green Bay probably took a prospect one round too early.
Best Available at #175: WR Donavon Peoples-Jones, DE Bradlee Anae, T Prince Tega Wanogho, G/C Netane Muti, WR James Proche, WR KJ Hill, WR Isaiah Hodgins, S Geno Stone, DE Kenny Willekes, and many more...
Round 6, Pick #192: Jon Runyan, G, Michigan. Grade: B-
Scouting Report: While Jon Runyan held his own as a Tackle against Big 10 Defensive Ends, he projects as a Guard with his 6'4", 306-lb. frame. He recovers well, but his high hands limit his power and control. Technique and grit will get him on an NFL roster, but Runyan's physical and athletic limitations probably cap his potential as a decent backup Guard.
Analysis: Runyan's dad was an All-Pro Tackle, but this Jon Runyan will likely only see reps at Guard in the NFL. Lane Taylor should be cut soon and Cole Madison looks like a bust, so Runyan should slot in as a backup Guard right away, with the possibility of covering at Right Tackle if Ricky Wagner's injury bug carries over from Detroit. Runyan was #225 on my board with a 6th Round grade, so for the first time all draft, Green Bay took a player in the appropriate round.
Best Available at #192: T Prince Tega Wanogho, WR James Proche, WR KJ Hill, WR Isaiah Hodgins, S Geno Stone, DE Kenny Willekes, LB Markus Bailey, OLB Carter Coughlin, RB Eno Benjamin, CB Dane Jackson and many more...
Round 6, Pick #208: Jake Hanson, C, Oregon. Grade: C+
Scouting Report: Hanson's starting experience (nearly 50 starts at C since his freshman season) and strength (33 bench press reps) make him a solid late-round find, and his accurate hands help him against tough interior rushers. His lack of power and mass limits his potential as a decent backup Center with fill-in starting potential down the road - given the proper environment.
Analysis: Corey Linsley's a free agent after this year, and Lucas Patrick became the backup option for the first time in his career last year. I have no clue what Cole Madison's football future looks like, so adding a player with nearly 50 starts at Center is smart. Hanson's 33 bench press reps were the fourth-highest among all O-Linemen at the combine, so he's experienced and strong. Hansen was #279 on my board with a 7th Round grade, so it's a bit of a reach value-wise.
Best Available at #208: T Prince Tega Wanogho, WR KJ Hill, S Geno Stone, DE Kenny Willekes, LB Markus Bailey, OLB Carter Coughlin, RB Eno Benjamin, WR Jauan Jennings, and many more...
Round 6, Pick #209: Simon Stepaniak, G, Indiana. Grade: C
Scouting Report: Stepaniak is big and burly (6'4", 313) with impressive run game physicality. His 37 bench reps were second-best among O-Linemen at the combine, but his lack of length (32" reach), wide base, and exaggerated slide steps make him a weakness is Pass Protection. Stepaniak also gives up far too much ground to power rushers, thus limiting his functional strength. His knee injury prevented any additional testing at the combine, and it wasn't the first one in his collegiate football career. With improved pass pro technique, Stepaniak's a late-round value with decent backup Guard and Special Teams potential - if he can avoid additional knee problems.
Analysis: Clearly the Packers are looking for more strength along their O-Line, because one pick after taking the 33-rep Center Jake Hanson, they selected 37-rep Guard Simon Stepaniak. He converted from Center to Right Guard at Indiana, so he has the experience to round out the Center depth chart. With Stepaniak, Hanson and Runyan added to this class, it looks like a complete overhaul on O-Line depth - including Lane Taylor. Stepaniak was the second-best Interior O-Lineman, but at #294 on my board, the value is still a slight reach. Also, after G Jon Runyan and C Jake Hansen, did Green Bay really need to take another Guard?
Best Available at #209: T Prince Tega Wanogho, WR KJ Hill, S Geno Stone, DE Kenny Willekes, LB Markus Bailey, OLB Carter Coughlin, RB Eno Benjamin, WR Jauan Jennings, and many more...
Round 7, Pick #236: Vernon Scott, DB, TCU. Grade: D
Scouting Report: If anyone drafts Scott, it's solely on his traits: impressive height (6'2"), weight (206), speed, and length. He simply didn't play that well, as his tape from TCU doesn't show an NFL-ready prospect. He can tackle well enough, but he's not an enforcer. Experience as a big slot and/or nickel corner adds to his value, but his man-coverage limitations and inability to play as a high safety cripple his potential as a bubble, try-out player who's more likely to land on a practice squad than see a snap Week One.
Analysis: Scott will compete with Will Redmond and Raven Green for a backup Safety spot, although his odds might become better if Mike Pettine starts shading Darnell Savage over as a slot corner in 2020. I'm not sure Scott's a better choice than a Cornerback, D-Lineman, or wideout here in the seventh round, and I had at least 12 higher-ranked Safety prospects still available at #236 - one being Stanford Samuels III, whom the Packers signed as an Undrafted Free Agent. In fact, there are probably about a hundred players I'd take at #236 over Scott.
Best Available at #236: CB Dane Jackson, DE Jonathan Garvin, DE Derrek Tuszka, T/G Tremayne Anchrum, TE Stephen Sullivan, TE Hunter Bryant, CB AJ Green, TE Jared Pinckney, TE Thaddeus Moss and many more...
Round 7, Pick #242: Jonathan Garvin, DE, Miami. Grade: B
Scouting Report: "Spider" Garvin's traits, build (6'4", 263) and versatility as a 4-3 end or 3-4 outside 'backer make him a near-draftable guarantee. His effort and consistency both dropped immensely in 2019, failing to impact games nearly as much as he should. Garvin's a natural at beating the punch, getting upfield and turning the corner, but the effort/drive/will isn't there to close in on sacks. Garvin could be a diamond in the rough for the right coach, but he currently projects as a developmental backup plagued with inconsistencies that need to be corrected ASAP.
Analysis: Still no Wide Receiver? I'm not too salty with Green Bay taking a flyer at a backup edge rusher, but that's arguably our deepest position and there are still other areas (Wide Receiver, D-Line, Inside Linebacker, etc.) that could've used another seventh-rounder for competition. The value is pretty excellent as Garvin was #174 on my board and the best available player out of everyone that was drafted.
Best Available at #242: DE Jonathan Garvin, DE Derrek Tuszka, T/G Tremayne Anchrum, TE Stephen Sullivan, TE Hunter Bryant, CB AJ Green, TE Jared Pinckney, TE Thaddeus Moss, and CB Lamar Jackson
ONE LAST LOOK AT THEIR CLASS:
Jordan Love, QB = B-
AJ Dillon, RB = D+
Josiah Deguara, TE = C-
Kamal Martin, LB = D+
Jon Runyan, G = B-
Jake Hanson, C = C+
Simon Stepaniak, G = C
Vernon Scott, DB = D
Jonathan Garvin, DE/OLB = B
OVERALL CLASS GRADE: C-
Yes, this is by far the worst Packers draft class in my five years of grading (C+ in '16, B in 17' and 18', B+ in '19). Although I was initially stunned by the Jordan Love (B-) pick like the rest of the world, the value is solid, and given the Packers' deep playoff run ambitions, he may be their best shot at a successor to learn under Aaron Rodgers. AJ Dillon (D+) and Josiah Deguara (C-) both represent the offense's shift to a zone run system like Matt LaFleur loves, but both players were also drafted at least one round too early and neither really help the team that much in the near future, as compared to other talented receivers and linebackers on the board on Day 2. Kamal Martin (D+) may have filled a needed position, but there were many better options available and he was drafted two rounds too early. Jon Runyan (B-) provides depth at Guard and can cover at Right Tackle, plus his value is the first round-appropriate pick. Jake Hanson (C+) can be a decent backup guard, but he was taken at least a round too early. Simon Stepaniak (C) was also taken one round too early, plus he's the third interior O-Lineman taken on Day 3. Vernon Scott (D) doesn't fill a need and I didn't even give him a draftable grade. Green Bay got #243 right with Jonathan Garvin (B), but it's concerning when the best grade of the draft is not only just a "B", but it comes at the end of the last round too.
I REALLY want this draft class to prove me wrong, but as it stands right after the draft, Green Bay stands with arguably the worst draft class of 2020. Now, here's what I would've done in Brian Gutekunst's shoes:
Round 1, Pick #30: Jordan Love, QB, Utah State
I kept the pick the same, but Green Bay didn't need to trade up to #26 to get him and I'll argue immensely with anyone who says otherwise. Also, I keep my fourth-round pick this way.
Round 2, Pick #62: Zach Baun, LB, Wisconsin
Instead of taking a power running back one round too early, I took a solid Linebacker prospect who could see serious reps right away opposite of Christian Kirksey. Baun also provides versatility across both inside and outside 'backer spots throughout Mike Pettine's hybrid defense. Hole = filled.
Round 3, Pick #94: Adam Trautman, TE, Dayton
Look at that, I waited and still took a starting-potential Tight End prospect that actually fits as a Tight End in all of Matt LaFleur's sets. I like Josiah Deguara's versatility, but Trautman is simply the better Tight End and our only in-line starting options are the inexperienced Jace Sternberger and the ever-aging Marcedes Lewis.
Round 4, Pick #136: Antonio Gandy-Golden, WR, Liberty
Gandy-Golden is one of the biggest sleepers in this draft and if we kept #136, we could've added a huge vertical WR3 prospect for Aaron Rodgers to drop dimes to. Wisconsin C Tyler Biadasz would've also been a valuable add here, and he could've succeeded Corey Linsley after a year of learning the NFL game.
Round 5, Pick #175: Netane Muti, G/C, Fresno State
Muti is another sleeper who's truly one of the best run-blocking interior O-Line prospects, not to mention he won the combine's Bench Press competition. Oh, and he can eat minutes and/or succeed someone long-term anywhere inside.
Round 6, Pick #192: KJ Hill, WR, Ohio State
Yes, Hill wasn't taken until pick #220 but I'm honestly stunned he was still available at #192. He's a speedy slot-first playmaker who could really make a difference as an underneath option for Aaron Rodgers.
Round 6, Pick #208: Geno Stone, S, Iowa
Stone is a ballhawk Safety who's an absolute steal at #208, as he could be the backup single-deep safety behind Adrian Amos right away. Maybe he can remind his old teammate Josh Jackson how to intercept the ball...
Round 6, Pick #209: Prince Tega Wanogho, T, Auburn
Again, I have no idea why he's still around at #209. Wanogho's a solid swing Tackle project, and both Tackle spots could use depth: David Bakhtiari's deal is expiring, new RT Ricky Wagner has an injury history and I don't trust Alex Light as the backup Tackle at both.
Round 7, Pick #236: Dane Jackson, CB, Pitt
Jackson could be a decent backup corner and special teamer right away, and I'm not as sold on our depth at Cornerback as the Packers seem to be.
Round 7, Pick #242: Jonathan Garvin, DE, Miami
Look at that, I kept the first and last picks of Green Bay's class. I'd give OL Tremayne Anchrum and TE Stephen Sullivan serious consideration here too.
Now imagine THIS class:
Jordan Love, QB
Zach Baun, LB
Adam Trautman, TE
Antonio Gandy-Golden, WR
Netane Muti, G/C
KJ Hill, WR
Geno Stone, S
Prince Tega Wanogho, T
Dane Jackson, CB
Jonathan Garvin, DE
That's one of the best classes of the draft and Green Bay just improved their short-term AND long-term outlook... if I do say so myself.
In Gutey we trust... right?