NBA Coaching Carousel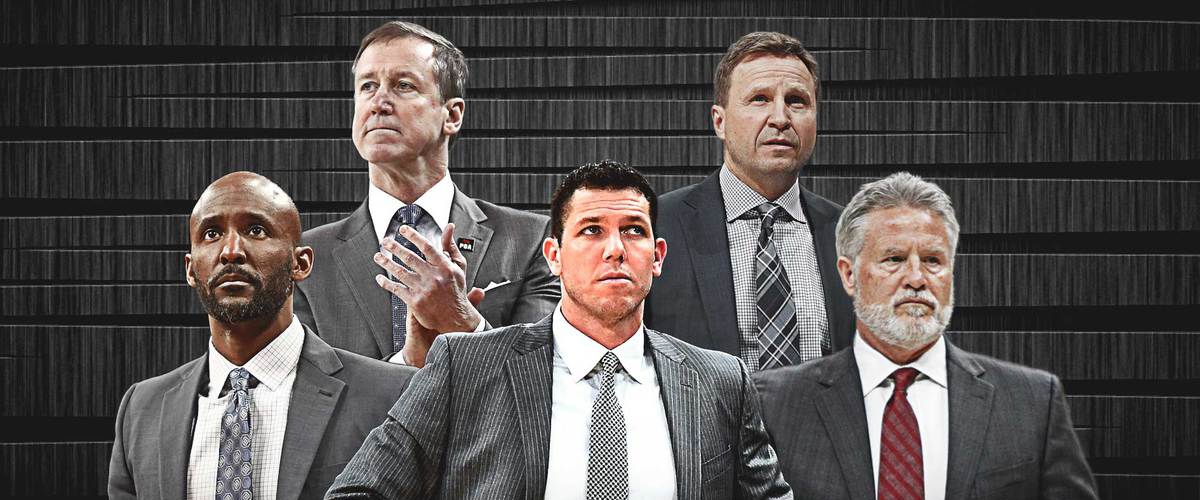 The NBA offseason is normally full of coaching changes and this offseason is not short of just that.
There's been a lot of activity on the head coach market so far and plenty of jobs available. Here's a list of the coaches who got handed their pink slips so far:
Nate McMillan (Indiana Pacers)- 4 seasons (183-136)
Alvin Gentry (New Orleans Pelicans)- 5 seasons (175-225)
Brett Brown (Philadelphia 76ers)- 7 seasons (221-344)
Jim Boylen (Chicago Bulls)- 2 seasons (39-84)
Billy Donovan (Oklahoma City Thunder, mutually agreed to part ways)- 5 seasons (243-157_
Mike D'Antoni (Houston Rockets, decided not to renew contract)- 4 seasons (318-217)
Former Cavs head coach Ty Lue is arguably the hottest name on the market and is rumored to be linked to the Houston, New Orleans and 76ers head coaching jobs.
With his relationship with current players, his tough-minded style of coaching and an NBA championship under his belt he shouldn't have to wait too long to get a new opportunity.
There is also mutual interest between Sam Cassell and the Houston Rockets to take over the helm as the Rockets look to make a culture change. Cassell has been an assistant coach since 2009 and was a huge contributor to the back to back titles Houston won in 1994 and 1995.
The New York Knicks go through another coaching change and hire former Bulls and Wolves head coach Tom Thibodeau.
In a shocking move, the Brooklyn Nets announced that they are hiring Hall of Fame point guard Steve Nash as their new head coach.
Nash has been with the Golden State Warriors as a consultant for the last three years and won two championships (2017, 2018) in the front office. Nash is one of the greatest basketball minds of all-time and I think this was a good move by the Nets. He has good relationships with Kevin Durant and Kyrie Irving and I think Brooklyn can be major players once their healthy.
While there are plenty of big name coaches available. I'll list some names that are deserving of a head coaching position:
Becky Hammon, Assistant Coach (San Antonio Spurs)-
Becky Hammon is one of the greatest WNBA players off all time, but in 2014 she made history as the first female full-time assistant coach in league history. in 2015 she coached the team's Summer League team to a Las Vegas Summer League title.
Hammon is well respected in the NBA and has been learning from an all time great in Gregg Popovich so I think her time as the first female head coach is coming.
Sam Cassell, Assistant Coach (WAS, LAC)-
A league favorite and one of the top assistants in the NBA, it's time for Sam Cassell to land a head coaching job.
Cassell has made an impact on every team that he's been whether as a player or a coach. He has a high IQ and is a player's coach that has been sitting next to Doc Rivers for the last six years and is ready for an opportunity. Every player that has played on a team that he's been apart of have raved about his style and approach to the game.
Chauncey Billups-
Mr Big Shot has been gearing for a return to the NBA, but not as a player.
For the last couple of years, Billups has expressed an interest as an NBA executive, and was once a candidate for the Minnesota Timberwolves, New York Knicks Cleveland Cavaliers, and Detroit Pistons General Manager positions.
He now expresses an interest in coaching and has recently been linked to the Indiana Pacers vacant job. A natural born leader as a floor general, Chauncey Billups has always been a winner (2004 NBA champion)
Tyronn Lue has been talking to Billups about bringing him on as his top assistant on his next coaching staff once he lands a new job. Current NBA guards Marcus Smart and Kyle Lowry both spent time with Billups, so he already has a hand in player development and he needs to be considered in one of the many head coach openings.
In my opinion, the most attractive job right now is with the New Orleans Pelicans. GM David Griffin has this team pointed in the right direction, and an opportunity to coach Zion Williamson, Brandon Ingram and Lonzo Ball is highly appealing.
---