2017 Clemson Baseball Preview: Outfielders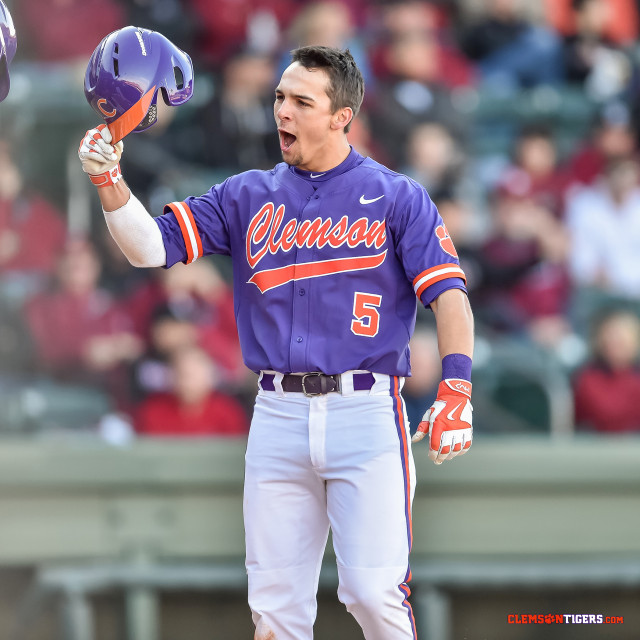 Courtesy of ClemsonTigers.com
Not much was expected of the Clemson baseball team heading into the 2016 season. After a disappointing 2015 campaign which ended with an early exit from the Fullerton Regional and the firing of Coach Jack Leggett, the Tigers were projected to finish 6th in the Atlantic Division in 2016. However, first-year coach Monte Lee led the team to a 44-20 overall record, winning the ACC and ultimately earning the #7 national seed and hosting a Regional.
Expectations are at an all-time high leading into the 2017 season, even though the Tigers will be without many key contributors from last year's team. To finish off our positional previews, let's take a look at what the outfield might look like this spring.
Departures
Mike Triller didn't get much playing time over his four year career, primarily seeing time as a pinch hitter. However, he played a huge role for the Tigers throughout the 2016 postseason; hitting .462 with 2 home runs, 3 doubles, 4 RBI and scoring 5 runs in the ACC Tournament.
Returners
Junior Chase Pinder moved to centerfield last spring and never looked back, hitting .294/.412/.471 with 11 home runs and 46 RBI out of the leadoff spot. He put up a .278 average in 22 games with the Chatham Anglers of the Cape Cod League this past summer, and should once again be a spark plug for the Tiger offense in what very well may be his last season in Clemson.
A preseason first team All-ACC outfielder according to Perfect Game, Reed Rohlman started 57 games in left field for the Tigers in 2016, hitting .274/.374/.383 with 21 doubles and 43 RBI. He may see more time as a designated hitter this spring, but will be important piece of the lineup whether or not he plays the field.
K.J. Bryant made great strides over the course of the 2016 season, ending with a .257/.337/.351 line over 45 games (23 starts) and has put himself in position to earn even more playing time this spring. Depending on how well Seth Beer makes the transition to first base, Bryant should be the favorite to earn the starting job in right field come Opening Day.
Junior Drew Wharton has primarily seen time as a pinch-hitter over his first two seasons in Clemson, but comes into the spring competing for the starting job out in right field. While Bryant may have a leg up as of now, Wharton has been clutch performer in the past, and should see plenty of opportunities to contribute this spring.
Newcomers
A redshirt graduate transfer from Presbyterian College, Weston Jackson is the lone newcomer expected to see significant time in the outfield for the Tigers this spring. He hit .341 with 10 home runs in 57 games last season, and was named a 3rd team All-American by Collegiate Baseball. If he is unable to win an outright starting spot, look for Jackson to get the nod in left field when the Tigers are facing a left-handed starter.
Follow along as we continue to cover the Clemson baseball team as well as news and notes from around the world of baseball over the course of the season.
---