2016-17 Atlantic Division Preview
This will be a four part blog post, with this being the third, in which I will tackle some predictions of how teams will perform as well as where they will fall come playoff time. Playoff teams will be marked with a "X"
Atlantic Division
1. Tampa Bay Lightning X
The Bolts have been one of the best teams the past few years, making at least the Eastern Conference Finals two years in a row and have finished second in their division three years straight.
Tampa is one of the few teams that really have it all. A nice blend of youth and veterans, stars, depth and a Vezina candidate goaltender. The Lightning ranked 4th in goals against per game with 2.45. That stat isn't the least bit surprising considering what a monster Victor Hedman is, and what a brick wall Ben Bishop can be.
Somehow though, the team only managed 2.77 goals for per game in 2015-16, which is still decent but you'd expect that they would manage to be one of the top teams in the goal scoring department. But I think that'll improve this year so long that they all play full season. Stamkos can always be relied upon to score at least 30 goals, but everyone knows that. Kucherov, Palat, Johnson and Drouin could all net at least 20, with some of them even sniffing 30. Even if they lacked depth scoring (they don't), these guys would make up for it.
2. Florida Panthers X
The Florida Panthers are on the rise, ladies and gentlemen. They managed to make the playoffs last year, but this year they will actually be seen as a threat throughout the year. GM Tom Rowe made some great signings and trades that are really going to help out the team this year.
They made a huge upgrade when they opted to let backup goaltender Al Montoya (.919 Sv% & 2.18 GAA in 25 GP) walk to free agency in favor of James Reimer (.922 Sv% & 2.31 GAA in 40 GP). This should definitely help the Cats by allowing them to give starter Roberto Luongo an easier work load throughout the season by having a reliable backup.
Florida's forwards remain relatively unchanged, but there have been a couple depth changes. Signing Colton Sceviour and Jonathan Marchessault, as well as trading for Jared McCann all will greatly improve the bottom six.
The biggest changes Florida made this offseason though, was their blueline. They signed veteran Keith Yandle to replace Brian Campbell, allowed Willie Mitchell to walk and filled that gap with a much better Jason Demers. Their last swap was a crafty one, trading Dimitri Kulikov in exchange for Mark Pysyk, a couple of draft picks were also exchanged in the deal.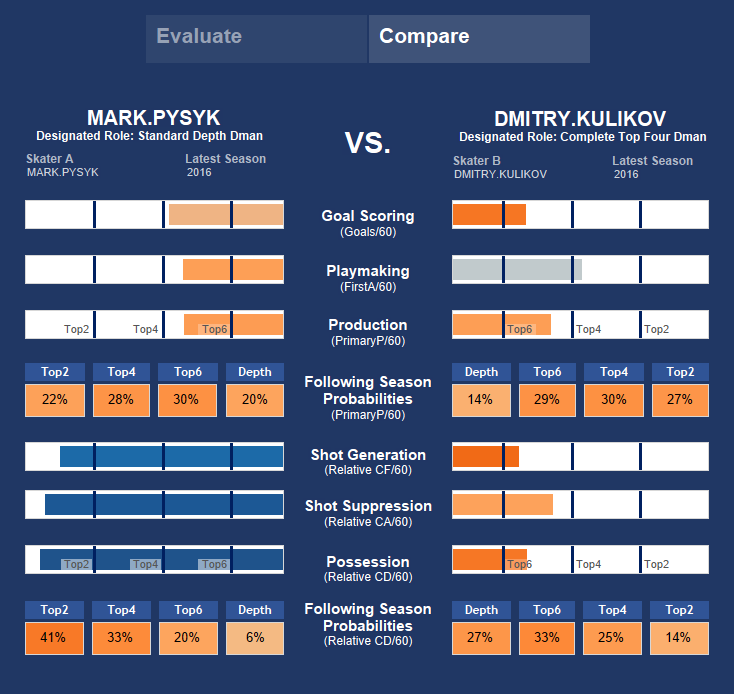 Pysyk vs Kulikov HERO Chart
While the two players are fairly similar at producing points, Pysyk is far better at generating and suppressing offense as well as possession. This was one hell of a deal for Florida that is going to contribute to a fairly successful season.
3. Montreal Canadiens X
Yes, the Montreal Canadiens will be back in the playoffs in 2016-17. They made an absolutely terrible trade by acquiring Shea Weber and shipping out PK Subban, but Weber is still a good player. Slow and old yes, bad no. They did make a good signing though by bringing Alex Radulov back from the KHL. The former Predator should be able to help the Habs with their issue of scoring goals by adding at least 20, if Therrien plays him with other skilled players such as Galchenyuk. But most of all, Carey Price is back, and with his health now being 100% he is ready to reclaim the Vezina trophy. There is no way that the Habs miss the playoffs as long as Carey Price is Carey Price, everyone else just needs to try their best to be average.
4. Ottawa Senators
The Sens have a handful of very nice players, that goes without saying. But unfortunately, the management of the team hasn't exactly done a great job surrounding those core pieces like Mark Stone, Mike Hoffman, Erik Karlsson and Bobby Ryan. Instead of filling out the roster with other skilled players, they have placed guys like Chris Neil and Tom Pyatt throughout the lineup.

While the forwards aren't exactly great beyond the top six, the defense should be improved this year. Of course, they have one of the top defenseman in the league with captain Erik Karlsson. He will continue to be the player leaned on and trusted most by the coaching staff, without a doubt. Not only will Karlsson help with their success, but a full season of Dion Phaneuf and an improving Cody Ceci should also be able to drive play as well as produce.The improved D-core should be able to make Craig Anderson's job a bit easier.

Anderson has had a very up and down career in Ottawa. He has either been average or elite, there is no in between with him. This past season he was very average. Looking at his save percentage from 2011-12 to 2015-16 goes as following: .914, .941, .911, .923 and finally .916, so it appears that this season he'll bounce back and have a great year.

5. Detroit Red Wings
The 25 year playoff streak is poised to end this year. The Wings simply don't have the young talent to replace the worn down veterans that are edging their way to retirement. With Datsyuk gone, that leaves a massive hole in the roster, even with the addition of Frans Nielsen (and his terrible contract). The Wings just do not have any Grade A young talent coming up through their system, but this was bound to happen after two decades of low-round draft picks.
Bottom line is, they are old. The core of the team is past their prime, and either struggling to produce, or struggling to stay healthy. They can however, still be fairly competitive team, especially if Petr Mrazek keeps playing the way he has. Not to mention the abundance of contracts that now look terrible, such as Jimmy Howard being paid over $5 million with a sub par .910 Sv% or Justin Abdelkader signed to $4,250,000 a year. Unfortunately though, they won't be competitive to the point that they make the playoffs.
6. Toronto Maple Leafs
The Leafs have an extremely promising future. The new additions of Frederik Andersen and corner stone center Auston Matthews are going to be a massive boost for this team.
Matthews is ready to jump right into the NHL after being drafted first overall, whether he places first, second or third line is still yet to be determined, but wherever he plays he will most likely be accompanied by other top notch prospects such as William Nylander or Mitch Marner, and that will help their growth tremendously.
The Leafs now have a solid number one goaltender. Frederik Andersen is going to be the backbone of this team as they finally dig themselves out of the hole that is decades of failure.
Other additions of Matt Martin, Nikita Zaitsev and the re-acquisition of Roman Polak have a chance to provide leadership and depth to a relatively young roster. While Toronto still has some dead weight on the team, they are finally doing something good and while they aren't yet a playoff team, by time Matthews, Nylander, Marner and Reilly have matured they should be a frequent post season visitor.
7. Boston Bruins
The powerhouse Bruins are no more. They have had their fun with the 2011 Cup win, but now it's time for them to rack up some high draft picks and rebuild. Even though they haven't made the playoffs the past two years, it seems as though the Bruins aren't just ready to rebuild. Locking up David Backes until 2021 at the price of $6 million a year signifies this.
The Big Bad Bruins still has some very nice pieces that have brought them success in the past, namely Patrice Bergeron, Brad Marchand and David Krejci. This trio will continue to be great while the rest of the team will most likely crumble around them. Dominic Moore and Riley Nash may help the third and fourth lines, but there is no helping the defense.
The once wall of a defense has now been reduced to rubble. Main building block Zdeno Chara is nearing 40 years old and is but a shadow of his former self, it's not his fault really, but age will do that to you. The only decent player on the blueline is Torey Krug, but he can only do so much when surrounded by the players that he is. There is no saving this team while the defense is in such shambles, even with Tuukka Rask in net. Boston better prepare for another disappointing season.
8. Buffalo Sabres
Buffalo is still on the rise, don't be fooled by their position in the standings. It's just that other teams on the rise, such as Toronto, are rising much quicker. Jack Eichel, Sam Reinhart and Ryan O'Reilly are fantastic players to build around, but after dismantling a team to commit to the tank, it can take its toll.
Rasmus Ristolainen is a very good player, but he is not the number one defenseman that Buffalo thinks he is. Thus, leaning on him so heavily is hurting the team. As well as they received a downgrade on the blueline when aquiring Dimitry Kulikov for Mark Pysyk. Kulikov isn't terrible, but Pysyk has far much more potential while already being a superior player.
The Sabres will have their day eventually, but they won't see great improvements this upcoming season. The young guns will continue to grow and flourish, but they still need some key pieces to add the the equation before they can challenge for the post season.
---