Dre Got Next: LuHi's Andre Curbelo is on the rise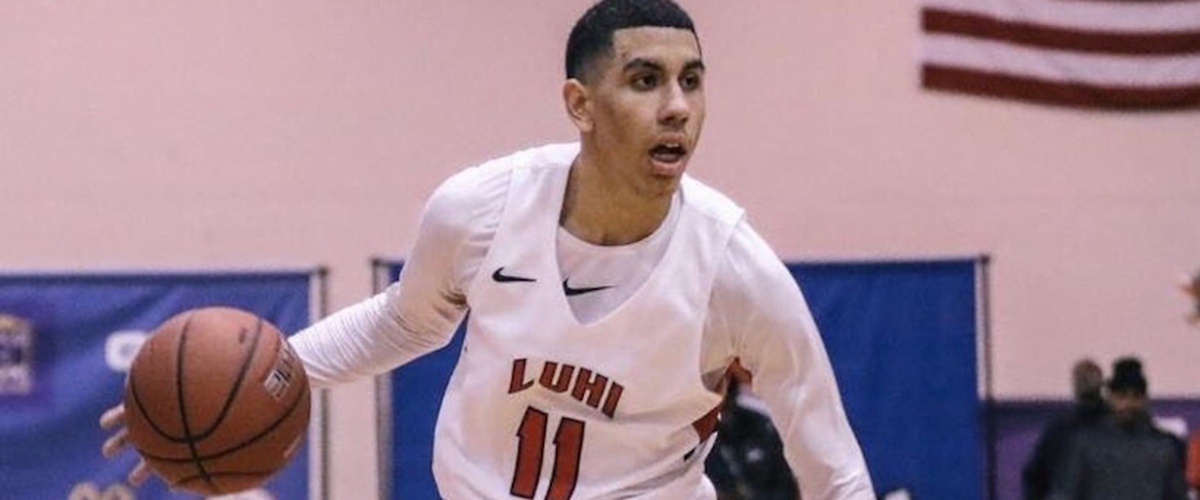 Photo Credit: Jeffery Armstrong / Visions by Jeff
The Class of 2020 have some special guards that have made a lot of noise from the moment they first stepped on campus. One thing that separates these guards from others is their ability to flourish while playing above their level. It's an arduous task that not many could attempt but for LuHi rising junior guard Andre Curbelo, he has handled the task of playing up with ease.
During the adidas gauntlet finale in NYC during first live period, Curbelo was called up from the NY Jayhawks 16U team to play up on the 17U team. The Jayhawks were currently 1-1 on Saturday and in a heated game vs Mass Rivals (2016 adidas gauntlet champions). In that game, the Jayhawks fought back from being down five points with a few minutes remaining. Curbelo made a huge impact on both ends which fueled their comeback. up 56-64 with a few seconds remaining, Andre Curbelo fakes a defender from the right corner and drives past a few defenders to the rim for an easy finish. By the look of that move you would think that Andre is a senior, but he just finished his sophomore year at Long Island Lutheran. Playing with older players is something he is used to and as he explained to me back on July 14th, the high school basketball season has prepared for him for it. "I've been playing varsity since I arrived at this school and even though the players are bigger than stronger than me I have been able to adapt because I play very hard and the coaches believe in me".
Curbelo plays with an unshakable confidence and high basketball IQ which makes him one of the best Point guards in the nation. Curbelo finished the Adidas Gantlet finale with a 25 point, nine rebound and five assist performance in the championship game vs Brookwood Elite. In most games Curbelo has been known as a triple double machine and at six feet tall, the rising junior rebounds the ball better than a lot of other players at his size and position.
One major highlight for Curbelo this summer is playing for his native island Puerto Rico in the FIBA U17 World championships. During the tournament Curbelo averaged 14 points six rebounds and six assists per game, leading Puerto Rico to the Bronze Medal. Curbelo also made the FIBA all-star five team which included top 2020 prospect Jalen Green and 2019 product Vernon Carey. Playing for his native island is something he prides himself on and making it far in the tournament was a major accomplishment. "I love my island and I love playing for it I don't think anyone expected us to get the bronze medal. A lot of people don't know how hard it was because that we were the second smallest team in the tournament. Curbelo has drawn comparisons to fellow Puerto Rican point guard and NBA veteran Carlos Arroyo.
Andre Curbelo's 20 point, 7 rebound and 7 assist performance vs Turkey Courtesy of FIBA.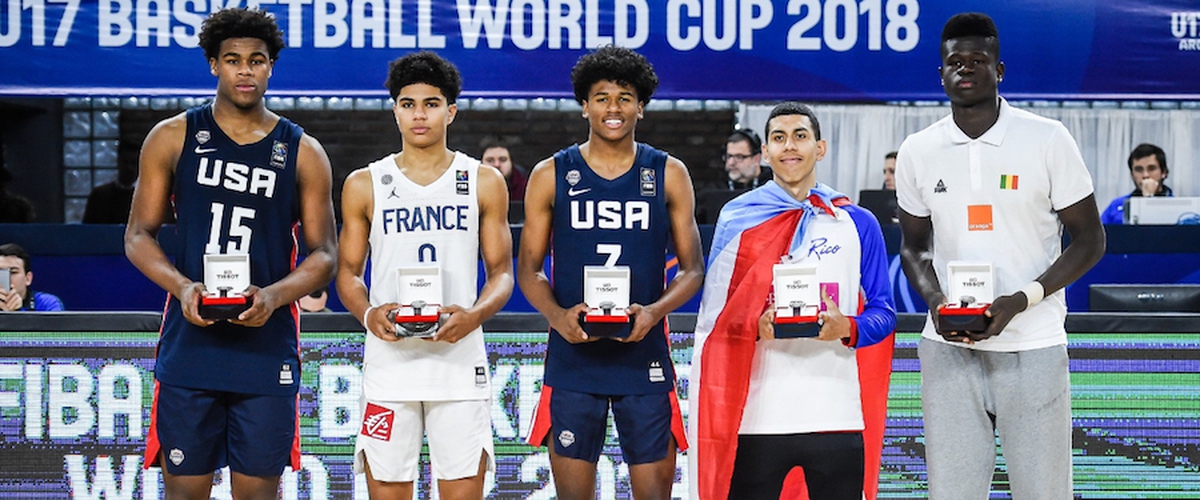 Andre Curbelo sharing the top honors with some fellow All-Americans and International prospects. Photo Credit: FIBA
The 6-0 guard currently holds offers from tons of schools such as Florida, Wichita State, VCU, UMass and St. John's just to name a few. As Curbelo's career progresses it's a sure thing that the offers will grow. As Curbelo enters his junior season, his strength remains one of the main things he needs to improve on going forward. " I think that one thing I need to improve on is my strength, a lot of the players I play against are more stronger than me and I just want to be prepared to play against them once the season starts". Curbelo's performance at the Gauntlet finale was so good, he stayed with the 17 U team for the rest of the AAU season by competing in the Adidas Summer championships and the AAU summer Showcase in Orlando, Florida. The Jayhawks finished their AAU season strong by beating The Family out of the Nike EYBL circuit 79-78. It's a summer to remember for Curbelo and the Jayhawks and it further proves that the sky is the limit for him going forward.
---