Devonte Graham, King in the Queen City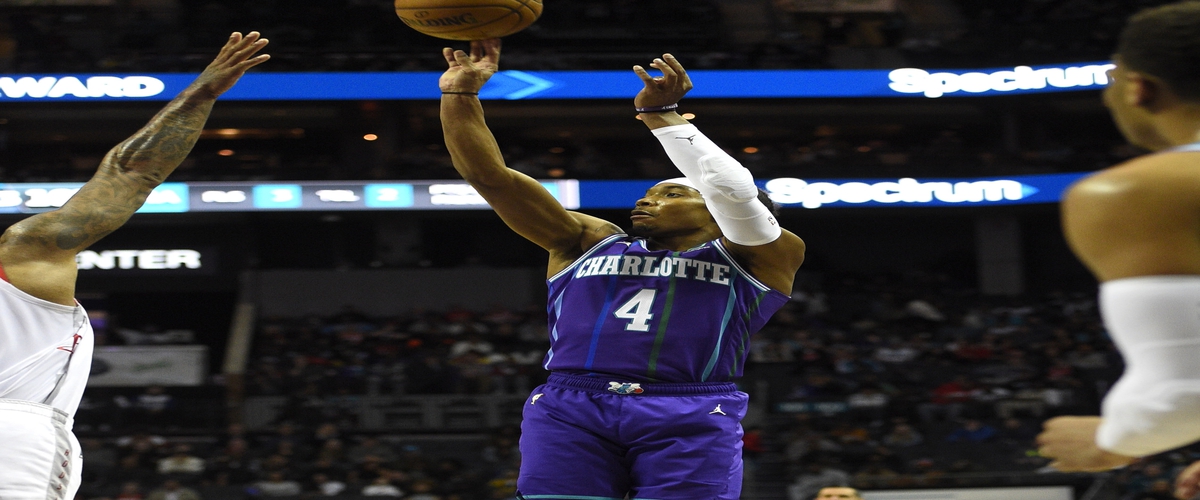 Devonte Graham is the best player that you've never heard of. Well ok, if you're an basketabll savant you've probably heard Graham's name by now. Charlotte's six foot one point guard is in the middle of a breakout sophomore season. The near all-star is averaging 18/4/8, and perhaps most impressive, is in the top five in the league for three point makes on the season. The rest of the top five is made up of sharpshooting superstars like James Harden and Damian Lillard and the marksmen Buddy Hield and Duncan Robinson. Robinson, of the Miami Heat, will compete with Graham in the three-point contest at All-Star weekend in Chicago.
A North Carolina native, Graham grew up in Raleigh, just a few hours away from his future team. His story is one of the most inspiring in the league. His mother gave birth to him at just 14 years-old. He grew up living in a blue-collar family. He entered Broughton High school as a five foot three adolescent with an insanely juxtaposed size 14 foot (must have had a really big pair of shoes). His upbringing led him to get "Forever Grateful" tattooed across his chest. I got the chance to speak with a few of Graham's teachers from Broughton. They remarked that "he was polite and a hard-working student", and that "he was raised by a young, single mom who fled the city where he was born because of an abusive situation". Everywhere he goes, people seem to love this kid. This year, his younger sister is a senior at Broughton, and the teachers seemed quite fond of her as well.
Graham was drafted in the second round by the Hornets in 2018 at pick 34. Previously, the rookie spent 4 years playing at Kansas, slowly improving his draft stock. According to figures from 2016, only about two thirds of second picks ever play a game, and only one third will even become a rotation player. After being passed on by nearly every team, there certainly weren't many expectations for Graham. Sure, there are some exceptions like Draymond Green or Nikola Jokic, but no one, not even the Hornets expected young Graham to be this good, this soon. In his rookie season, the guard dwelled near the bottom of Charlotte's roster in minutes at 14th on the team. He spent most of the season in the third string or even the G-league. He showed flashes of his capabilities while in the G-League, averaging 23/5/5 while shooting a solid 38% from three. Returning to the NBA near the end of the regular season, Graham showed out with a career high 13 points, making three three-pointers in 16, accompanied by five assists. From an objective point of view, these numbers aren't particularly impressive either. Graham's peak performances, breaking double digit scoring in the NBA and excelling in the G-League, are fairly common occurrences, which just makes his rise to stardom even more storybook.
So what made the difference this year? The Hornets don't exactly have the best track-record developing young talent. Recent memories include disappointing lottery picks like Malik Monk and Michael Kidd-Gilchirst and a weird affinity for large Caucasian player - one of the many reasons the team is chained to mediocrity, but that's another article. A coaching change before Graham's first season had fans optimistic that player development would improve. James Borrego replaced Steve Clifford as head coach of the team in May 2018, and so far, it seems the fans were right. Recent picks Miles Bridges (MVP of the rising stars game) and Dwayne Bacon have shown promise, and Malik Monk seems to slowly be approaching the hype he came in with. None of the young core has been as impressive as Graham though. The other, probably more significant factor has been the departure of star point guard Kemba Walker, who left to join the Celtics in free agency over Summer. Graham has stepped up to the plate in Walker's absence in a Cinderella-story fashion. Walker led the team with a whopping 35 minutes per game during his last season in Charlotte, and was perhaps the only good thing about the team. When he left there were no bitter feelings, he had given the team and the fans everything, but a justified (don't hate me Hornets fans) refusal to pay Walker the supermax contract he was eligible for (or even a normal max) forced him to leave. Charlotte was left in despair, and it seemed that dark times awaited Buzz City. Some fans saw the bright side as the team being allowed to bottom-out and get quality draft picks; it wasn't like anyone was watching the games anyway. But, Graham rose from the shadows to carry the Hornets back to their middling status. Graham filled the minutes and production in a way no one expected, becoming the teams undisputed best player. Graham is one of the few (the only?) reasons Charlotte can still claim superiority to rival dumpster fires like the Knicks.
All in all, Devonte Graham is a bright side nestled away in the Queen City, and he is a reason to catch at least one Hornets game this season. Basketball fans should be excited to see how the young sniper progresses and thankful that he is part of the young talent giving the league a bright future.
---