NBA Draft Rankings: The Top Ten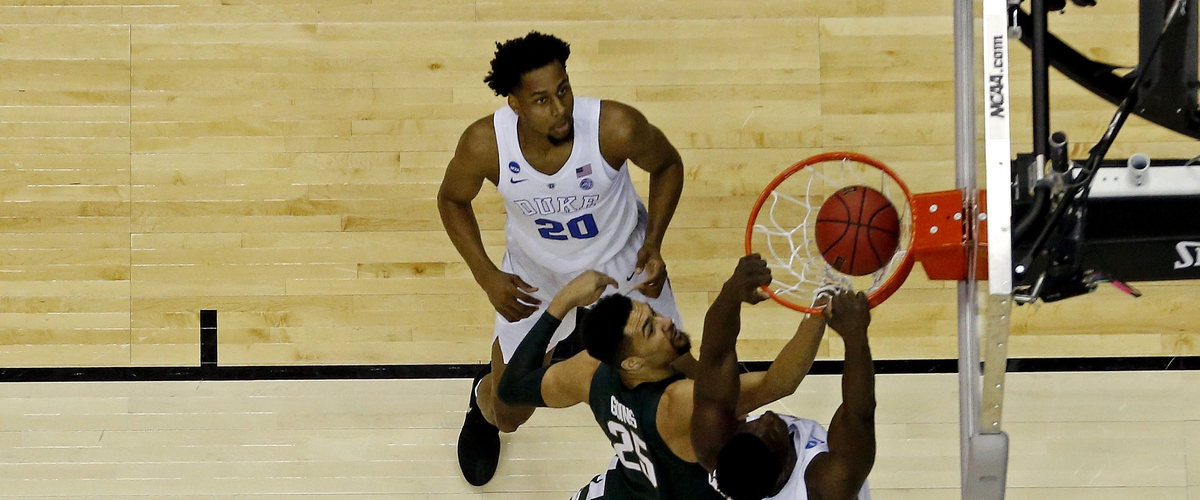 With the college basketball season now over, and fourteen NBA teams eliminated from playoff contention, it is time to look ahead to June's NBA Draft! Below are my top ten prospects for this draft class. The players are ranked based on a mix of potential and current ability, as well as how I see them fitting in at the NBA level. Hit me up with your arguments at [email protected].
#1: Zion Williamson, PF, Duke
6'6'', 275 lbs.
Even though he may not end up being the best player in his class, there is too much potential not to take Zion first overall. He is ridiculously athletic, arguably the most athletic NBA prospect since LeBron James (he's even more athletic than the king himself, in my opinion). Not only can Zion jump out the gym, but he is freakishly strong, agile, and explosive. On top of that, Williamson has also exemplified an impressive feel for the game and high in-game IQ while playing at Duke. What is often overlooked is that he often makes the right play, not the most obvious one.
Williamson started to connect more from three near the end of the season, but there is significant room for improvement in the area of shooting. His form needs to become quicker, and he will need to extend his range in order to make threes at the NBA level. I project Williamson as more of a small forward in the NBA, but he can really play anywhere from the 2-4. In his rookie season, he'll get most of his points off put backs, the fast break, and, most of all, crafty drives to the rim.
Strengths: Rebounding, Shot Blocking, Finishing at the Rim, Basketball IQ, Athleticism
Areas for Improvement: Shooting, Perimeter Defense
#2: Ja Morant, PG, Murray State
6'3'', 170 lbs.
Morant really impressed me this season. After watching Morant play, I'm convinced he will become a superstar point guard at the NBA level. He is an explosive athlete who can put anyone on a poster. Morant is also a terrific passer who sees the floor extremely well, exemplified by his impressive average of 10 assists per game this season. He is really good at picking his spots, when to set teammates up, or when to create baskets himself.
Morant has really nice range, but his shooting is inconsistent. In order to fulfill his potential, he needs to work on his jumper's consistency at all three levels of the floor. In terms of defense, Morant has the physical ability to be a terrific on-ball defender, and he is already an aggressive shot blocker. He just needs to work on his urgency and intensity on defense.
Strengths: Passing, Basketball IQ, Athleticism, Ballhandling
Areas for Improvement: Turnovers, On-Ball Defense, Shooting Consistency
#3: De'Andre Hunter, PF, Virginia
6'8'', 222 lbs.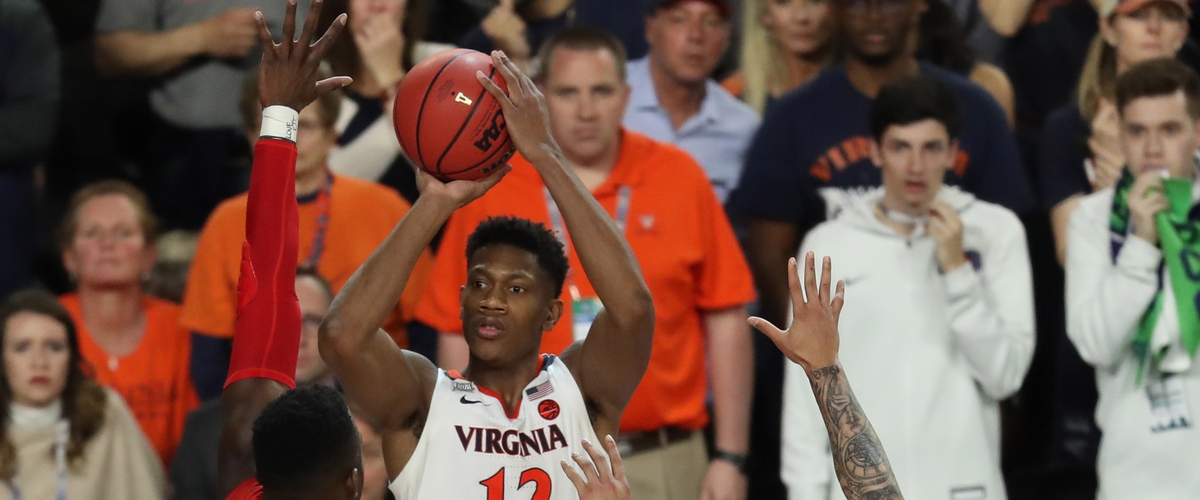 I am a huge fan of Hunter's. He is so versatile on offense and on defense. For a big guy, Hunter shoots the ball exceptionally well, hitting 44% from three and 78% from the free throw line this season. He can defend any position and can take any position head-on on the offensive end.
That said, Hunter does have plenty of room for improvement. His basketball IQ isn't as high as that of Williamson or Morant, and he struggles moderately with the odd brickheaded turnover. I also think he could rebound the ball a little better for his size.
Strengths: Shooting, Offensive & Defensive Versatility, On-Ball Defense, Efficiency
Areas for Improvement: Passing, Rebounding, Arsenal of moves
#4: R.J. Barrett, SG, Duke
6'7'', 208 lbs.
In my opinion, this season for Barrett was very up-and-down. On one hand, the Canadian demonstrated an elite ability to put the ball in the basket. He is so good at finishing through contact, and anywhere inside the free-throw line. For a shooting guard, Barrett also has very good size. The 'down' was the fact that Barrett was very inefficient and can't consistently hit a jumpshot.
That said, I still think Barrett can reach superstar status in the NBA. An underrated part of Barrett's game is that he can be a very good playmaker when he wants to be. He's got the alpha dog mentality, is a good defender, and an aggressive rebounder. That said, there is considerable work to do.
Strengths: Finishing at the Rim, Defensive Versatility, Ballhandling, Playmaking
Areas for Improvement: Shooting, Decision Making
#5: Darius Garland, PG, Vanderbilt
6'3'', 173lbs.
I really like Garland, and part of me thinks he should be even higher on this ranking. Garland is arguably the best ballhandler and shooter in this draft class. His shooting form is pure, quick, and accurate; Garland connected on 47.8% of his threes this season (albeit in five games). He is competitive, always in motion, and devilishly quick.
I think Garland needs to become stronger (in order to hold off defenders) and also look to become more of a playmaker. He had only 2.6 assists per game this season, but that number will rise with more talented teammates in the NBA.
Strengths: Shooting, Ballhandling, Basketball IQ
Areas for Improvement: On-ball Defense, Physical Strength.
#6: Cam Reddish, SF, Duke
6'9'', 205 lbs.
Even though Reddish had a disappointing season at Duke, he showed me enough to put him at six. There is just too much talent to have him any lower. Reddish was very bipolar this season. Sometimes he would literally be invisible, and at other times he would be the biggest threat on the floor.
When he's at his best, Reddish gets to the rim with ease and is a good finisher. He loves to take threes and can knock down uncontested ones at a good clip. When he's hot, he starts to get into pull-ups and step backs, both of which would be lethal additions to his arsenal at the NBA level. In order to succeed in the NBA, Reddish needs to be able to take more contact, step up his defensive intensity, and become a more consistent threat on offense.
Strengths: Ballhandling, Spot-up Shooting, Scoring Instinct
Areas for Improvement: Defensive Intensity, Ability to take Contact, Shooting/Effort Consistency.
#7: Coby White, PG/SG, North Carolina
6'5'', 191 lbs.
White's play in the second half of the season brought up his draft stock tremendously. He is a good athlete, one of his most strong traits being his blazing speed; with and without the ball. White is also a good shooter and defender. He has all the tools to become an impact player at the NBA level. I love his floater package as well.
Strengths: On-ball Defense, Ballhandling, Speed
Areas for Improvement: Extending his Range, Rebounding
#8: Jaxon Hayes, C, Texas
6'11'', 220lbs.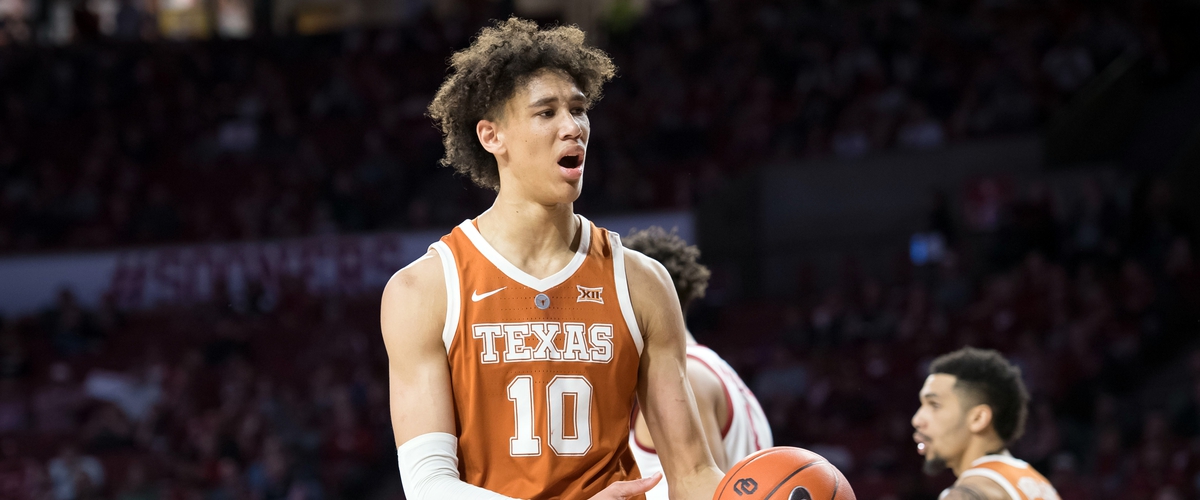 Hayes is super raw but oozes potential. The centre is athletic but doesn't have much more to his game other than shot blocking and finishing above the rim, both of which he does very well. That said, Hayes is the definition of a late bloomer and is still learning his position. He entered high school at 6'1'' and grew ten inches since then. He was only a starter (in high school!) in his senior season. Because of this it is hard to judge where Hayes is at, but he seems to have very good instincts and is very athletic. He is the consensus number one centre in this class.
Strengths: Athleticism, Shot Blocking, Free-Throw Shooting
Areas For Improvement: Shooting, Ballhandling, Perimeter Defense
#9: Romeo Langford, SF/SG, Indiana
6'6'', 202 lbs.
Langford had his struggles this season. He didn't shoot well from three (or really anywhere for that matter), but I love his talent level everywhere else. This season he demonstrated an innate ability to get to the rim and also made some really challenging shots once he got there. Langford has great touch and is a smooth operator, two important tools to have. The key to NBA success is one word: shooting. Langford's hallmark is his scoring, but you cannot be a good scoring guard in the NBA unless you can shoot.
Strengths: Finishing at the Rim, Defensive Versatility, Scoring Instinct
Areas for Improvement: Shooting, Physicality, Decision Making
#10: Jarrett Culver, SG, Texas Tech
6'5'', 190lbs.
Culver is a good player, but I just don't get people having him in the top five. However, I do like him. He is a versatile player who rebounds the ball well for a guard and is a natural scorer. But at the NBA level, I don't see anything more than a starter who chips in ~15PPG and 6 or 7 RPG. And there's nothing wrong with that. Culver is a relatively safe pick with a good base and a strong work ethic. He needs to become a better shooter from distance, however.
Strengths: Rebounding, Ballhandling
Areas For Improvement: Shooting Range, On-Ball Defense
---