2018 NFL 1st round Mock Draft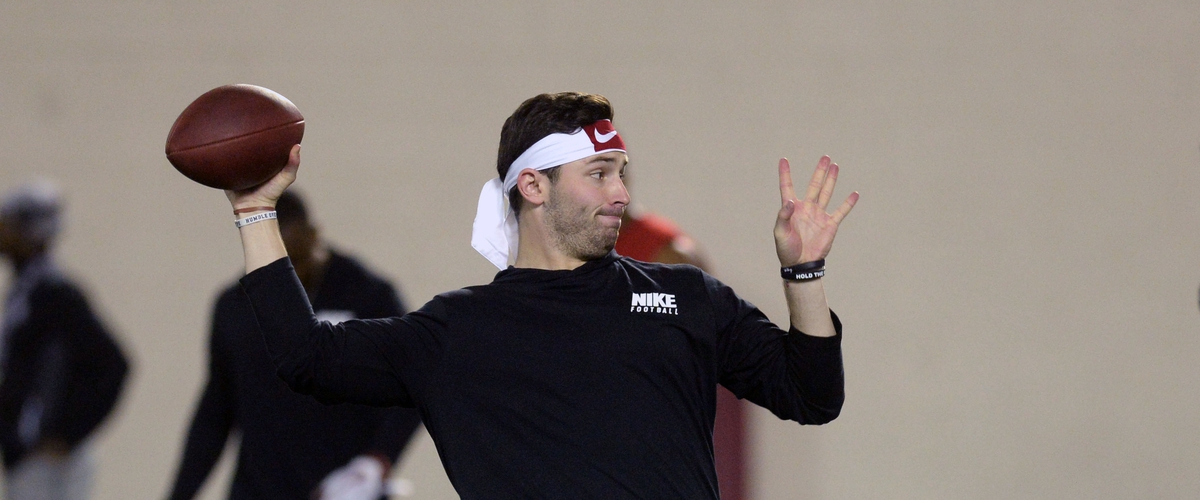 The NFL draft is here, and that means it is time to make predictions on who is picked where, which will all end up wrong but I will play as an expert for these next few hours leading up to the chaos of the draft. For this mock draft, there will be no trades, although I am 100-percent certain throughout the first round there will be tons of moving and shaking.
1) Browns: Baker Mayfield, QB Oklahoma. Mayfield is the best quarterback in this draft, so it is fitting that he goes number 1 overall. Celebrate Cleveland, the Browns will finally get it right.
2) Giants: Quenton Nelson, OL Notre Dame. Nelson is a generational talent, and will likely be in Canton, Ohio one day. This pick makes the most sense for a team that was dreadful up-front a year ago.
3) Jets: Sam Darnold, QB USC. Fans have had Jets Darnold jersey's made up since August, it was a weird way to get to the destination, but it is about the journey. With Baker Mayfield off the board Darnold goes to the big apple.
4) Browns: Saquon Barkley, RB Penn State. I think the Browns could very well trade this pick, but as I said I will not be predicting trades so they go with an amazing running back prospect to compliment their franchise QB.
5) Broncos: Josh Allen, QB Wyoming. While I personally do not think Allen will be a good a hometown Big frame, Big armed quarterback is the exact guy Broncos GM John Elway will fall in love with, right?
6) Colts: Bradley Chubb, EDGE NC State. Chubb is one of the best players, if not the best player in this draft. The Colts who traded down, still end up with their guy.
7) Buccaneers: Darwin James, DB Florida State. James is someone I am very high on, and I could see the Bucs giving up this pick and trading down. But James is the best DB in this draft.
8) Bears: Denzel Ward, CB Ohio State: Ward is a great player, and can help that Bears secondary.
9) 49ers: Da'ron Payne, DL Alabama: Payne can clog up the middle for a very talented and youthful 49ers team, though I do not think he is the best option, I feel like this is a "49er guy."
10) Raiders: Roquan Smith, LB UGA. Smith is amazing, it is as simple as that. He fits the Raiders very well. If this is in fact the Raiders pick, Jon Gruden's first pick back is a major hit.
11) Dolphins: Tremaine Edmunds LB Va Tech. Edmunds has been linked the the Dolphins and it makes a ton of sense, well the position does but there are better options on the board than Edmunds.
12) Bills: Josh Rosen, QB UCLA. Weather they trade up, or stay put, I think Rosen needs up as a member of the Bills.
13) Redskins: Vita Vea, DT Washington. The Redskins desperately need someone to plug up the middle on defense, and this pick would be a very good one with how talented Vea is. Another pick that makes sense for Washington is Josh Jackson, CB Iowa opposite of Josh Norman.
14) Packers: Josh Jackson, CB Iowa. Jackson has the best ball skills in this draft and will be an elite talent because of it. However, I think there is a good chance the Packers trade up and I doubt they would do so just to take Jackson.
15) Cardinals: Calvin Ridley, WR Alabama. I do not think Ridley will be an amazing wide out like some do, but I think he fits with the Cardinals. Larry Fitzgerald is on the way out, and can help develop Ridley which is a huge plus.
16) Ravens: Marcus Davenport, EDGE UTSA. Davenport is an elite talent and would fit well in Baltimore. I will give you another two-for-one, do not be shocked if the Ravens take WR D.J. Moore. Although the Ravens invested in wide outs during the free agency period, that position group still is not strong for the Ravens.
17) Chargers: Harold Landry, EDGE Boston College.
18) Seahawks Isaiah Wynn, OL UGA. Much like the Giants, that Seahawks offensively is just terrible. Wynn is one of the best OL talents in the draft, this simply makes sense.
19) Cowboys: DJ Moore, WR Maryland. Moore is my first rated wide out, and especially after letting go of Dez Bryant this makes even more sense. However, another 2-for-1 look out for Dallas to snag another offensive lineman.
20) Lions: Derriuce Guice, RB LSU. Guice is an amazing running back and will be a lead back in the NFL, a work horse. The Lions need that.
21) Bengals: Will Hernandez, OL UTEP.
22) Bills: DJ Chark, WR LSU. This is just a throw away pick. I do not think at the end of the night the Bills will hold the 22nd pick in the draft. I do not value Chark though most do.
23) Patriots: Lamar Jackson, QB Louisville. The Patriots are extremely high on Jackson, and with two first round picks, I think they would do everything they can to get him. Even if that means not staying put at 23.
24) Panthers: Lorenzo Carter, EDGE UGA. Carter is one of the best value picks of this draft, i am very high on both UGA linebackers.
25) Titans: Maurice Hurts, DL Michigan. Hurts is dropping so low due to his heart conditions, but he has been cleared to play and with something as serious as a heart condition, I do not think a doctor would clear him without being 100%. Another late 1st round value pick.
26) Falcons: Taven Bryant, DL Florida. I really like Bryant as a scheme fit in Atlanta.
27) Saints: James Washington, WR Ok State. This is yet another throw away pick. I rate James Washington as my number 2 wide receiver in the draft. However, the Saints are rumored to trade up and I do not think that will mean taking James Washington.
28) Steelers: Minkah Fitzpatrick, DB Alabama. This is my hottest take of the draft. Every year one player falls and leaves all of us at home saying "How is he still available?!" I think Minkah is that guy this year. Teams might be scared off by not knowing exactly where he fits in the NFL, but he is a very talented player, and will be an elite slot corner though I would love to see him at safety.
29) Jaguars: Mike McGlinchey, OL Notre Dame. Mike McGlinchey is another elite talent and can sure up that Jags offensive line.
30) Vikings: James Daniels, OL Iowa, Daniels is the best center in the NFL draft this year, and he makes the most sense for Minnesota. New Vikings quarterback Kirk Cousins has struggled his whole career dealing with interior pressure, Daniels will help greatly.
31) Patriots: LEIGHTON VANDER ESCH, LB Boise State. This is just a classic "Patriots guy" and will be a force in the NFL for years in this situation.
32) Eagles: Mike Gesicki, TE Penn State. The Eagles desperately need a tight end, and if I were making the pick I would side with Mark Andrews out of Oklahoma who I think is the best tight end in the draft. However, most teams are scared of him due to his lack of blocking skill. I still like Andrews is the best option for the Eagles but I do not think he will be in the first round. Yet another two-for-one, do not be shocked if someone trades up to 32 and takes Mason Rudolph, QB Oklahoma State. Much like the Vikings did with Teddy Bridgewater.
The NFL draft will be crazy and chaotic as always. This is going to be a fun night.
Watch the draft live with me on twitter, my takes in real time: @Rylan_Stiles.
Also there you can find my position-by-position big board.
---