Six Things We Learned From Week 7 of the 2020 NFL Season
A Thursday night matchup between two NFC East teams kicked off Week 7 in somewhat dramatic fashion, and the rest of the league followed suit. Leading to one of the most exciting weeks of football so far this year.
With a whole load of points, injuries, trades and rumours circulating the National Football League this past week we haven't really been able to take our eyes off of the action.
In case you missed anything though, here's your weekly update on the things we learned in Week 7 of the NFL season.
Are the Falcons even real?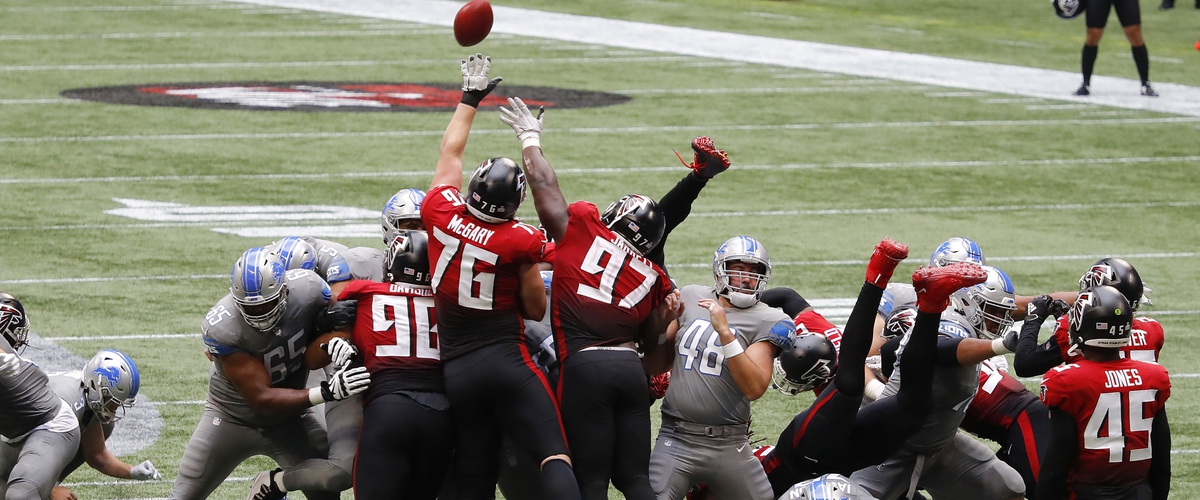 Legit question. Does this team even exist? Or are they just a facet of NFL fans' imaginations?
Surely a professional football team should not be finding a new way to blow games every single week.
It was funny after Dallas. 'The Falcons have done it again' we said.
The Bears loss we put up to some sort of 'Foles Magic'. Even though it was obvious to see that it was a defensive collapse.
It was amusing to us fans though.
But now… now it is just sad.
Accidently scoring a touchdown with a minute to go. And then letting Matthew Stafford drive the field with no timeouts to win the game with double zeros on the clock. Does it get any worse than that?
All they needed to do for the win was to have Gurley fall down before the goal line, run the clock all the way down, then score an easy chip shot field goal to win the game.
But they just couldn't win in easy fashion. They had to make it hard on themselves.
They already fired their head coach. What now?
Do you trade Matt Ryan? Julio? Everyone and anyone on the roster?
I have no clue what the solution is to this modern-day travesty.
What I do know though is that the 2020 Atlanta Falcons are dead and buried.
And to save any future embarrassment, how about they refuse to play any more games this season. It's not like they'll be missing out on much, other than a few more embarrassing losses I'm sure.
This will be the last season for the Falcons as we know them. A new direction is desperately needed, and with a top-5 draft pick surely on the way, lets hope it bring a culture change with it.
Baker steps up for Browns
The Cleveland Browns suffered one of the biggest blows to their season so far when their star wide receiver Odell Beckham Jr. went down with an injury, later diagnosed as an ACL tear, during their game against the Bengals on Sunday.
This looked to be another nail in the Browns coffin. After their loss to Pittsburgh last week it looked like their season was about to go downhill, and with Odell out of the game, hope seemed lost.
That was until Baker Mayfield turned back the clock and put on one of his best ever performances as an NFL quarterback.
The Oklahoma product threw for five touchdowns against an admittedly bad Bengals defense, including one with only a few seconds left in the game to take the lead and eventually win.
Does this mean that Baker and the Browns are better off without OBJ?
The stats certainly prove that the QB performs better without his number one weapon, but he quickly shut down the notion when asked about it after Sunday's game.
What we know for sure though is that somehow, the Browns now sit at 5-2 and are in perfect position to challenge for a wild card spot.
Impressive feat, considering they play in one of the toughest divisions in all of football.
If they make it to the playoffs though, they'll have to do it without Odell, who is out for the year.
One step a time with the Browns though. We know the absurdities that this team is capable of. For all we know they'll lose to the Raiders next week and start snowballing.
The next few weeks are critical for the Browns, so let's see if Baker keeps up with his spectacular play and leads his team to a long-awaited postseason berth.
Seahawks far from perfect
Somehow, someway, the Seattle Seahawks did not defeat the Arizona Cardinals on Sunday night.
What seemed like a sure thing by half time did not come to fruition as Kyler Murray and his Cardinals team led a comeback to steal a perfect record away from this Seahawks team.
The loss could be put down to a number of things.
Russ didn't have his best game, throwing three interceptions to match his three touchdowns.
The Seattle defense parted like the red sea whenever Arizona made nay sort of offensive play.
And the team just seemed tired. Tired of always having to struggle and fight down to the wire for wins.
The Seahawks are not perfect. Far from it.
Yes, Russ is still in the driver's seat for MVP this year, even with his three critical picks on Sunday. But as a team, this unit needs a shot in the arm if it hopes to compete further down the line.
Jamal Adams will be returning from his injury. But expecting a single player to revitalize a defense which statistically is one of the worst in the league is one big, big, task.
I'm not saying the season looks dire for Seahawks fans now. Not at all.
But nothing is safe when you're in the league's best division. Having to face up against the Niners, Rams and Cardinals all within the next four weeks.
Russ should be able to keep them going until defensive players start to step up. And that should be enough to drag them to big wins.
But Seattle should not feel so comfortable just yet. Sunday night was a reminder to them. They've got multiple teams breathing down their necks.
Pats pathetic in pivotal loss
This is strange, isn't it?
The New England Patriots have lost three consecutive games for the first time since 2002.
While an average franchise wouldn't be hitting the panic button just yet. These are the New England Patriots, the league's most dominant team for the past two decades. Six Super Bowls and all of that stuff.
It's hard to see what's wrong though.
Nothing has really changed there, has it?
It's not like they've lost an important part of their team, have they?
Oh, wait. They might've just done that.
If you haven't figured out by now, I'm insinuating that the absence of one Tom Brady is why this team is struggling so much.
Admittedly, it looked like they wouldn't be missing Tampa Tom that much after the first few weeks of the season after Cam Newton looked like his old self.
But now after Week 7, Cam has played subpar ever since his return from Covid. So much so that he was taken out of Sunday's game against the Niners.
You may wonder where they go from here. And honestly, its unclear.
They now sit at third place in a division they looked to be challenging for only three weeks ago. Allowing Buffalo and Miami to crawl away from them.
And now they could be finding themselves in the midst of a quarterback crisis if Cam can't pull himself together and manage to complete some passes to his receivers over the next few games.
Getting back on to their winning ways will take a reinvention of the whole team. Because one thing is for sure, this isn't the same Pats that we've watched the last two decades.
Dalton, DiNucci, and despair
What a sad story this is.
The Dallas Cowboys. America's team. Now the losers of the NFL.
It has all went downhill ever since Dak went down.
Yes, there was the Giants win. But who doesn't beat the Giants?
Oh, the Giants beat Washington?
Well that makes the 'boys' loss to them on Sunday all the more embarrassing.
Not only did the Dallas offense fail to score a single touchdown. But they lost their starting, formerly backup, QB Andy Dalton to a concussion after a dirty hit from Washington linebacker Jon Bostic.
This brought in rookie QB Ben DiNucci from James Madison.
Who?
Yeah, the Cowboys definitely aren't in a great position right now.
DiNucci failed to do anything of note against the Football Team. Meaning the Cowboys only managed to hang a field goal on one of the NFL's worst teams. Solidifying their horrific start to the season.
Only up from here though, surely.
It isn't like there could be more discontent in the Dallas locker room. The players already despise the coaches. The offense thinks the defense should be better. And the defense thinks the offense should be better. A great situation to be in.
It'll be a surprise if McCarthy makes it through the entire season.
It's not his fault his starting QB got injured for the year.
But it is his fault for the team's lack of ambition on both sides of the ball.
It is his fault for the lack of cohesion in the locker room.
And it is his fault this team is a pitiful 2-5.
Maybe it's time to stop asking 'How bout them Cowboys?', and instead ask 'How bad are them Cowboys?'. Seems more fitting for that team down in Dallas this year.
Contenders galore after seven weeks
It seems like a new Super Bowl contender is coming out of nowhere every single week, meaning the field is wide open when it comes to who's going to win it all come February 2021.
There are several legit contenders in each conference this year allowing for Super Bowl matchup speculation to run wild.
Will the defending champion Kansas City Chiefs return to the promised land? Or will an AFC North powerhouse in the Pittsburgh Steelers or the Baltimore Ravens take them down?
In the NFC, will Aaron Rodgers finally be able to lead the Pack back to a Super Bowl? Or will Tampa Tom silence the haters and take his team all the way in his first season there?
The possibilities are endless, and with new things being learned about teams each week. It wouldn't surprise me if every team in the playoffs this year could make a legit case to go all the way to the big game in Tampa.
The Chiefs are still favoured to repeat as champions come February. But with no runaway team so far into the season, look for a wild and exciting rest of the season to blow us all away.
---