Eagles Loss to Packers Show Lack of Talent and Coaching
On Monday night the Eagles dropped yet another game, this time a 27-13 loss to the Green Bay Packers. All night long, Aaron Rodgers picked apart the Eagles defense and took advantage of the Eagles poor tackling to turn short throws into big gains. This is a Packers team that hosts one of the worst secondary in the NFL. Early on the Eagles moved the ball with ease against this team, and many thought this trend would continue throughout the game. But it all came to a stop, and this Eagles offense managed to only put up 13 points, which will never win you a game.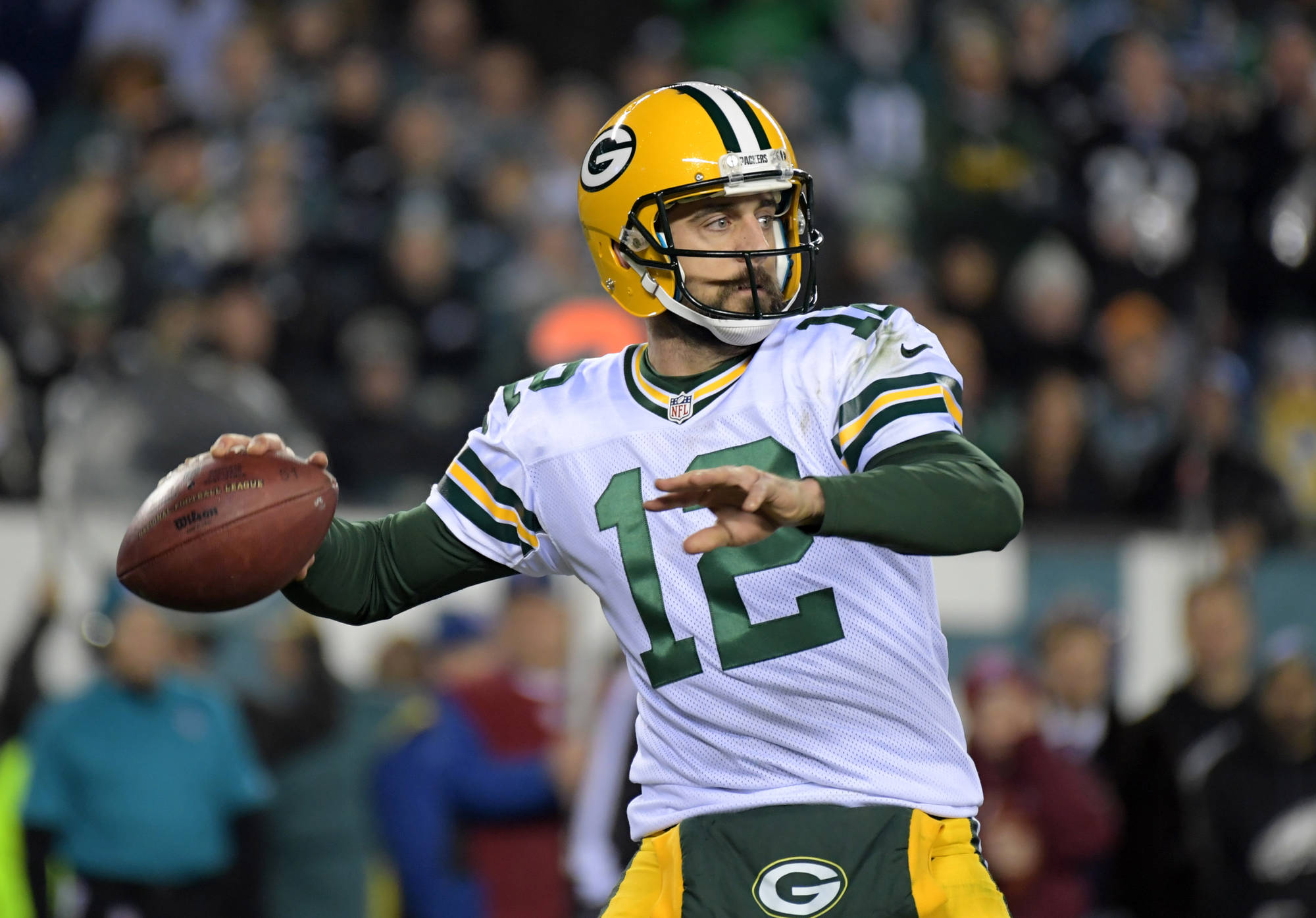 Aaron Rodgers picked apart the Eagles defense on Monday night
Kirby Lee-USA TODAY Sports
While yes there were some variables to take into account here. The officials seemed to miss a few blatant pass interference calls, one on Bryce Treggs and another on Zach Ertz. Both of those led to stalled drives. Jordan Matthews also left the game with an ankle injury, and the Eagles were missing key pieces from their offensive line, along with Ryan Mathews. The Eagles offense never showed the same consistency that they did on the first drive, and in a game where they needed to score, they could not muster much on a night where they were in a great position to break out.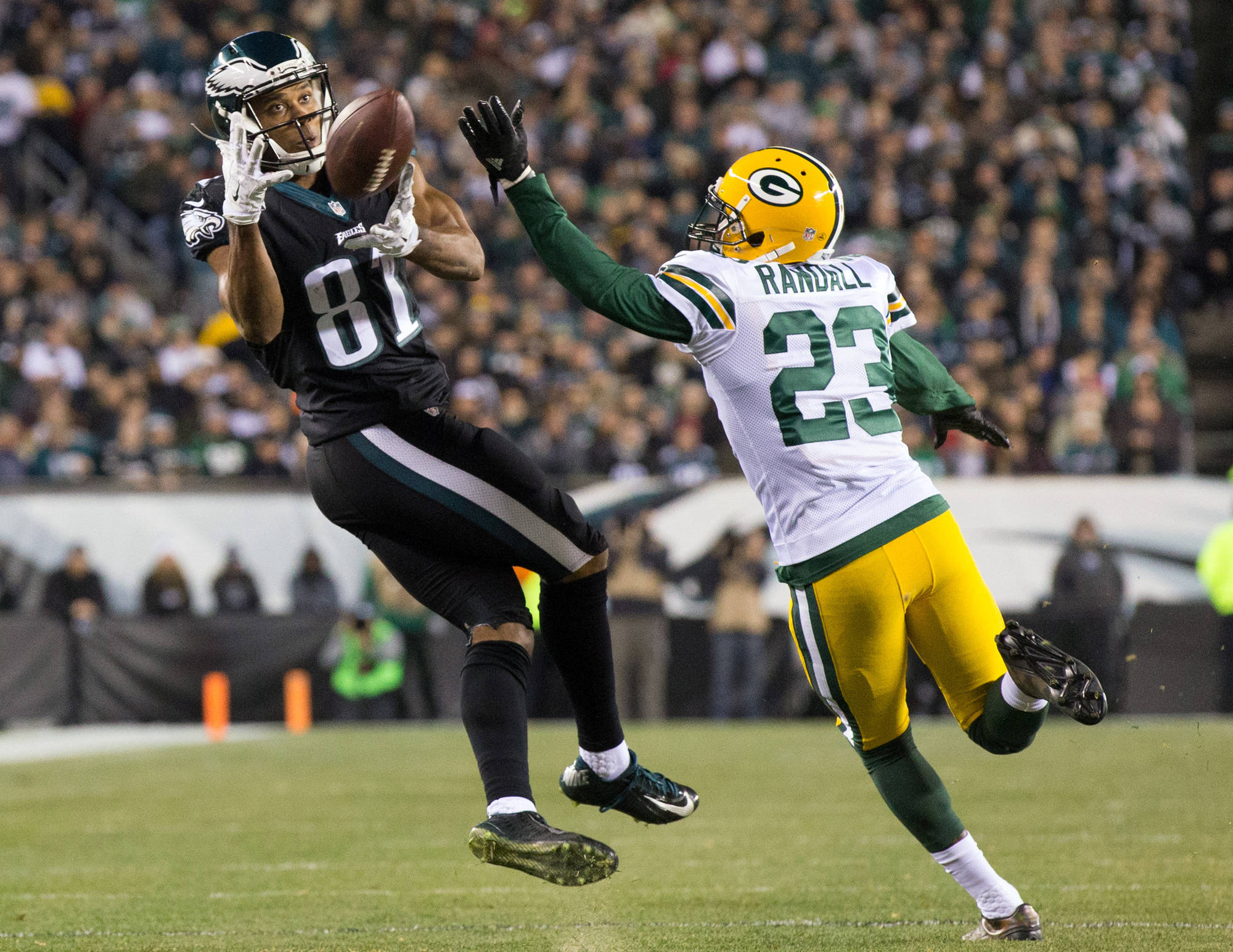 Jordan Matthews went down with an ankle injury early in the game, and it hurt the whole Eagles offense the rest of the night
Bill Streicher-USA TODAY Sports
When a team cannot put up more than 13 points against one of the weakest secondary in football, it shows a big lack talent in the skill position department. Carson Wentz is out there doing everything he can to help move this offense. Carson Wentz still is a very talented quarterback, and has great upside in this league. But, while he has had his rookie struggles, a lot can be credited to the lack of talent along him on the offensive side of the ball. The Eagles lack a true threat at wide receiver who can stretch the field. After Jordan Matthews went out on Monday night, the Eagles were down to a second year player and two undrafted rookies. This offseason the Eagles need to make it a priority to go after a game changing wide receiver. Whether it is Alshon Jeffery or Terrelle Pryor. Or if it comes in the draft with a guy like Mike Williams from Clemson or John Ross from Washington. This offseason the Eagles need to go after one of these guys, because having a true game changing wide receiver opens things up on all levels.
Elsewhere on offense there are some minor issues, but nothing as major as the pass catchers. At the running back position, Wendell Smallwood continues to show promise. While he only carried the ball nine times, he continued to show great burst and the ability to break out nice runs. Would the Eagles be fine with parting ways Ryan Mathews and making Wendell Smallwood the feature man next season? Over these next five games, along with developing Wentz, the Eagles need to give Smallwood plenty of carries to see what they have moving forward.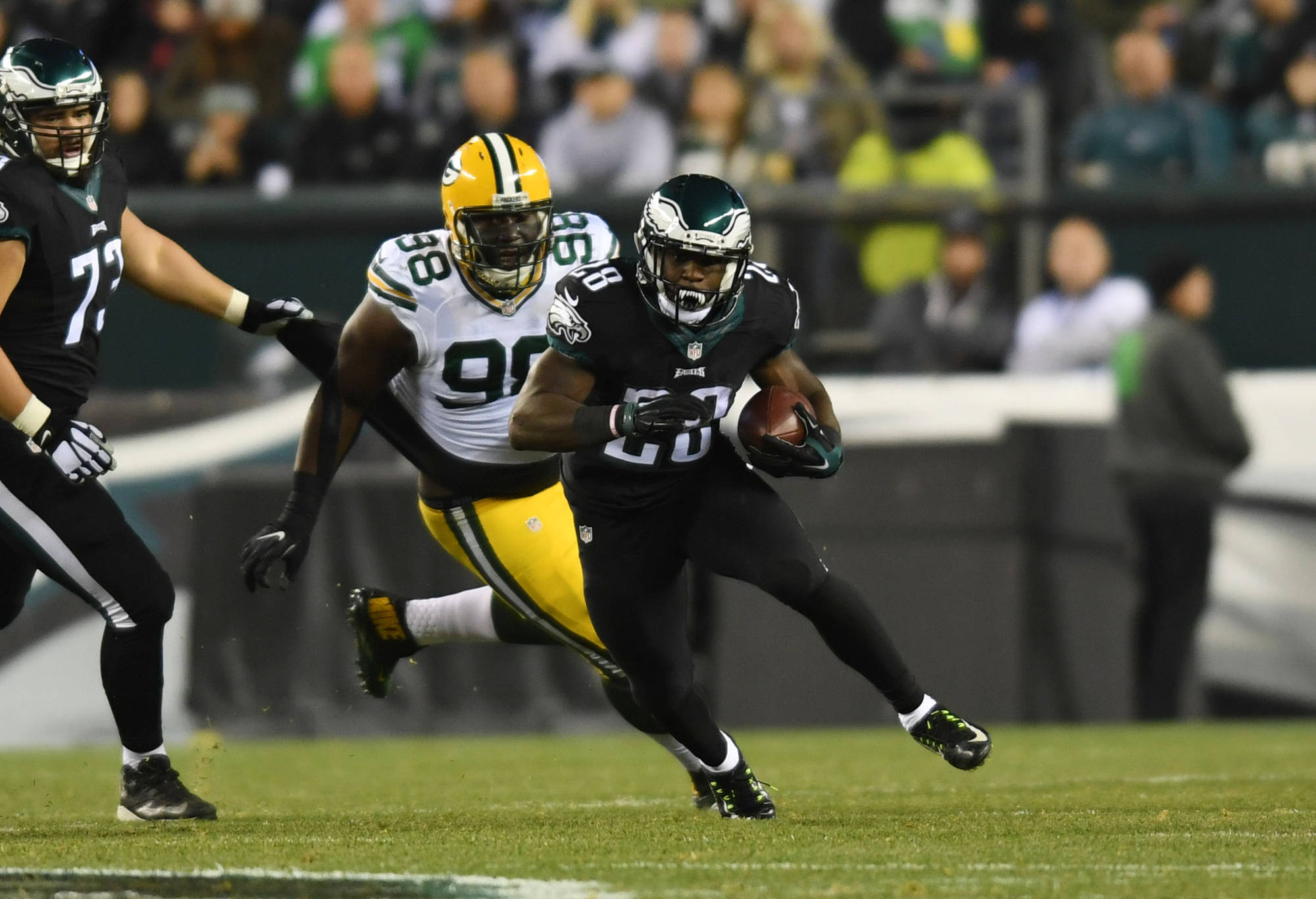 Can Wendell Smallwood establish himself as a lead back, or will the Eagles have to look elsewhere for options?
James Lang-USA TODAY Sports
The offensive line did a respectable job for being in a dire situation on Monday night. Halapoulivati Vaiti was out, and Brandon Brooks was ruled out with an illness on Monday. Going into 2017, the line does not look to be in too bad of a situation. One of the big questions this offseason will be has Vaiti showed enough to be a starter at Right Tackle, which would allow Lane Johnson to shift to Left Tackle, leading the Eagles to part ways with Jason Peters. Peters has actually been one of the best, if not the best player on the offensive line this season. But with Peters aging, would the Eagles consider parting ways with him to save some money. Also, I don`t know if Jason Kelce is the answer at center. Kelce has way underperformed this season and over these next five games, if Kelce continues to struggle, than the Eagles may want to see what they have in Isaac Seumalo at center. If Seumalo shows to be a viable option at center, than that also makes Jason Kelce expandable.
Now, while there may not be great talent on offense and that will need upgrades. But, many have questioned how Doug Pederson has utilized his offensive players.
The first drive of the game saw the Eagles march right down the field. Balancing run and pass, with Wentz shredding the Packers secondary early on. But like the theme has been for most of the season, Doug Pederson shifted the game plan later on in the game. Dorial Green-Beckham made several impact plays and looked like he was prime to have a big night.
Usually, a team will script their first 10-15 plays and see how they will call plays throughout the remainder of the game. There have been many games this season where the first 10-15 plays have been spot on, and it looked like the Eagles offense would fly high that night. Against Green Bay, Doug Pederson abandoned his balanced approach that was successful, and went to a more conservative pass heavy approach. The result, two field goals for the remainder of the game. If the Eagles were to execute the same approach that they used early on, then I have no doubt that they would have been able to keep up with Green Bay. But, that was not the case.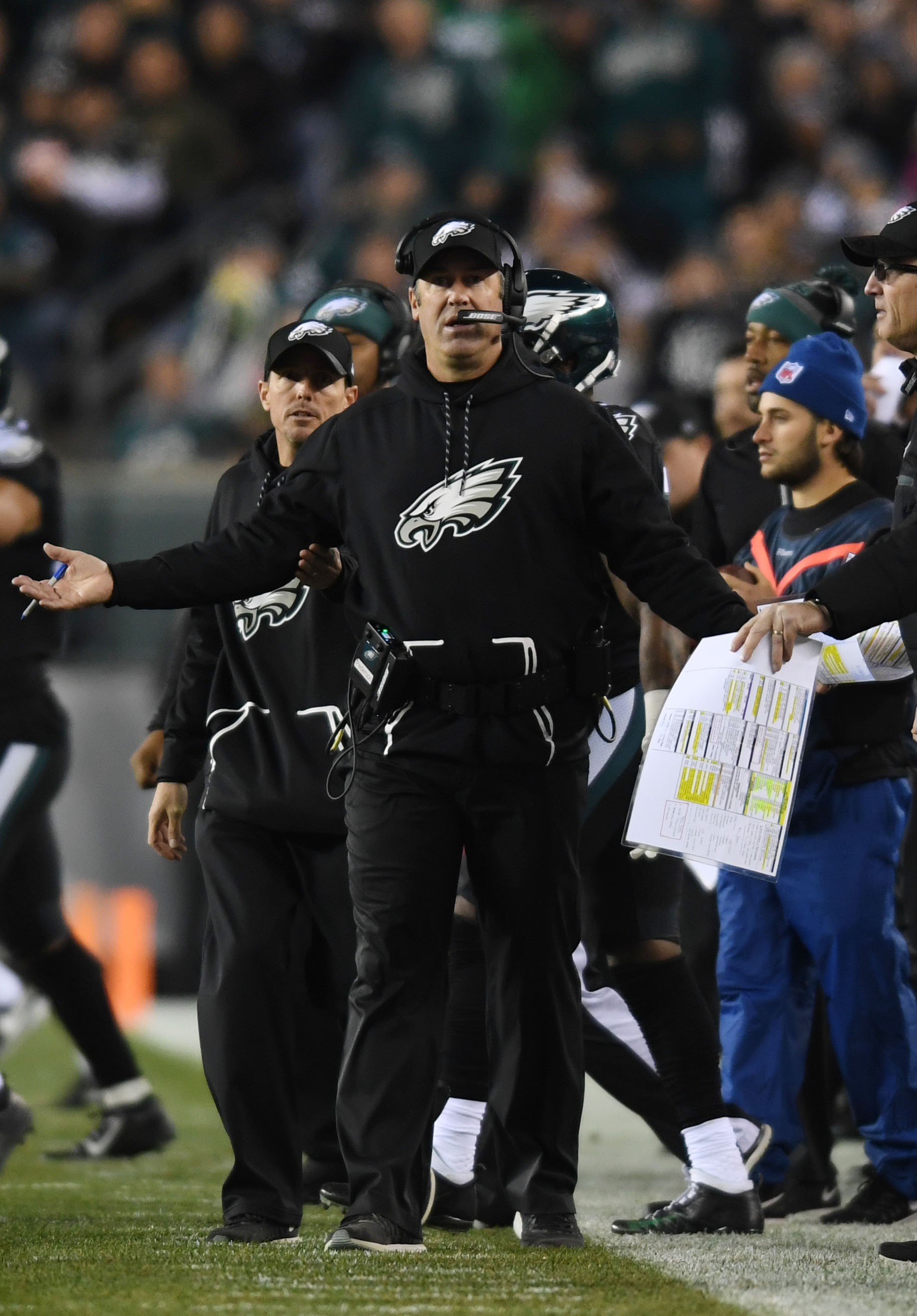 Doug Pederson`s approache altered after a successful first drive
James Lang-USA TODAY Sports
A coach will get two to three years until the upper management will make a decision on their long term future. While Doug Pederson is still a rookie head coach, he will need to be able to adjust and do what is successful if he is to stay here long term. Pederson`s play calling cannot stay the same it is right now. And it cannot hinder the development of Carson Wentz. They must protect their rookie quarterback with a balanced attack, but if something is working he must stick with it. Doug Pederson is a great coach for the first 10-15 plays of the game, now if he can be that same coach the rest of the game, then he will be very successful.
On the defensive side of the ball against Green Bay, the corners struggled mightily. Aaron Rodgers picked them apart all night. Whether it was on short routes or deep balls, they could not get a stop. To add, the tackling all around was brutally awful. The defensive line is supposed to be the strength of this team, and they could not generate any pressure. It looked like Jim Schwartz was hesitant to blitz more to get pressure because of the lack of coverage in this game.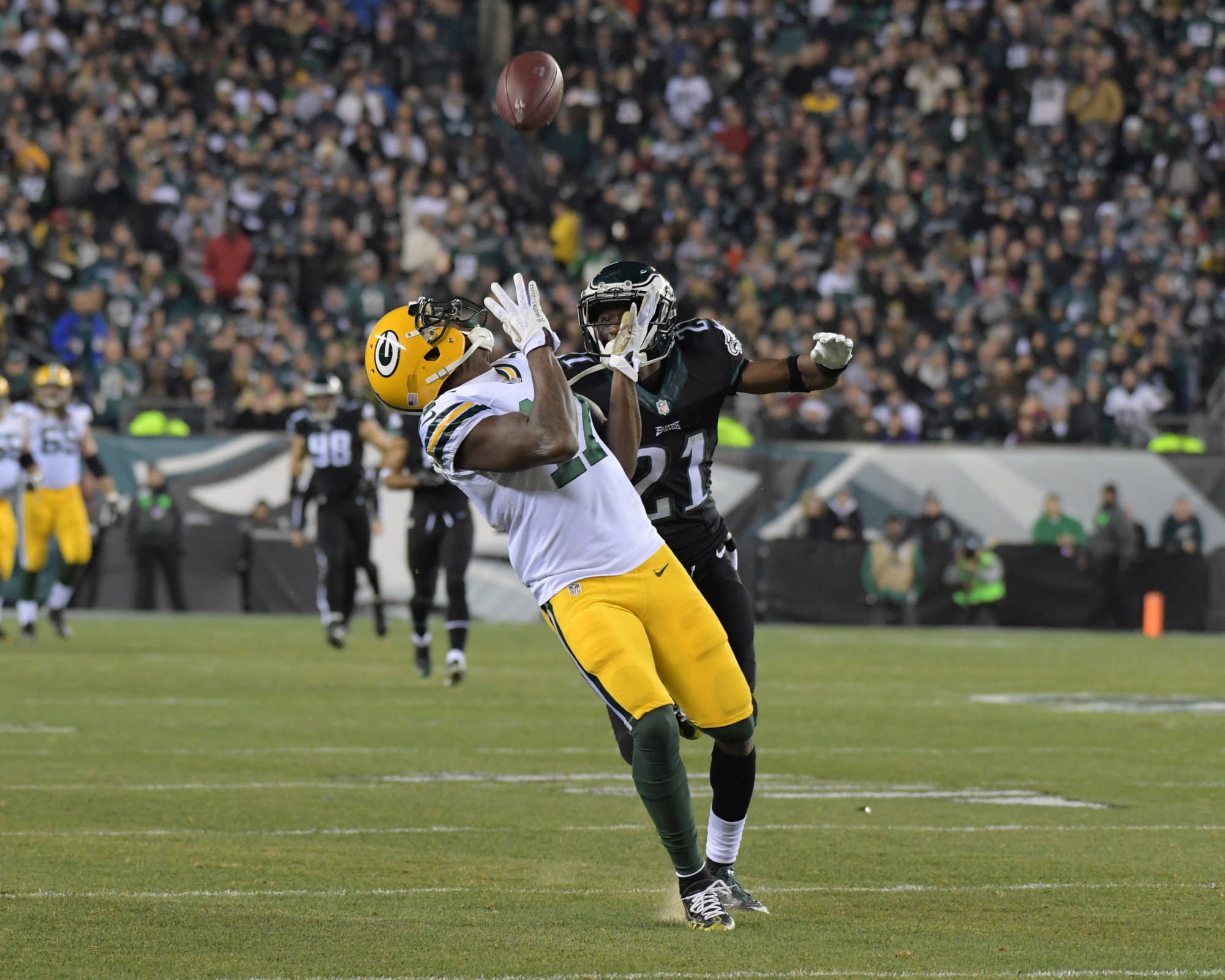 The cornerback position is one of the Eagles biggest needs going into the offseason

Kirby Lee-USA TODAY Sports

Another position of obvious need is the cornerback position. This offseason, the Eagles will need to get one to two solid corners that can hold their own. The defensive line and linebackers are both very solid, and so are the safeties. If the Eagles can clamp down on that one weakness, it will allow Jim Schwartz to pressure more, as he can trust his corners to do a better job covering. This will allow Jim Schwartz to unleash all different kind of defensive looks.

So after 11 games, the Eagles are right where we expected them to be. The 3-0 start was nice, but it looks like now it was a fluke. What it did the most was raise the fan bases expectations, to where the fans are disappointed now. Over these next five games it will be time to see who belongs here in 2017. How will Carson Wentz`s development go, and could Wendell Smallwood establish himself as a lead back going into next season? There are a lot of questions to be answered throughout the remainder of this season, and in the offseason. There are plenty of holes and issues, and it is time to see just what the Eagles will do to address those going forward, and build around their franchise quarterback Carson Wentz.

Follow us on Twitter @phillysportsdr and on Instagram @phillysportsdoctor

Click the link to join our E-Mail list! 

[Blog E-Mail List]
---