Penn State Headlines Crazy College Football Weekend
On Saturday night, Penn State will take on Wisconsin seeking their first Big Ten Championship since 2008. Penn State will also be playing in their first ever Big Ten Championship Game, as the Big Ten introduced their championship game in Indianapolis back in 2011. When Penn State takes the field against Wisconsin at Lucas Oil Stadium, it will be amidst a crazy college football weekend. Which will conclude on Sunday, when the four team field for the College Football Playoff is determined by the selection committee.
Currently the four team playoff has Alabama at number one, Ohio State at number two, Clemson at number three, and Washington rounding it out at number four. This is nothing close to what the final ranking could show, as there are many variables that can change throughout the weekend. Teams five, six and seven are all members of the Big Ten going in order from five to seven, Michigan, Wisconsin and Penn State. The Big Ten Championship game slots number six against number seven. In a process where conference championships are valued so much, would it be possible for the Big Ten Champion to not even make the playoff?
So let`s take a look at all of the important games and how they can impact the final playoff rankings, and how Penn State can possibly make their way into the playoff picture.
Alabama vs Florida: Saturday 4:00 PM CBS
This game does not have too much impact on the playoff, or Penn State`s case here. An Alabama win puts them in the playoff as the one seed. Even a loss, they are most likely in, but may fall as spot.
Navy vs Temple: Saturday 12:00 PM ABC
While this has no direct impact on the playoff, a Temple win over a very good Navy team will likely put them into the top 25. Which would bolster Penn State`s resume, giving them another top 25 win, as they beat Temple 24-17 in September at home.
A Temple win vs Navy will help bolster Penn State`s recipe
Derik Hamilton-USA TODAY Sports
Oklahoma vs Oklahoma State: Saturday 12:30 PM FOX
The winner of this game will win the Big 12. While the winner will have an outside shot getting in, they need chaos to break lose. And if either of these teams have a chance, then they will possibly be compared up against Penn State should they best Wisconsin.
Clemson vs Virginia Tech: Saturday 8:00 PM ABC
If Clemson loses, it makes the door wide open for the Big Ten champion to get into the playoff. But, the question would become, how does the Big Ten Champion match up against Michigan, who sits at number five and beat both Penn State and Wisconsin. So if Clemson loses, then that is a big question for the committee to consider.
Washington vs Colorado: Friday 9:00 PM FOX
This might be of of the biggest games in the case of Penn State getting in. If Washington loses, then that opens everything up for the Big Ten Champion. If Colorado does win, it will likely not get into the playoff, but will earn a spot in the Rose Bowl as the Pac-12 Champion. But, if Washington does lose, then the committee with have to pair the resume of the Big Ten champion with Michigan and possibly Ohio State. Which we will get to later on.
Penn State vs Wisconsin: Saturday 8:00 FOX
If Wisconsin wins this game, then the committee would have an easier decision leaving Wisconsin out. As they have lost to both Michigan and Ohio State this year, and probably don`t compare to Washington should they win. But, if Penn State wins, then everything gets extremely tricky. And that is what we are going to cover right now.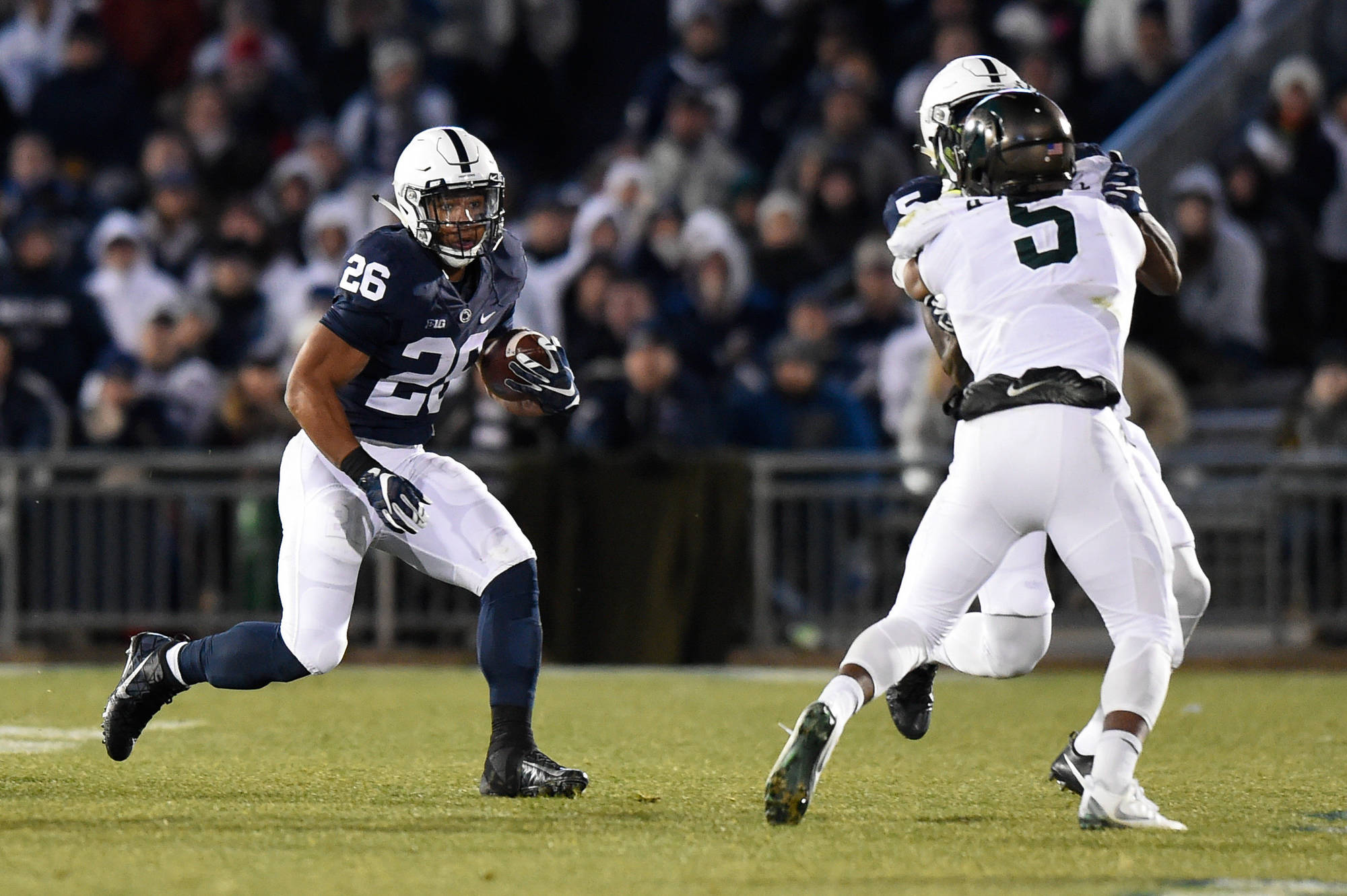 Saquon Barkley should be good to go for Penn State against Wisconsin

Rich Barnes-USA TODAY Sports

So if Penn State does beat Wisconsin in the Big Ten Championship Game, then everything gets very interesting. How does Penn State compare to Washington? Can they jump Michigan at five? And most of all what does the committee do about the Penn State and Ohio State head to head?

With a win over Wisconsin, Penn State will have two top ten wins, a head to head victory over Ohio State, and be the champion of the best conference in college football. That is a pretty good resume if I am to say. To add, if Temple beats Navy and moves into the final top 25, then Penn State will have three top 25 wins, the same as Ohio State.

Both Michigan and Ohio State are idle this weekend, as Penn State plays for the championship of the Big Ten. If Penn State is to pull of an impressive win over a very good Wisconsin team, should that sway the committee to put them in? If Washington loses, then the committee should put in both Penn State and Ohio State easily, even though Michigan beat Penn State early in the season. But, it is not about the early season, it is about who is better right now. And Penn State has won eight, possibly nine, in row, while Michigan lost two of their last three. Including one to Iowa, who Penn State beat easily. So with a Washington loss, it should be both Penn State and Ohio State in the field.

What if Washington wins, and so does Penn State? Do you put Washington in over Penn State, or Penn State over Ohio State? Washington has the second weakest non-conference schedule in all of the FBS, so that should definitely play a major factor. While in non-conference, Penn State lost to Pitt, who went on a beat Clemson later on, and is now ranked in the top 25. Making that loss more respectable, and giving Penn State a higher strength of schedule than Washington. So when comparing Penn State and Washington, Penn State had the stronger strength of schedule, and possibly won the best conference in all of college football. Should that be enough to get them in?

But, what if the committee does put Washington in? What about Penn State or Ohio State? If Penn State beats Wisconsin, they will have two top ten wins, and a head to head over Ohio State. To add a conference championship in the best conference in all of college football. While also, Ohio State only beat Michigan State by one, while Penn State blew them out last Saturday. So will the gap between the two of closed enough by Sunday for the committee to put in Penn State over Ohio State possibly? We will see.

If it gets crazy, and Washington and Clemson both lose. Then we could possibly see three Big Ten teams in the playoff. The Big Ten champ and Ohio State will definitely get in. And so will Michigan most likely, as they are better than whoever wins the Big 12.

There is a crazy weekend of college football ahead, and the committee has tons of questions to answer. So sit back and enjoy one of the best weekends of college football, and we will have all of our questions answered come Sunday, when the College Football Playoff field is selected.

Follow us on Twitter @phillysportsdr and on Instagram @phillysportsdoctor

[Blog E-Mail List]
---