Flyers Can`t Keep Current Formula if they want to Succeed
Last night the Flyers defeated the New York Islanders by a score of 3-2 in a shootout. While it has been impressive that they have been winning in shootouts, the story of the season so far has been the Flyers ability to come from behind and steal wins. A lot of these with goals late in the game with the goalie pulled. So far this season the Flyers are 6-5-1, collecting a total of 13 points. Which is a very respectable start to the season but that has not come without tons of drama. 4 of the Flyers six wins this season have had them coming from behind to win it late or in overtime/shootouts. The Flyers biggest struggle that has led to this has been lackluster play in the first period of games. While the comebacks are nice, this is not a formula that this team can follow if they want to play well into April and May.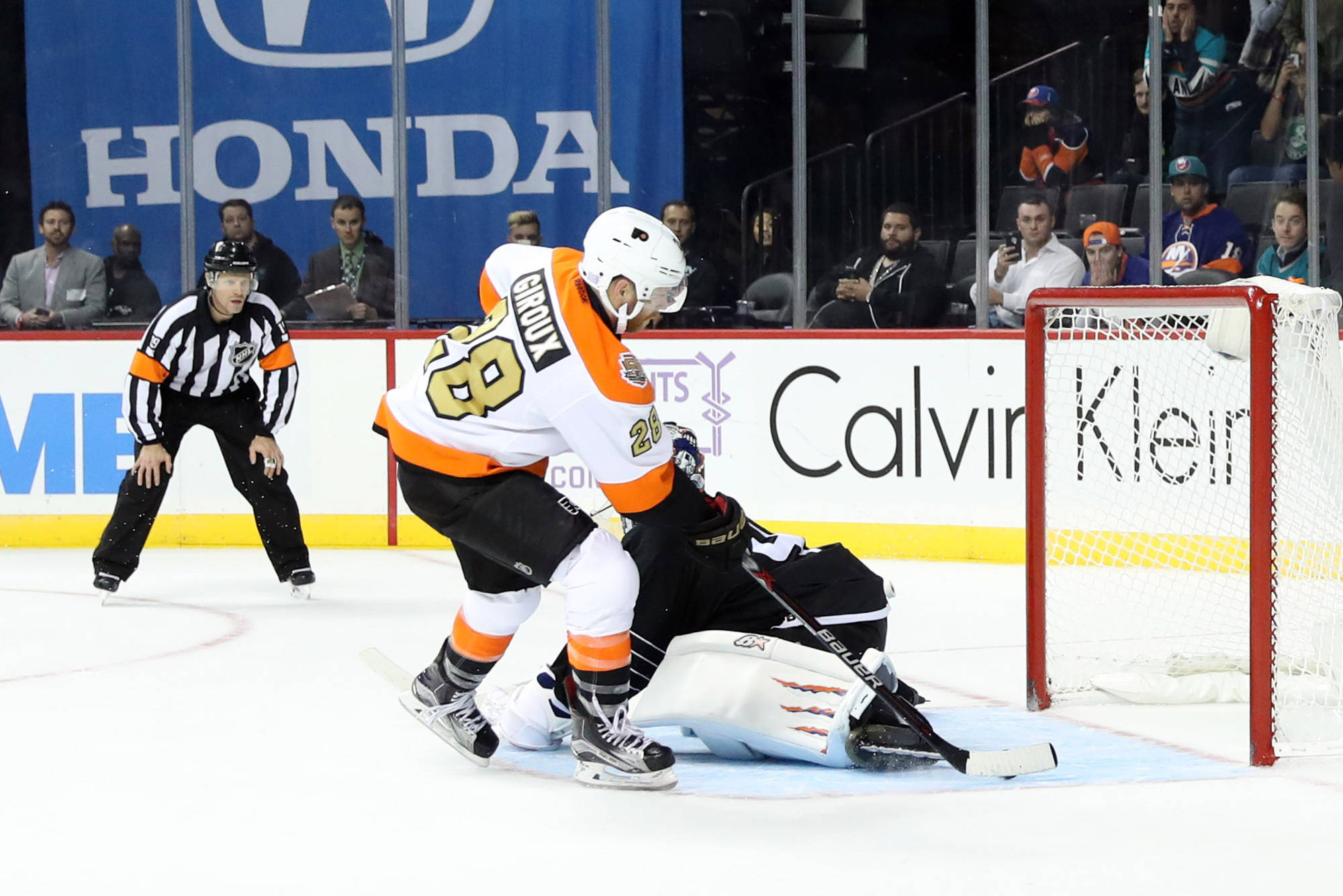 Giroux scored a great goal in last night`s shootout
Anthony Gruppuso-USA TODAY Sports
Offense has not been the issue for the Flyers this season so far as they are averaging 3.4 goals per game which is third in the NHL. Pretty impressive for this young team. They also score in 26.1 percent of their power play opportunities, which is ranked fourth in the league. Led by their captain Claude Giroux, who is tied for the NHL lead in points so far, compared to how much he struggled last year in that category. Giroux is surrounded by a team of nice offensive pieces, the likes of Jakub Voracek, Brayden Schenn, Wayne Simmonds, and get Michael Raffl back. As we have seen so far, the Flyers offensive unit does not lack firepower, which has been the key to so many late game goals leading to comebacks. This team has been very impressive in overtime and shootouts, which is nice to see since this is an area in which they struggled in last season.

If the offense is to do one thing, it is score goals earlier in games. For once they need to put the pressure on the other teams and take the burden off of the defense and the goalies. Which both have been very subpar this season for the Flyers.
The real issue with falling into early holes, and in some losses has been the struggle of the defensive unit and the goaltending. They are 29th in the NHL giving up on average 3.6 goals per game. Which compared to 3.4 that they score, if they continue this trend they will not be able to make any runs at the playoffs. A contributing factor to that is the league's 25th ranked penalty kill, killing off 75.7 percent of penalty kills. Lackluster defense has obviously played a huge role in this so far. Which has really contributed to the Flyers getting into such early holes. Ivan Provorov defenitly looks like a rookie so far and as he develops it may be hard to watch at some times. The rest of the defense will need to pick it up for this team to become a legit threat. That either means improved play from the guys here, or if come the trade deadline this is still an issue than Ron Hextall will have to make a move.
Adding onto the issues of the defense is mediocre goalie play this season. Going into the season it looked like Steve Mason would be the top guy, but Michael Neuvirth wouldn`t be far behind. Especially after his performance in the playoffs last year after replacing Steve Mason for games four, five, and six. So far this season Steve Mason has started seven games and Michael Neuvirth has been in net for five. Looking at these numbers do not tell the whole story.
After Neuvirth started the first game, Mason went on to start seven straight, and he really struggled. So Hakstol looked back to Neuvirth who then went on to win three of four. The record for each are, Mason 2-4-1, and Neuvirth is 4-1. I would not be surprised to see Michael Neuvirth in net again come Saturday in Montreal. As Neuvirth had a very good third period against the New York Islanders and will look to continue that momentum
For the time being it looks like it will be a timeshare in net, with Dave Hakstol riding the hot hand at the time. As it looks like nobody is really establishing themselves as the number one guy. One or the other may show to be a top guy, but for right now that is not what is happening. Hopefully, one of them can as the Flyers need some consistency in goal and on defense. Whether it is Michael Neuvirth, Steve Mason, or even Anthony Stolarz. We will see, and this is defenitly something to pay attention to throughout the next few months.
The Flyers have a nice young team who is capable of being able to do special things in the near future. Defense and goaltending for now is holding them back. If that is something that can be addressed and fix, then this team can make a run this year and for many years to come.
Follow us on Twitter @phillysportsdr and on Instagram @phillysportsdoctor.
Email us at [email protected]
---