Adrian Peterson may have out lived the "All Day" nickname but can he help the Redskins win?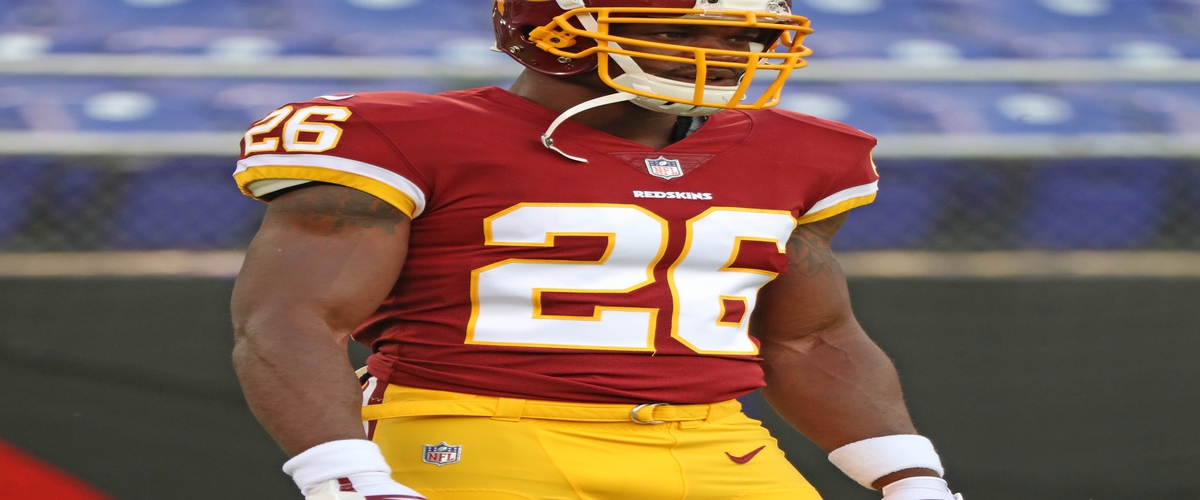 Adrian "all day" Peterson will be in the hall of fame, no question. Adrian "all day" Peterson is one of the greatest running backs to ever pick up a football, no question. My only question, can he still live up to the nickname "All Day"?
Drafted out of Oklahoma in 2007 by the Minnesota Vikings, Peterson has had 4 all pro seasons. Two of which came in back to back seasons in 2008 and 2009. He was the league MVP in 2012, after returning from a devastating injury the year before. That season he rushed for over 2,000 yards joining great all time backs like Eric Dickerson, Barry Sanders and Terrell Davis. Peterson is a seven time pro bowler and has had multiple rushing titles. In fact he was the rushing leader in 2015, when he ran for 1,485 yards. Peterson has had a great career no doubt. Can he still do it at age 33?
At age 33 it's safe to say he has more doubters than he ever has. Hall of fame players, Cris Carter and Shannon Sharpe, questioned if Peterson could be consistent at this age. Peterson didnt take to kindly to the criticism from the hall of famers, telling USA Today Sports that "it really hurt me to the core." Peterson seems to be using this to fuel his fire also saying in the same interview "I'm going to have all my fans … look up all the people who said something negative about me and put them on blast". Regardless if Peterson thinks it's fair or not to doubt him based on his age, both Carter and Sharpe have valid points.
The Redskins don't need him to be Adrian "All Day" Peterson in 2018. They shouldn't need him to carry the load 25-30 times. Peterson should and likely will split time with Rob Kelley and/or Samaja Perine. After preforming better in one preseason game than both of them have all summer Peterson should be considered the lead back. That still doesn't mean he'll touch the ball 20+ times. If not for a season ending knee injury to Derrius Guice in the first preseason game Peterson wouldn't even be in DC. He blew head coach Jay Gruden away in his workout for the team and signed on to play for the veteran minimum. Coach Gruden said his willingness to even do the workout and how well he did in the workout went a long way. So after passing on Adrian Peterson in 2007 draft (Washington drafted Laron Landry the pick before AP) Washington lands him a decade later.
Any fans hoping to see the Adrian Peterson of old for more than four or five games this season will be disappointed. The last two season have been bad for Peterson. His time with the Saints was short lived, he showed flashes of his old self in Arizona but proved to be inconsistent behind a below average offensive line. The Redskins have a significantly better O line starting with 6 time pro bowler Trent Williams. Both William's and Peterson played for the University of Oklahoma and are excited to be teammates in Washington. Trent Williams isn't one of the Peterson doubters telling the Washington Times "That's a gifted athlete, you know? He has a gift. Did Darrell Green ever lose his speed? He didn't. Some things are just always with you. It's you, it's your makeup, it's your DNA. … So, no, he's the same athlete that you're used to seeing." Big endorsement that surely helped Peterson get the visit in the first place.
Still, is Peterson capable of rushing for over 1,000 yards in 2018? Yes. It is a strong chance Peterson can average 62.5 yards a game for 16 games. It's not unthinkable, just unlikely. What Peterson can and will do is help a Redskins team who needs better play from it's running backs. After losing Guice, Peterson brings the hope that this team can compete for a playoff spot. How well he does as an individual won't matter as much, if he can be the guy to run out the clock late in games or open up the play action game for QB Alex Smith. No, he wont live up to the "All Day" nickname that he earned by dominating opponents. He will be asked to play a new role one that he seems to be embracing head on.
---