What's up Doc: How does Josh Doctson compare to the rest of his draft class.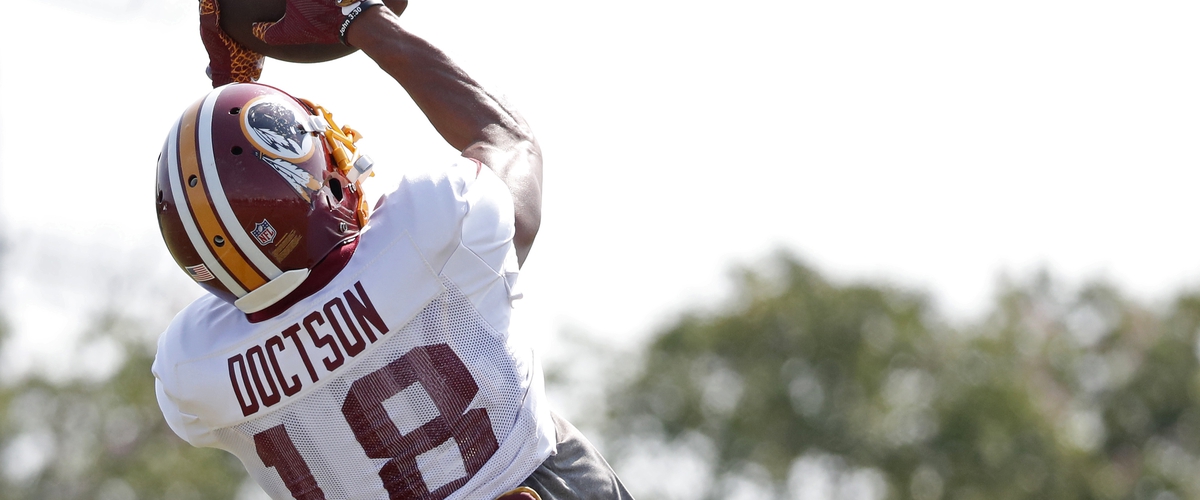 In 2016, Josh Doctson was one of four wide receiver drafted in the first round. Corey Coleman and Will Fuller were drafted ahead of him and Laquon Treadwell right after. In the 2nd round the Giants drafted Sterling Shepard and the Saints picked up Michael Thomas. Comparing Josh Doctson to his fellow draft mates leads me to one conclusion, Josh Doctson must have a monster year to prove his first round worth.
Corey Coleman is the first official bust of this group of receivers. Coleman, just two years after being drafted to Cleveland, was traded to Buffalo in the preseason. He didn't make the 53 man roster. Currently a free agent I feel safe saying Josh Doctson is ahead of Corey Coleman in the 2016 class of wideouts. I'm not predicting him falling as low as Coleman but it's not out of the question.
Will Fuller has yet to play in a full 16 game season. He's had a tuff time battling injuries in his short career, missing 8 games in two seasons. Still Fuller has made big contributions to the Texans. He had 7 touchdowns in only 10 games in 2017. Doctson had 6 in a full 16 game season. Despite Fuller's injuries, he's still played in six more games than Doctson. Will Fuller has also caught about 10% more of the passes thrown his way. Last season Fuller had 50 targets and 28 catches to Doctsons 78 targets and 35 catches per 'pro football reference'.
Laquon Treadwell has been an afterthought in Minnesota. Still looking for his first career touchdown "Megaquon" hasn't lived up to his nickname. Treadwell has played in 25 games but only started in 8, not exactly what you expect from a 1st round pick. The explosion of Adam Thielen onto the scene the last two seasons has overshadowed Laquon Treadwell, big time. Treadwell and Doctson enter the season with a lot on the line. Treadwell, like Doctson, will be given a chance to show and prove. Laquon beat out Kendall Wright to be the 3rd wide receiver on a loaded Minnesota offense.
Sterling Shepard had a great rookie year and was playing well in 2017 before an injury cut it short. However Shaepard, as well as this entire draft class of wide receivers, are all living in the shadow of one Michael Thomas. Thomas has put up monster numbers and is a big part of the longevity of Drew Brees career. Michael Thomas in comparison to Josh Doctson is no comparison. Thomas has more targets, catches, yards, touchdowns and so on and so forth. Some might say it's unfair to compare the numbers because Doctson has played in less games. Well Doctson played a full season in 2017 and had 773 yards LESS than Thomas. Again Thomas has many more targets so for prospective he caught about 70% of the balls thrown to him far better than Doctson.
The final point: if Josh Doctson doesn't become a DOMINANT red-zone force in the NFL than he underachieved. Redskins fans have a lot of faith in Doctson heading into 2018 as does the coaching staff. His performance this year could make or break the season and his career. He has to show up.
---